Hola, Everyone! I can't believe fall is already in full swing. How did that even happen? We had a very full, but lovely and restful summer. Lots of fun little day and weekend trips; but no major traveling, which was just what we all needed this year. Time, at home, to catch up with a few projects and just reset.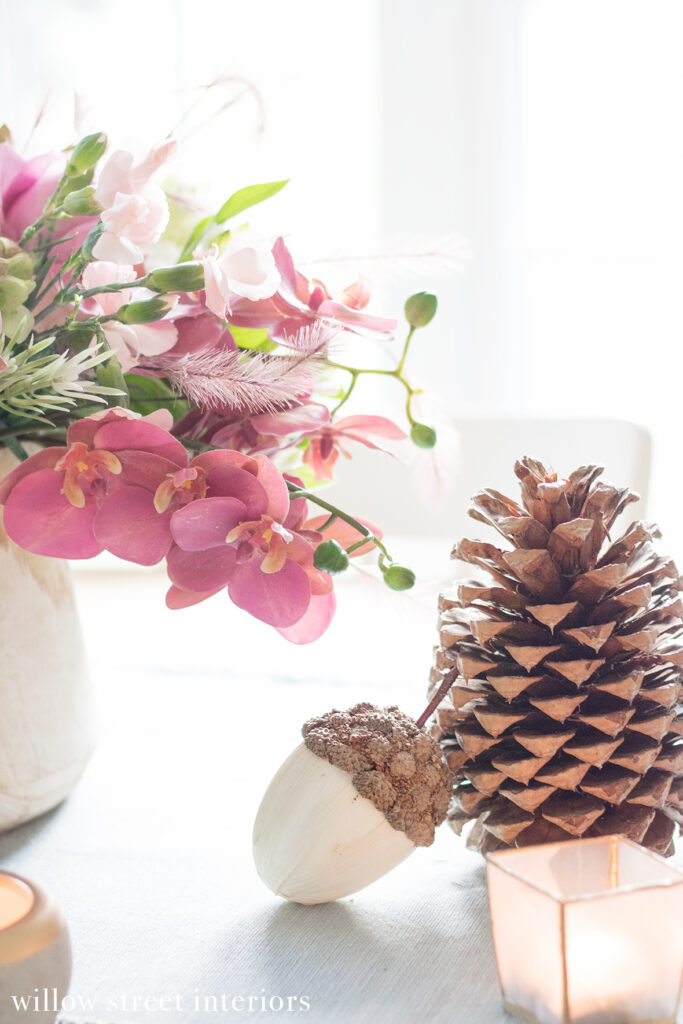 And here we are, at the cusp of fall. September tends to be an in-between month in New England; one where the weather still feels like summer most of the time, but every now and then, a tree peaks through the dense, summer foliage, showing off the beginning of it's glorious transition from green to a vibrant assortment of reds, burnt orange, and yellow. I adore this time of year.
Today, I'm so excited to kick off the season with Bre from Rooms for Rent (holy talented!), and loads of other incredible ladies to share some fall soiree and tablescape ideas with you all!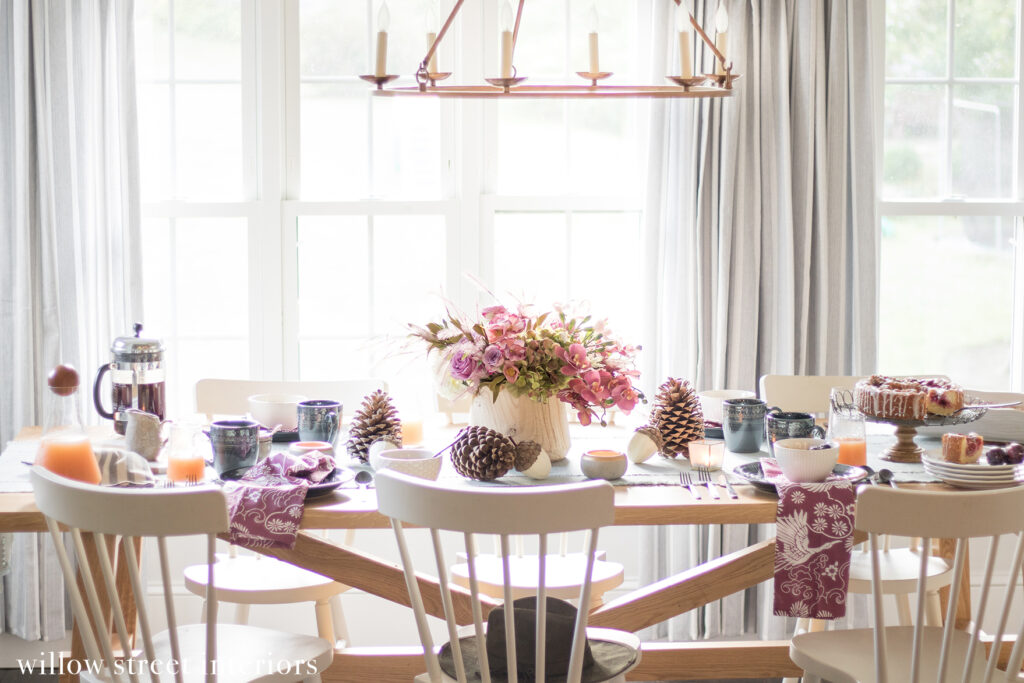 I decided on a palette of blues and plums/pinks this year. It does tend to be one of my favorite color combos (you can see a few different ways that I've used the combo in the past here, here, and here). But it's also a decision made for practicality's sake – I just have a lot of stuff this color!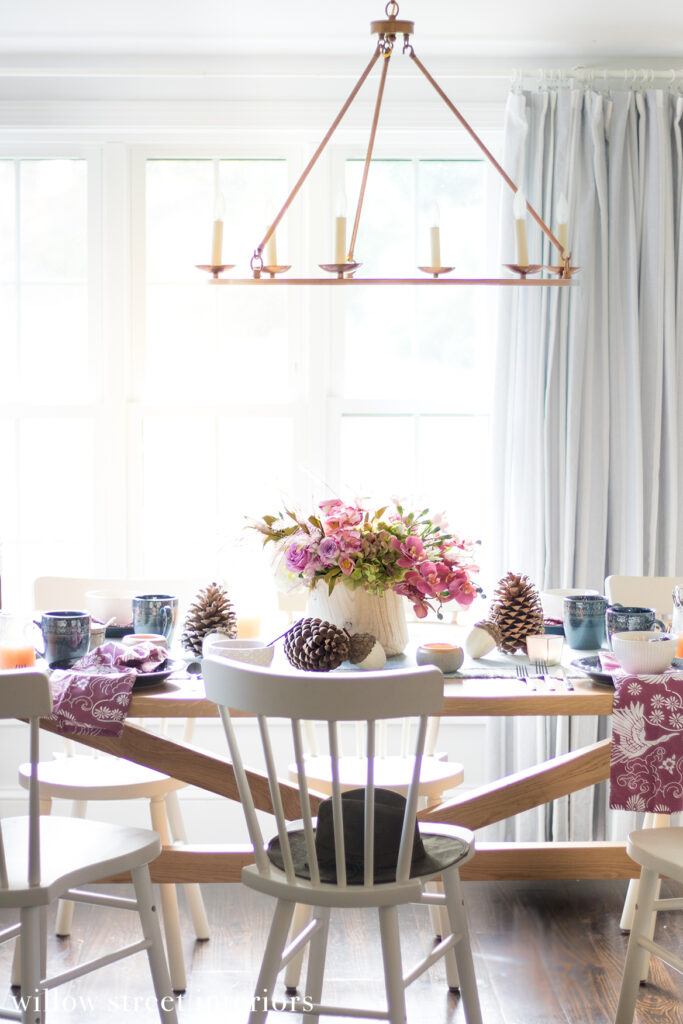 Oh, and P.S. we got a new dining table and set of chairs last spring, and I never got a chance to share them with you! My father-in-law was here from Germany for a few weeks, which made us realize that our family of 6 had outgrown our old table set up.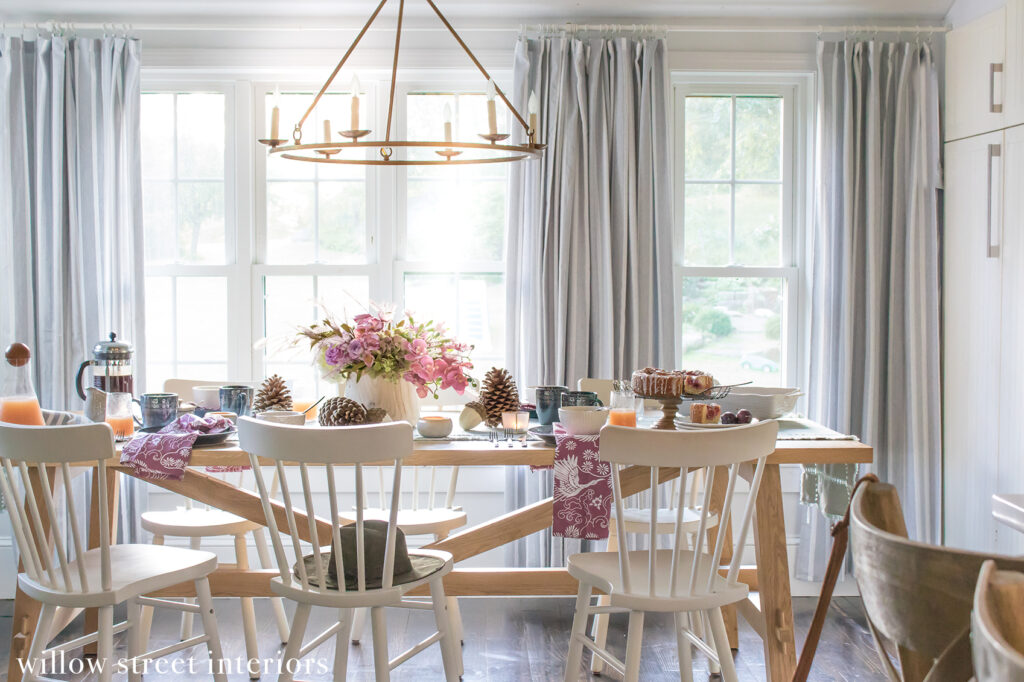 The new table has given us so much more space to spread out, and I absolutely love the look.

[show_lookbook_widget id="430080″]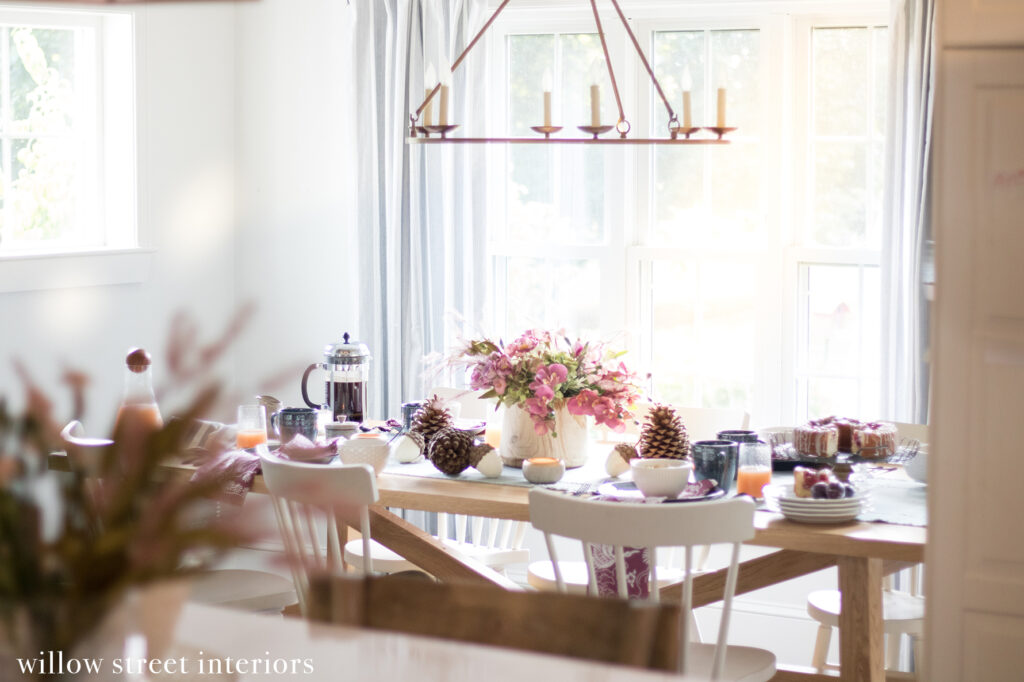 I thought it would be fun to come up with a brunch inspired tablescape this year. There's something about brunching that just kind of feels like a mini vacation, and I think we can all use as many mini vacations as we can get these days. Quiet, little moments to unwind and be present, I think, is more important now than ever before.
My husband and I each own and run our own businesses, which essentially means we don't ever work 9 to 5. It's a huge blessing that also feels like a curse at times – we burn our fair share of midnight oil. So, working hard and playing hard is a motto we cling to, and our lifestyle and schedule has made us masters of turning ordinary moments into special events and mini vacations.
And brunch is exactly that for me. Transforming a typically, ordinary meal into one that feels special and uber relaxed.
So call your friends, and send the kids off to a matinee with Grandma and Grandpa this weekend. This table, and this menu, is just what your worn out, back-to-school weary soul needs right now.
Rustic quiche, plum coffee cake, cider mimosas, yogurt and granola, a pretty table to sit around, and friends and family to share it all with.

[show_lookbook_widget id="430082″]
And maybe a few of you are saying, that just sounds like more work to me! And I guess, it could be. But let me start by saying, setting tables and entertaining relaxes me. It's an excuse to be creative and anything creative counts as a mental break for me – but not if I'm running around doing it at the last minute – that is definitely not relaxing.
So here are my tips for getting a table like this set, and a brunch prepared, while still getting to enjoy the party.
Do (almost) everything the day, or night, before.
Turn on your favorite playlist, make the quiche, and coffee cake, and set the table.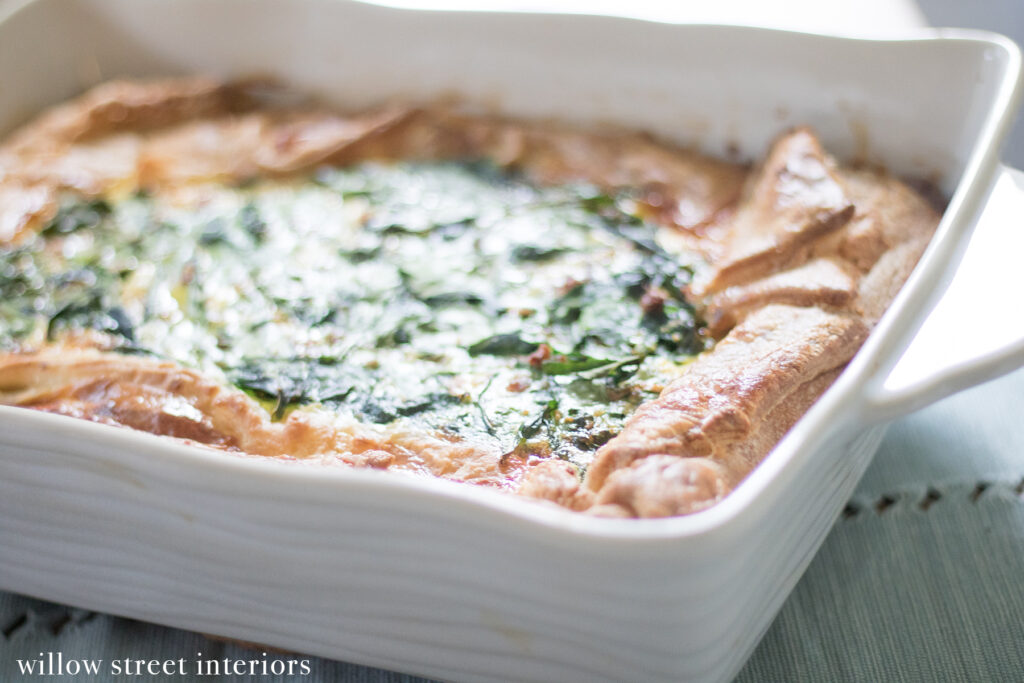 I literally made and baked the quiche the night before, and warmed it in a 300 degree oven the next day. I'd never actually completely pre-made one before – I typically keep the crust and filling separate until I'm ready to bake it – but it worked perfectly!
The day of, get the fruit and yogurt ready, make the mimosas and coffee, and you'll be good to go!

[show_lookbook_widget id="430083″]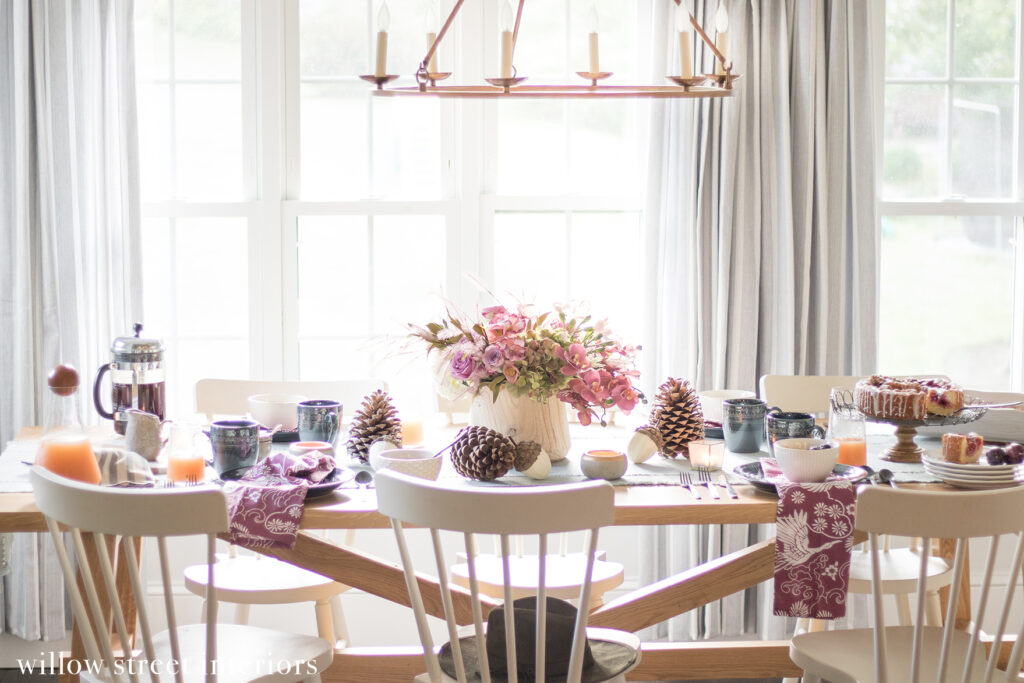 Wishing you all a happy and restful start to fall! Don't forget to check out all of the beautiful fall tables that my blogging friends are sharing too!
CLICK ON THE LINKS BELOW THE IMAGES TO SEE MORE BEAUTIFUL FALL GET TOGETHER TABLESCAPES…

Rooms FOR Rent | Almafied | Craftberry Bush | Maison de Cinq

Home Made Lovely | Just Destiny | Willow Street Interiors | Zevy Joy

Shabbyfufu | Janna Kate at Home | Amber Tysl | House by Hoff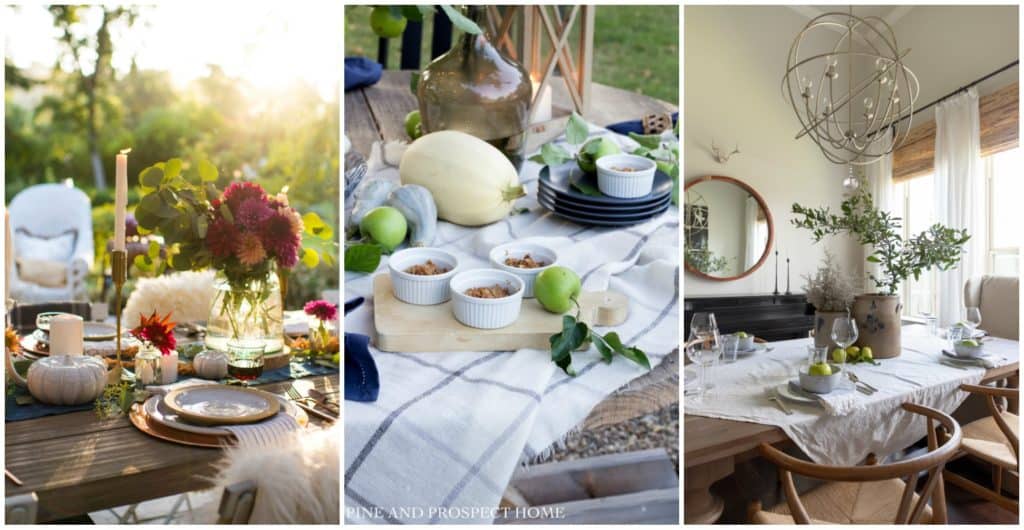 Modern Glam | Pine and Prospect Home | Crazy Wonderful
And I'd love to see your tablescapes if you recreate this look, so tag me on Instagram and Facebook so I can reshare!
XO, Laura