We celebrated Aubrey's birthday a couple of weeks ago, and her number one wish this year, was to have a slumber party. I thought a bohemian inspired theme would be super fun, and it was! Aubrey said it was her favorite birthday yet, which made the prep so worth it. But to be honest, aside from getting the tent set up the day before, this was such an easy birthday party to host!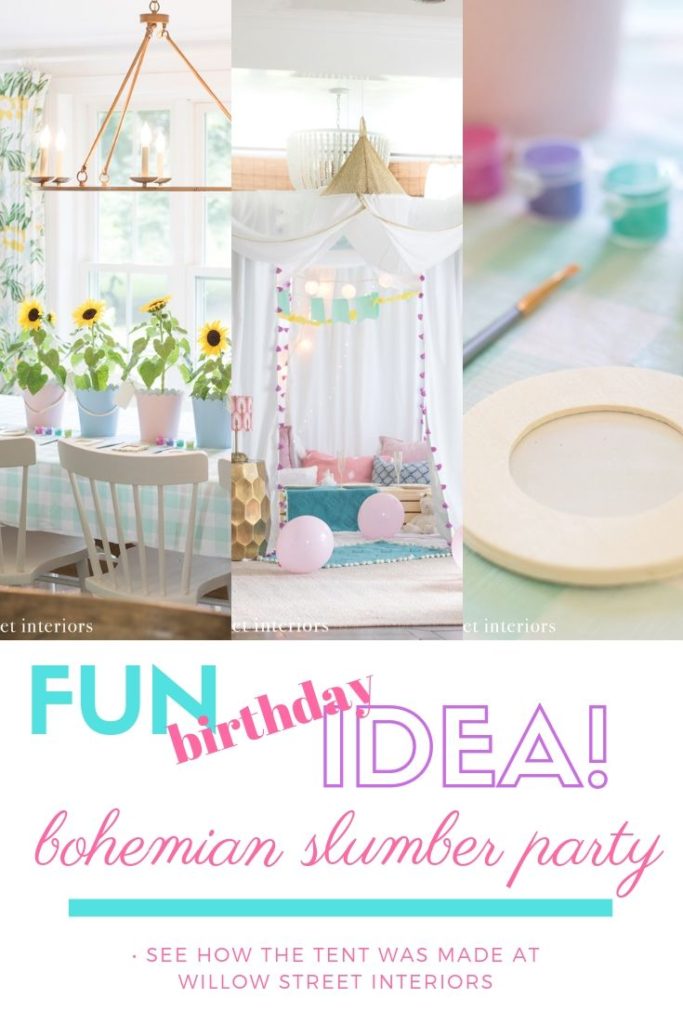 We don't go all out with a big birthday bash and lots of tricked out decor each year. We have four kiddos, and between holidays and birthdays, I don't think I'd ever not be party planning if we did!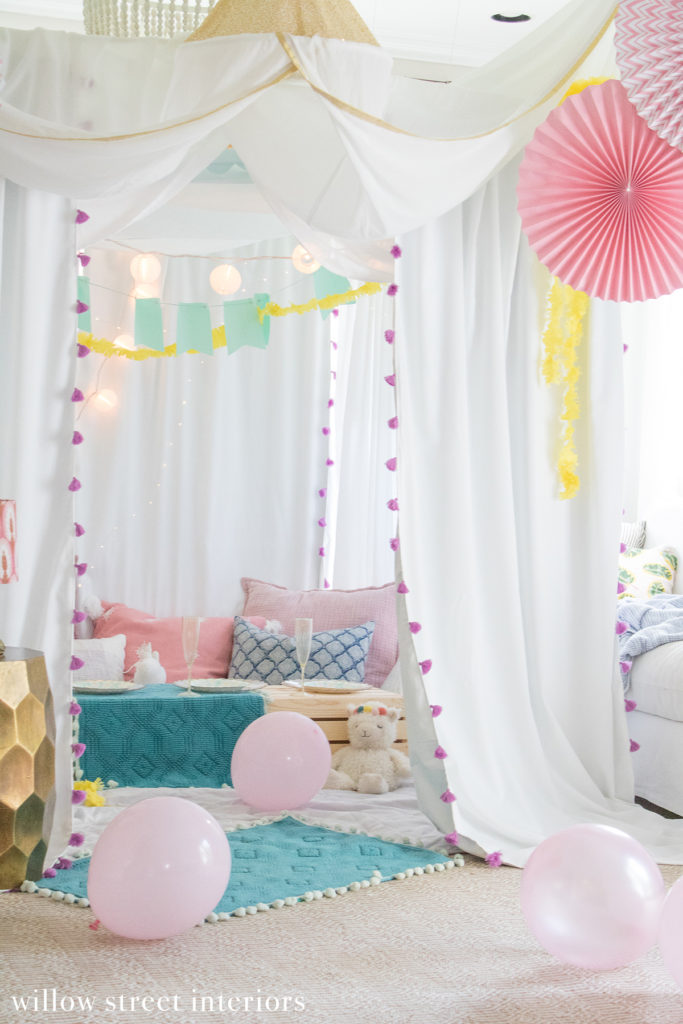 So, they each get to have a friend party every other year or so, and this year was Aubrey's turn. (On off years, they get to pick a special day trip that we all take as a family, and then they choose what we have for dinner that night – which, to be honest, they get equally excited about.)
I thought it would be fun to build a bohemian style tent in our living room, for a couple of reasons. I wanted to set a playful, and special, vibe right off the bat when the kids arrived, but Aubrey also wanted to have a movie night as part of the festivities. I set the tent up between our couch and the tv, so that all we'd have to do when the time came was pull back the curtain separating the tent from TV, and they could all snuggle up with snacks and watch their movie. Luckily, we had this movie on DVD. However, one of my friends did tell me that I could've looked online to find the movie too. Apparently, websites like Pirate Bay usually have a number of movies, so she told me to check there. To get around the restrictions on that website, I would've had to use a proxy from https://avoidcensorship.org/. That's good to keep in mind for future movie nights.
I'm telling you guys, it was such a hit!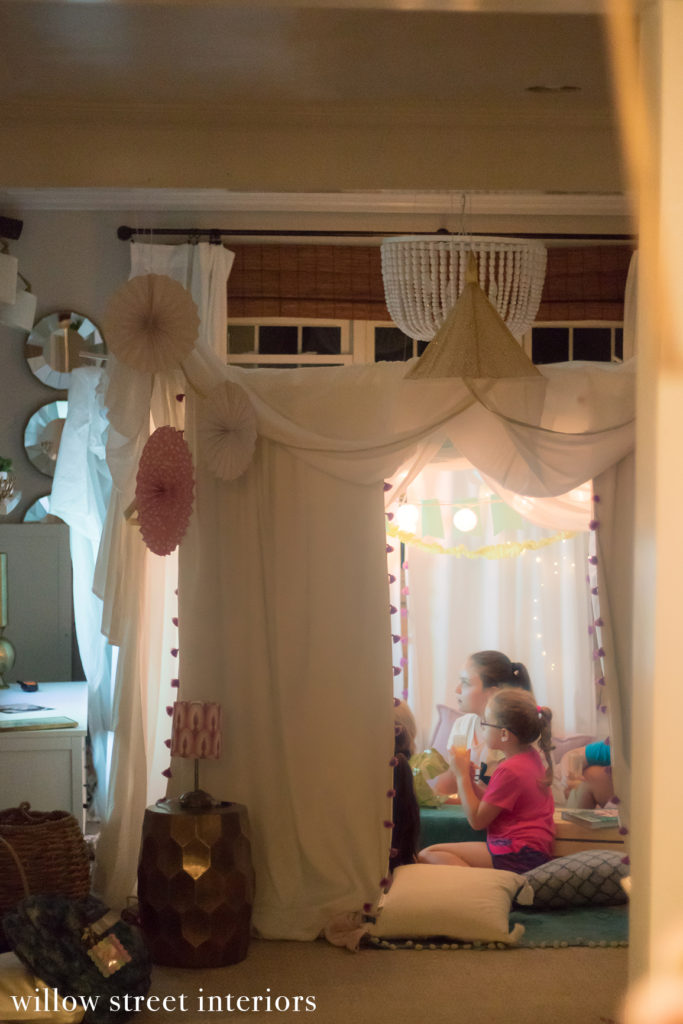 Here they are, watching Dennis the Menace that night. The one from back in the 90's- which is seriously one of the only kids movies that I can watch multiple times, and it still never fails to crack me up.

[show_lookbook_widget id="425225″]
We had pizza, veggies with dip, and lemonade for dinner, and Aubrey chose strawberry shortcake for her birthday dessert.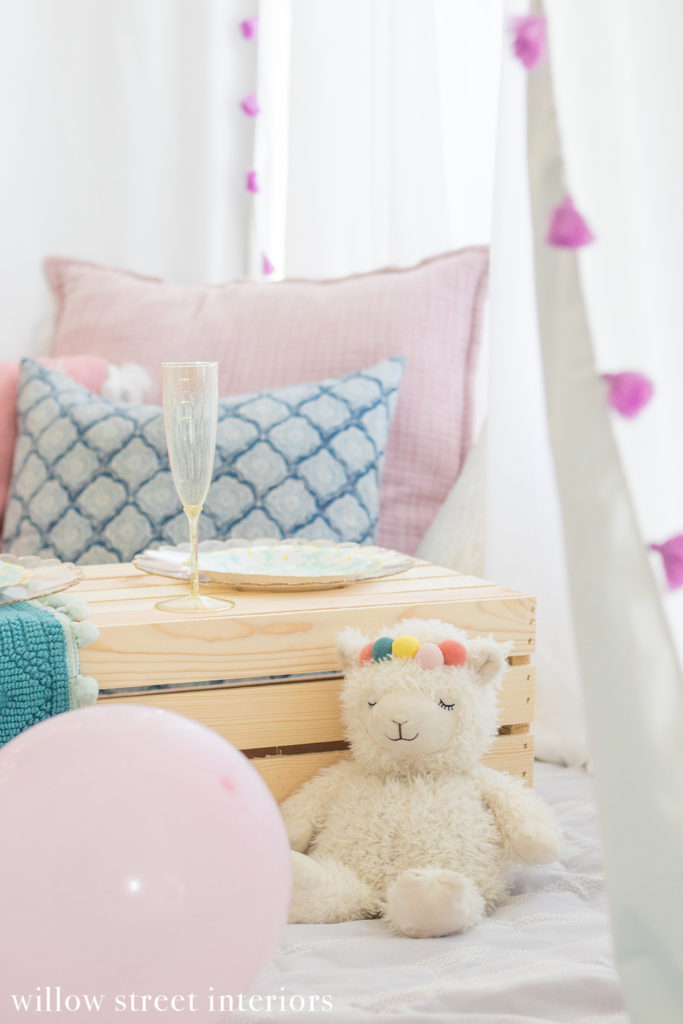 I bought these cute, little gold champagne flutes for the lemonade, which the girls thought were super fancy and fun. We actually ate dinner/dessert in the kitchen, and snacks during the movie night in the tent.
They also had Belgian waffles and fruit salad in there in the morning- with the sun streaming in the windows. It was so magical for them, you guys.
I treated Aubrey to a new onesie for her slumber party. She liked these ones on kigurumi.co, so I bought one of those and then encouraged her friends to bring their own. They all wore one before bed and they looked so cute together.
Quick tip that I forgot to mention in the video- I lined the floor with a couple of plastic table cloths and then put the blankets over it, so that, if there were any spills, my carpet wouldn't be ruined. Surprisingly, no one spilled though!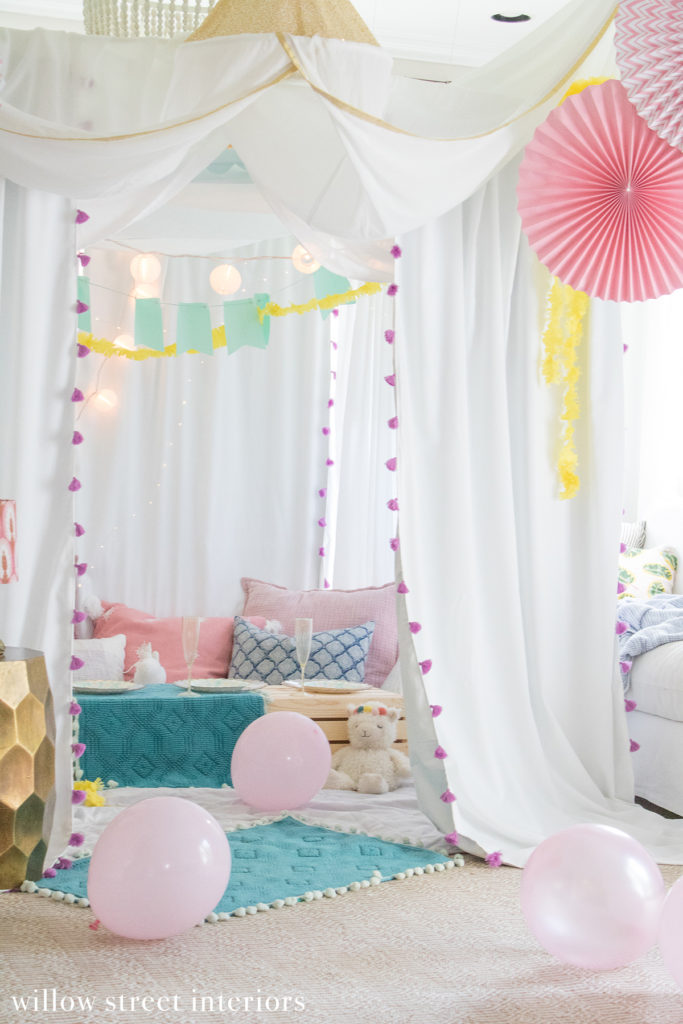 You guys, if I could keep this thing up year round, I would. It was that magical to hang out in.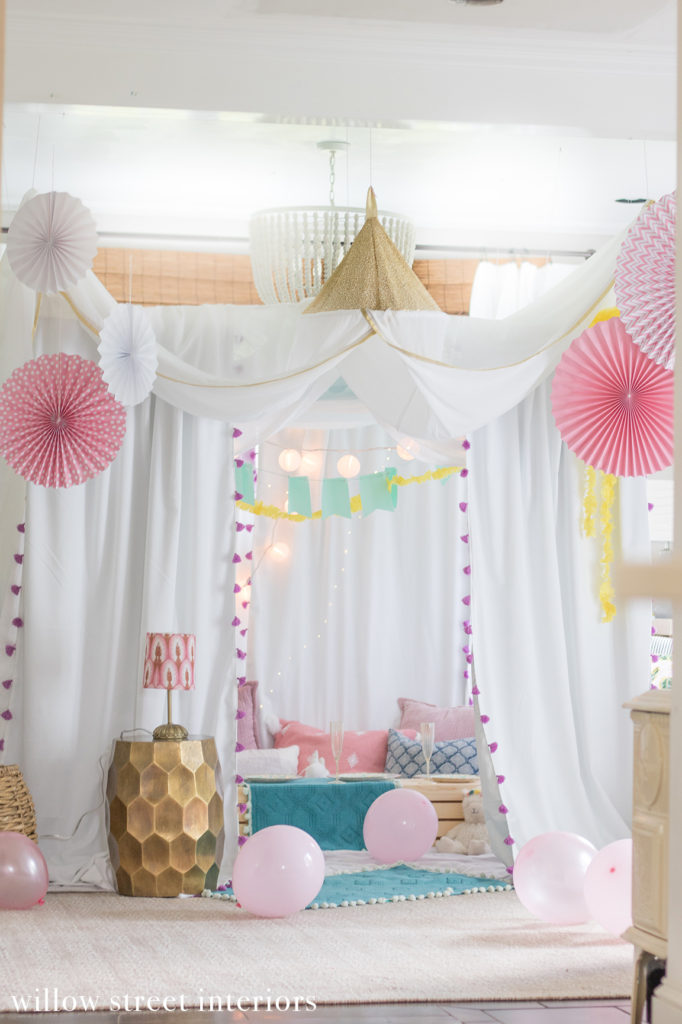 how to make the tent
I made a video explaining how I built the tent and shared it over on my Facebook page. The video will be larger and easier to see if you view it over on Facebook, but I'll post it here too.
But essentially, I hung a bunch of different white curtain panels (and a bed canopy) onto a small square frame that I built myself, using small molding suspended from the ceiling with purple yarn, lol.
And then, I strung up a mix of globe and fairy lights, bunting and garland to the molding from inside the tent.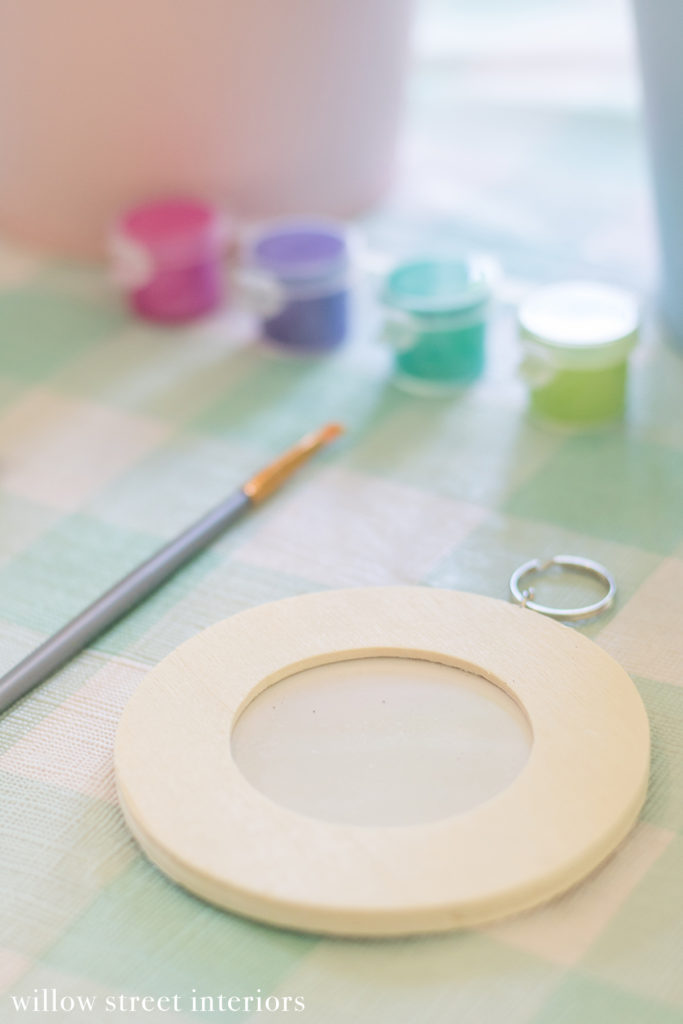 I picked up some cute little keychains for the girls to paint during the party. I took their picture in the tent when they arrived, and then printed, and put them in the frames that night. It was simple, cheap, and fun!I was kind of rolling with the keychain idea at first, and had considered getting them a personalised photo keychain (porte-cls personnalis photo) for later on, however, the pictures in the photo frames looking really cute in the end so I've stuck with those!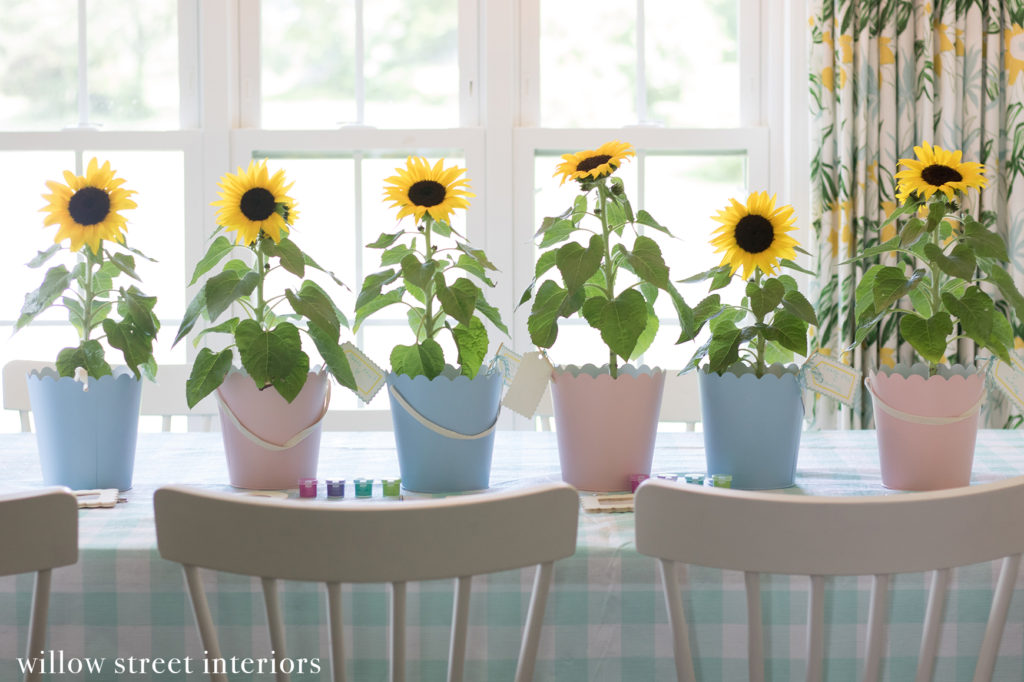 They got to bring their keychains home as a favor, along with these pretty sunflowers that I found at Whole Foods for $2.99 each! To be honest, I was planning to find some small plants at Home Depot, but I happened to see these while I was headed there, and did an immediate u-turn.

[show_lookbook_widget id="425225″]
Aubrey hand wrote thank you's on sweet little tags too, and then I just stuck them in the pots with a shish kabob skewer that I cut in half with kitchen shears.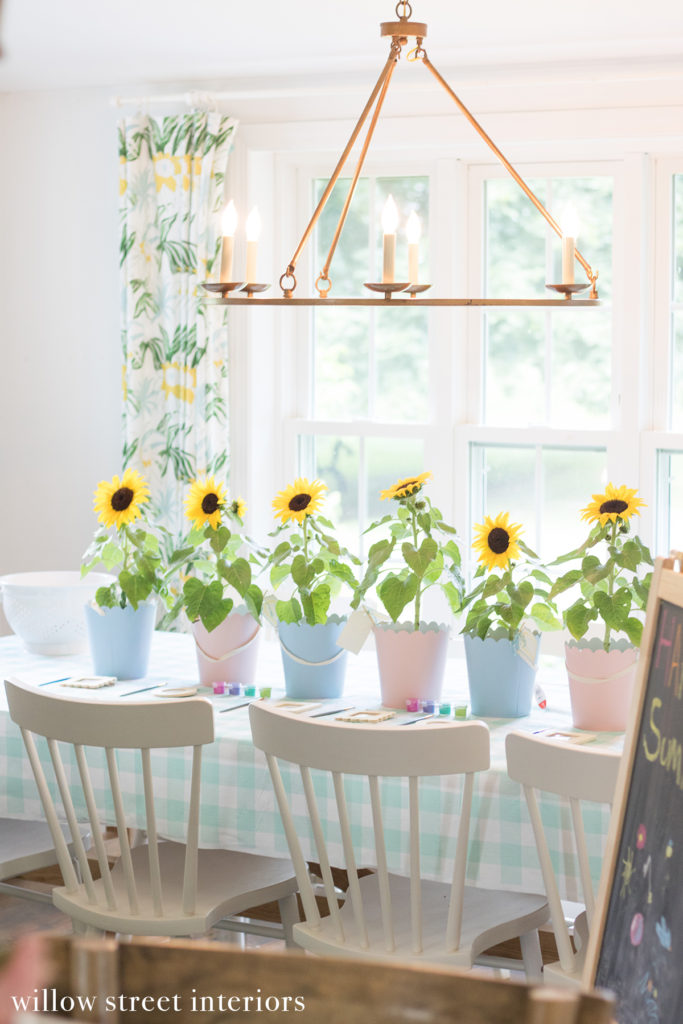 [show_lookbook_widget id="425225″]
It was such an enchanting party, you guys. The girls loved it, and I'm telling you, it was one of the least stressful parties I've ever thrown, thanks to ordering take out, and being able to make the tent ahead of time.
Stay tuned for my summer house tour that I'm going to attempt to share next week!
I was supposed to share it along with a bunch a blogging friends last month, but my dad was in the hospital (he's fine now, thank goodness!) but I feel like somehow, I'm still playing catch up. How is that possible?
Hope you are all having a wonderful summer!
XO, Laura
PS All of the cute, yellow and turquoise decor (plates, tags, buntings, garlands, etc. are from Michaels) The cute wooden crates are too! I'm not able to link them in my look books though.