Happy Thursday, Everyone! I'm thrilled to be joining lots of talented bloggers to share New Year's Eve Tablescape ideas with you today! The series is hosted by Bre from Rooms for Rent, who just so happens to be a master of setting incredibly beautiful tables. If you haven't bought her book yet – do!
It's chock full of insanely beautiful table setting ideas, and you definitely want it as part of your beautiful design book repertoire.
I adore setting a pretty table. It's kind of like a mini room design, but on a much smaller surface and minus the furniture. I mean, think about it. A beautiful table involves most of the same elements that a pretty room does.
Texture, color, pattern, mixed finishes like woods and metallics…
And putting it all together is so much less work, too!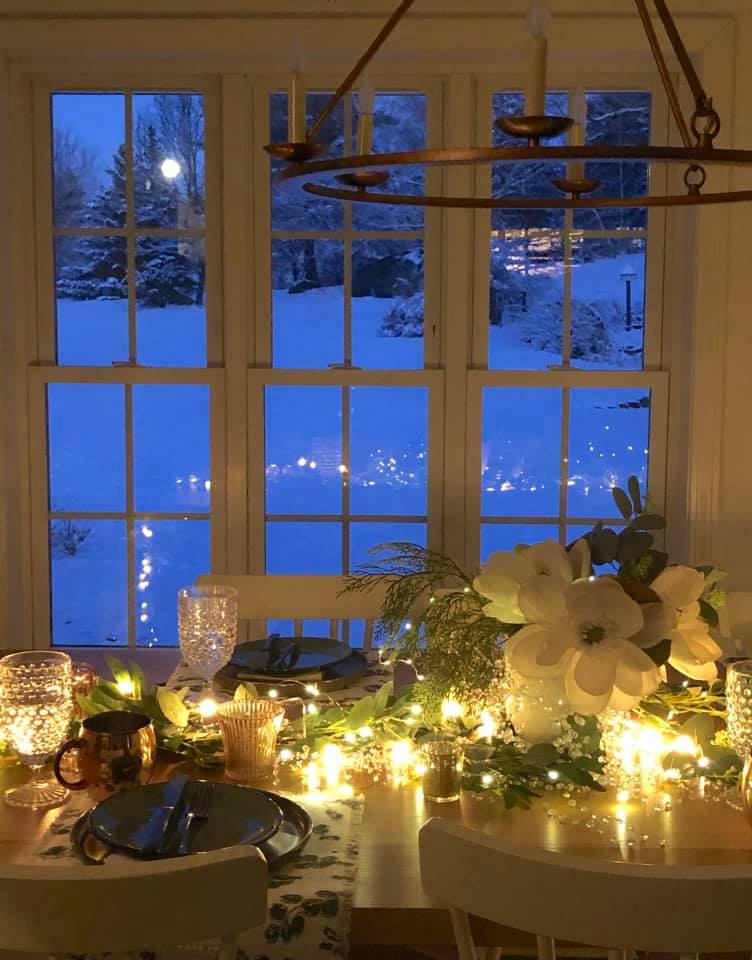 I took this photo with my cell phone last week, just as the last full moon of 2019 started to rise in the sky.
I actually had no idea about that at the time – someone shared it on Facebook hours later, but I thought it was pretty special.
Is there anything better than looking out at the beauty of freshly fallen snow, while you're cozy and warm, and surrounded by twinkle lights, inside?
I think it's a pretty magical way to ring in the New Year, too.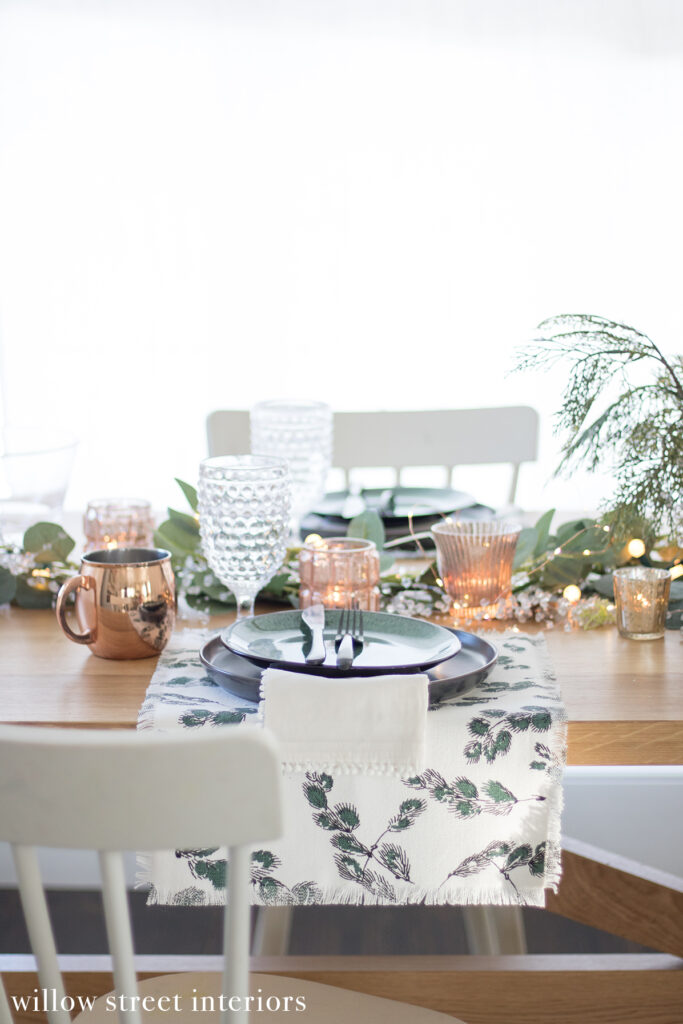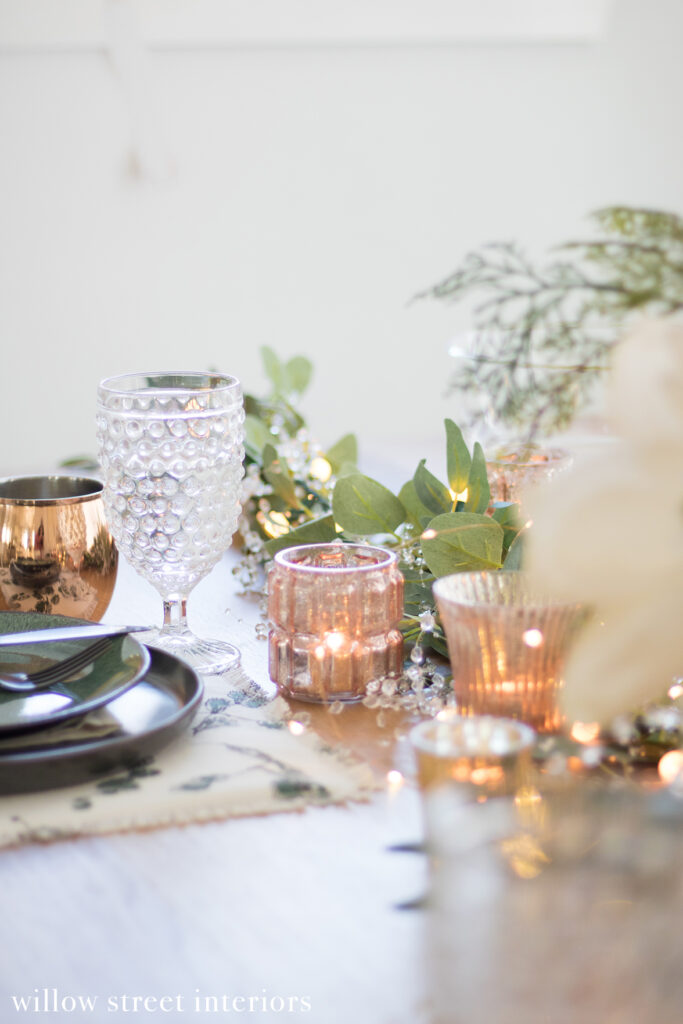 This year, I kept my Christmas decor casual and earthy, which left me craving a little more glitter and sparkle for New Year's.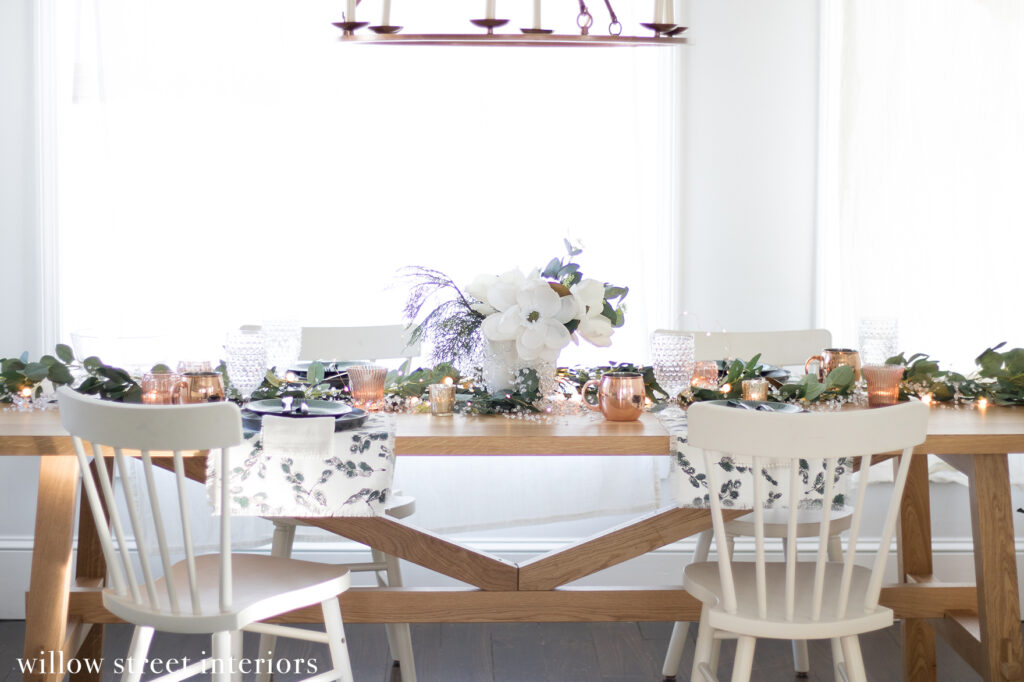 So, I used the same centerpiece that I used in my Christmas tour for this tablescape, too. I just popped the flowers into a smaller vase, and then took the eucalyptus garland that I had draped along the windows, and used it as a runner for the table.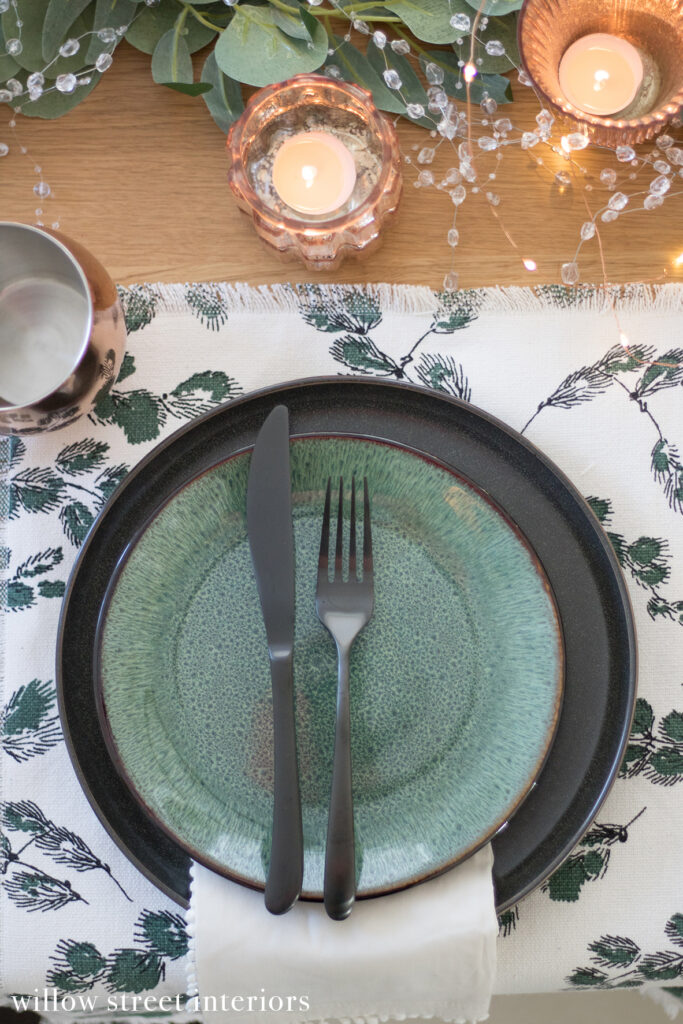 For sparkle, I used some icicle garland from last year's Christmas tree, and wove it through the eucalyptus and flowers.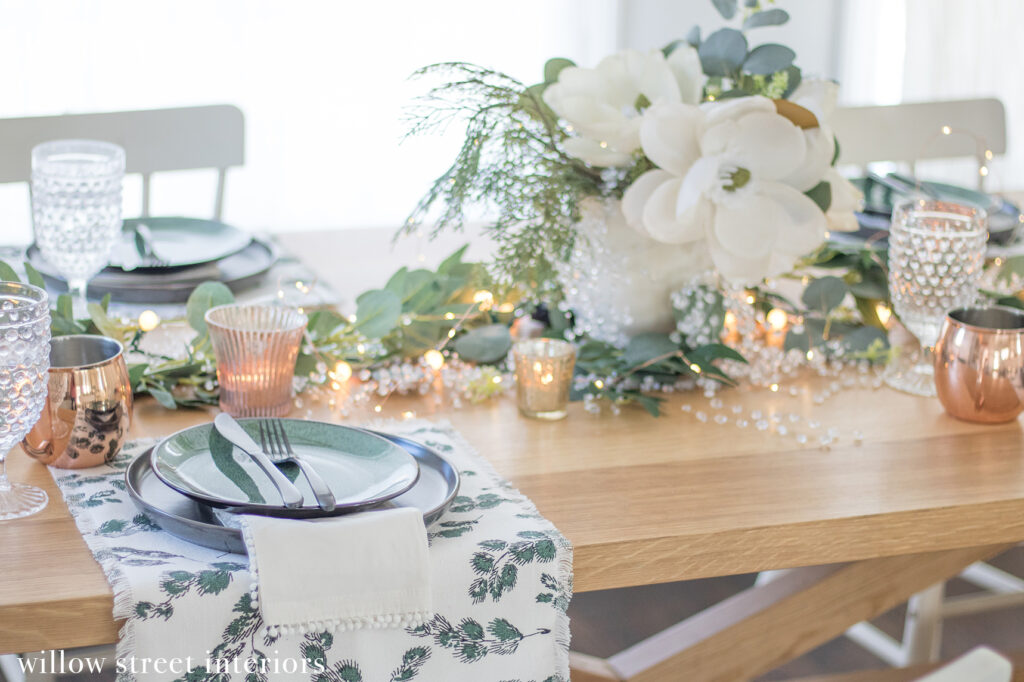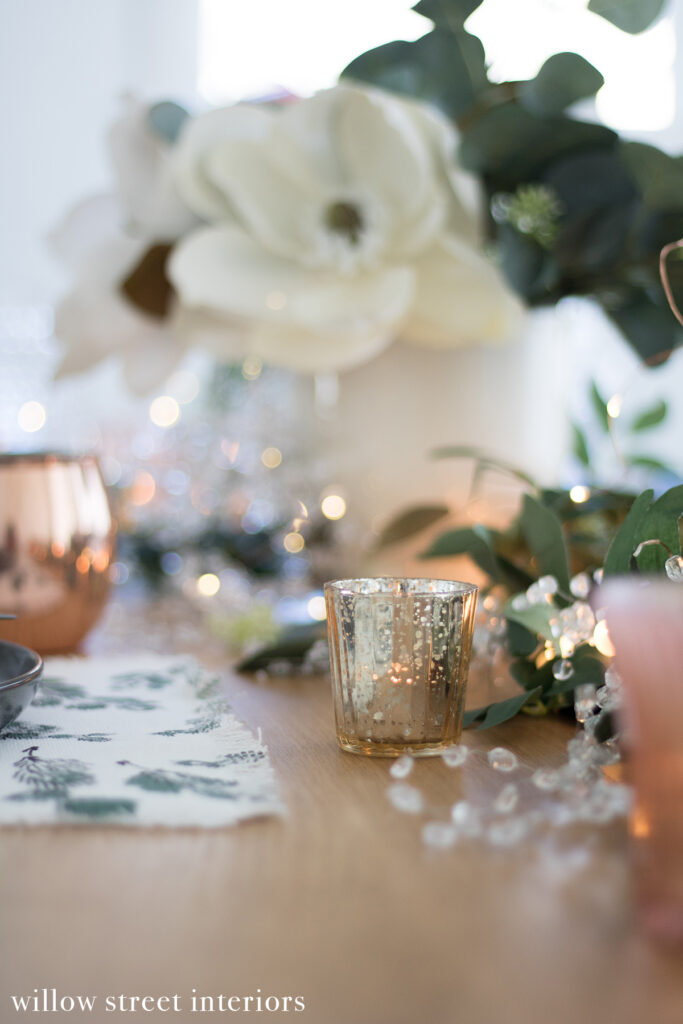 I typically like to juxtapose casual/elegant elements when I'm decorating, and I think the eucalyptus and botanical placemats are the perfect earthy accompaniment to the sparkle of the icicles and candlelight.
I also made a fig, prosciutto, and goat cheese pizza with balsamic drizzle the day I set this table, and I thought it would be the perfect NYE menu idea to go along with this table too (if you're not a fan of goat cheese, you can sub in fresh mozzarella). Slightly elegant, but also perfectly rustic and simple to throw together.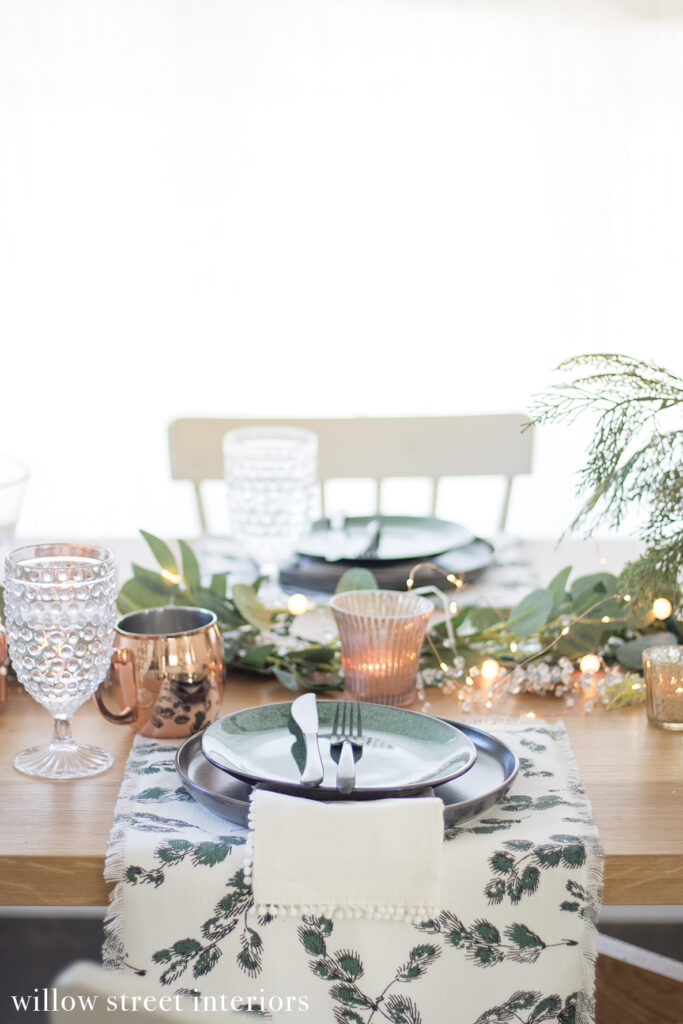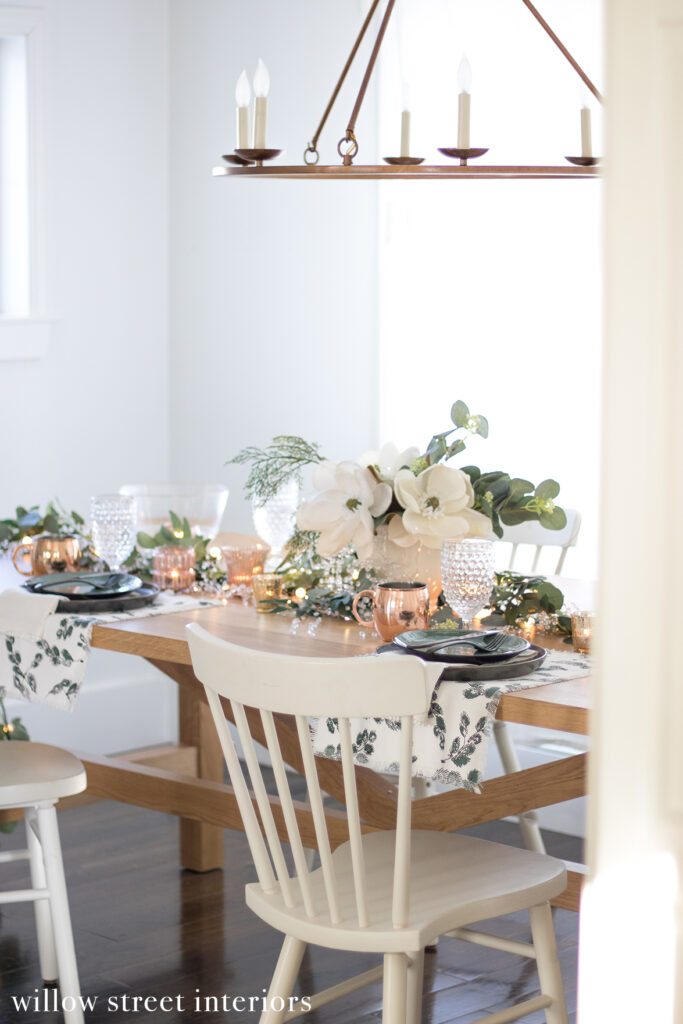 We obviously don't set fancy tables here all of the time, but we do a little more often in the winter than we do at other times of the year, because I think it's just a simple way to make the long, New England winter a little more magical.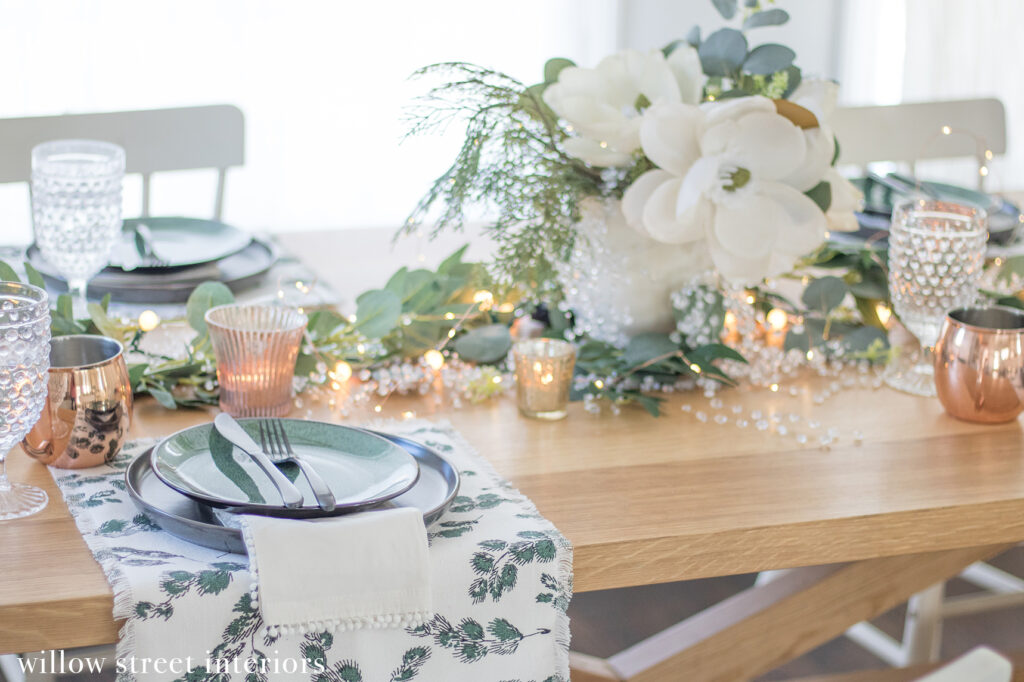 So, surprise your friends this NYE with the soft glow of a pretty table like this…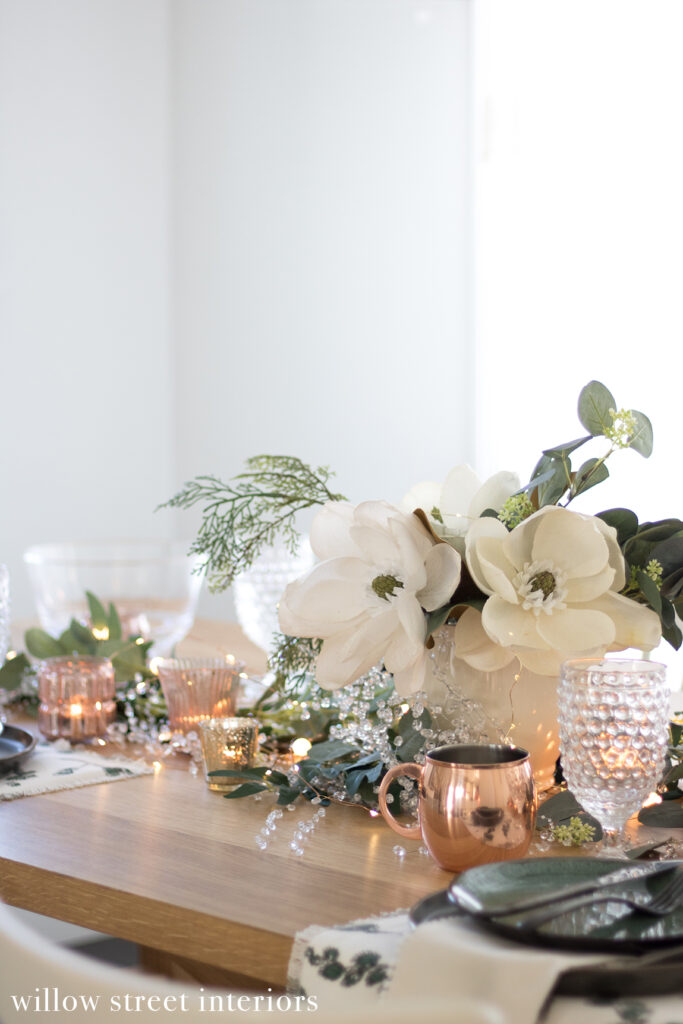 Or try it out with your family on a random Tuesday this winter! It's such and easy way to show people you care…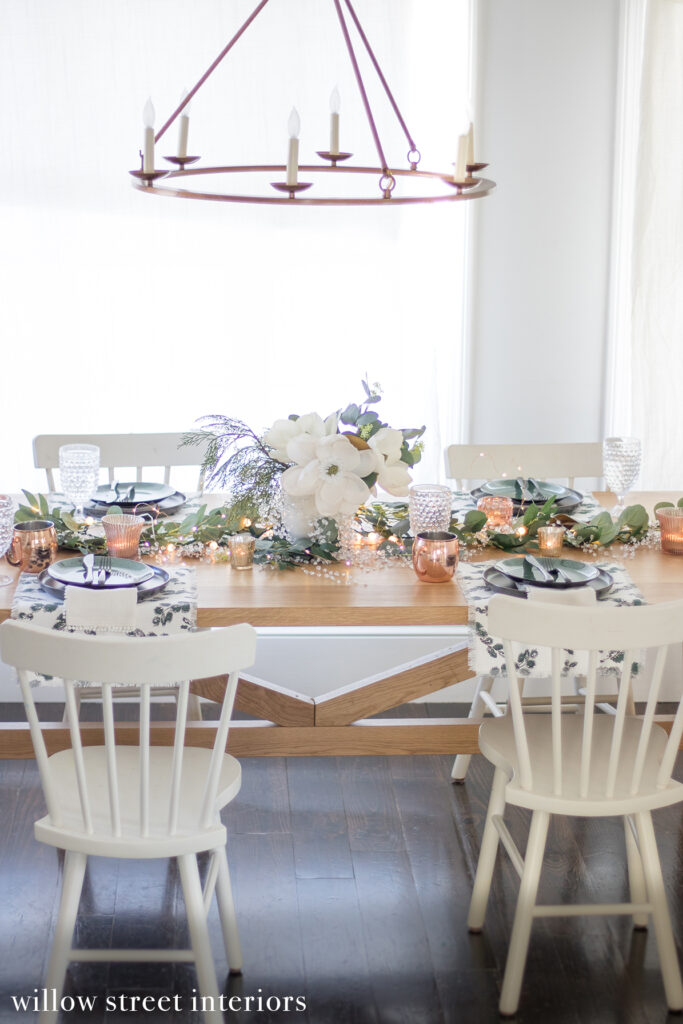 And to set the tone for a cozy and relaxed winter's night in.
Happy NYE, Guys! Don't forget to check out all of the beautiful posts that my blogging friends are sharing today, too!

Rooms for Rent | Willow Street Interiors | Nick + Alicia | Nina Hendrick

Ella Claire & Co. | Zevy Joy | Just Destiny | Shades of Blue Interiors

Modern Glam | The Happy Housie | Wildflower Home
XO, Laura