Hi Everyone! I have a pretty, spring tablescape to share with all of you, and I'm really excited about it. One, because it means that it's almost spring, and two, because colors make me happy, and this is one colorful table.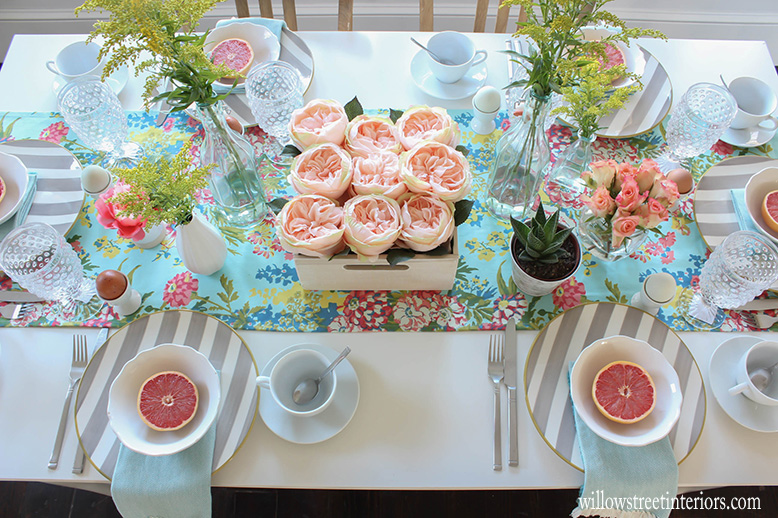 I have vivid memories about a JCPenney catalog that I used to keep under my bed when I was little.
I remember that it was thick and heavy – much like any 'old fashioned' catalog – with lots of writing and number references crammed onto most of the pages. But certain sections were full of pretty rooms and design inspiration, and this is precisely why I kept that catalog under my bed. I still remember, quite exactly, what I wanted my dream bedroom to look like.
It had glow in the dark stars and planets covering nearly every square inch of the ceiling, a pretty crazy looking comforter, with a jazzy, early nineties print in fluorescent pink and blue (think Zack Morris outfit gone wrong), and one of those clear telephones with all of the visible colored wires inside. I know I can't be alone on wanting one of those back in the nineties! Actually, I bet some of you even had one, a n d my eleven year old self is jealous! 🙂
I used to stand outside our bedroom door (my sisters and I shared, by choice!) and tell them that if we took down the wall between our room and the adjacent room, we could have the coolest room of all time – just like my catalog inspiration photo. And I'm guessing I was about eleven or twelve at the time.
So it's pretty safe to say that interior design and creating pretty spaces is just in my blood. It makes me so happy to pull colors and fabrics together, and actually create a mood in a room.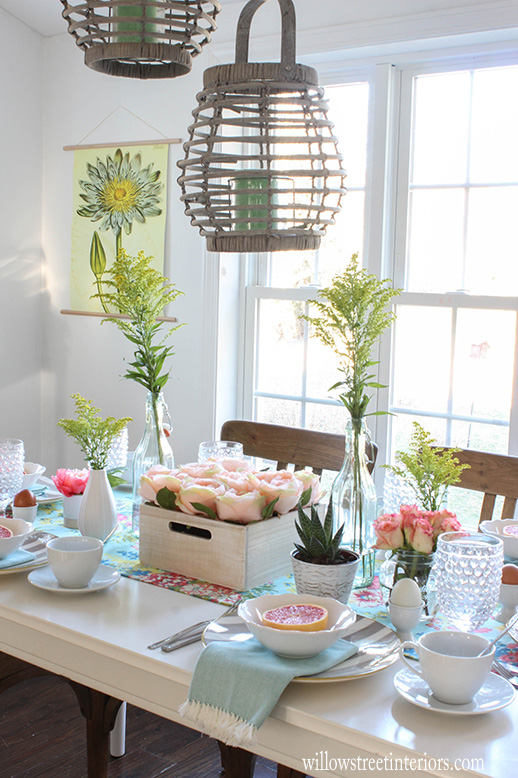 Isn't it amazing how colors can do that? Actually make you 'feel' something? I love the cheerful energy that this table gives off, which is fitting because it happens to be exactly how I'm feeling about spring being just around the corner!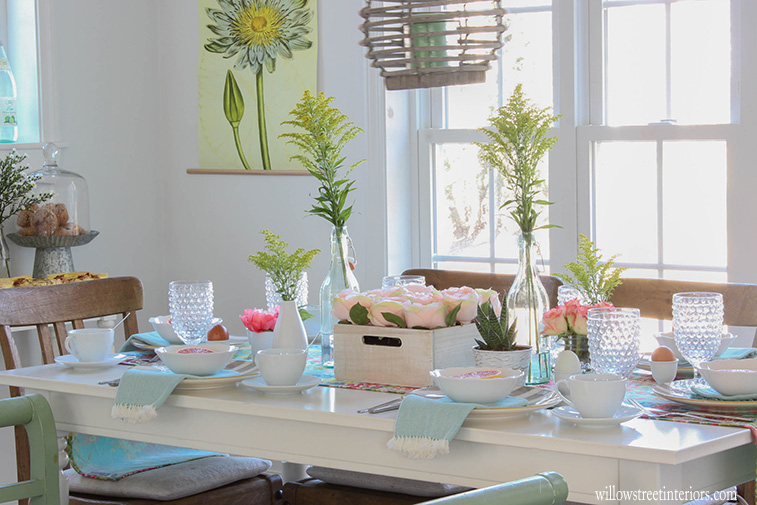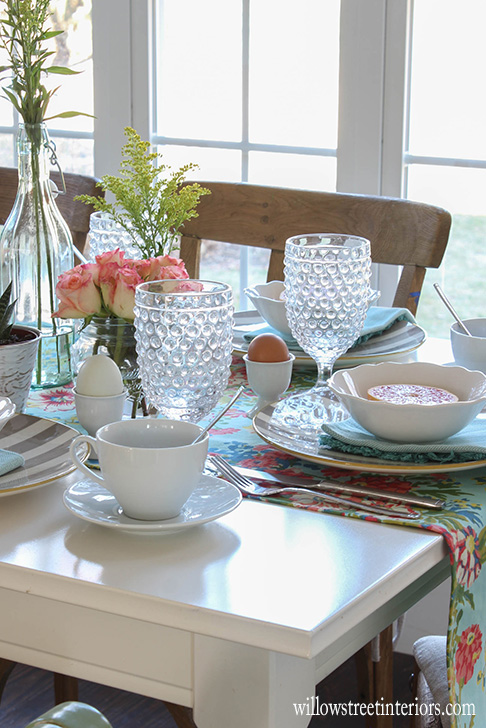 I used a pretty runner that I found on sale at Homegoods as my jumping off point for this table, and decided that I wanted to pull the coral, peach, and chartreuse-y green for the flowers.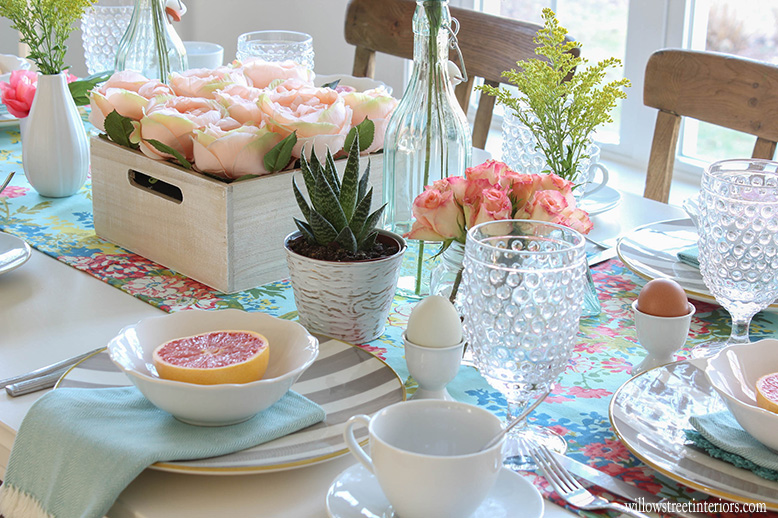 I blended fresh flowers with some faux arrangements that I already had. Before you judge me about my fake flowers, hear me out, ok? 😉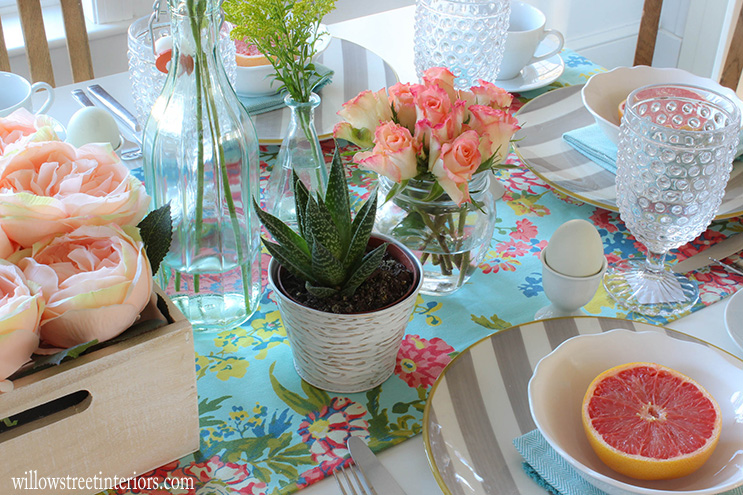 I adore fresh flowers as much as the next lady, but I can't afford to go out and buy them every few days, so I always blend fresh and faux when I'm decorating. That way my shelves and bookcases never feel completely barren. I would definitely recommend reading a guide to fake flowers before using them in any decor just so you know what pairs well with what and you're happy with the end result. I agree with some people when they say that some fake flowers are easily noticed but when done properly, you shouldn't be able to notice a difference between real and fake.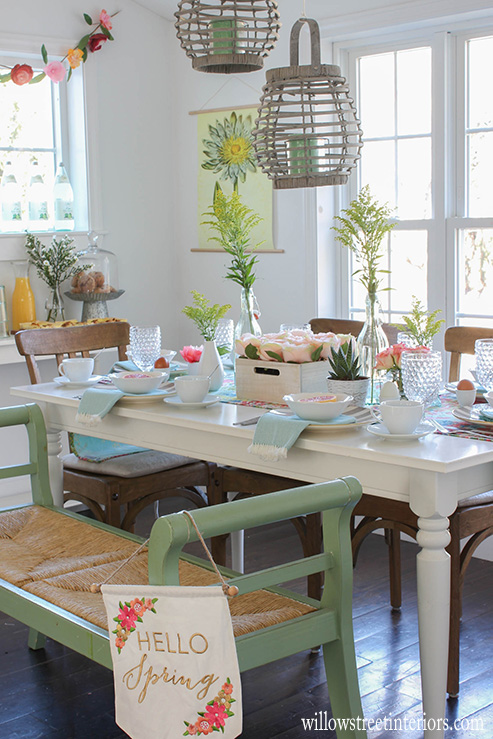 And when you've gone and decorated a pretty table, you're not depressed about it 3 days later because all of your flowers have died!
So for this table, I borrowed some faux arrangements from around the house, and then just mixed in a few roses and sprigs of golden rod that I picked up at Hannaford's.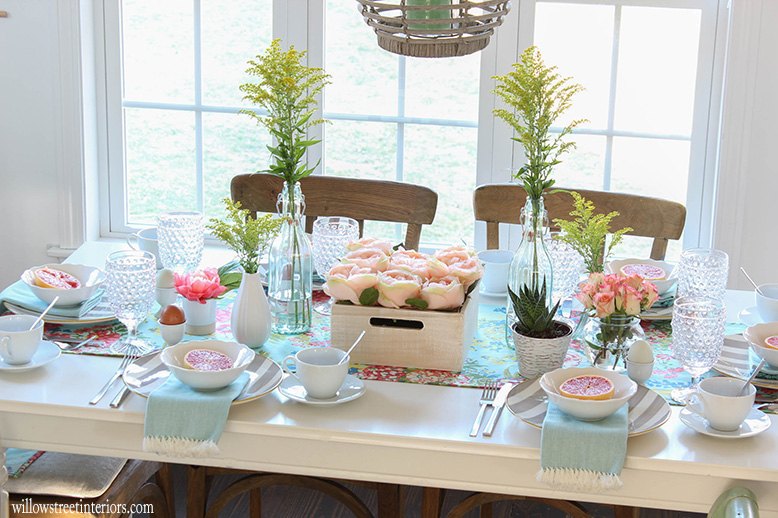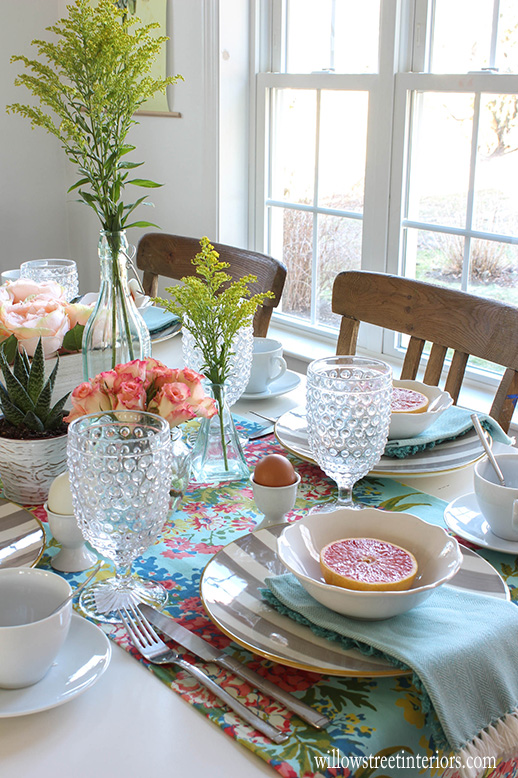 I also brought in my favorite hobnail water goblets (another Homegoods find). I'm always so smitten with the way the sun catches them.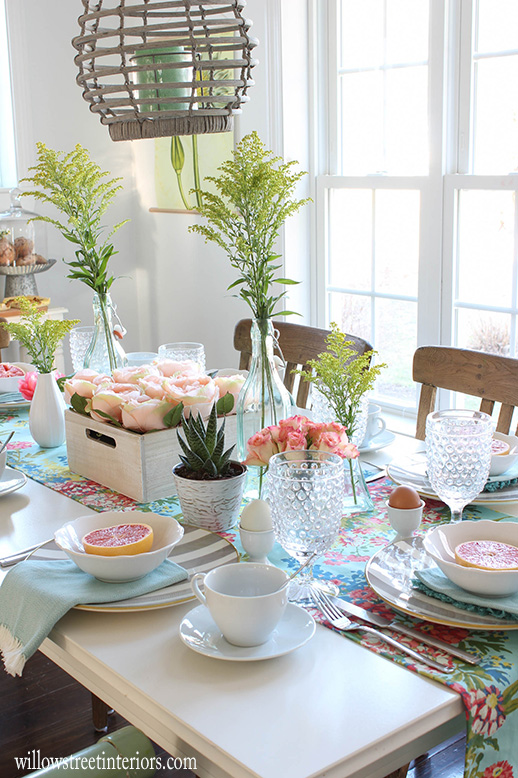 With such a bold, attention-grabbing runner, I thought I'd balance things with a subtle, beige and white nautical striped plate.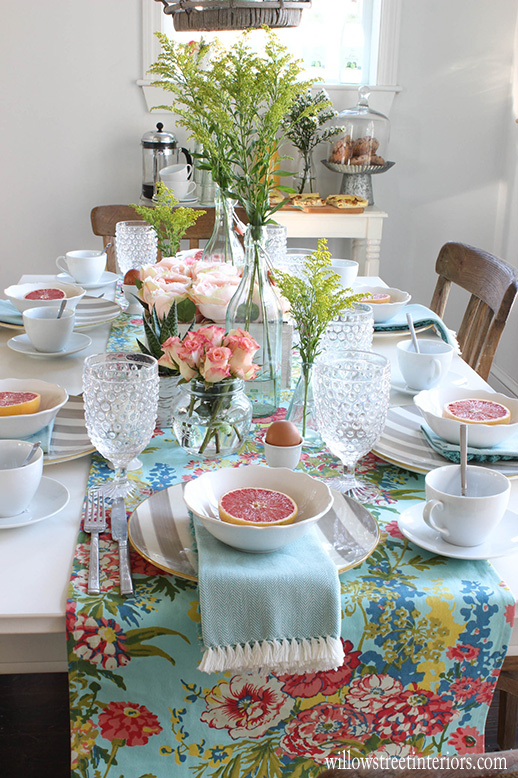 I added some teal napkins, and a beautiful, cut pink grapefruit to a bowl, and voila! A perfectly colorful, springtime table inspiration!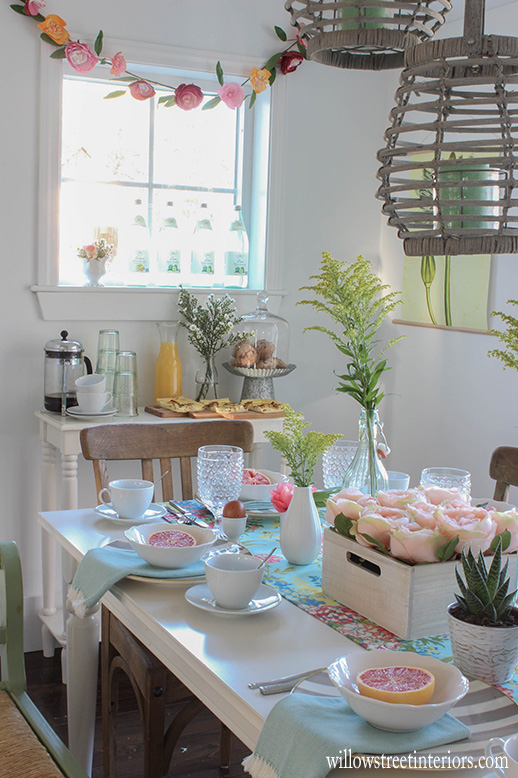 The girlies are SO excited about our fancy breakfast tomorrow. And you know what? This sort of thing doesn't happen everyday, so I'm pretty excited about it too!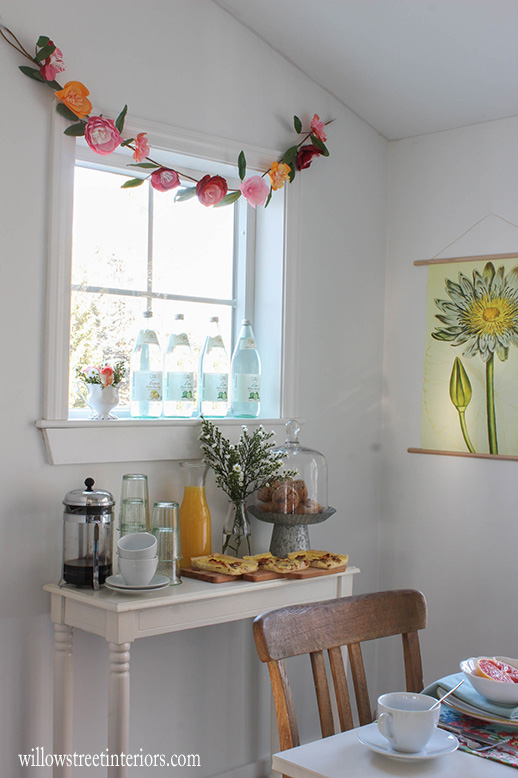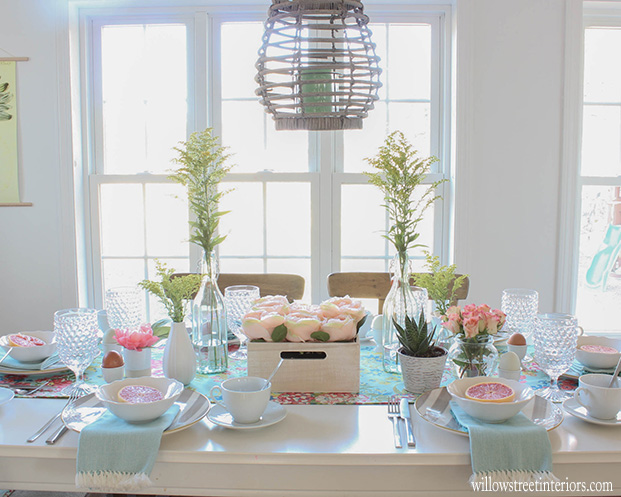 Wishing you all a Happy Friday, and an awesome start to a well deserved weekend.
Laura ?