Hi Friends!  If you hang out with me over on Instagram, you've probably noticed that I've been making some changes to our living room recently.  I actually changed things up a few weeks ago, but it's taken me awhile to bust out the camera and finally take some photos to share with you guys.
The time between Christmas and Spring can feel awkward to a lot of people from a decorating perspective.  Is it time for tulips and daffodils and little birds' nests perched on stacks of books, or should we still be using evergreen?
I always say, do whatever makes you happy, honestly.  Home is the most important place on earth, our respite from the outside world, the place we seek shelter both physically and spiritually.  So being surrounded by what makes you feel most like you, is paramount.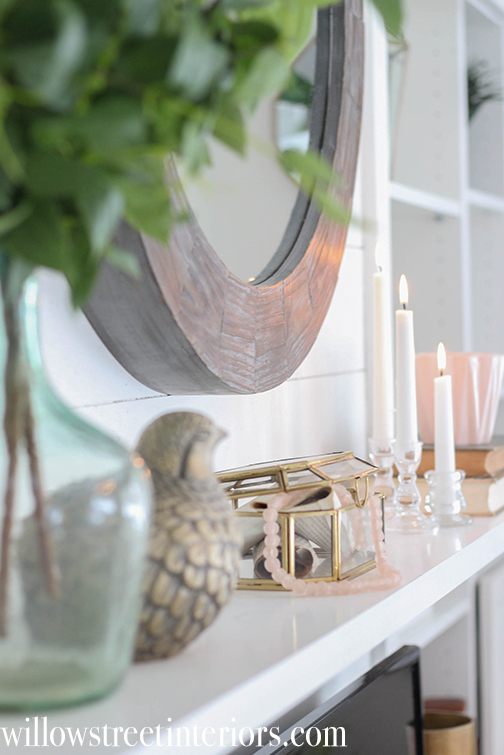 But in my next few blog posts, I'm going to be sharing a few things that I do at this time of year as a sort of after Christmas refresh, while also keeping the house feeling cozy, so check back this week and next for a few ideas!
Today, I want to show you a little bit of  how I've styled my bookcases, and also share an incredible offer with all of you, and I'm literally SO EXCITED about it.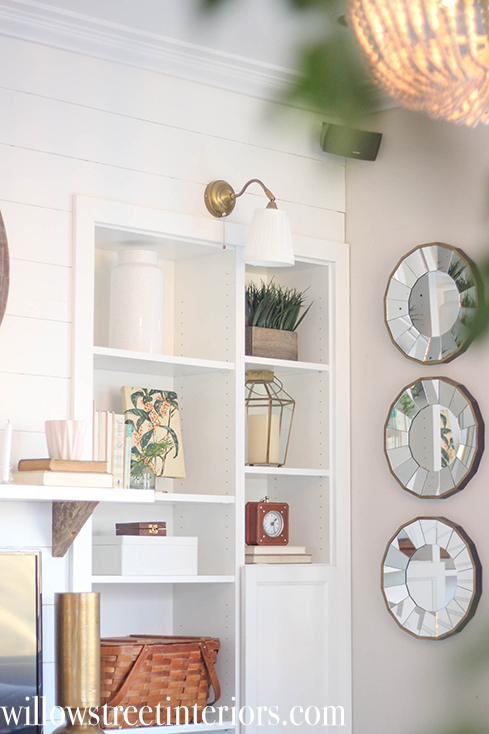 See this pretty artwork?  CreativeGallery.com custom printed it on an 8×10 canvas for me, and I'm obsessed!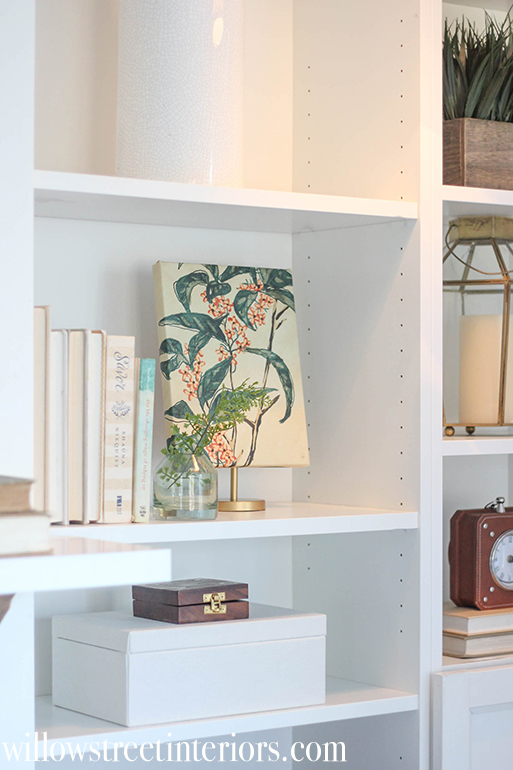 This design is called 'flowery plant' if you'd like to order the same one, but they have thousands of styles to choose from in all different sizes and can do custom framing in addition to printing on canvas.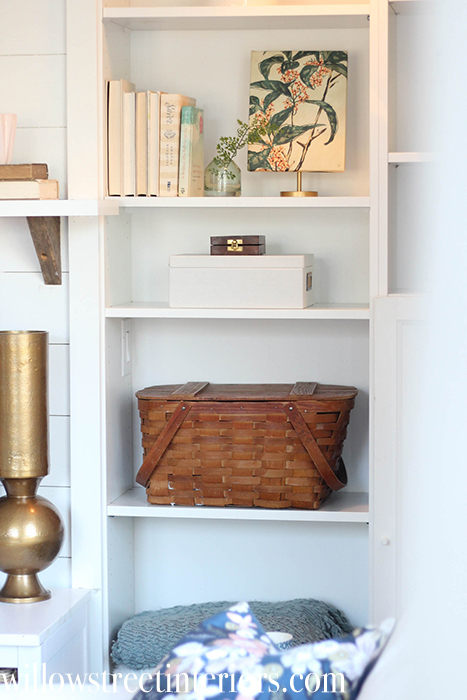 I get asked to do partnerships quite a bit, and I only accept when it's something that really excites me or that I think all of you will benefit from too.  The best part about this one is that the folks over at CreativeGallery.com and Photography.com haven't just given me this beautiful piece of artwork, they're also offering all of my readers 75% off any piece of custom artwork from CreativeGallery.com or a buy 1 get 3 free deal at Photography.com!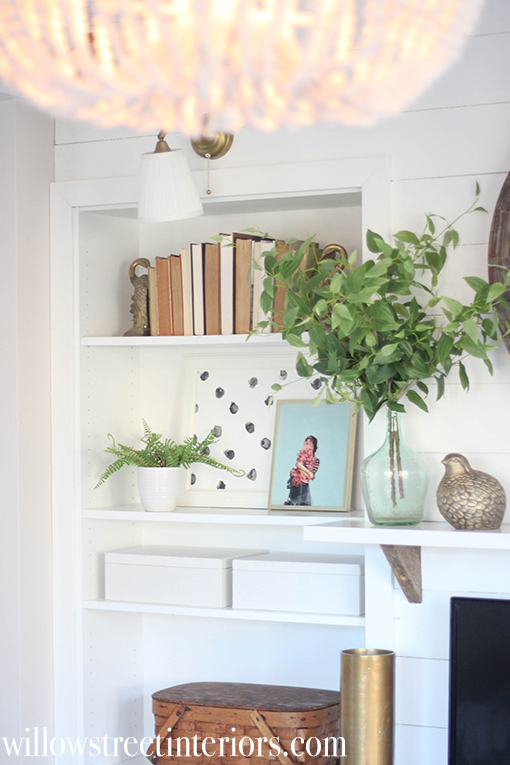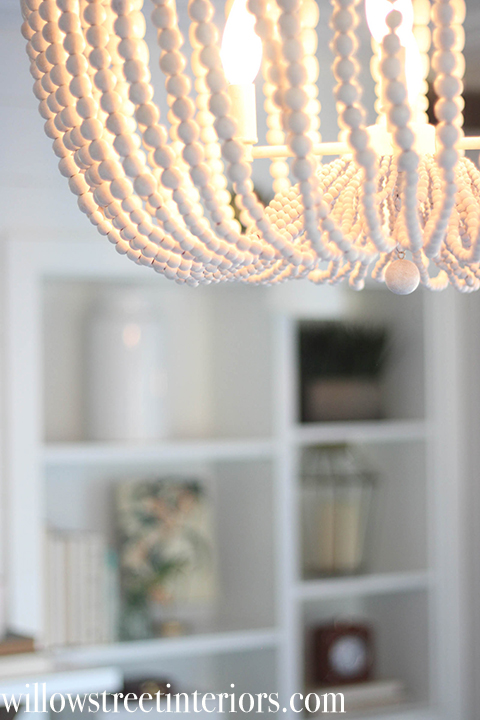 If you're working on a gallery wall or need family photos printed, check out Photography.com.  They can print on canvas, metal, acrylic, glass, bamboo, planked wood – for any photo that you send them.  The possibilities really are endless, and I'm definitely going to be using them when I FINALLY get to style our entryway.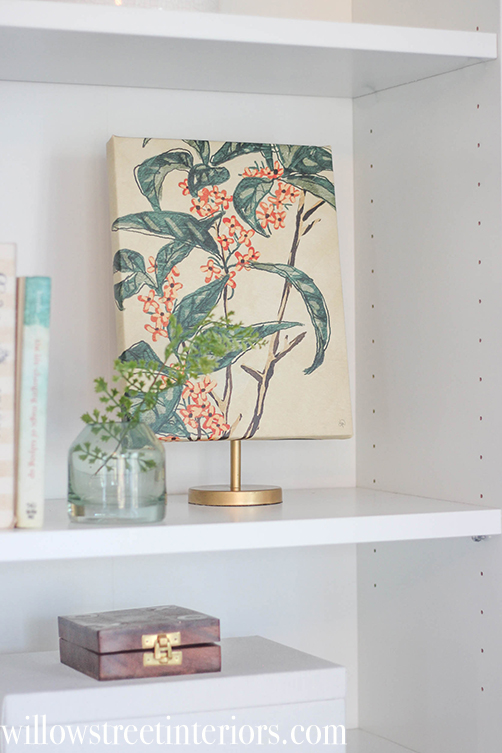 I am so impressed with the quality of this artwork, you guys.  And I'm so excited that I can share such a wonderful discount with all of you!
To order from Creative Gallery and receive 75% off your entire order, use the code LT75NOW at checkout, or click the ad down below.
To order from Photography.com and get the buy 1, get 3 free deal, either click here or click on the ad below!
Here's a little sneak peek of what's going on in the rest of our living room right now.  I'll be sharing the rest of this space soon!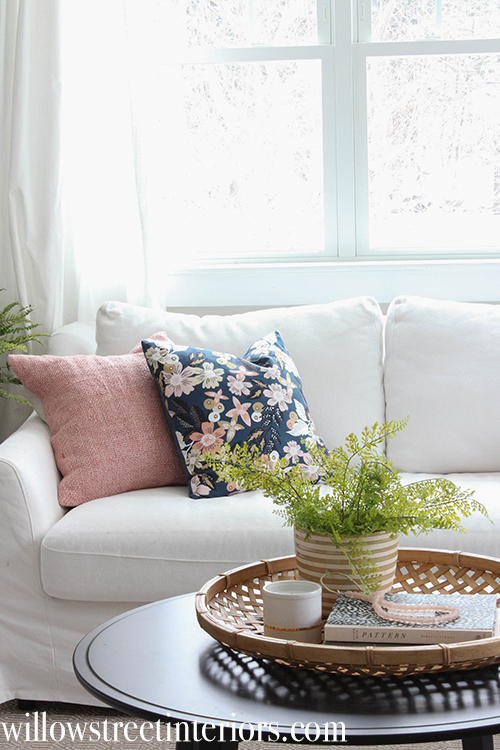 Have a happy week, Friends!
Laura ♥
This post contains affiliate links, which means I may receive a small commission on items that you purchase. Thank you, from the bottom of my heart, for supporting this little blog of mine.