Well, Thanksgiving is right around the corner, folks, and today I popped over to my sister's house to help her set the table.  It came together super quickly, and up until this afternoon, I really didn't have any idea as to what we were going to do.  I normally try to plan the table a little bit, but there's been so much going on this year, and I just have not had the mental space to even think about it.  I figured lots of you might be in the same boat, so I thought I'd share how the table turned out and how I pulled it together, in case you're looking for an easy and last minute Thanksgiving tablescape idea too!  Added bonus – everything I used will transition perfectly into your Christmas decor, with a few minor changes.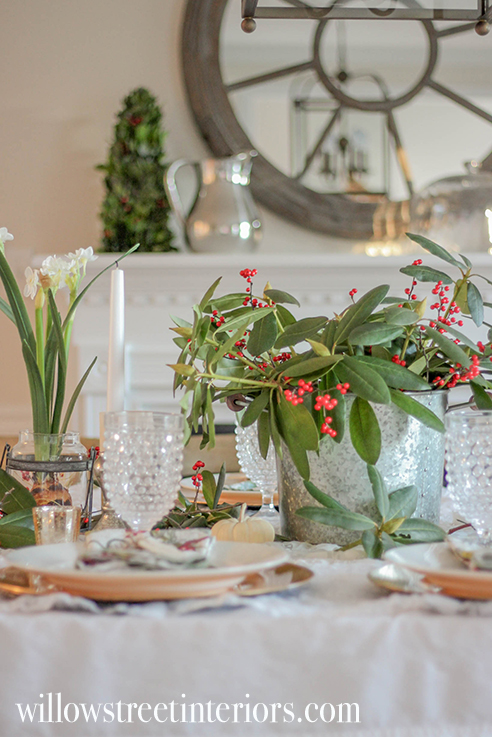 The pumpkins in the northeast are all but a sad memory at this time of year – for the most part at least.  I managed to save 5 little, white ones in my kitchen, hoping they'd make it until Thanksgiving, and they did – just barely, but they did!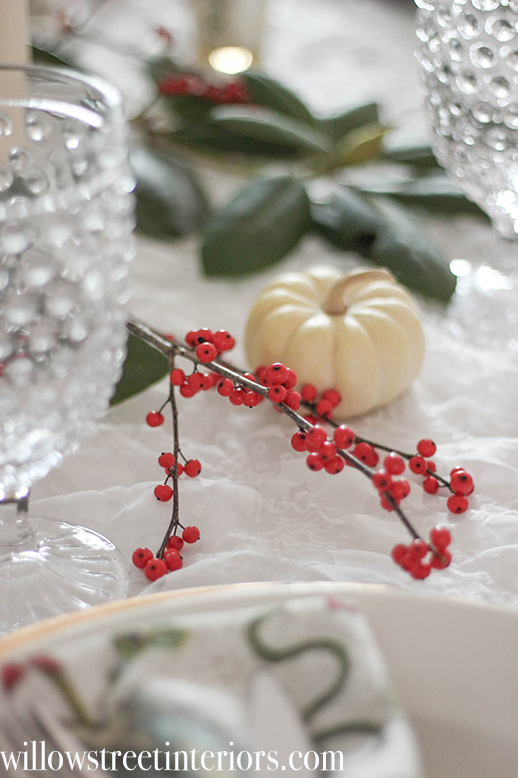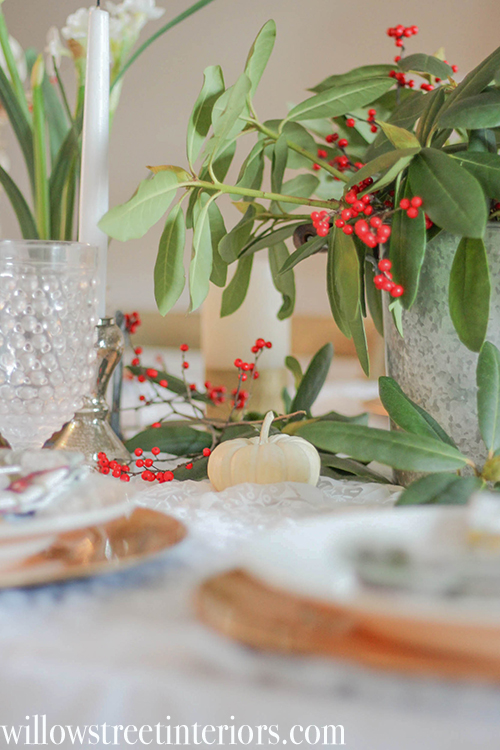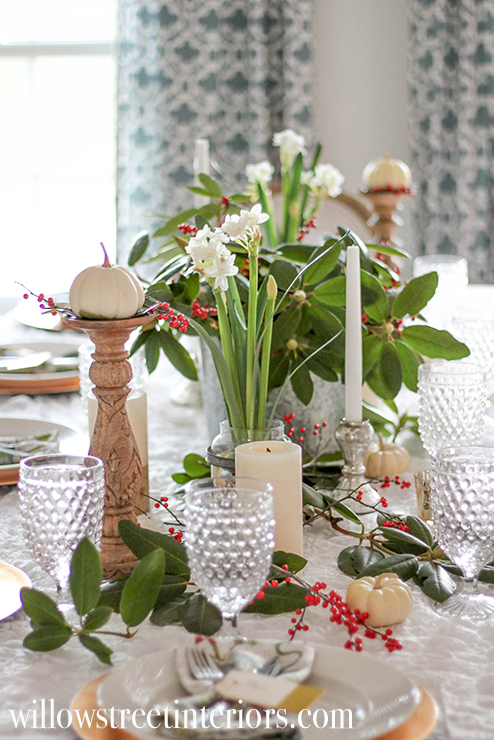 My husband and I used to host Thanksgiving every year until lots and lots of sweet, little kiddos were added to the mix, and now my sister and her husband have graciously opened up their home (which has a very large finished basement for the kids to play) to accommodate all 21 of us!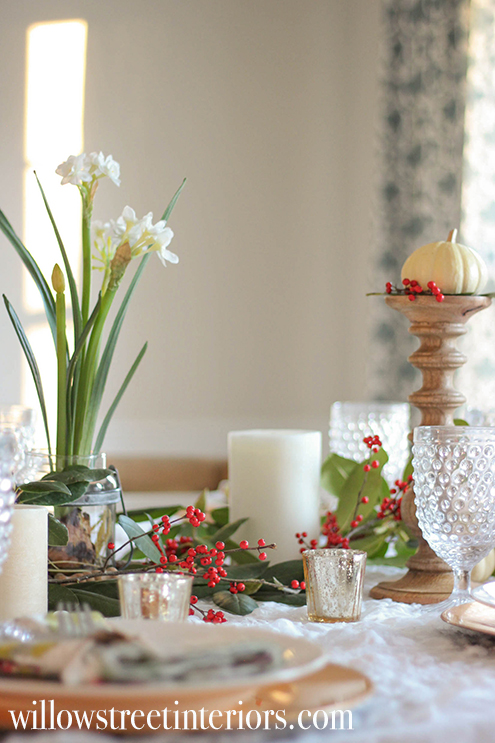 I used to always feel kind of bummed the day after Thanksgiving, because just after I'd gotten my house all decked out for fall, complete with carved out faux pumpkin vases and pretty, fall flower arrangements, the very next day, it was time to decorate for Christmas!  So over the years, I've started to try and create Thanksgiving tables that are
1. as inexpensive as possible, and 2. can transition from Thanksgiving to Christmas with minor changes.
This table is the perfect example of that.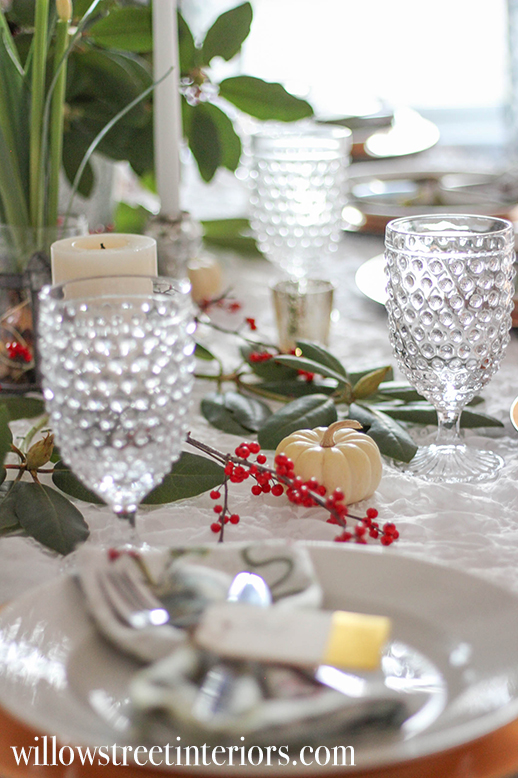 I cut some of my rhododendron branches, and a bunch of red berries at my sister, Jenn's house, before I headed over to Erin's this afternoon, and I'm loving the look!  And seriously, just take away that cute little pumpkin, add a little evergreen, and you've got a beautiful Christmas table on your hands too!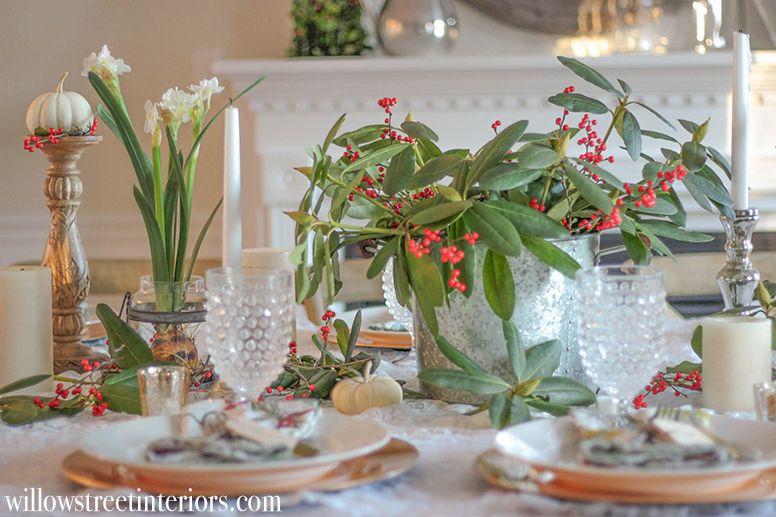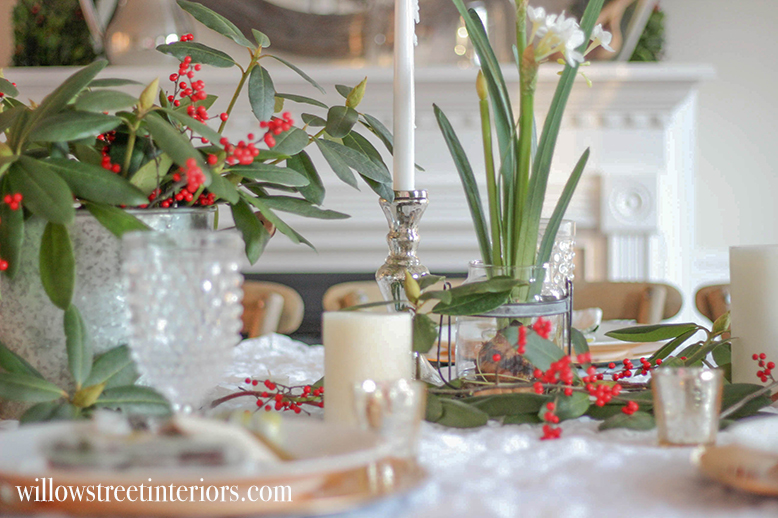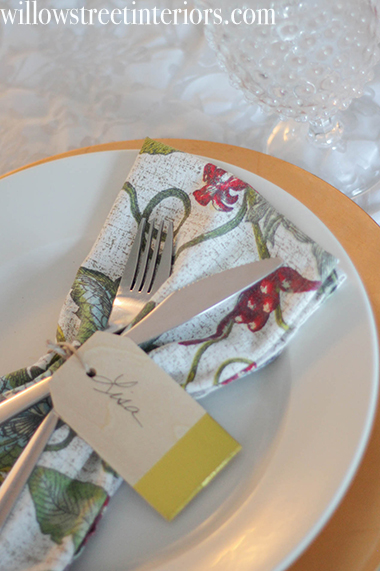 I bought the gold chargers at Christmas Tree Shop ten years ago, but I see similar ones at Dollar General every year!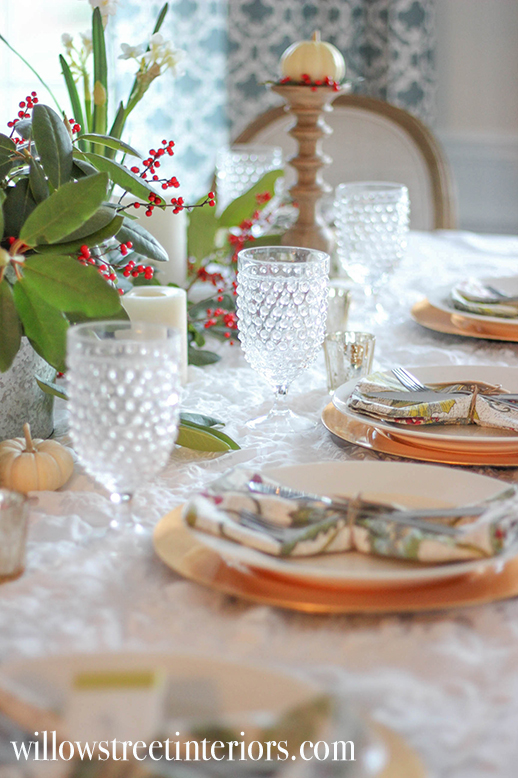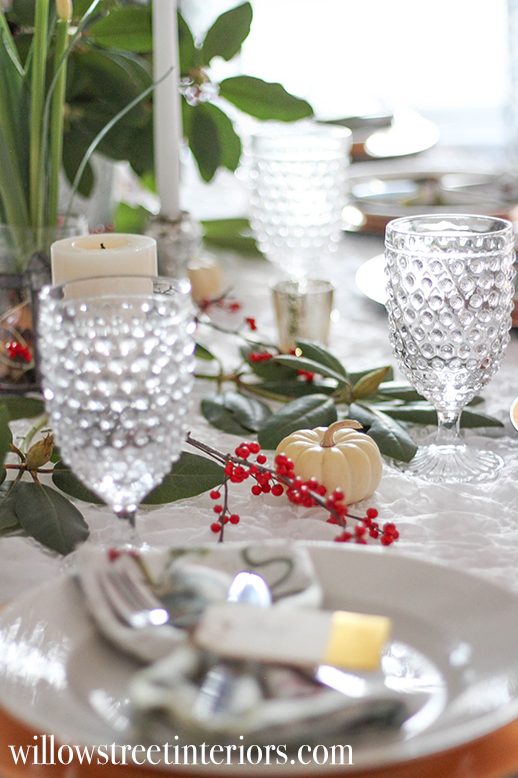 The tags that I used for place cards are from Target, and I also bought the napkins at Target 3 years ago.  I've had the wooden pillars for a few years (World Market still sells similar ones) and I've had the water goblets forever (Thanks, Homegoods!)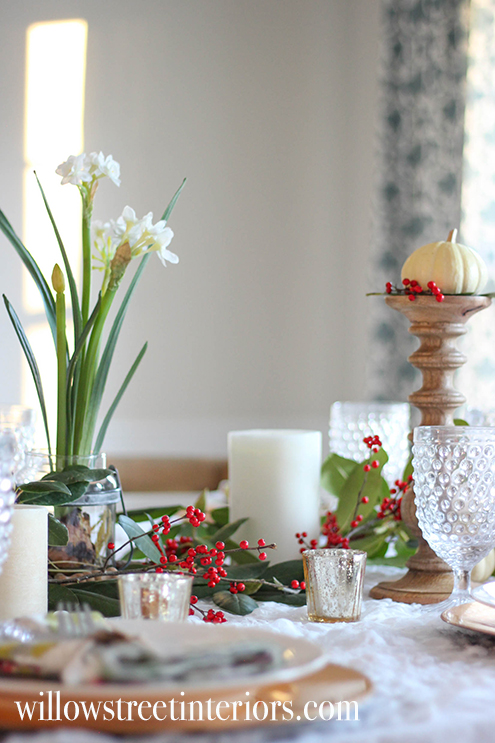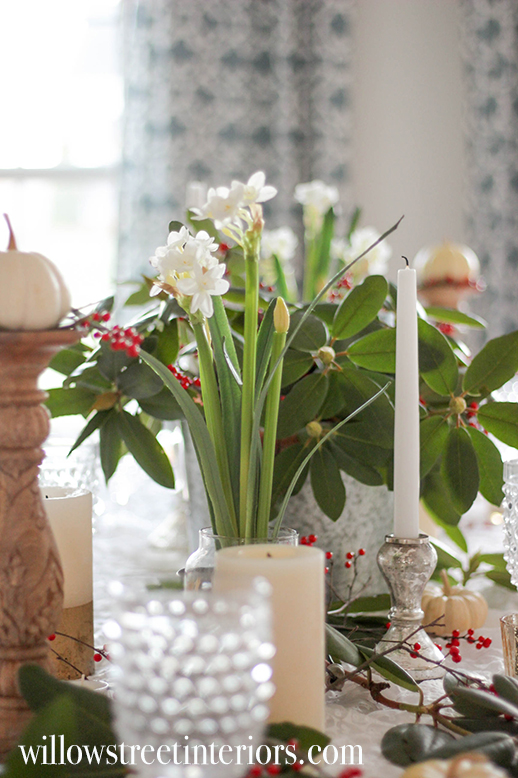 And that's about it, guys! Put out a few candles and white flowers (I brought over my paperwhites, but any white flower would work) rhododendron, and winter berry, and you'll have an inexpensive and beautiful table for your friends and family to gather around and make memories at.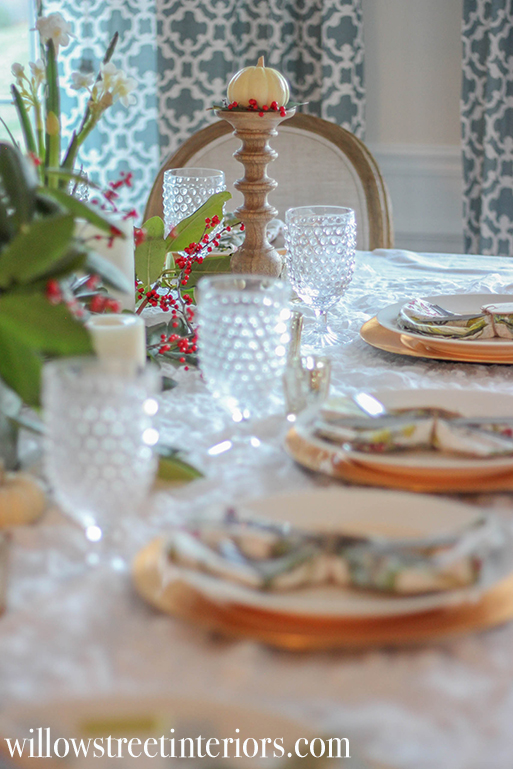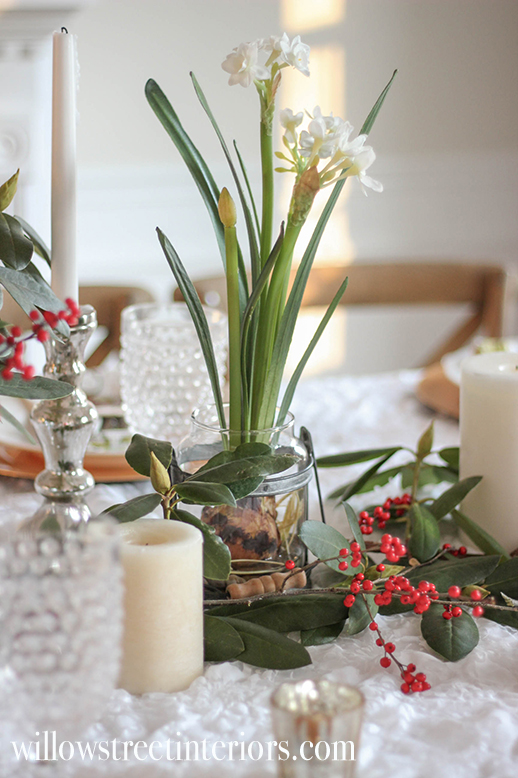 Wishing you all the warmest Thanksgiving blessings, a day filled with gratitude, friends & family, full bellies, and even fuller hearts.
Happy Thanksgiving, Everyone!
Laura ♥