Who's into gnocchi?  I don't know why, but gnocchi feels like Fall to me.  There's something about those puffy, potato pillows tossed in a creamy sauce that says, let's put on cozy socks and have a picnic by the wood stove, cradling warm, steamy bowls of this goodness right here.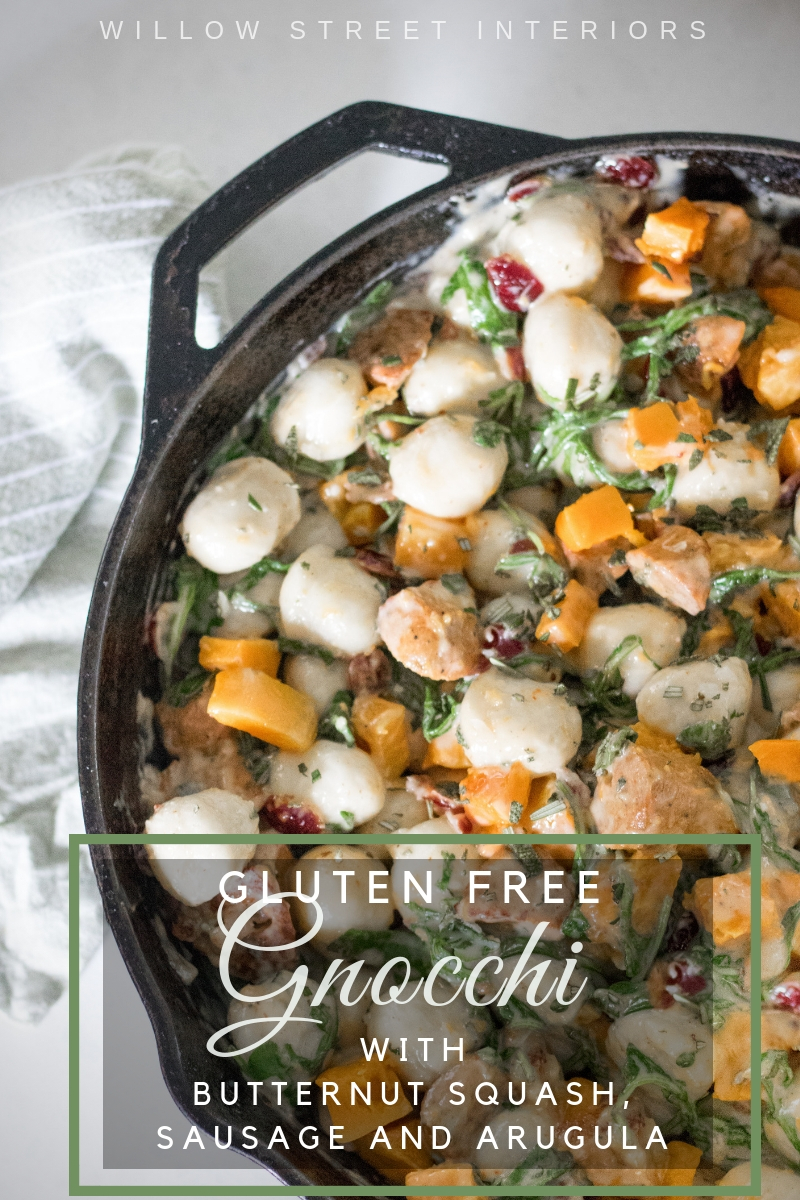 And with the nights getting colder and colder in New England, I say, bring on the cozy food!
In moderation, of course, lol.
I'm super excited to be joining 25 talented bloggers today for another round of The Happy Housie's Seasonal Simplicity Series.  Everyone's sharing a favorite fall recipe this week, and oh my goodness, they all look incredible!  Don't forget to check them all out down below!
I have a few different gnocchi variations that I make depending on my mood, but I looove this butternut squash, sausage, and arugula version.  The sauce is dotted with sage and rosemary and infused with a hint of garlic.  Top it with a little parmigiano reggiano and it's heaven in a bowl.  It's creamy, decadent, and too darn yummy not to make once in awhile!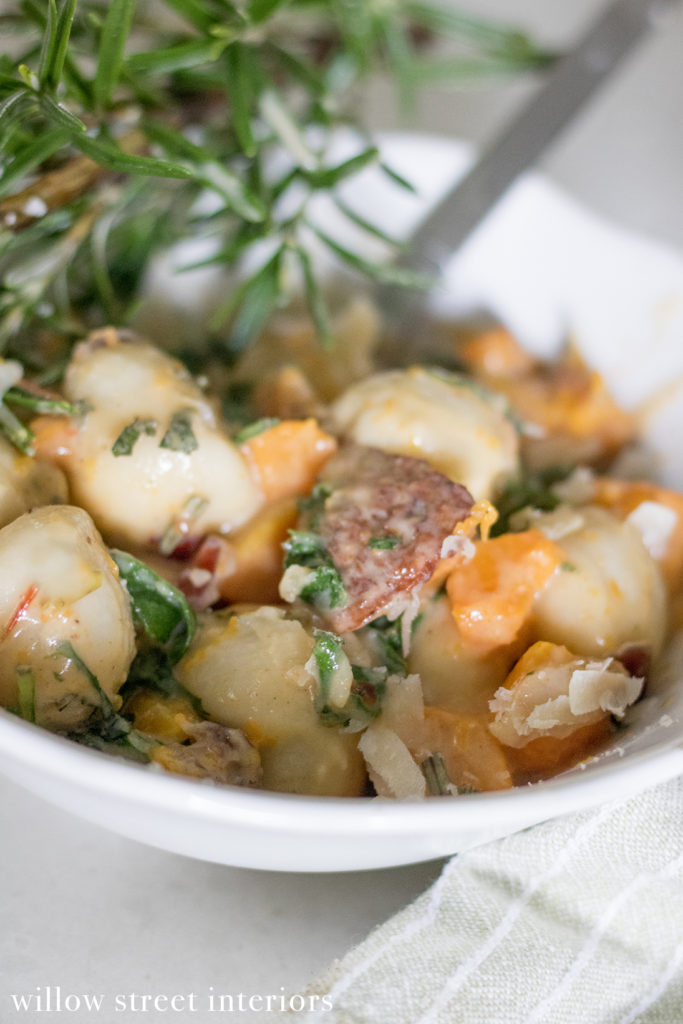 A little side note…
I get my favorite gluten free gnocchi at Wegmans.  The brand is Capello's and you can find them here.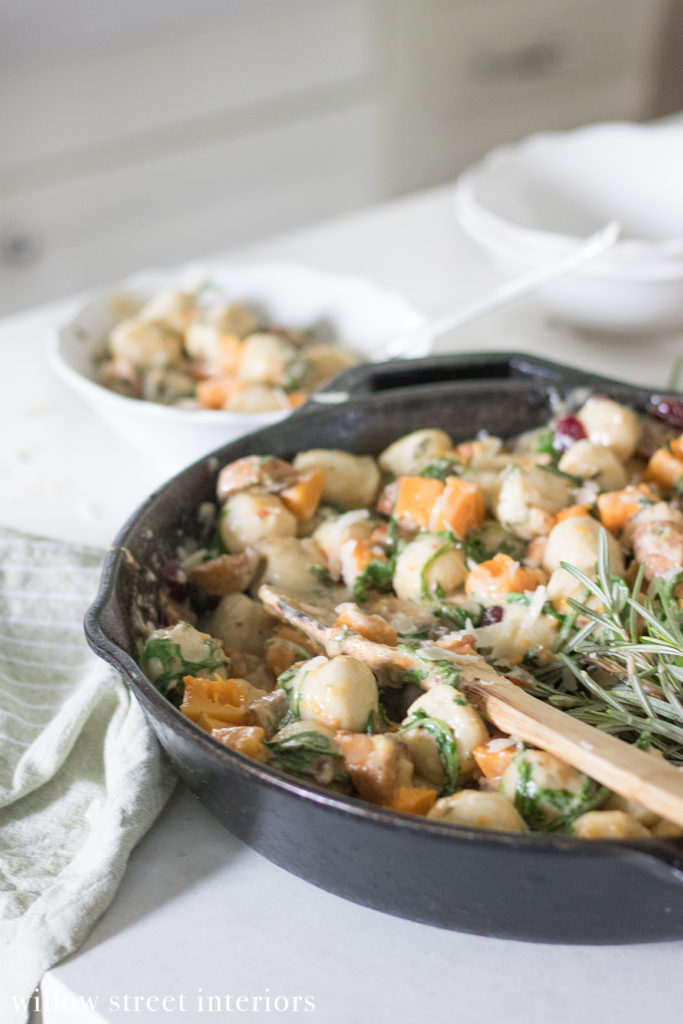 And another little side note…
I never sauté arugula.  I just toss it with the warm gnocchi (or quinoa, or millet, or whatever else I may be making it with).  It wilts to perfection this way, and it's one less step!  Just add the sauce afterwards.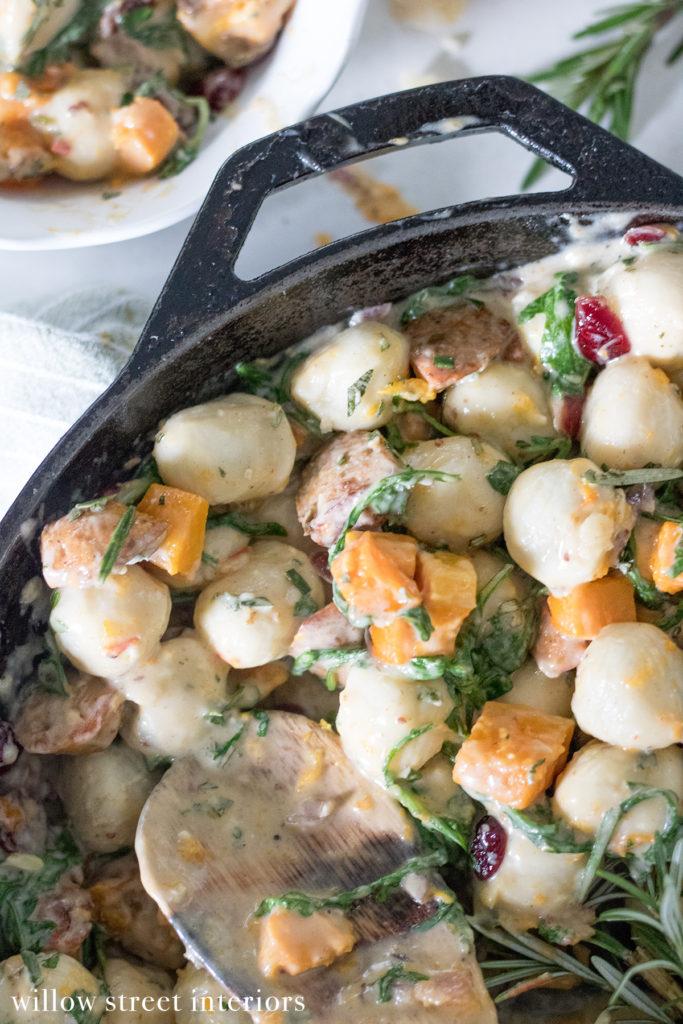 If you're looking for creamy comfort food, chock full of Fall flavor, this recipe's a keeper!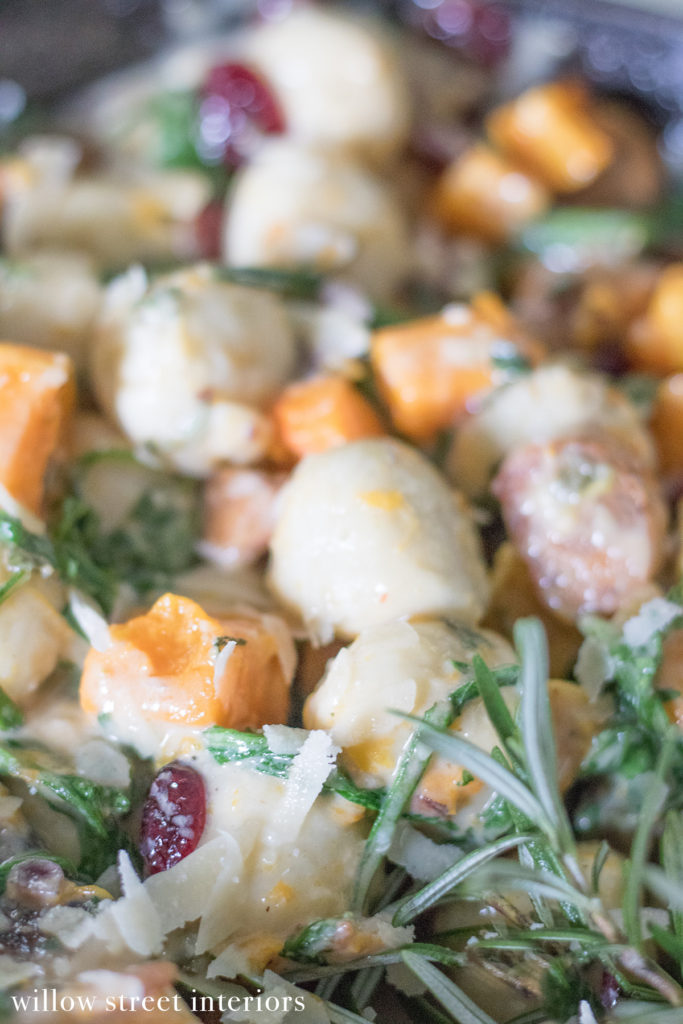 Gluten Free Gnocchi with Butternut Squash, Sausage, and Arugula
Ingredients:
1 butternut squash (1 1/4 to 1 1/2 lbs.)
2 tablespoons olive oil
6 links (about 1 1/2 lbs.) smoked hot Italian chicken sausage, cut into chunks
4 tablespoons butter
1 tablespoon gluten free flour (without xanthan gum)
18 large fresh sage leaves
1 tablespoons finely chopped rosemary
2 teaspoons smoked paprika
4 cloves garlic, crushed
Salt and pepper
About 1/4 tsp. (a couple of pinches) freshly grated nutmeg (use less if it's already ground)
1 cup dry vermouth
1/4 cup chicken stock
2 cups of heavy cream
1/2 cup dried cranberries
1 1/2 pounds fresh gnocchi
2 cups fresh arugula
1 cup Grated Parmigiano-Reggiano, plus more for serving
reserved cooking water
Directions:
Preheat the oven to 450 degrees.
Bring a large pot of water to a boil for the gnocchi.
Preheat a large cast-iron skillet over medium-high.
Cut the neck off the squash; peel and cut into 1- to 1 1/2-inch cubes. (Reserve the bulb portion to roast for the next day)
Add the olive oil to the skillet, two turns of the pan; add the sausage. Cook, stirring occasionally until browned, about 8 minutes. Using a slotted spoon, transfer the sausage to a bowl.  Add the butter to the skillet. When it melts, add the squash; season with salt, pepper, smoked paprika and nutmeg.  Cook 4 minutes, stirring occasionally.  Add the flour to the squash and stir to coat.  Cook 1 minute to cook out raw flour flavor. Add the wine and cook, stirring continuously, until reduced and smooth, about 1 minute. Add 1/4 cups stock and 2 cups of heavy cream, and bring to a gentle bubble.  Add the cranberries, sage, rosemary, crushed garlic cloves, parmesan cheese, and the sausage; stir and transfer to the oven. Roast until the squash is tender, 12 to 15 minutes.
Salt the boiling water, add the gnocchi and cook until they float to the surface, about 3 minutes. Drain, reserving some of the cooking water.  Toss gnocchi with the arugula.  Remove the crushed garlic cloves from the sauce and discard.  Add the squash and sausage sauce to the gnocchi and arugula and toss gently;  taste for seasoning, add reserved cooking liquid a tablespoon at a time, to loosen sauce if it's too thick. Top with additional chopped sage leaves and serve with the grated cheese for passing at the table.
It's so good, you guys!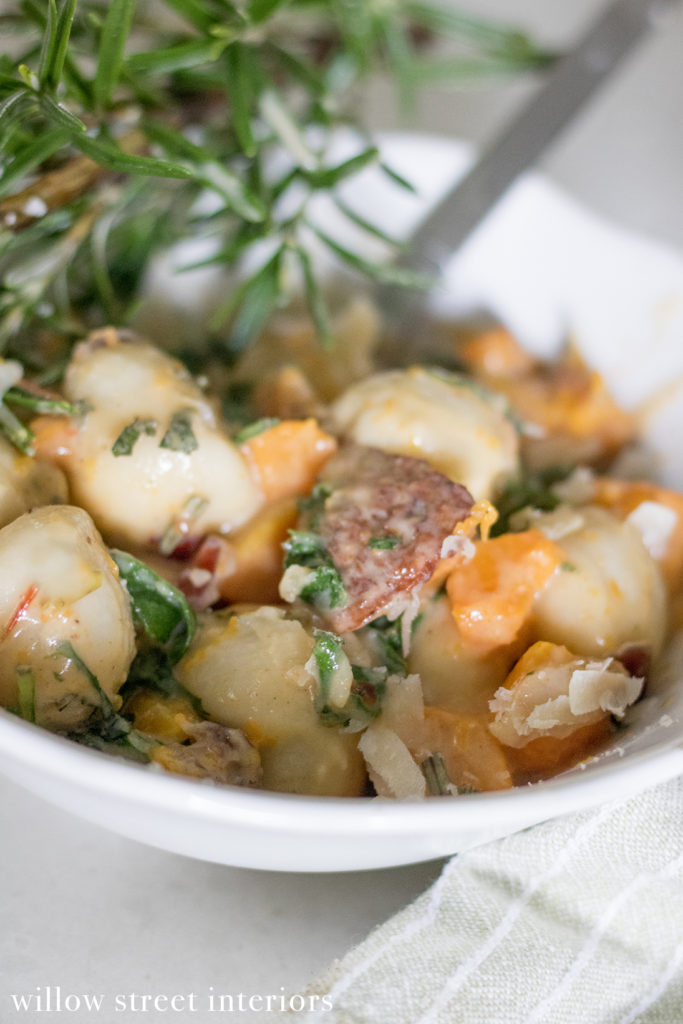 Don't forget to check out all of the other amazing recipes being shared today!  They all look so incredibly delicious!
Easiest Instant Pot Chicken Vegetable Bean Soup at The Happy Housie
Zuppa Toscana Soup at Somewhat Simple
Butternut Squash and Quinoa Chili at Town and Country Living
Hearty Sausage Kale Soup at In My Own Style
Gluten Free Gnocchi with Butternut Squash, Sausage and Arugula at Willow Street Interiors
Easy Vegan Cranberry Cream Cheese Loaf and Almond Crackers at Zevy Joy
Pumpkin Sugar Cookies at Jenna Kate at Home
Mini Lemon Cranberry Cakes with Ginger Drizzle at Sincerely Marie, Designs
Absolutely the Best Homemade Peach Coffee Cake at Home Made Lovely
Gluten Free Pumpkin Bread at Taryn Whiteaker Designs
Whole Wheat Pumpkin Crepes at TIDBITS Cami
Chocolate Pumpkin Cream Cheese Swirl Bars at Clean and Scentsible
Roasted Pumpkin Seeds at Finding Silver Pennies
Pumpkin Pie French Toast Bake at A Pretty Life
Salted Caramel Pumpkin Spice Latte at Hallstrom Home
Apple Cider Margarita at Rooms FOR Rent
Instant Pot Caramel Apple Cheesecake at TIDBITS Marci
Mini Pumpkin Spice Cupcakes with Maple Cream Cheese Frosting at Satori Design for Living
Easiest Cinnamon Sugar Apple Cake at Inspiration for Moms
Whitney's Pumpkin Muffins at Amber Tysl
Cream Cheese Caramel Apple Dip at The Turquoise Home
Old Fashioned Apple Crisp at Modern Glam
Pumpkin Pie and Cheesecake Popsicles at Paint Me Pink
Mini Apple Tart with Custard at Happy Happy Nester
Pumpkin Cream Puffs at Life is a Party
Pumpkin Spice Cupcakes with Cinnamon Cream Cheese Frosting at Nina Hendrick Design Co.
Laura ♥