Hey Everyone!
Happy August!  I hope you've all been enjoying your summer.
I had the pleasure of working with a wonderful couple over the last few weeks.  They moved into their new home recently, and were looking to update the existing paint colors and pull the downstairs together with artwork, textiles, a few new furniture pieces, and fresh accessories.
So I got to work pulling a design plan together for them, and I'm so excited to be sharing the results with all of you! From start to finish, this project took about 6 weeks, and it was worth the wait!
The painting happened over the course of a few days last week, and that alone brightened things tremendously. My team and I got to work early Wednesday morning with the installation, and I revealed the space to my clients after work that same day.
I love when I'm able to install and style a project in a day because the client reveal is so much more dramatic when they haven't really seen any of the bits and pieces coming together along the way!  It just makes it that much more suprising.  I find that even though clients approve nearly everything in advance, and have seen the plans and the moodboards, there's nothing that compares to a real life reveal day.  Seeing each piece together for the first time is SUCH a surprise for them.  My client literally cried happy tears as we walked through each room, and I think I may have been just as thrilled with these transformations as she was.
The family's wishlist included a family room overhaul, making the entryway more functional and inviting, pulling together the dining area with artwork and accessories, and freshening up the playroom with whimsical details and a bit more storage for their daughter.
Are you ready to see the results?  Let's jump in!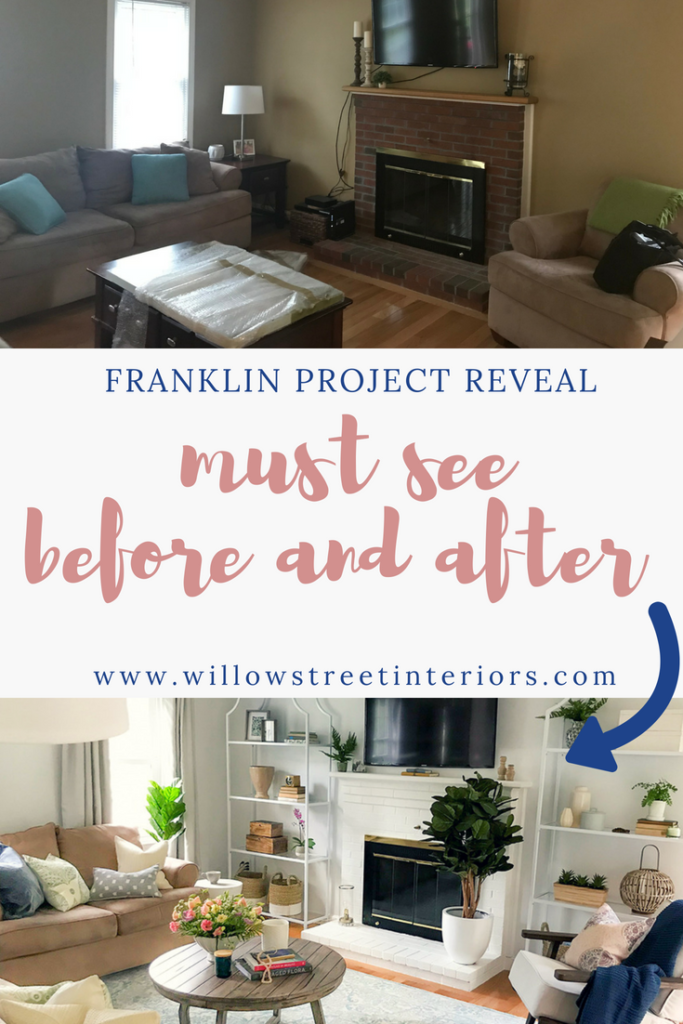 THE LIVING ROOM 'BEFORE'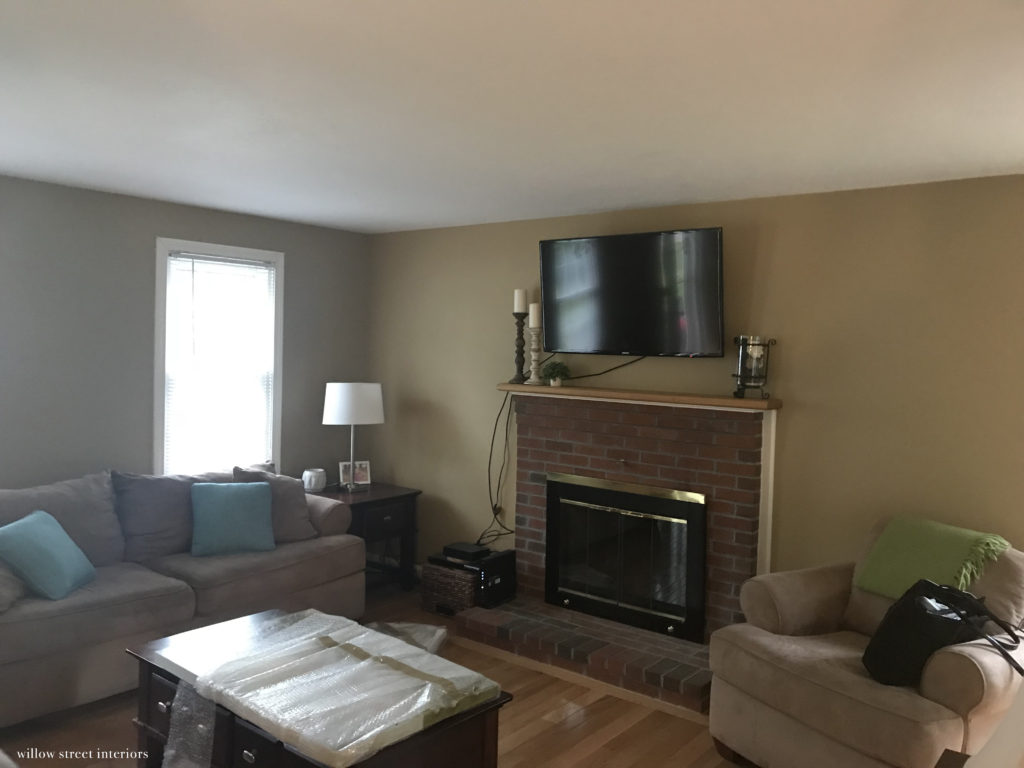 The downstairs paint color that my client inherited with the house was too dark and it was really closing the rooms in and making the ceiling feel lower.  Not good.
The gameplan…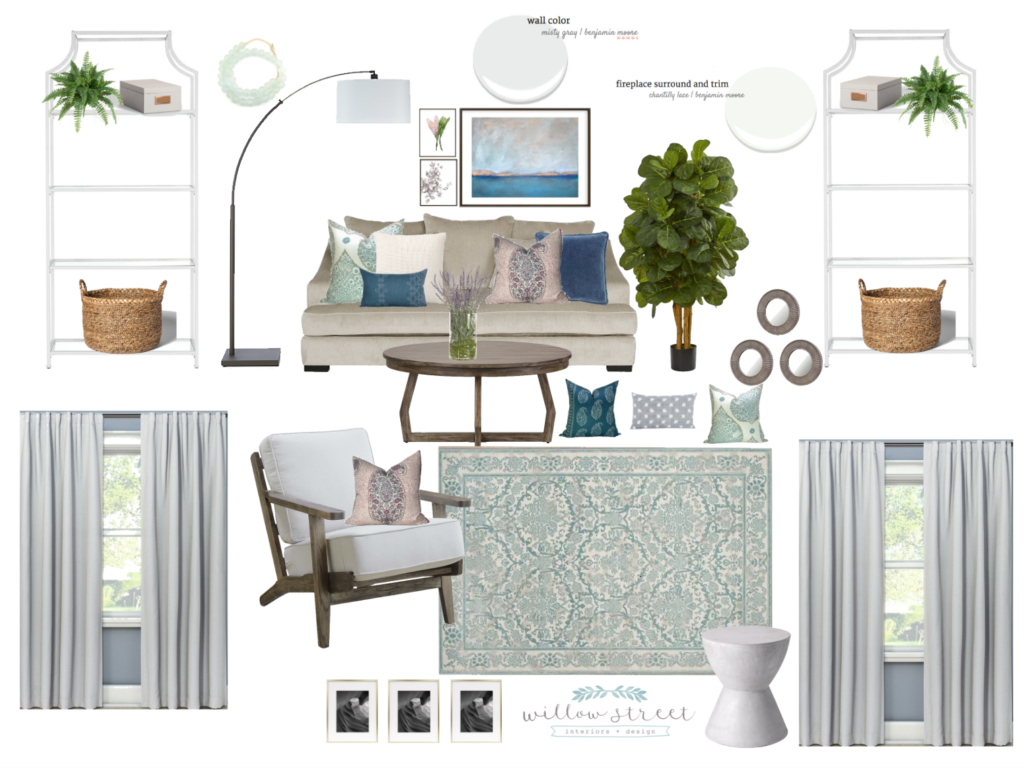 THE LIVING ROOM 'AFTER'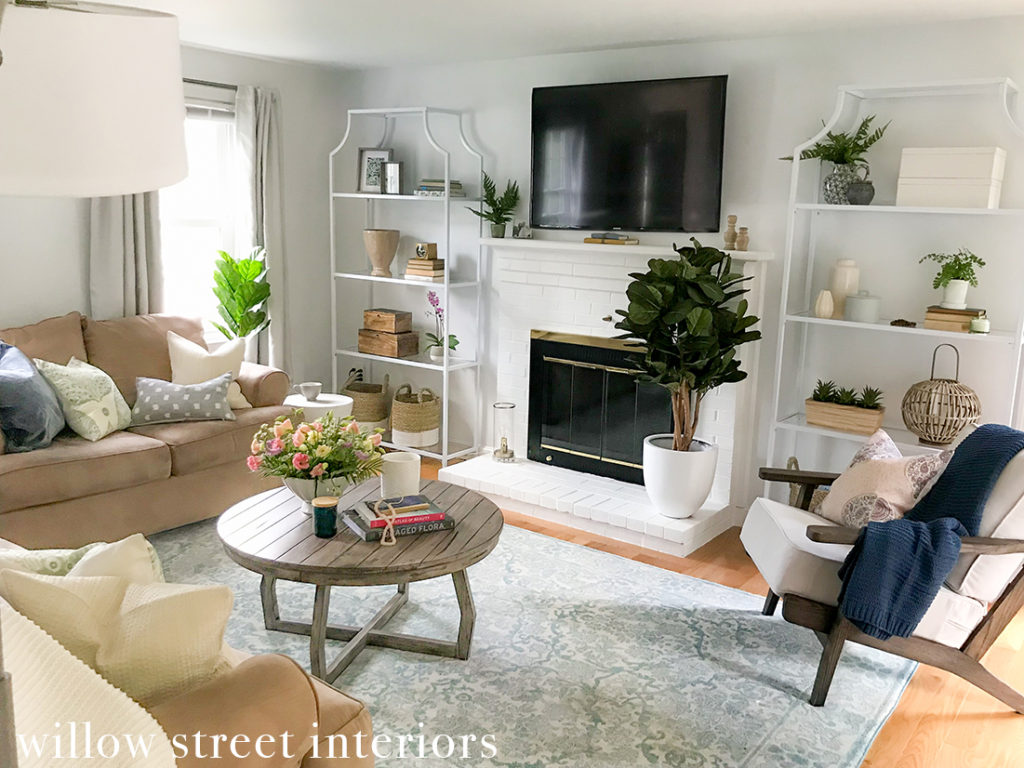 In the living room, I chose a lighter palette to open and brighten the space.  This is actually a cell phone shot that my assistant took before she headed out, which was fortunate, because I forgot to take a photo of the entire room!  So the resolution isn't the best, but I love how, in this shot, you can really appreciate how different the space feels thanks to the new floor plan, fresh color palette, and new accessories.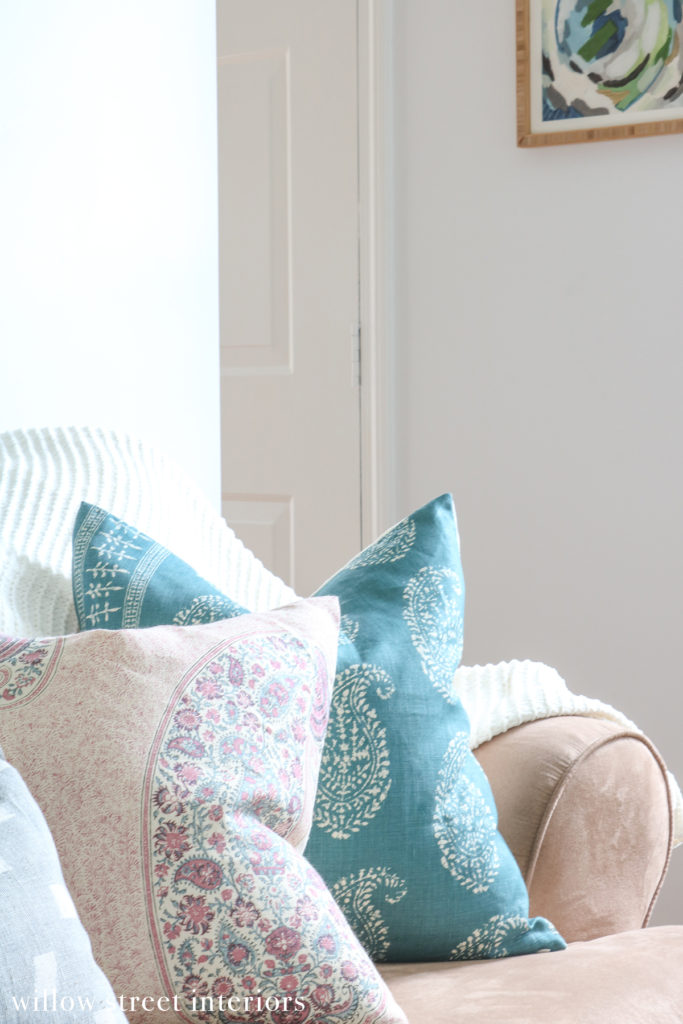 I'm obesessed with their new pillows!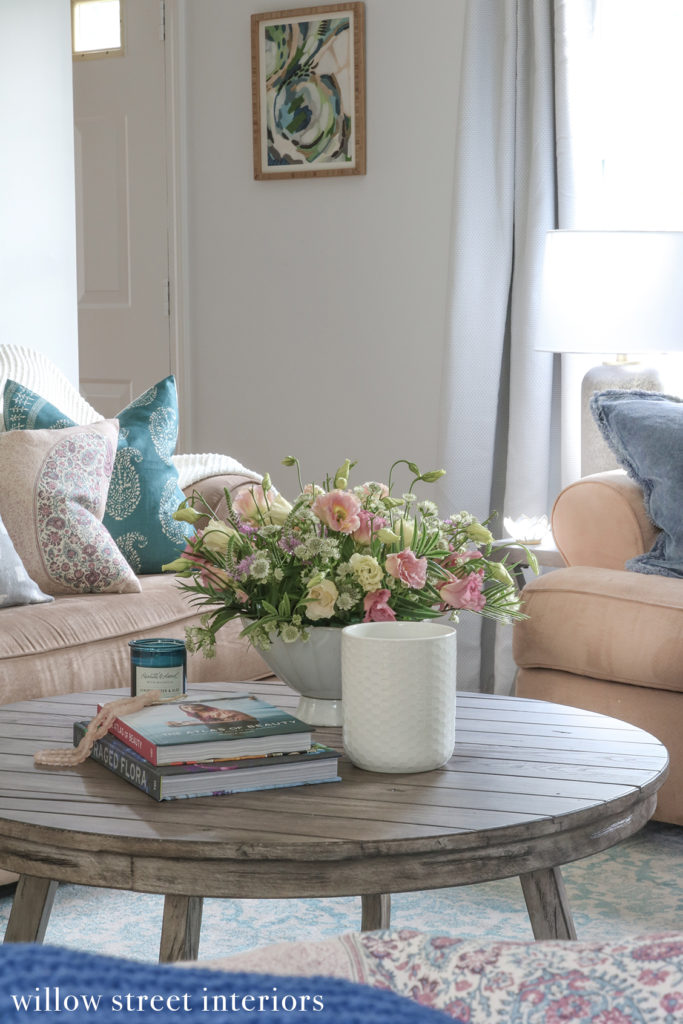 The pops of color against a soothing, neutral foundation created the upbeat, yet serene space that my client was hoping for.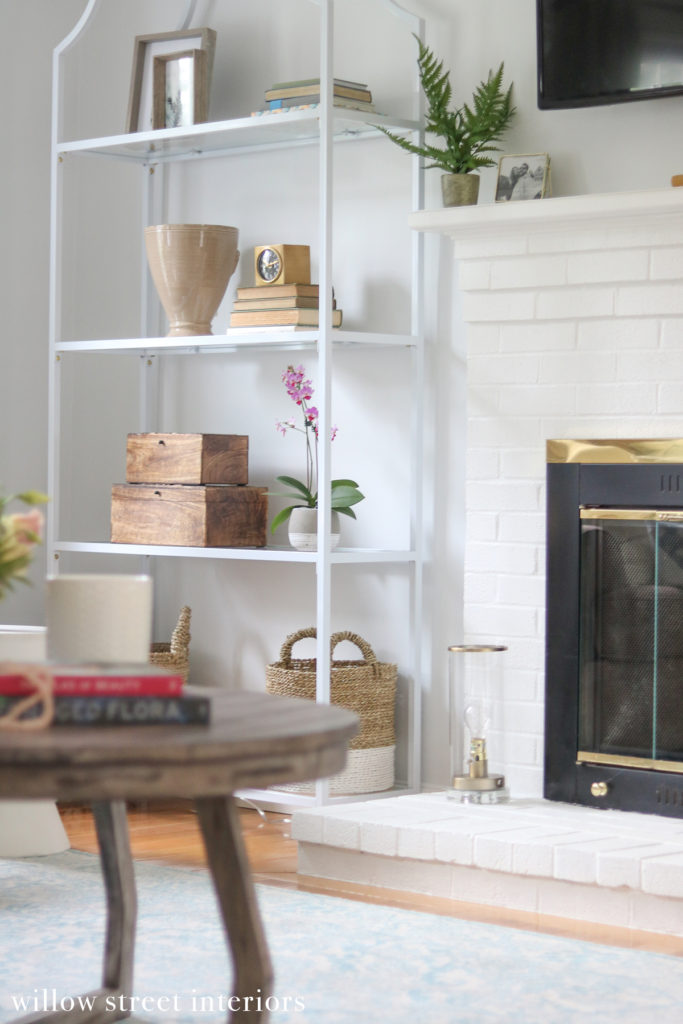 New etageres flank the fireplace and help to create a strong and beautiful focal point.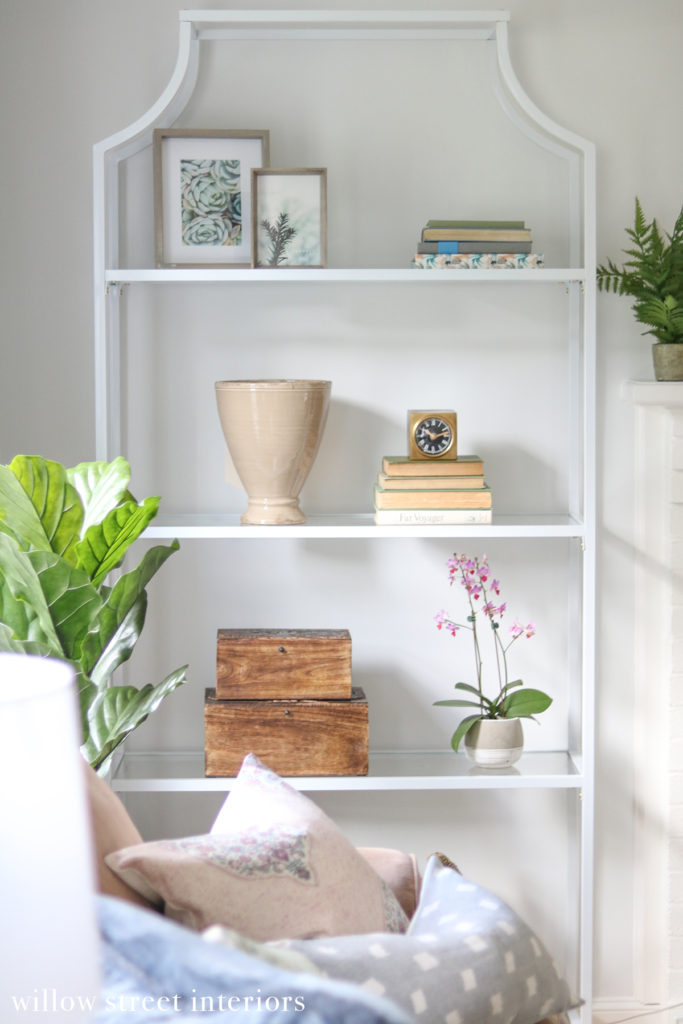 I love the depth that bookshelves add to a space, and the fact that these were so delicate enabled me to create that vibe without closing the room in.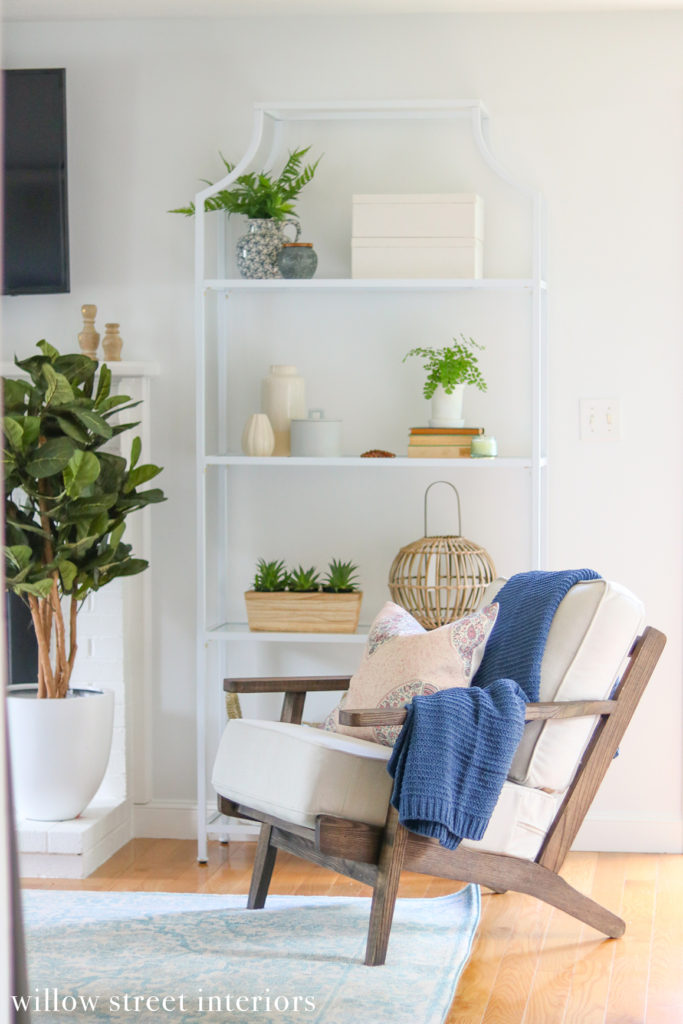 I also love how this slightly masculine lounge chair plays against the more feminine details and creates the tension that we needed in here.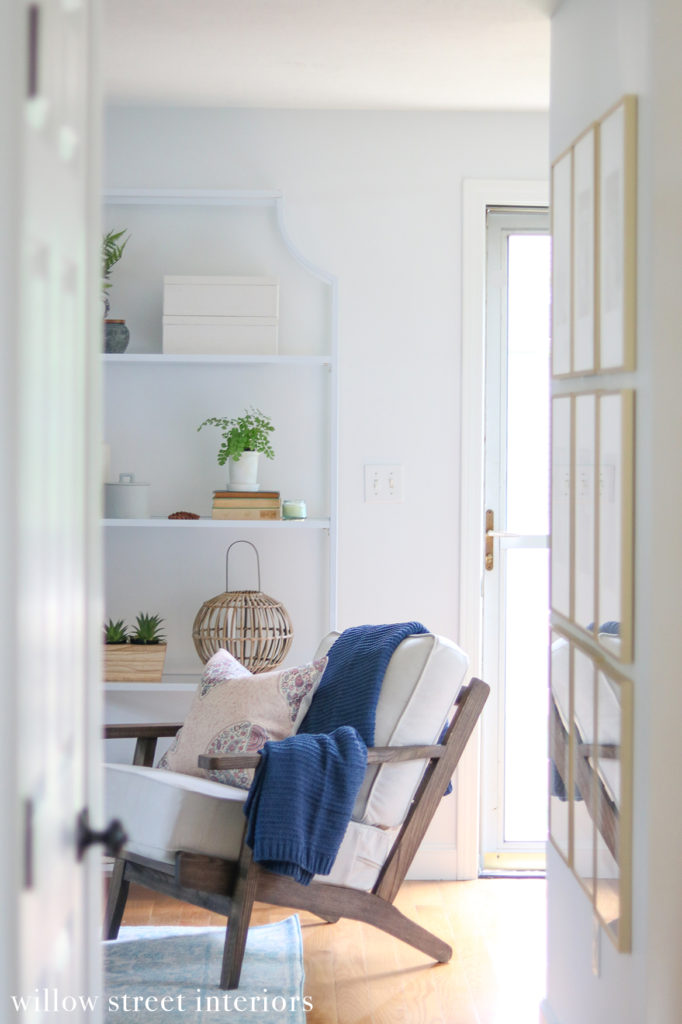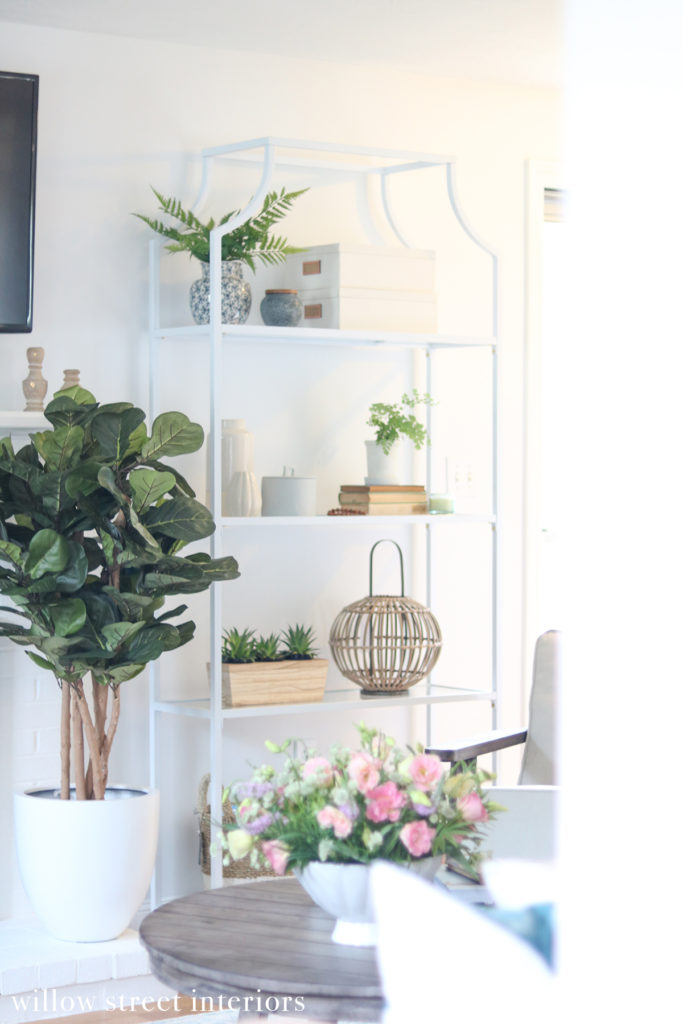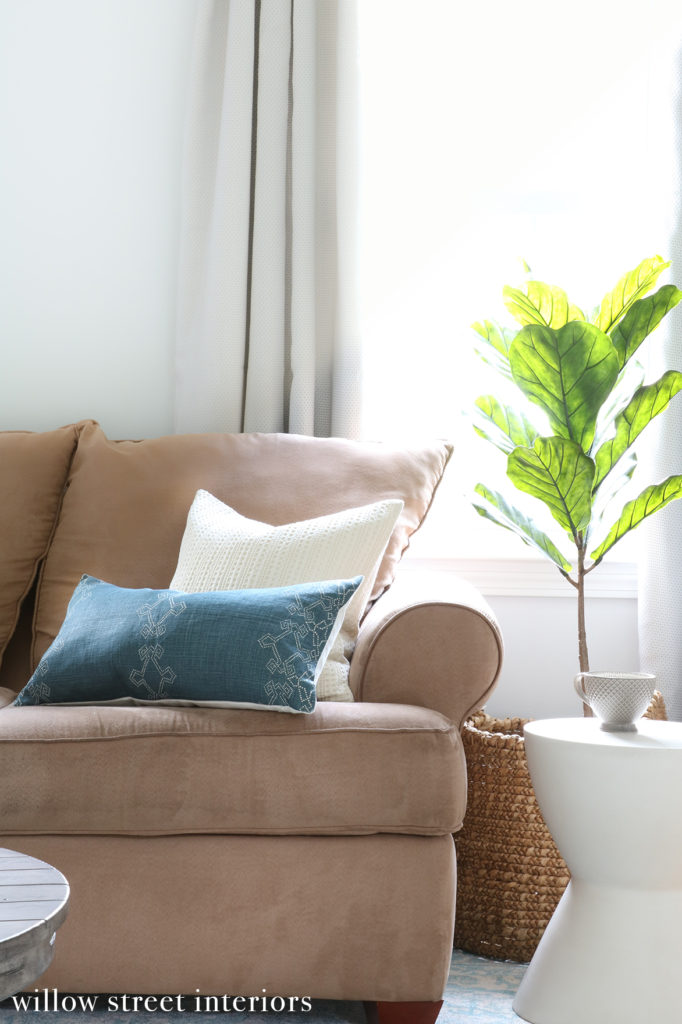 My client wanted to keep her sofas since they still have some life in them.  But they look completely different now than they did before, don't they?!  The new wall color and throw pillows really give them a new lease on life.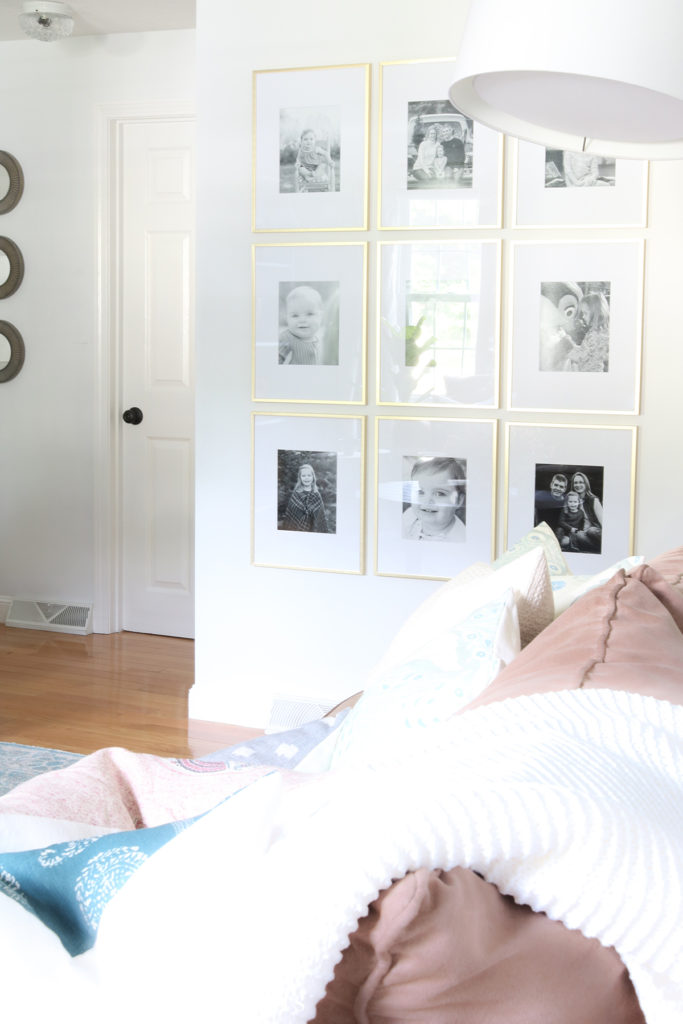 This short wall flanks a sort of hallway between the kitchen and living room, and putting any furniture here would have been obstructive.  So, we installed a gallery wall to keep it from feeling forgotten and awkward, and their family photos were too beautiful not to have on display!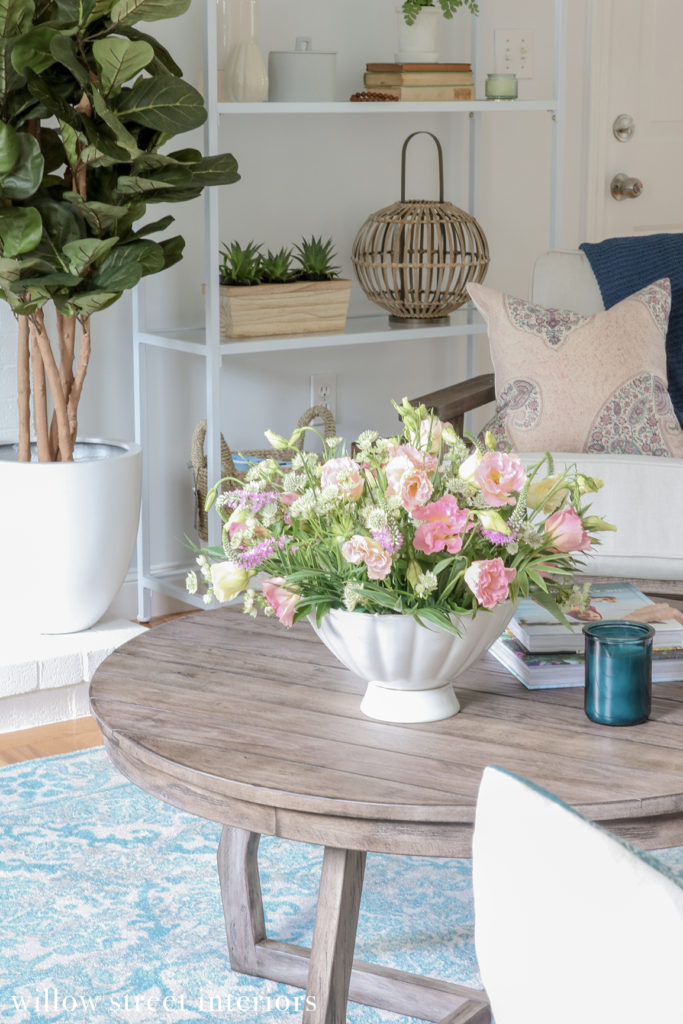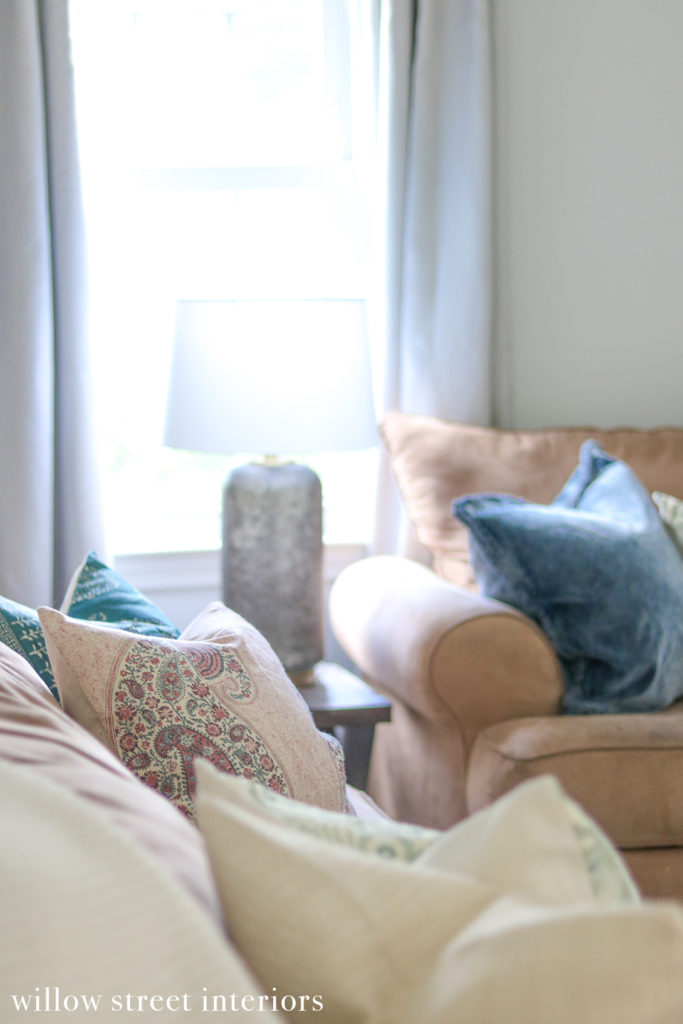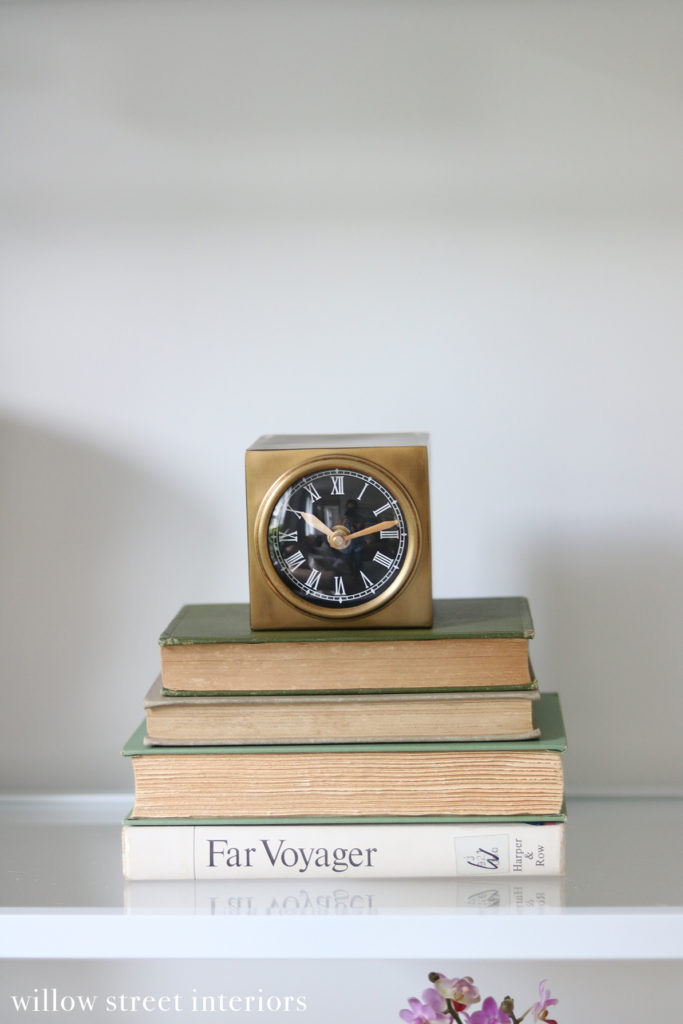 a mix of old and new…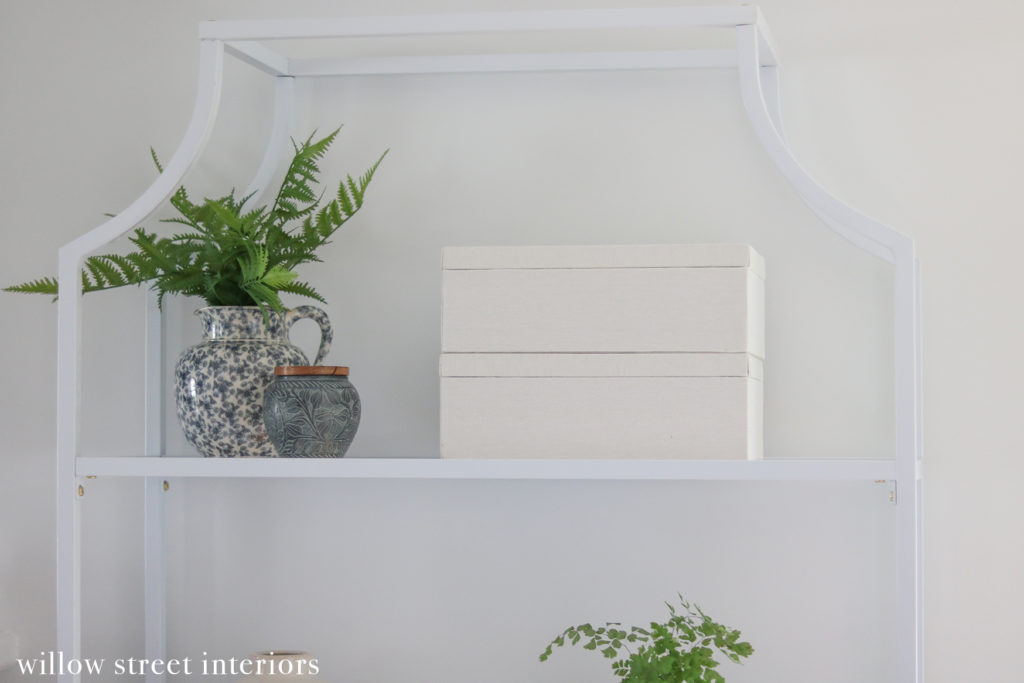 is a styling standby for me, and bookshelf styling is one of my favorite things of all time, lol.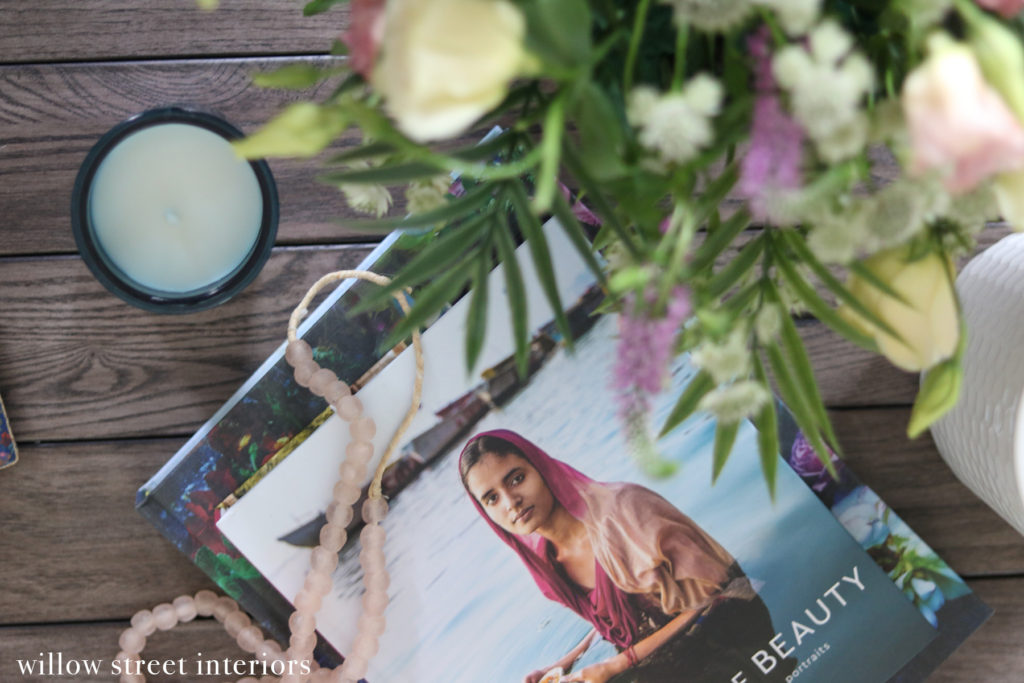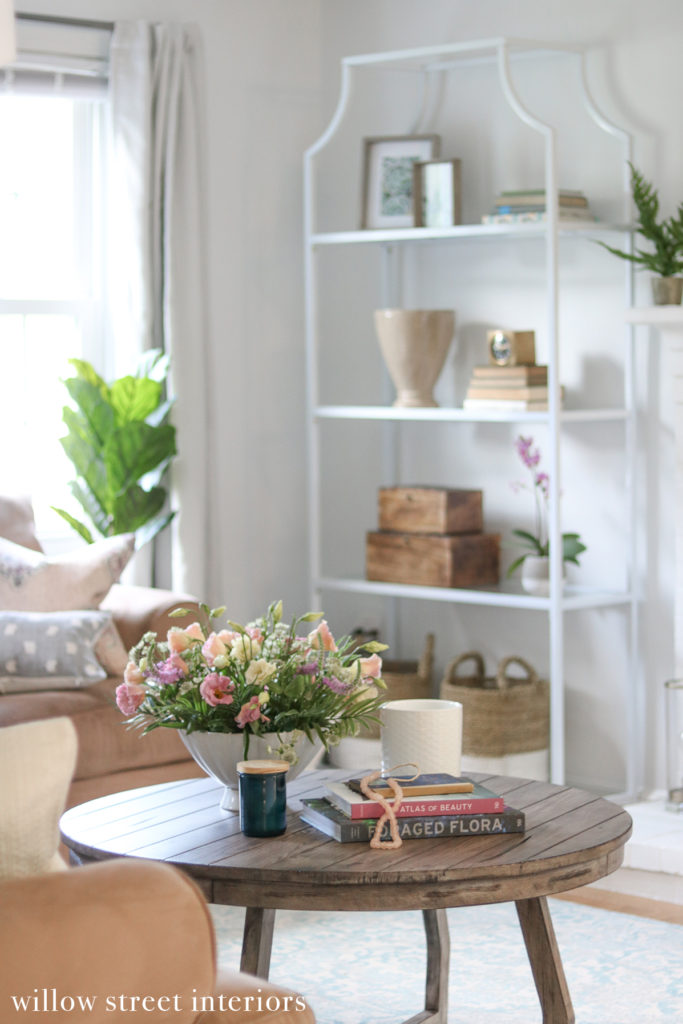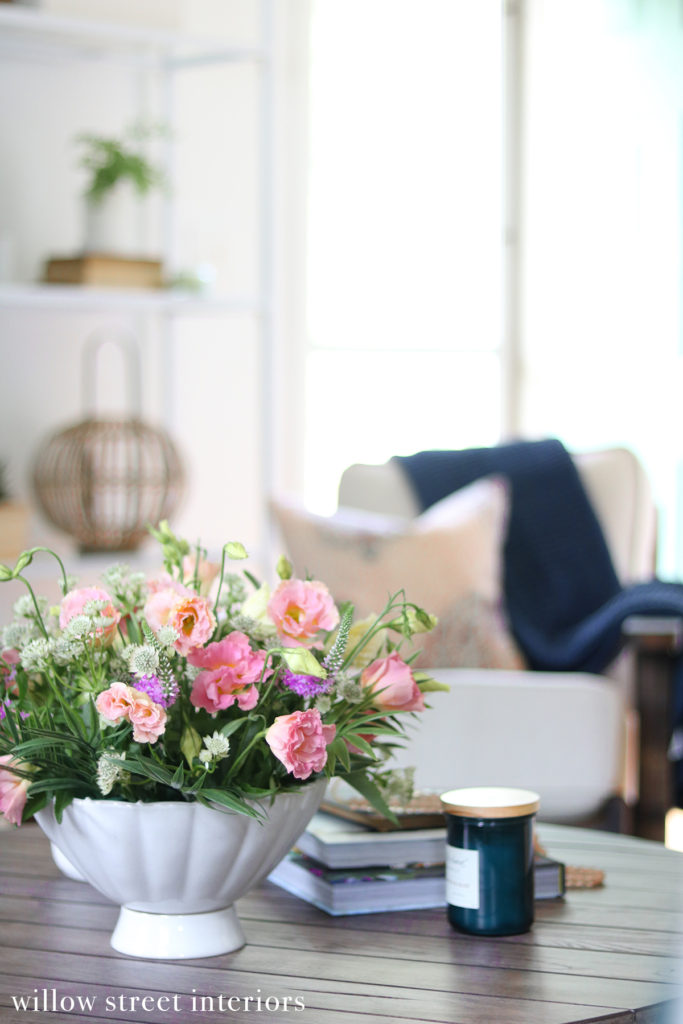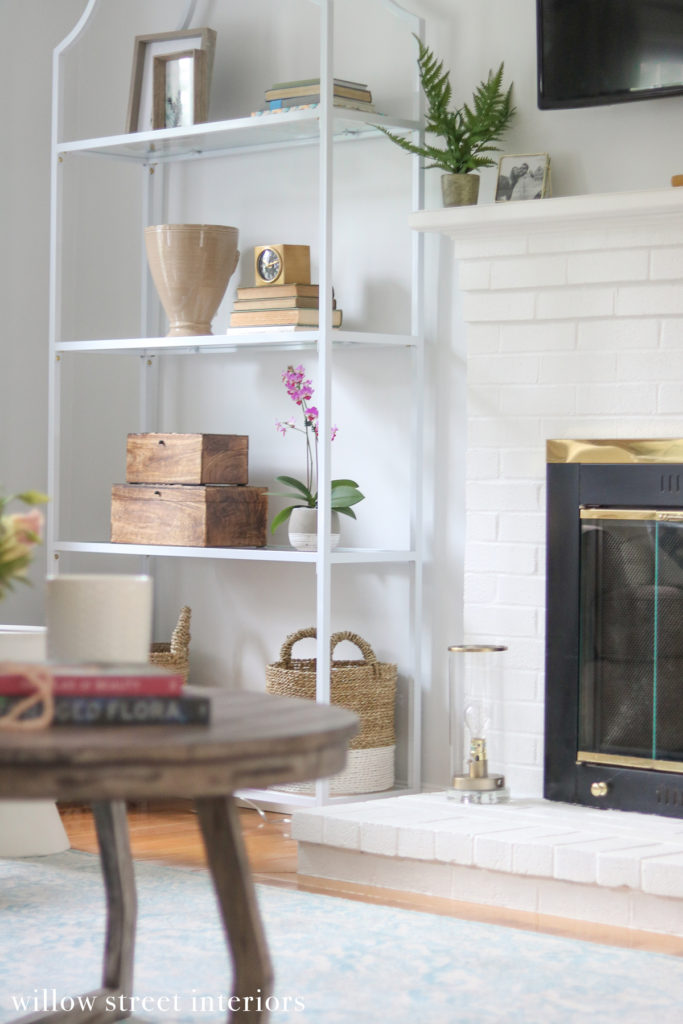 Shop This Look[show_lookbook_widget id="398421″]
The Dining Nook 'Before'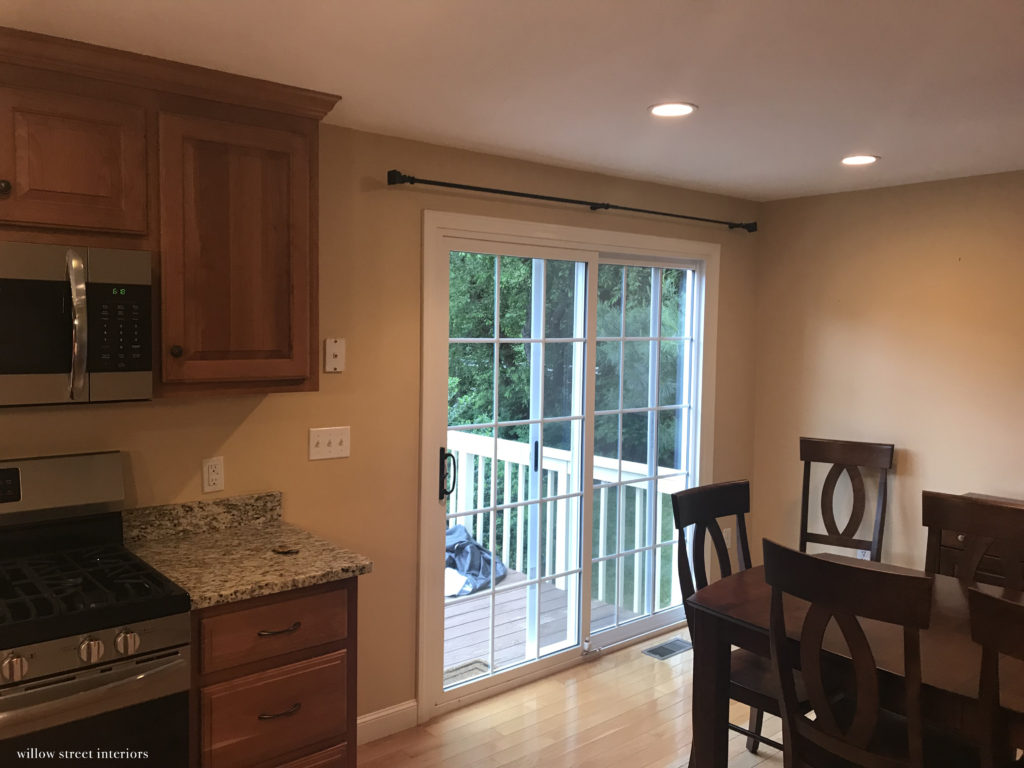 My client wanted to keep her dining set and console table, but was looking to give the space a more comfortable and pulled together feel.
The gameplan…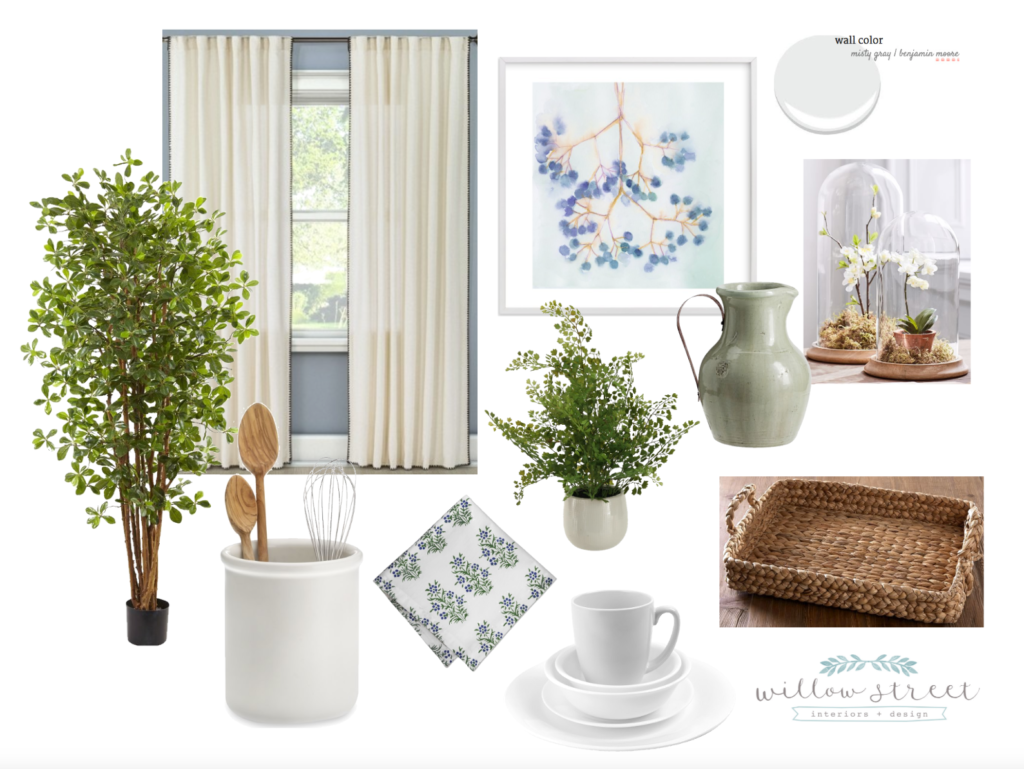 The Dining Nook 'After'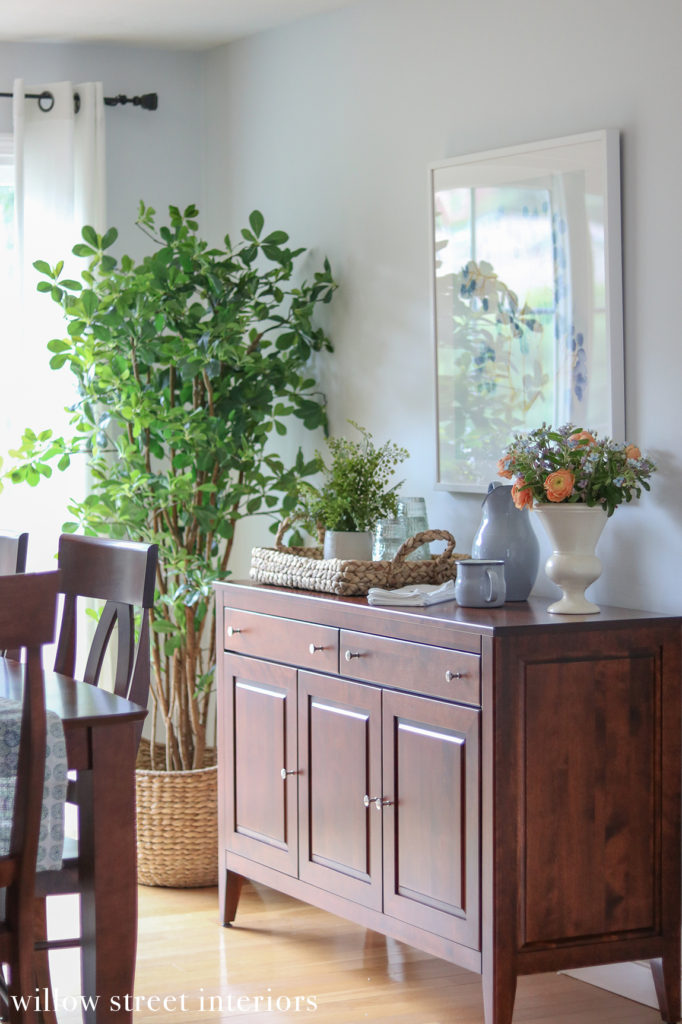 And I think we accomplished that!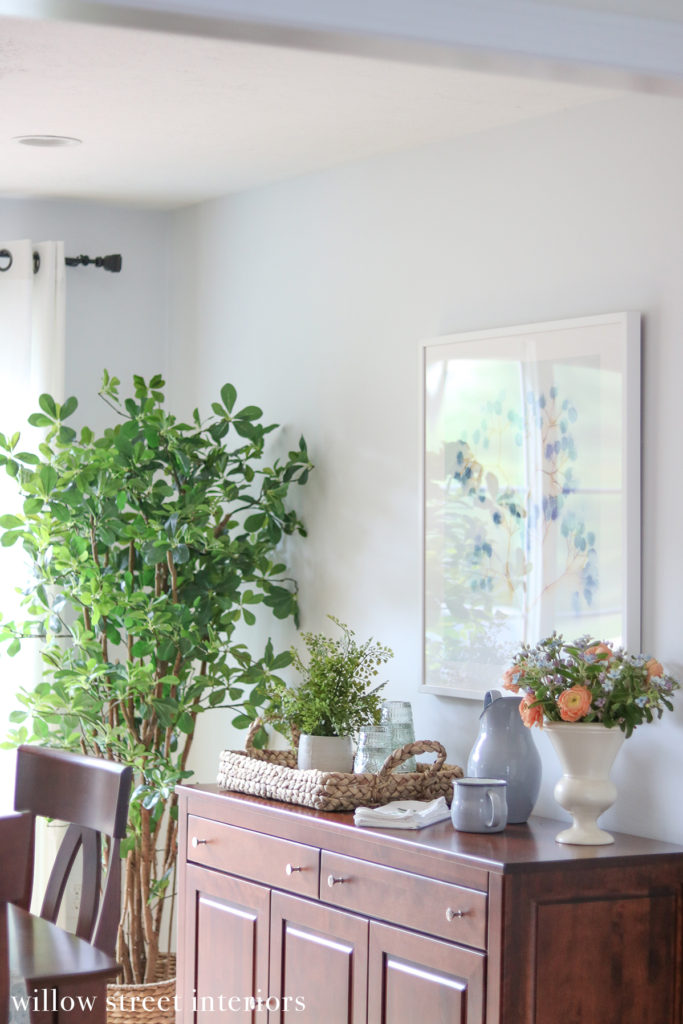 I absolutely love the new artwork.  It's perfect for a relaxed, yet elegant dining space.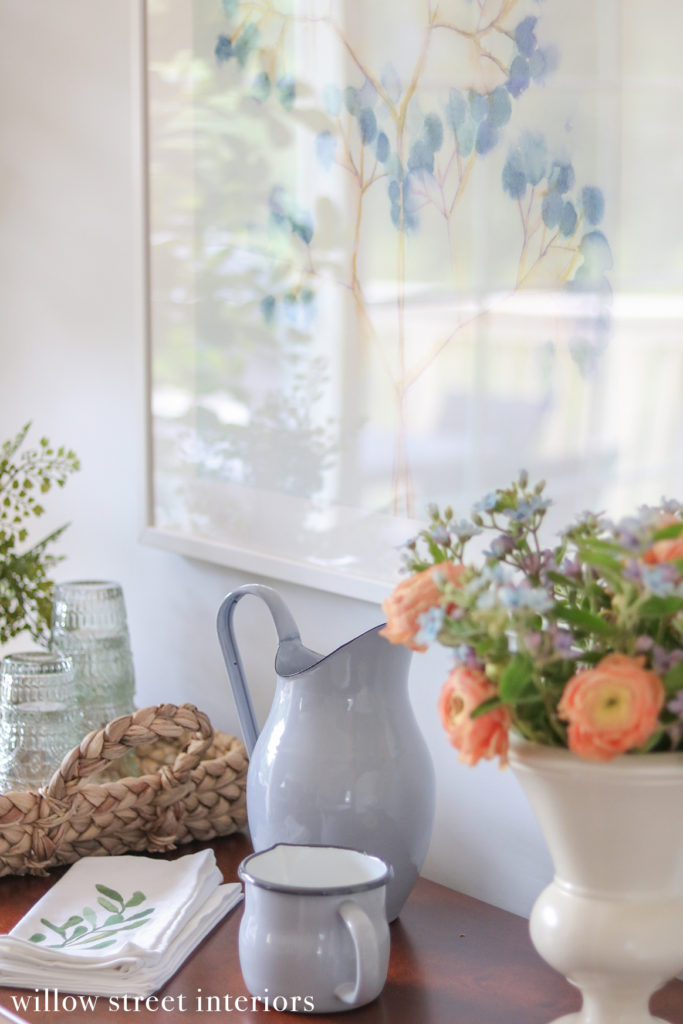 And a few other, subtle touches pull this pretty space together.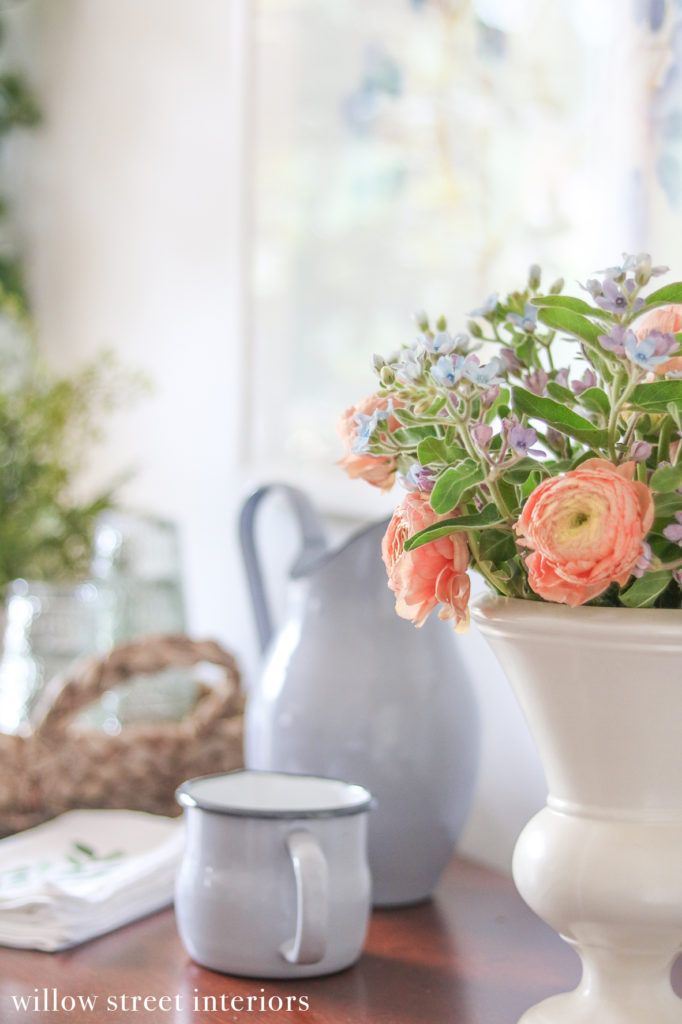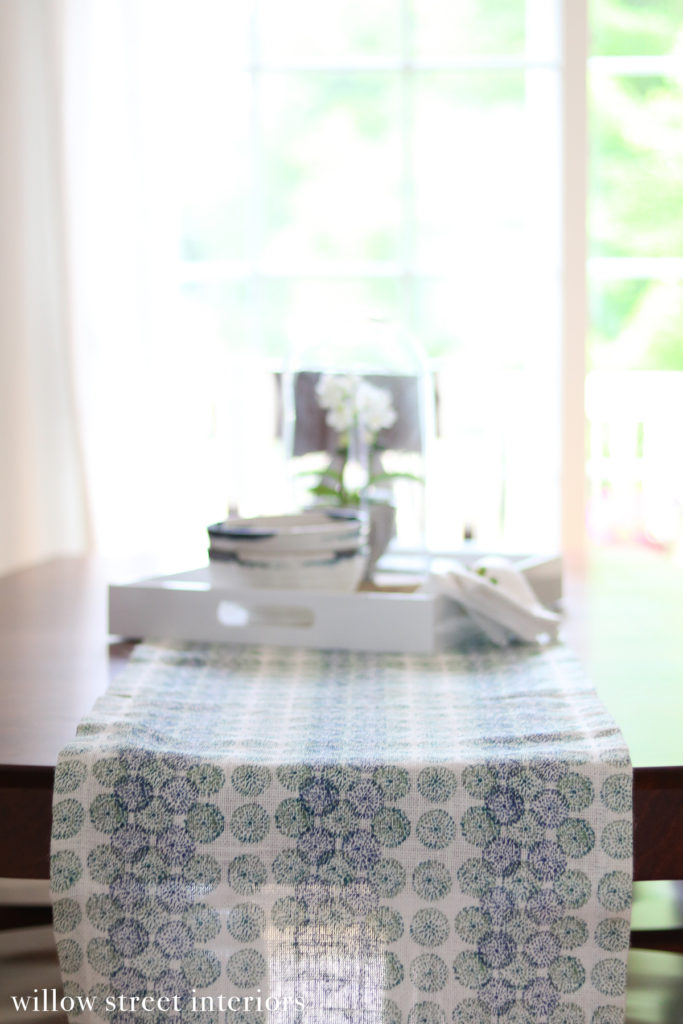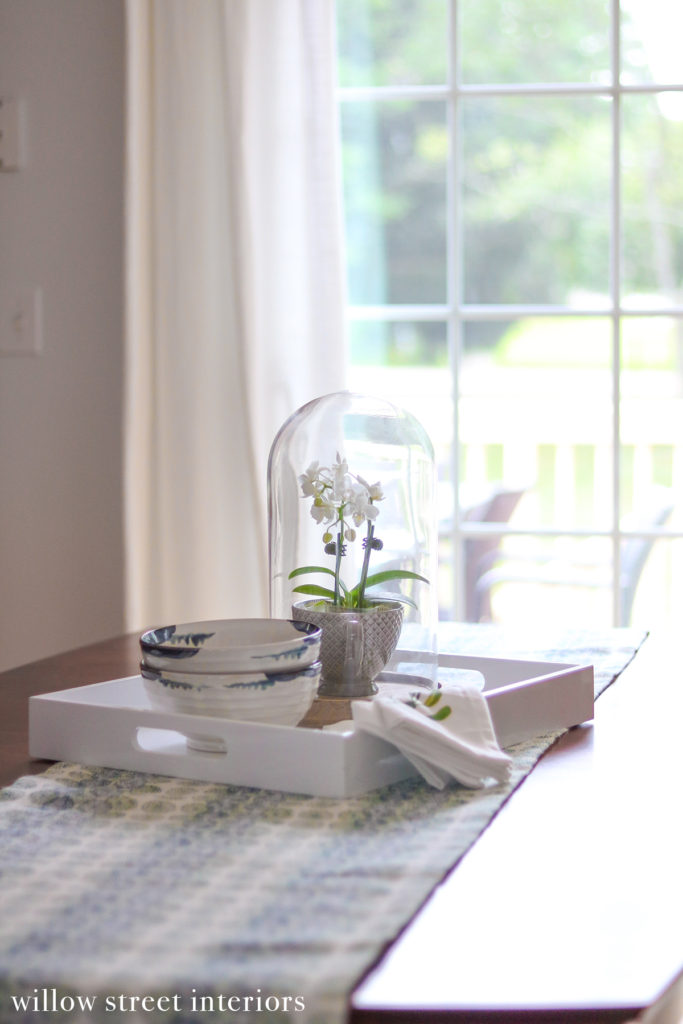 Shop This Look
[show_lookbook_widget id="398420″]
The Entryway 'Before'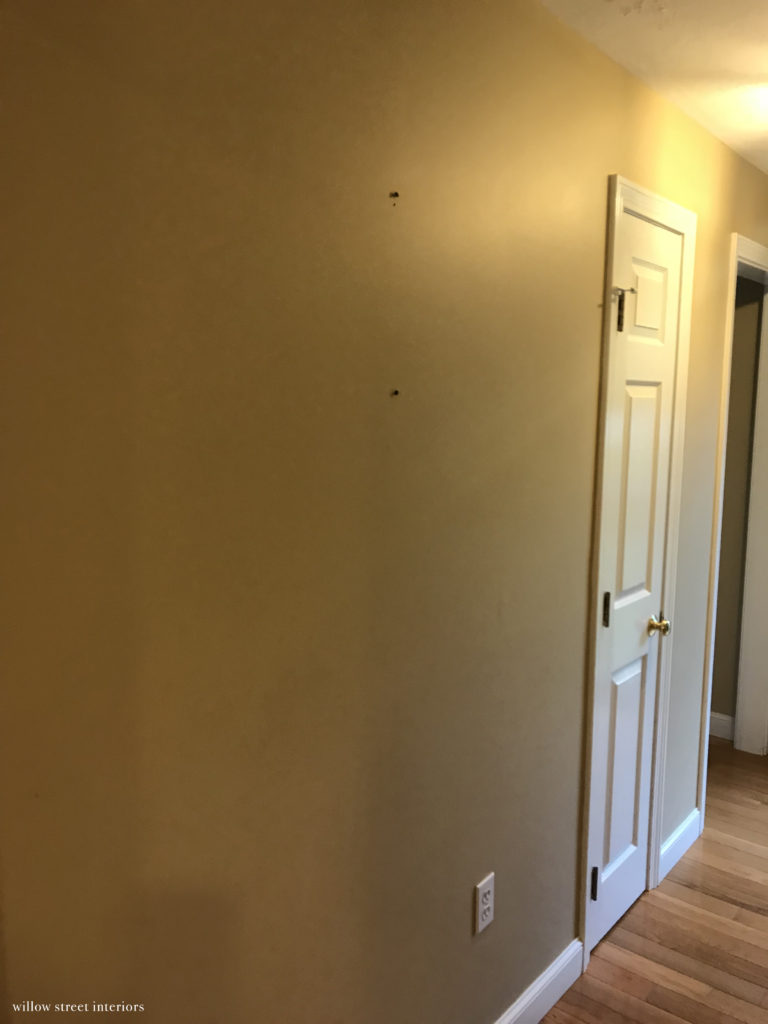 My client was kind of at a loss with what to do with this space.  Their entryway is quite narrow, but she was hoping for a more welcoming space with hooks for hanging backpacks and purses.
The gameplan…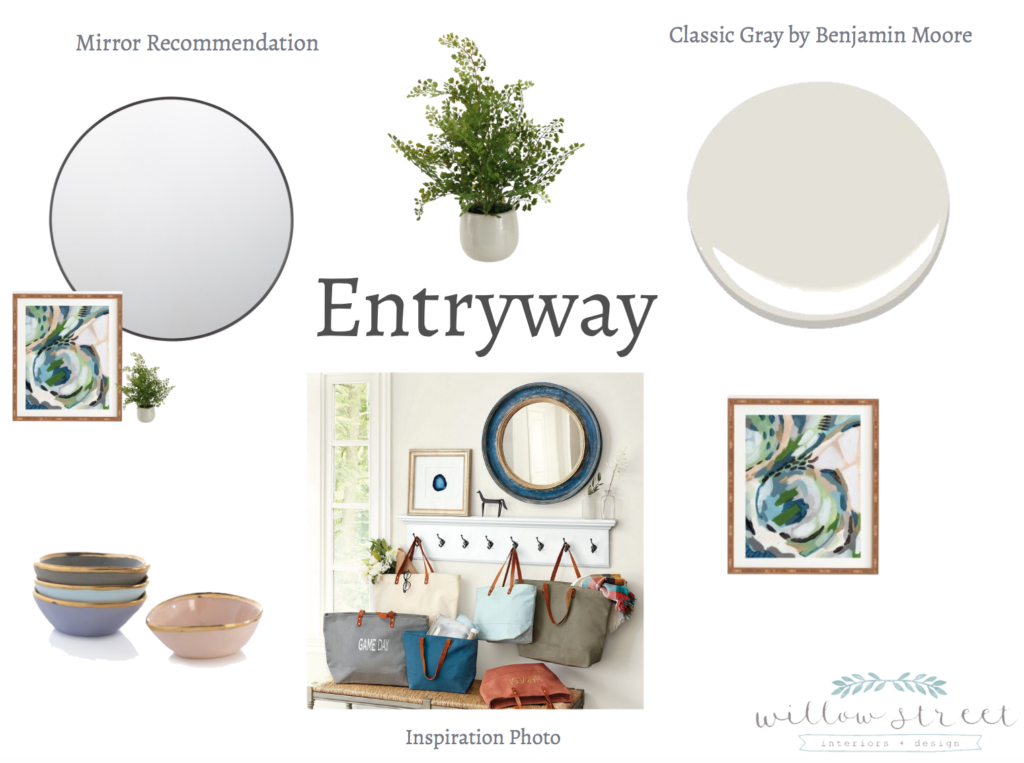 The Entryway 'After'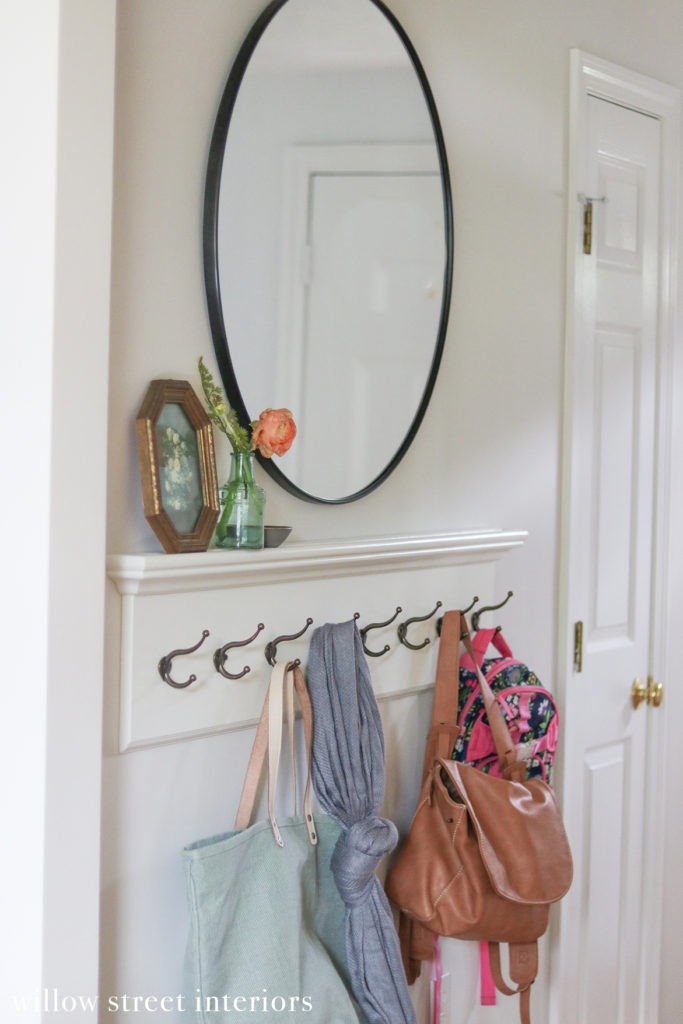 The solution was simple AND pretty.  A row of hooks, a pretty mirror.  Done and done.
Shop This Look
[show_lookbook_widget id="398422″]
And last but not least…
The Playroom 'Before'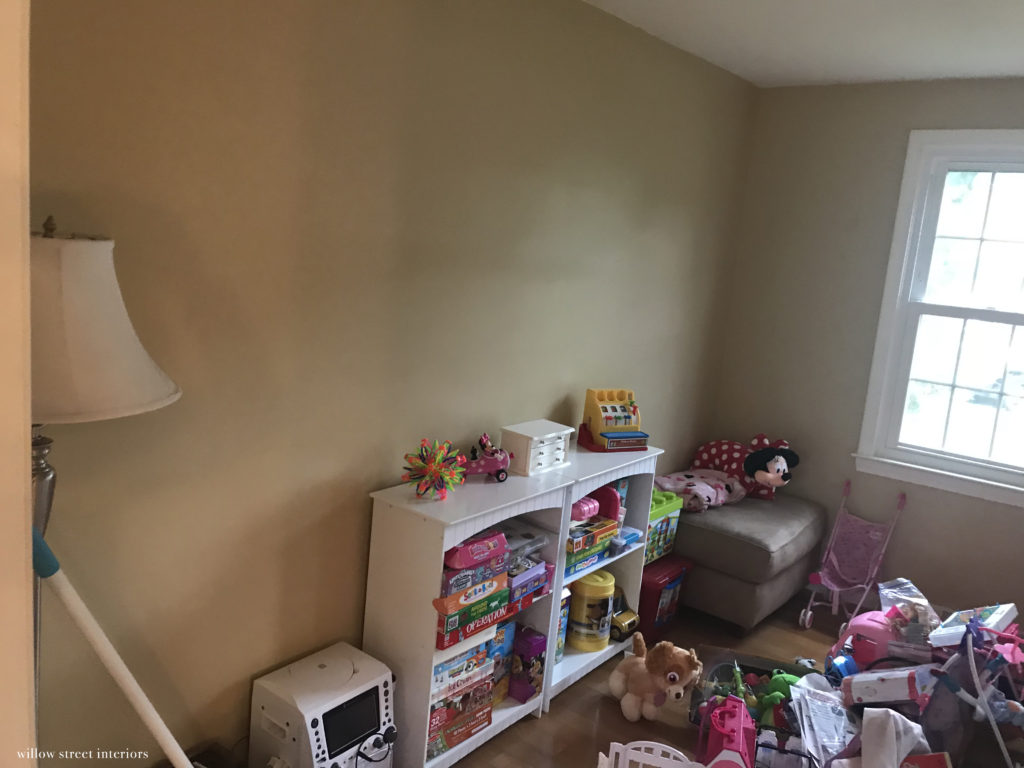 When I came for the consultation before the project began, my clients had just moved in, and weren't sure what to do with this space, or how to store all of their daughter's toys in a way that was both pretty and functional.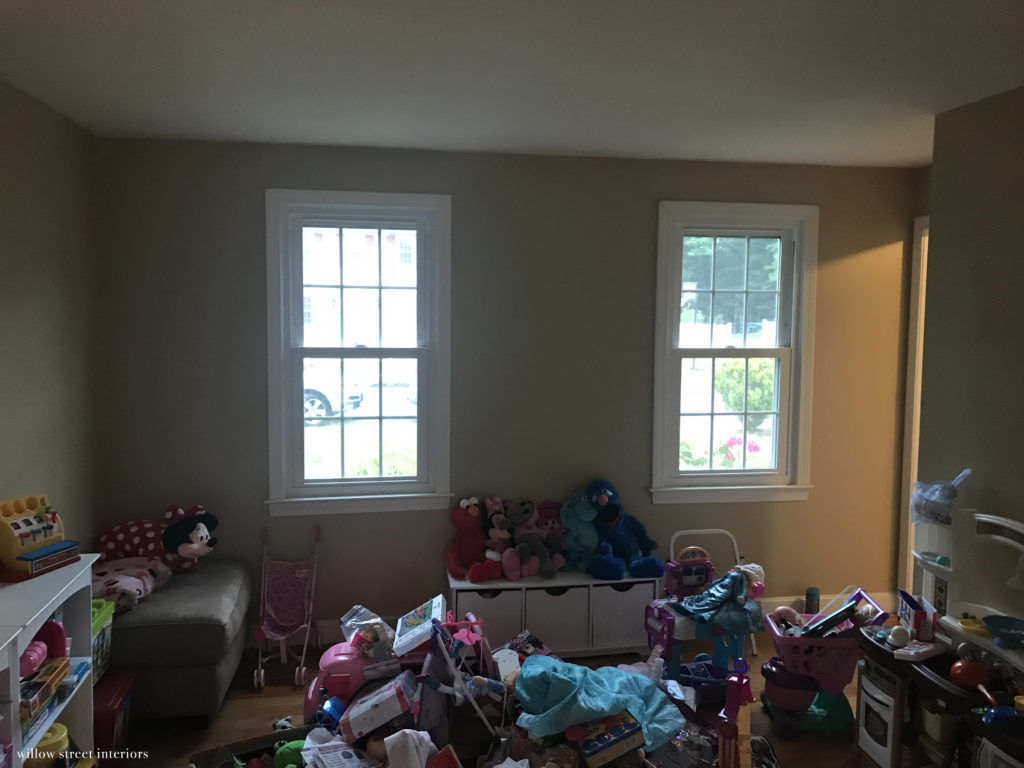 The functionality was important, of course, but the aesthetic aspect also needed to play a big role because this room is visible from the kitchen.
The gameplan…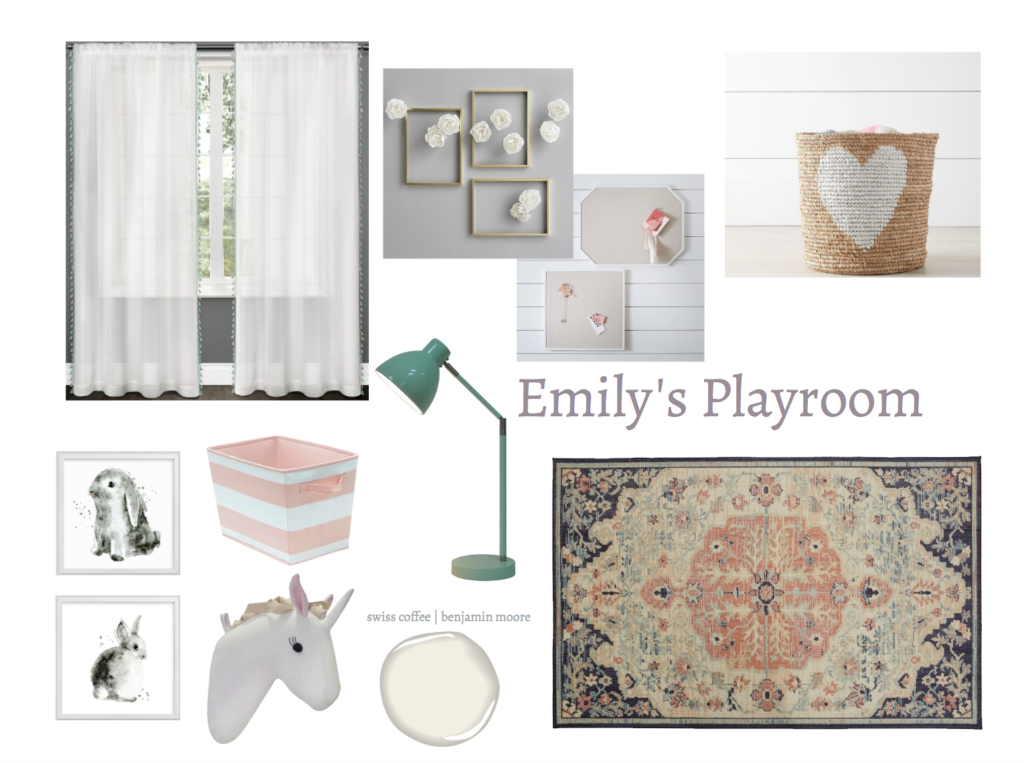 The Playroom 'After'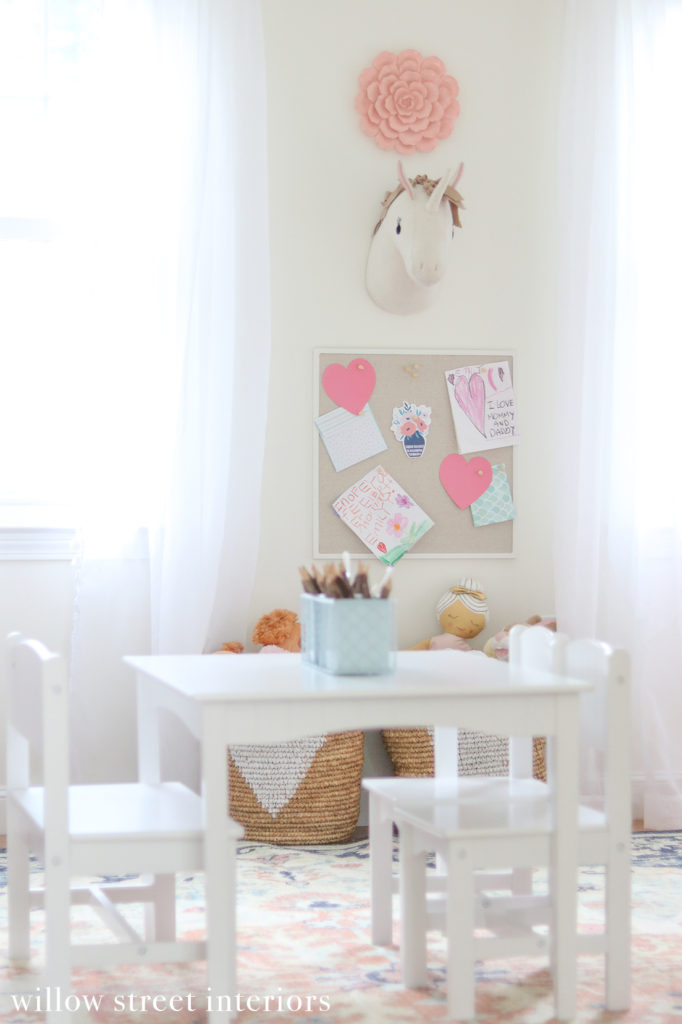 I absolutely love how it turned out!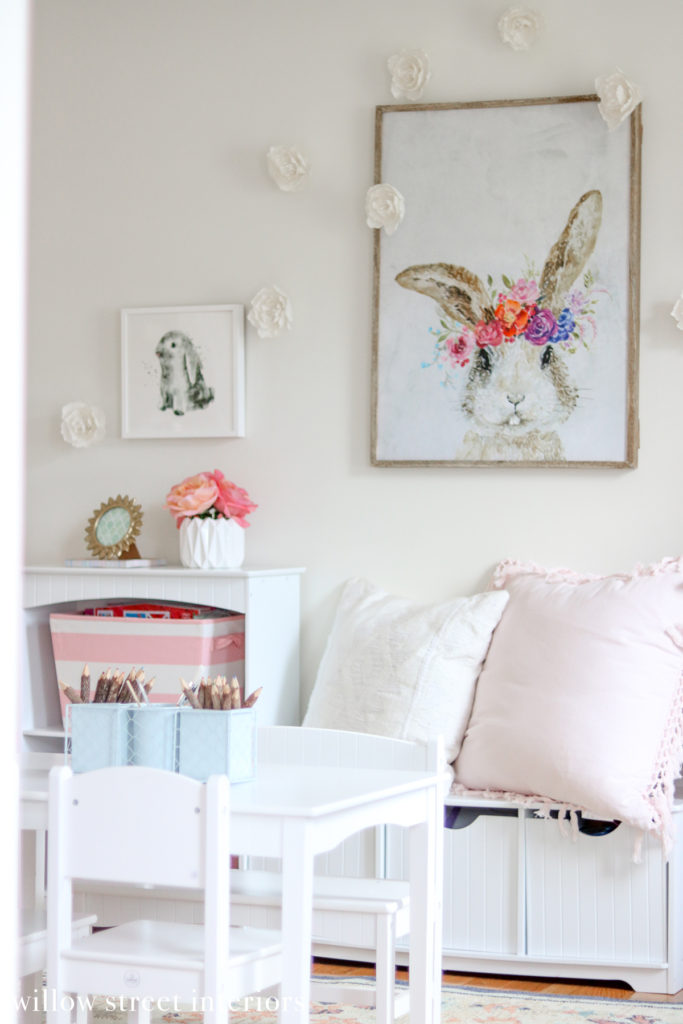 Believe it or not, my client already had all of this furniture.  Some rearranging, lots of new storage bins, and a few cute accessories later, and this adorable space has been completely transformed.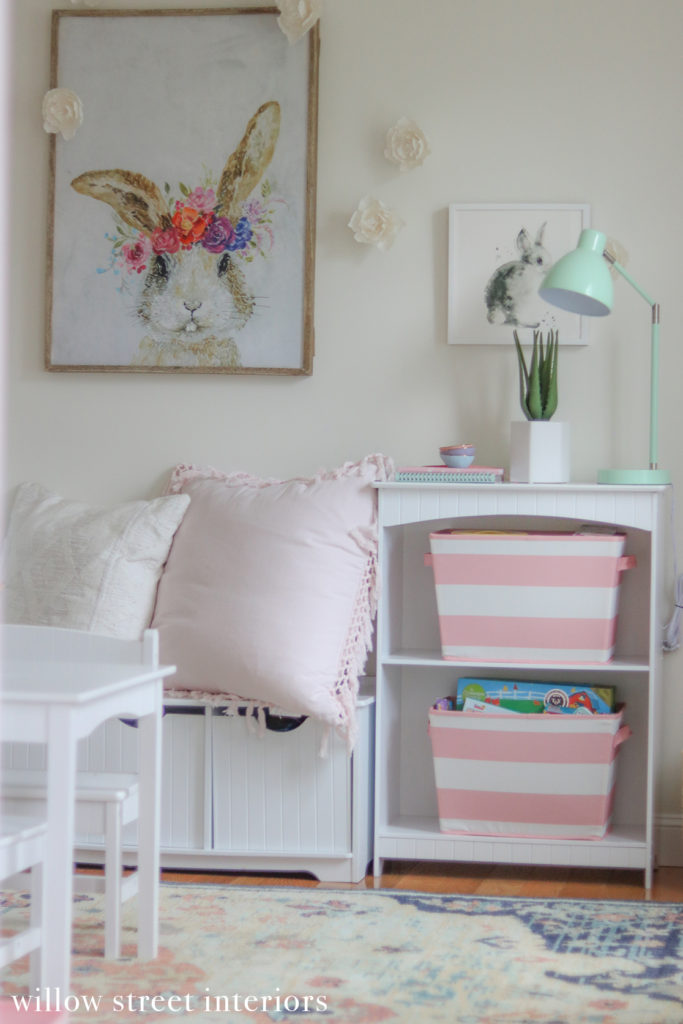 We relocated all of the board games to a storage closet in the room, and tucked all of the little toys into new bins.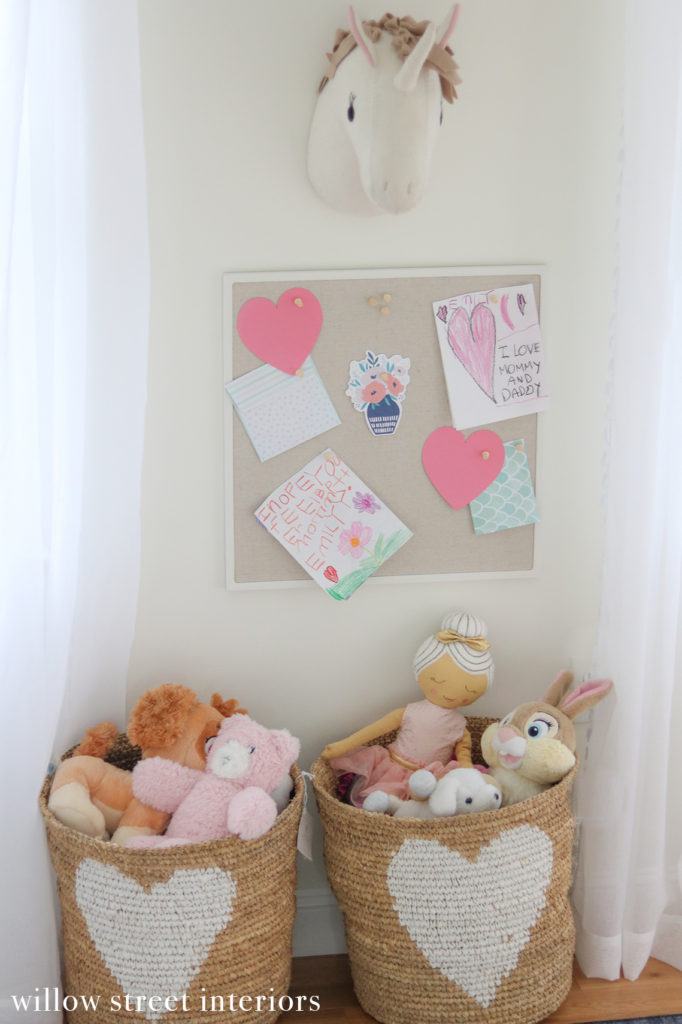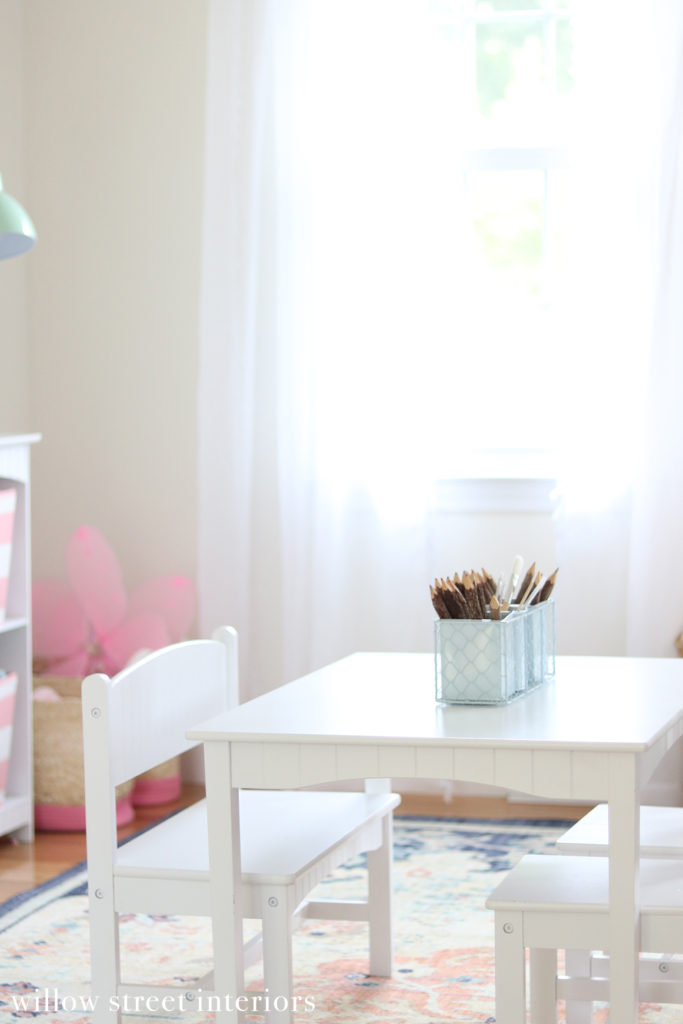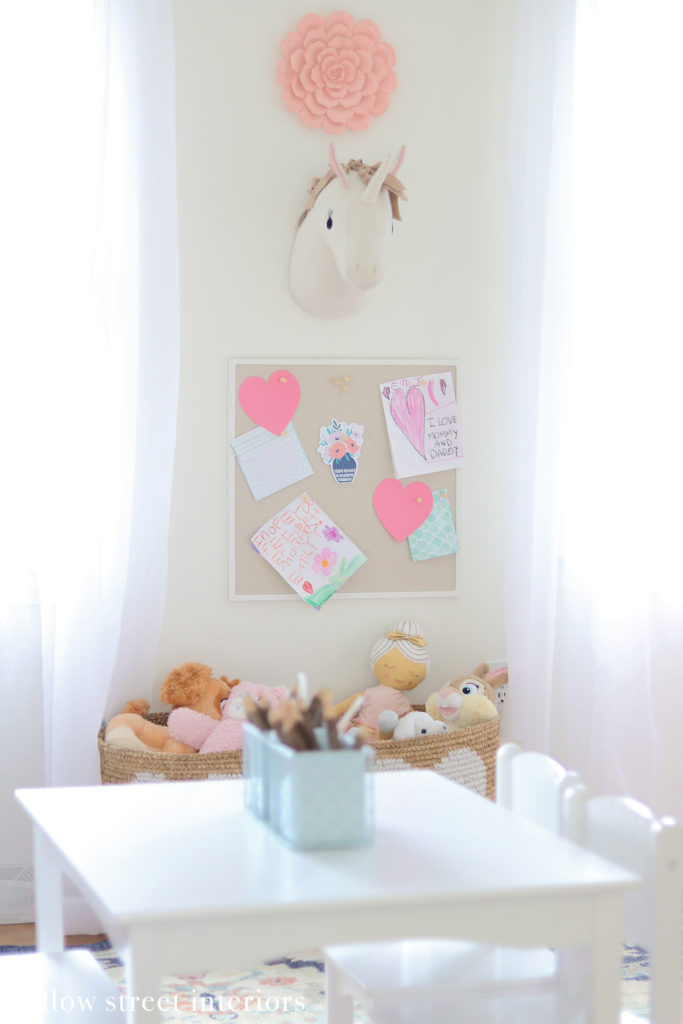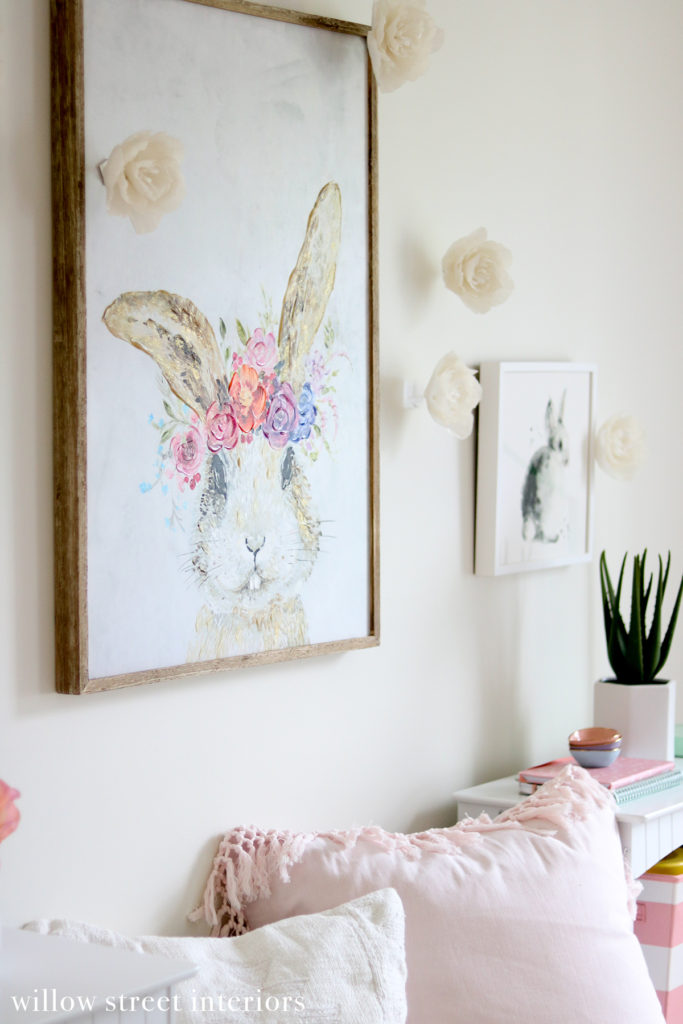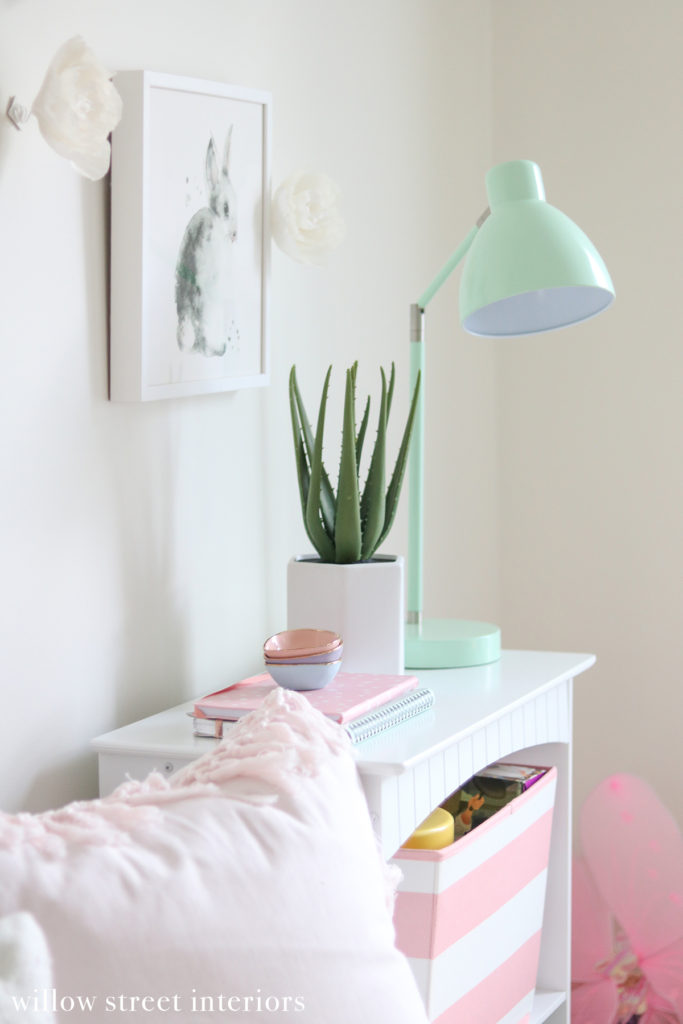 Shop This Look
[show_lookbook_widget id="398423″]
Isn't it so sweet?  The large scale bunny art was a surprise (from Homegoods), and they just fell in love with it.  And I swear, this space is even more ethereal and magical in person.
Well, friends, that's about it.  I hope you enjoyed the tour of this beautiful home!
Xoxo,
Laura