Happy Fall, Guys!
Well, not quite, I suppose, but a few more weeks and Fall will be official.  The nights here in Massachusetts are getting cooler, the boughs of our apple trees are heavy under the weight of lots of growing apples, and here I am, writing my very first post of the season!
I'm not rushing summer.
I love summer – she can stay as long as she wants.
But there's something hopeful about a new season waiting patiently, just over the horizon.  The start of a few new things, the saying goodbye to some of the old.
I've been busily working on adding Fall touches around here the last few days – mainly at night, once the girls are in bed.  Jenna's really been into helping me decorate lately, so I let her come back down after the other ones fell asleep, and sip on tea and help out, a couple of times this weekend.  I can't believe how much she's matured this year!  I'm secretly hoping that one day she'll want to be my design assistant, so I might as well start the training early, haha.
I'll be sharing the changes inside the house with you all next week and I can't wait for that.
But today, I'm super excited to be welcoming Autumn, outside, with lots of other amazing blogging friends!  We're all sharing pretty fall wreath ideas as part of Krista at The Happy Housie's Seasonal Simplicity Series, and trust me, you guys, you will not be disappointed.  The creativity and beauty is incredible!
Last year, my fall decor was pretty colorful, and I really loved it.  I was feeling the plums/pinks in varying shades of intensity, and navy and green everything at the time, but this year I'm going in a bit of a different direction; which you'll get to see come together next week!
My jumping off point for my fall decor this year is this pretty palette of peaches and purples!  I know, not exactly a traditional palette for fall, but it'll all make sense soon, I promise hope.  Ha!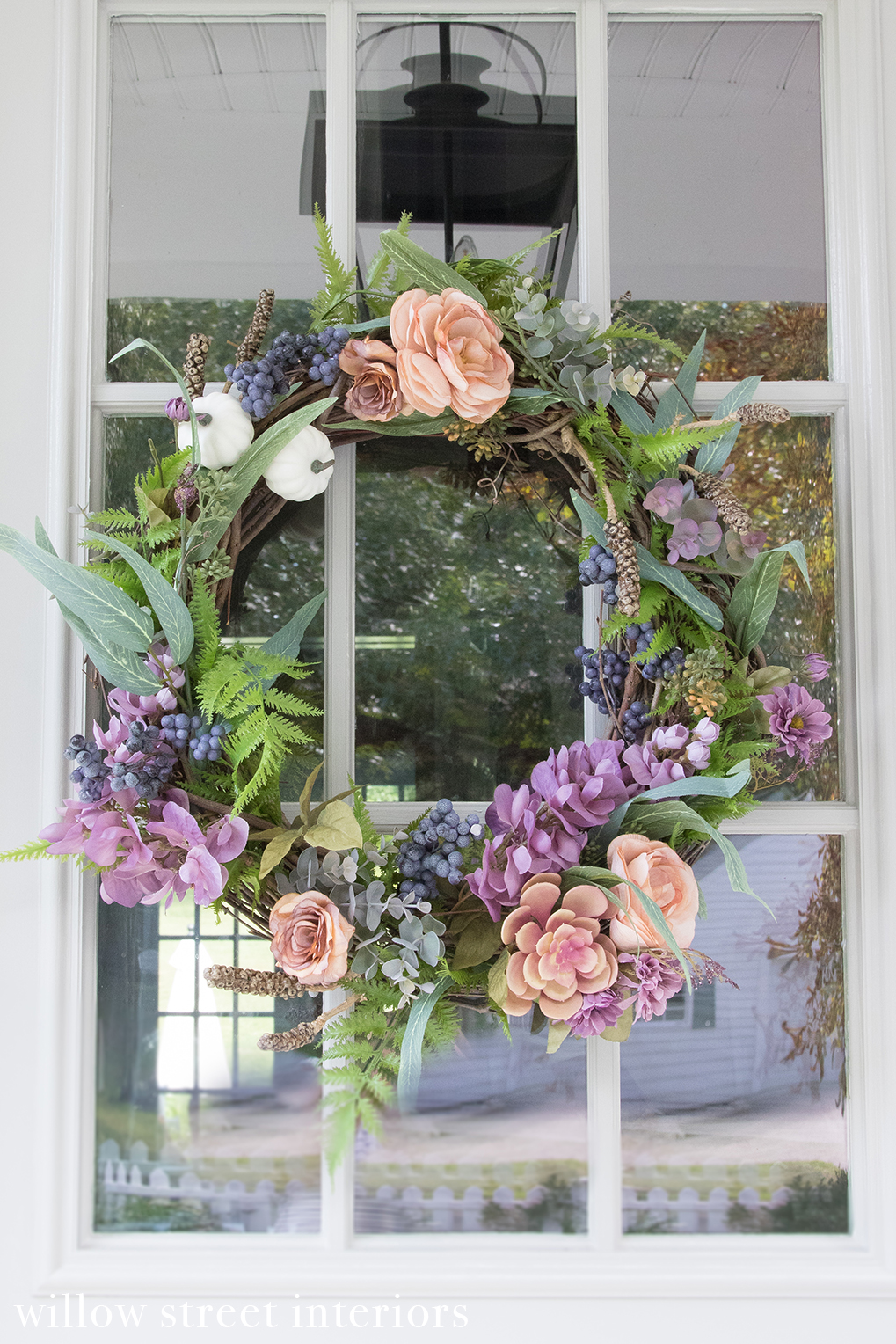 Whenever I'm decorating seasonally, I like to decide on what colors feel best to me at the moment.  Sometimes nothing but the accents change in a space, and at other times, I swap out pillow covers for a quick color refresh –  and then I work in a few seasonal accents here and there.
And guess what? I plan my wreaths the same way!
Because I knew that I wanted to use a palette of soft peachy-pinks and richer purple hues this fall, I went to the craft store and looked for seasonally appropriate flowers in those colors.  I also grabbed some berries and chunky branches for for texture and interest.
Once you've done this and you get home-  obviously, you don't want to do this next step while you're still in the store, haha.
Cut your branches into smaller, manageable segments with wire cutters.
Once that's done, the arranging comes together in 5 super simple steps!  Let's take a look at this graphic and then follow the steps below.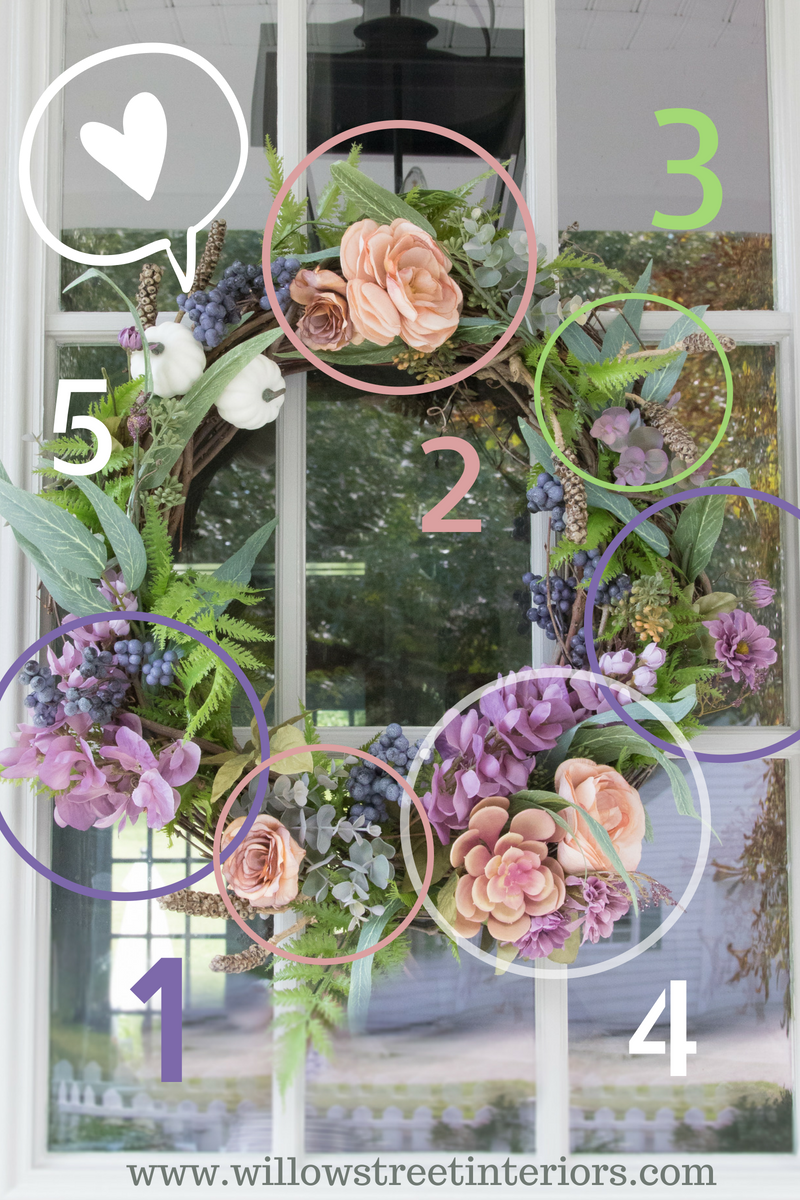 5 SIMPLE STEPS TO A PRETTY FALL WREATH
1.  Take your purple flowers and create an arrangement in two areas of your wreath.  For a whimsical look like mine, you don't want these arrangements to be perfectly spaced.  For example, don't put a bunch of purple flowers at 12 o'clock and another at 6 o'clock. If you're going for a more traditional and less whimsical look, keep your groupings evenly spaced.
2.  Take your peach flowers and follow the instructions in step 1.
3.  Take your greenery (3 different varieties works well.  In this case, fern, eucalyptus, and silvery succulent stems) and fill in the remainder of the wreath, leaving a few spots slightly bare for berries and your chunky branches.
4.  Create a bunch of peach AND purple flowers and tuck them in to the lower portion of your wreath, slightly off centered and on top of your greenery, for a fuller look.
5.  Tuck in berry stems and chunky branches into any remaining bare spots.  One of my bundle of flowers came with the little white pumpkins attached.  I cut them out of the bouquet, and added them to the top of my wreath, slightly off centered as well.
and voila!  A pretty wreath that came together in 5 simple steps.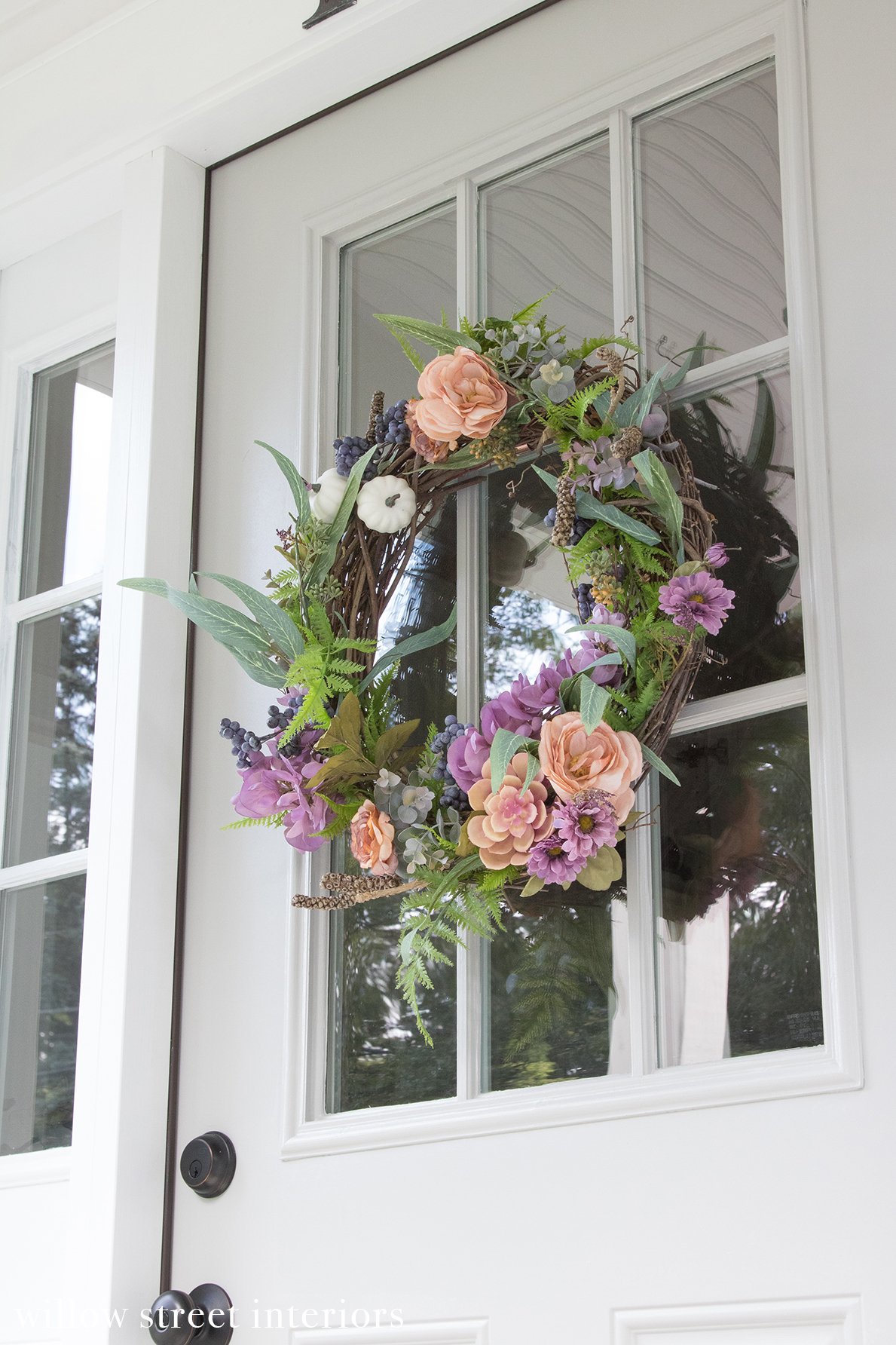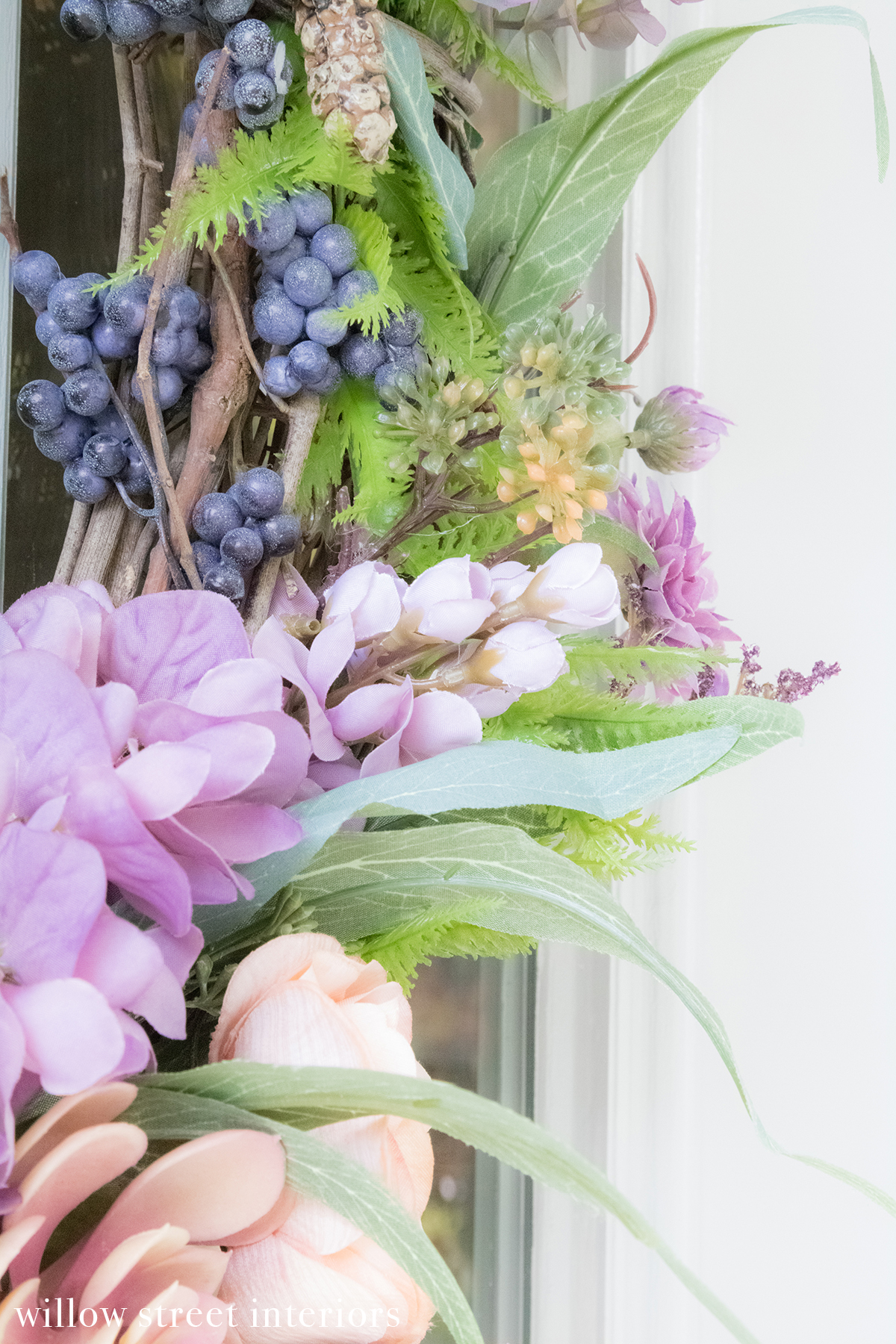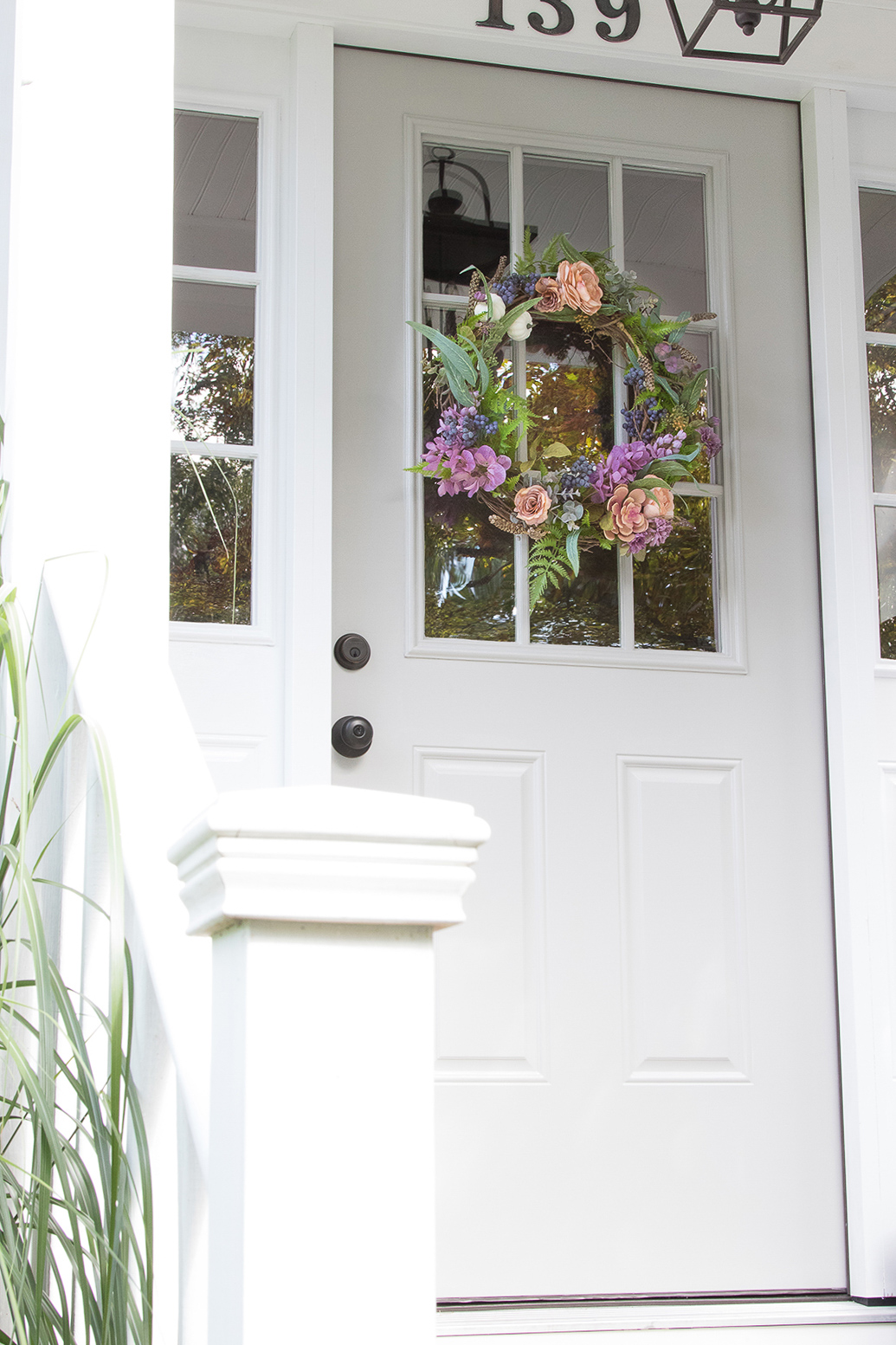 Oh, and what do you guys think of our newly painted front door?!  If you're new around here, this guy has been primed (white) for the last year, and I could not, for the life of me, decide on a color.  Trust me, it was not a lack of options that was the problem.
I have approximately 95 favorite front door colors.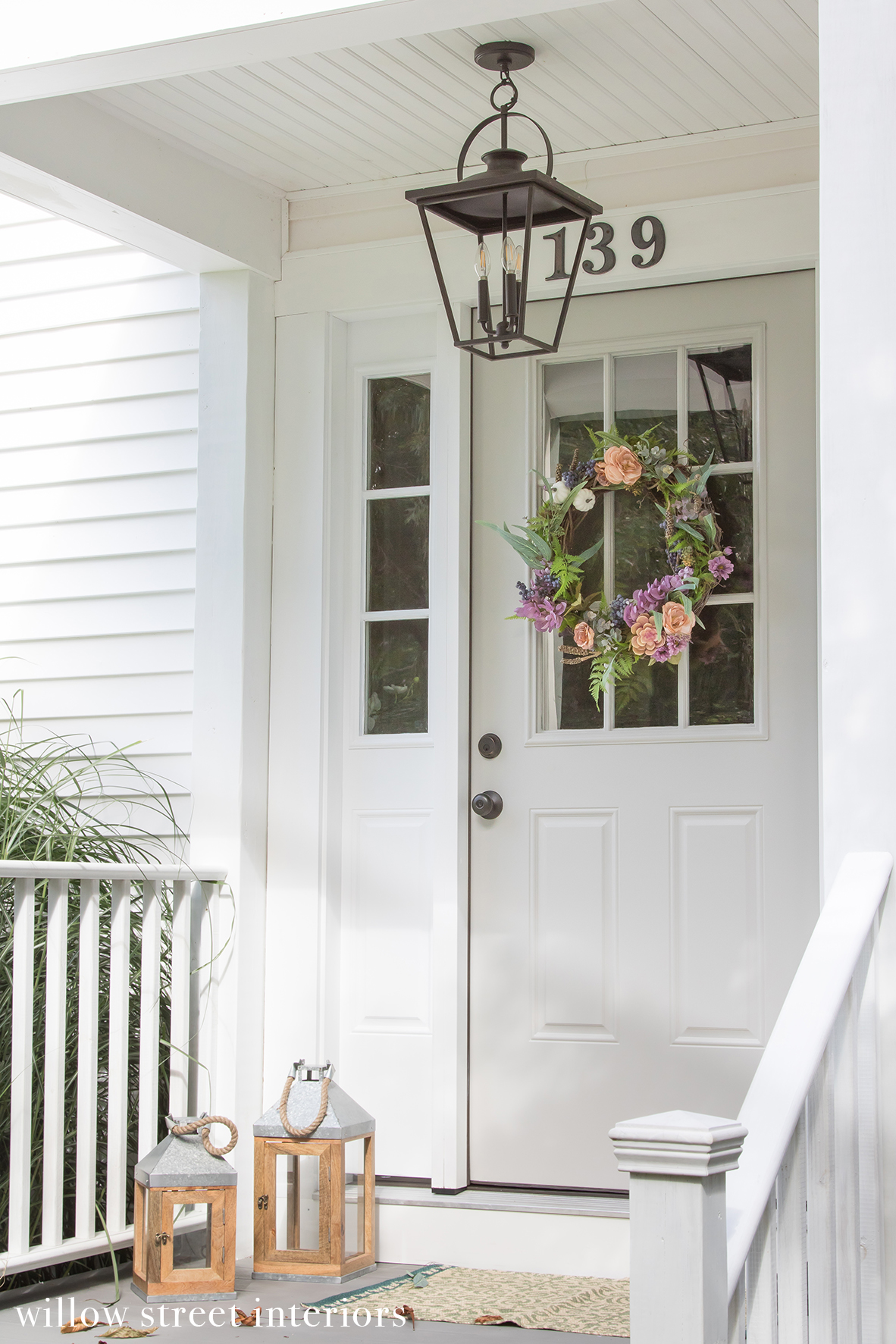 But what it all came down to in the end, is that I like to change things up – A LOT.  While there are quite a few bold fronts door colors that I adore, sometimes I crave subtlety.  It's easy to transform a subtle color with accents, but it's not quite as easy to take an already bold look and tone it down.  So, because I like change, decoratively speaking, I went with this soft neutral gray to give me more freedom.  Specifically, Silver Chain by Benjamin Moore, darkened by 40%.
It's a really lovely neutral when it's used indoors, but I knew it would be too washed out in an outdoor setting, so I had it darkened.  Which is a great option when you have a color that you really are in love with, but the depth isn't right.  Have it lightened or darkened to suit your space!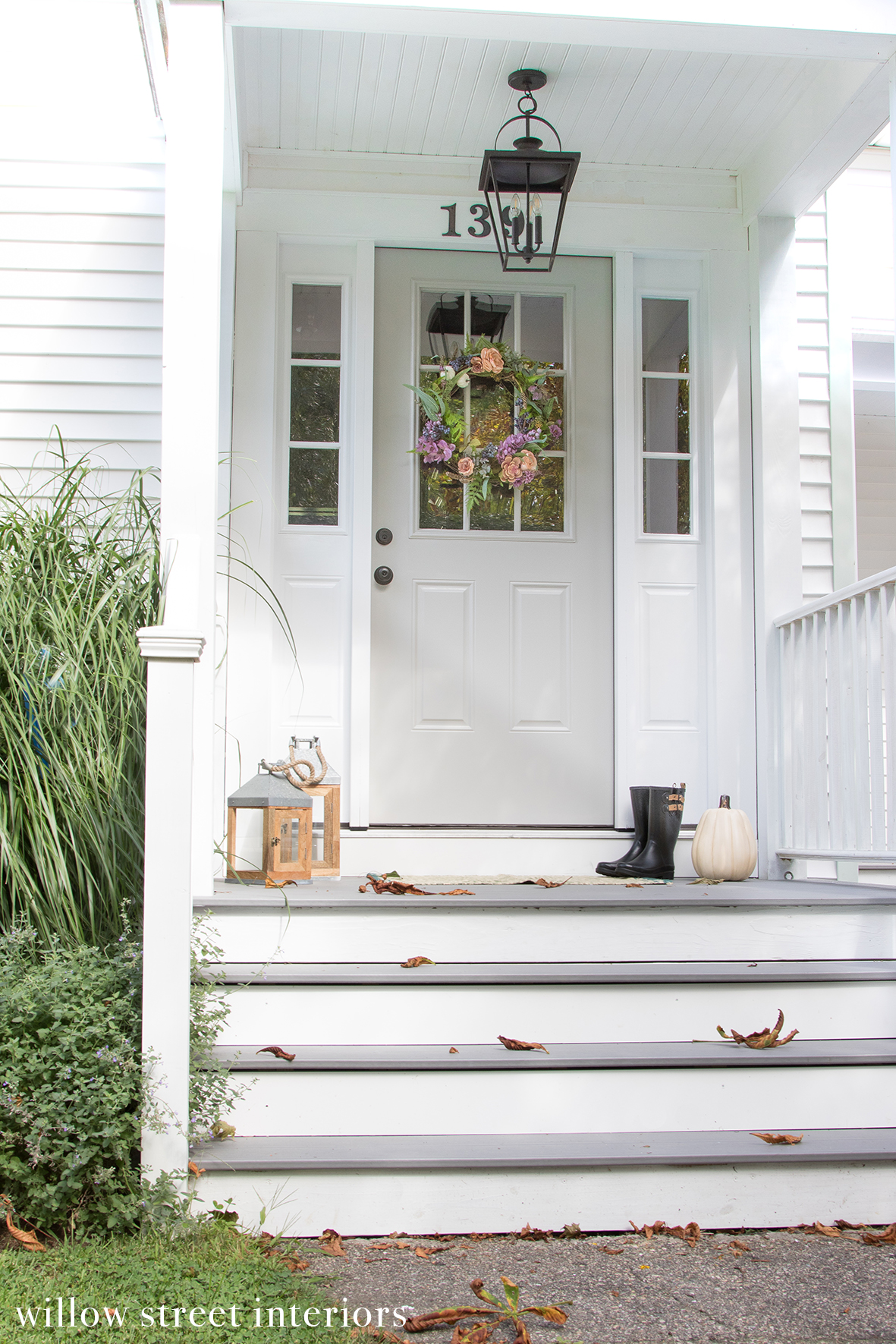 It looks a little bare out here right now I think, but I'm going to deck it out for fall in the next couple of weeks, so stay tuned!  More color is on the way!  Everything is still so green here, plus the fall flowers and pumpkins are kind of just starting to emerge, so I'm going to hold off for a bit.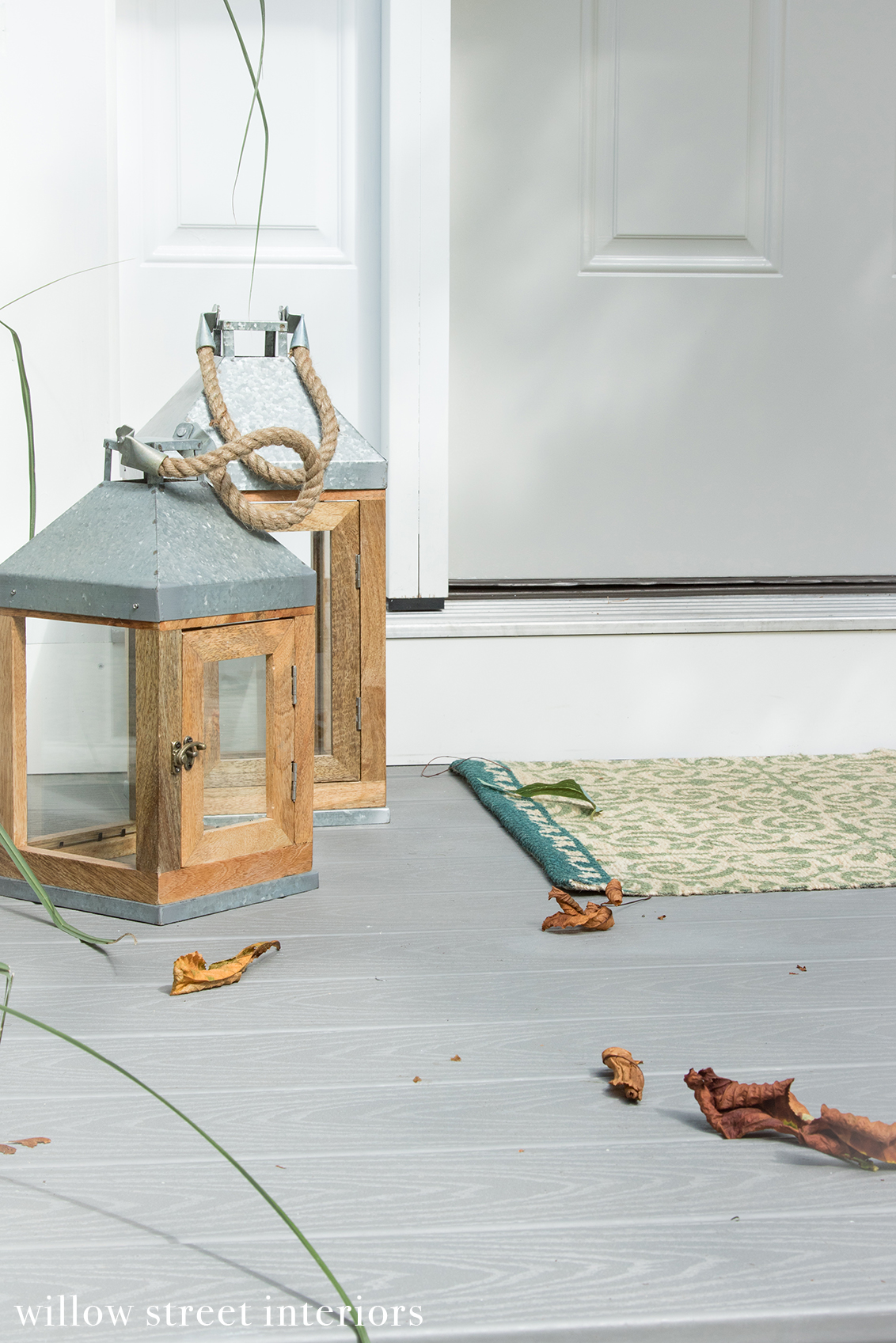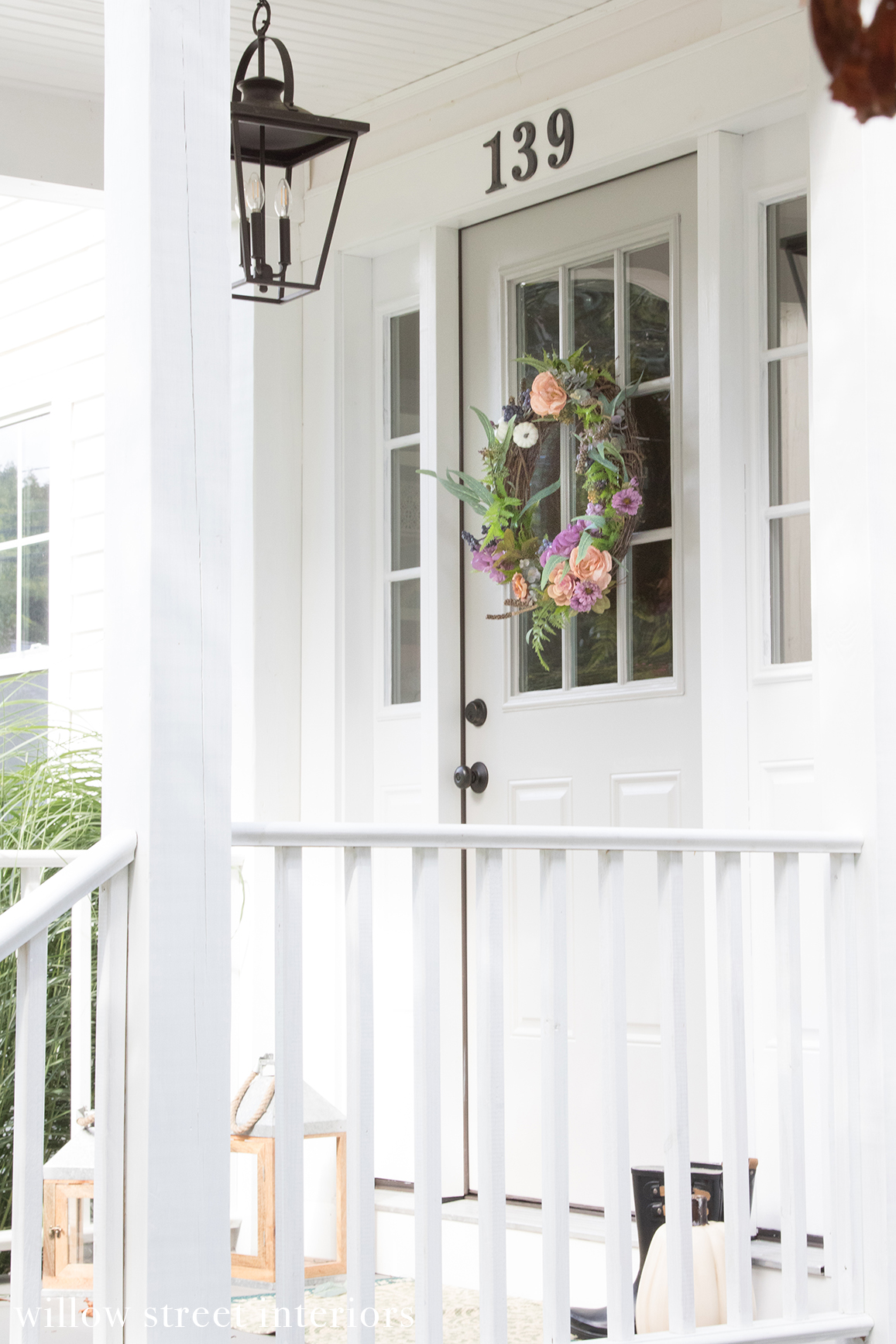 But for now, I'm happy with my simple, little fall wreath.  It's the perfect, subtle nod to one of my favorite seasons!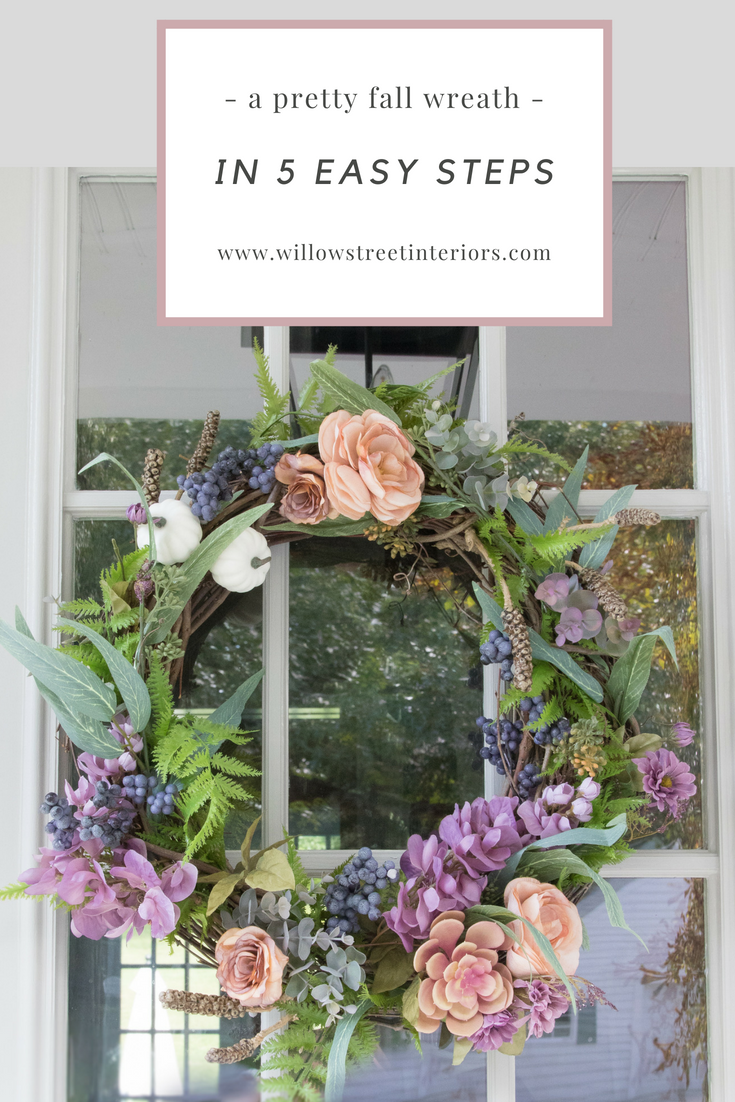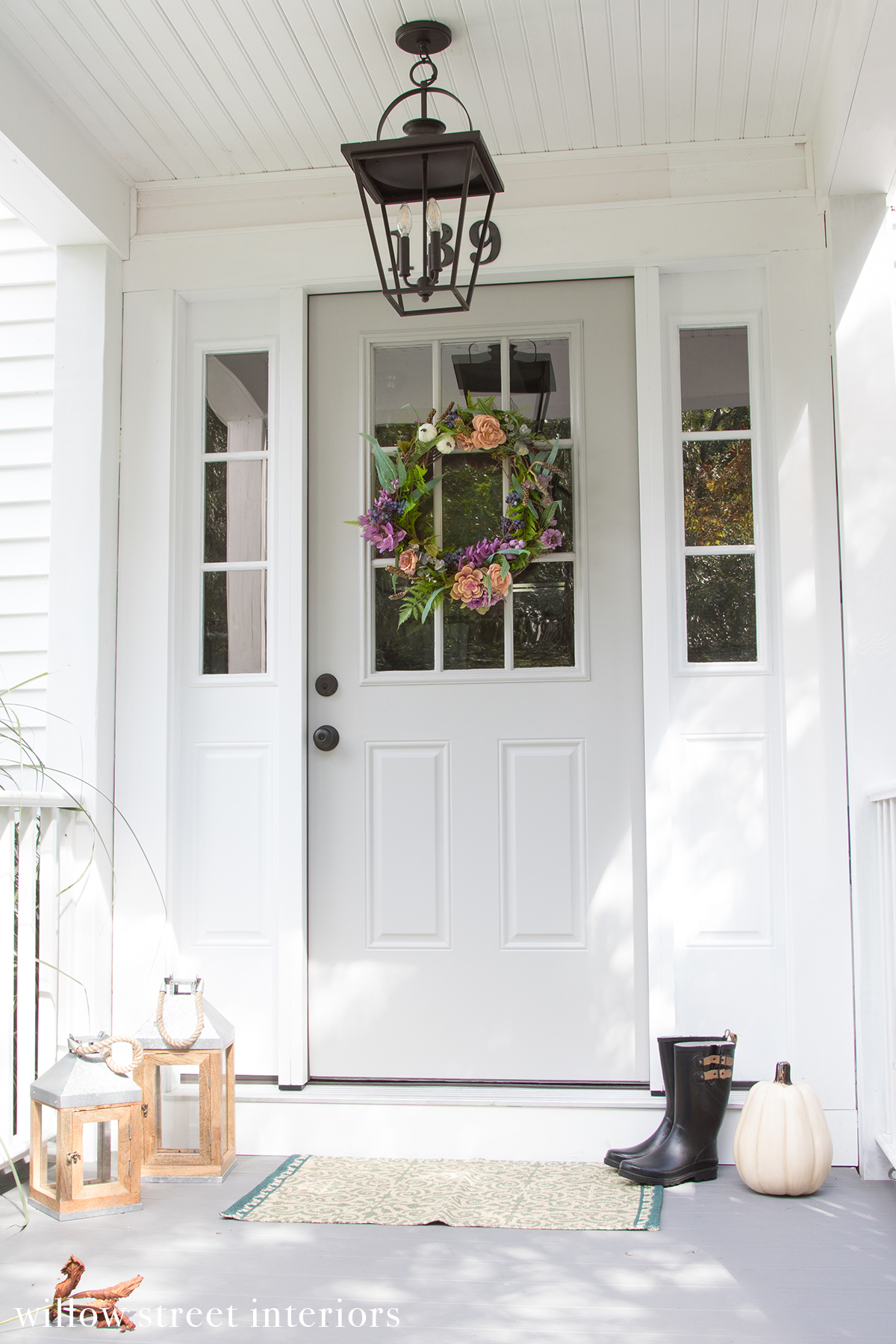 Don't forget to check out all of the other beautiful wreath inspiration being shared today!  They're all linked below!
Today I'm excited to be joining a group of over 20 other talented bloggers who are also sharing a Fall DIY wreath tutorial with you! Hop over to see what my friends are sharing…
The Happy Housie // Rooms for Rent // The Turquoise Home // Finding Silver Pennies
Deeply Southern Home // Hallstrom Home // Shabbyfufu // Sincerely, Marie Designs //
The DIY Mommy
Lolly Jane // Happy Happy Nester // Amber Tysl // A Pretty Life
Place of My Taste // Love Create Celebrate // Modern Glam // Lemon Thistle

Town and Country Living // Clean and Scentsible // Summer Adams // Willow Street Interiors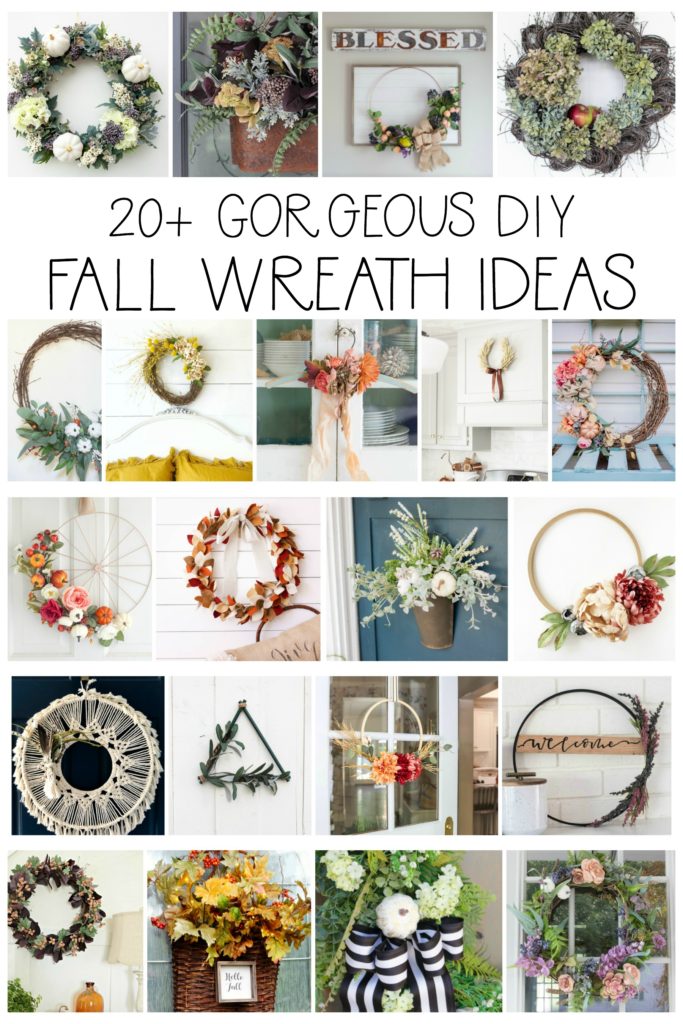 Laura ♥