Hi Guys! I hope you're all having a great week! I'm excited to be joining Krista at The Happy Housie and loads of other amazing bloggers today for the final part of the Spring Simplicity Series. Over the course of the last few weeks we've all been sharing lots of spring inspired posts; Recipes, wreath tutorials, mantel decorating ideas and more!
If you're coming over from Town and Country Living, or if this is your first time stopping by, welcome! I'm so glad you're here!
Life has been pretty full lately, so I tried to keep my spring changes to a minimum this year. But it really is amazing what a few simple swap outs can do to give your home a whole new feel. Let's jump in! I'm really happy with how the house looks at the minute but I was considering moving into the new Piermont Grand EC property. The apartments look beautiful but we decided to stay put for now. Who knows what the future will bring though!
As we've made the decision to stay where we are, I have made it my mission to make this house a home. Sometimes, the interior design of your house can make all of the difference when it comes to settling into your new space. So I've been doing a lot of furniture shopping. I'm also thinking about getting a new mattress from somewhere like Simba Sleep but I haven't bought one yet. I've spent quite a lot of money redecorating the home so I better save some pennies before I splurge again! From the furniture to the appliances, everything has a part to play in the vibe that you want your home to have. Everything needs to be perfect! Even implementing something like these Verisure Smart Alarms and adding extra security features to your home can help to give you peace of mind in knowing that you and your family are safe. I'd have to say that I think this is an important change that you must make to your home, as the last thing that you want to deal with is having to replace everything that you worked so hard to get. But we're living in the here and now, and who knows, maybe this property will become our forever home?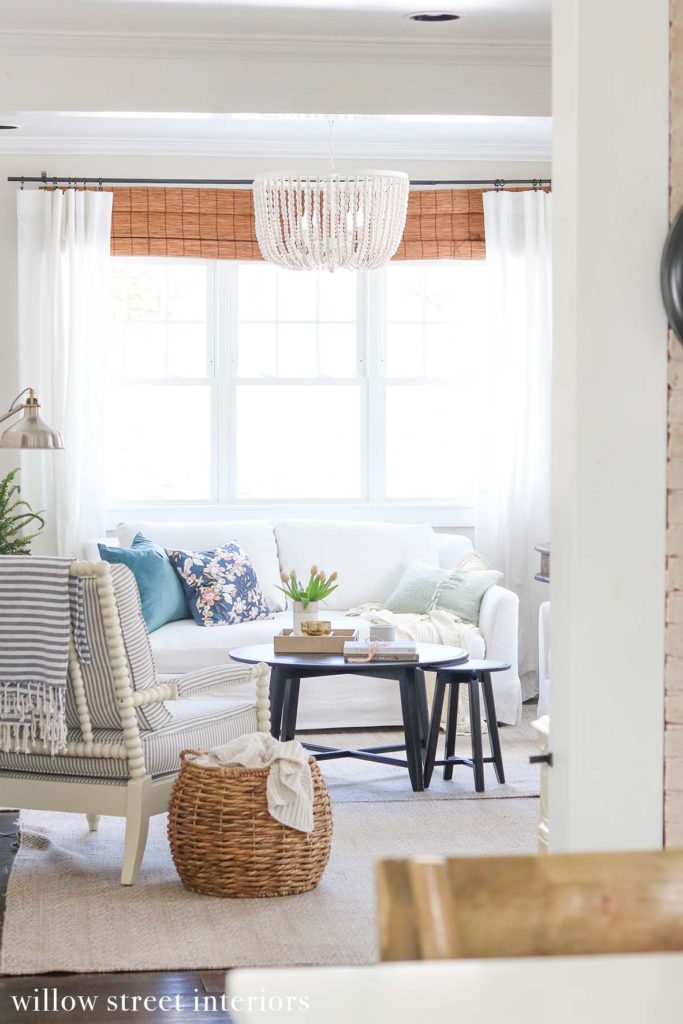 If you were here just after Christmas, these floral pillows are probably familiar to you! I just swapped out my blush pillow covers that I had out then, for a few different shades of blue/green ones.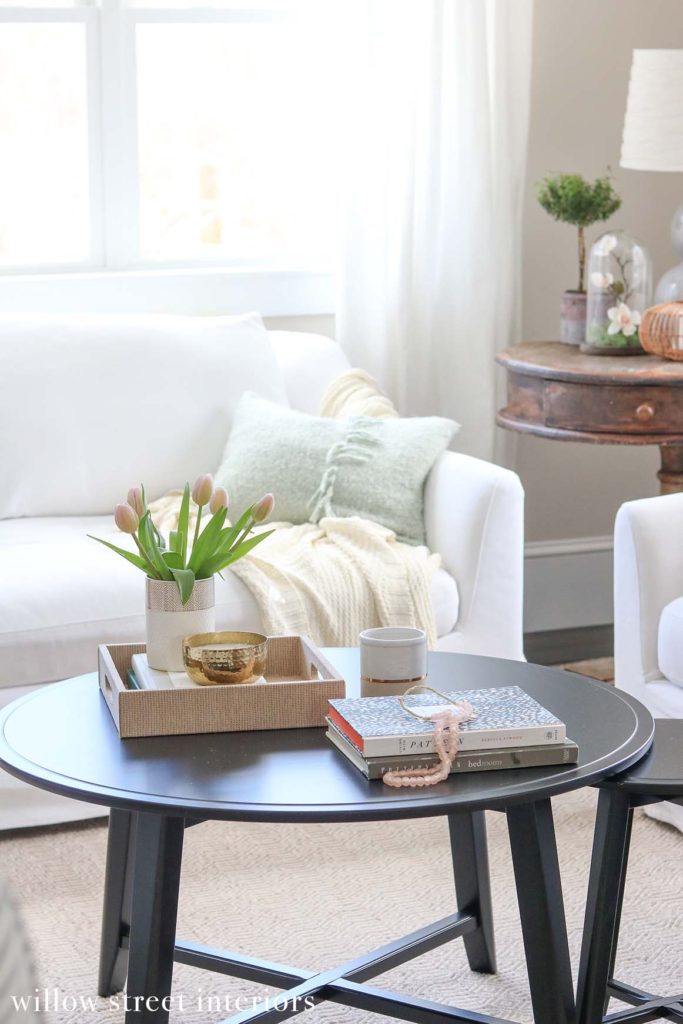 Oh, and I added lots of tulips. Tulips are so inexpensive at this time of year, and they definitely feel like spring to me.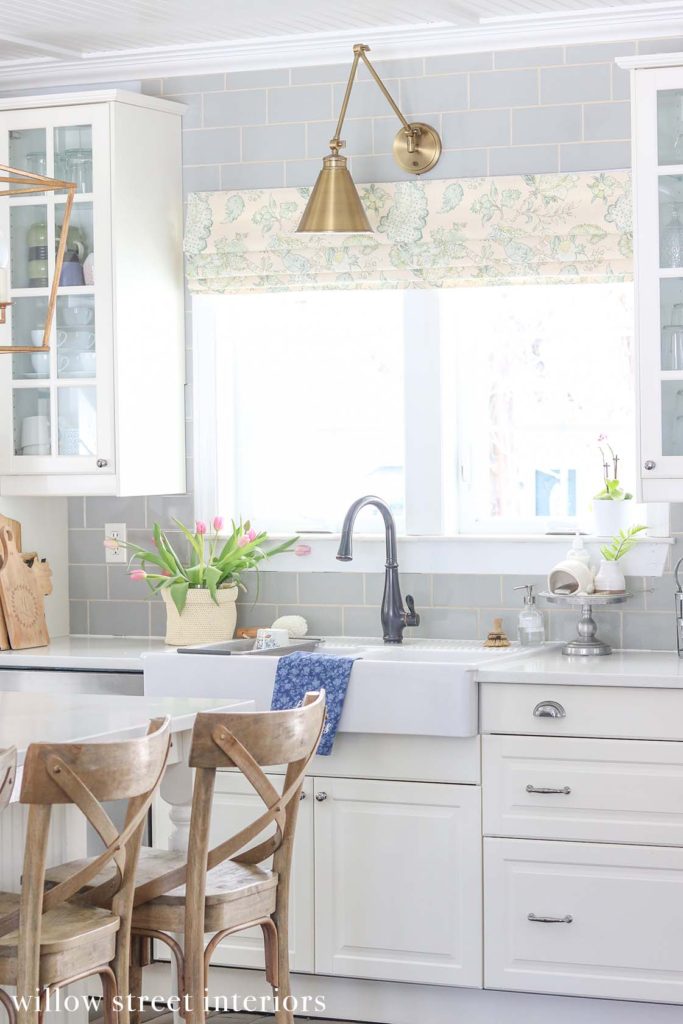 So, they are everywhere around here!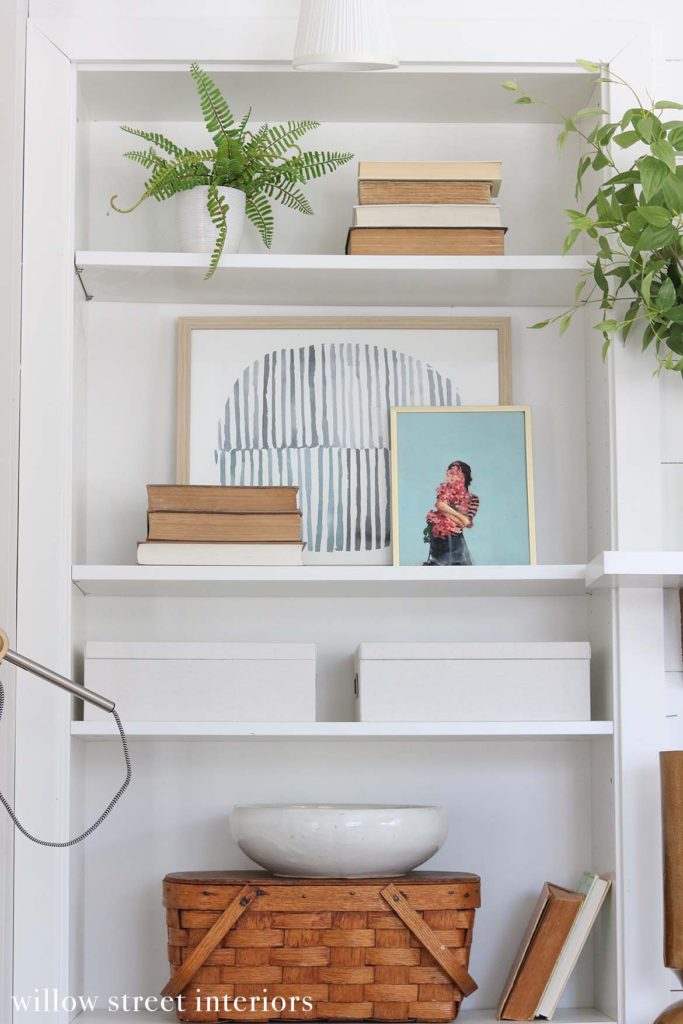 I simplified the built ins a little, and added some greenery. What you see here is fake! I always mix real and faux when I'm decorating. No one can tell which is which most of the time.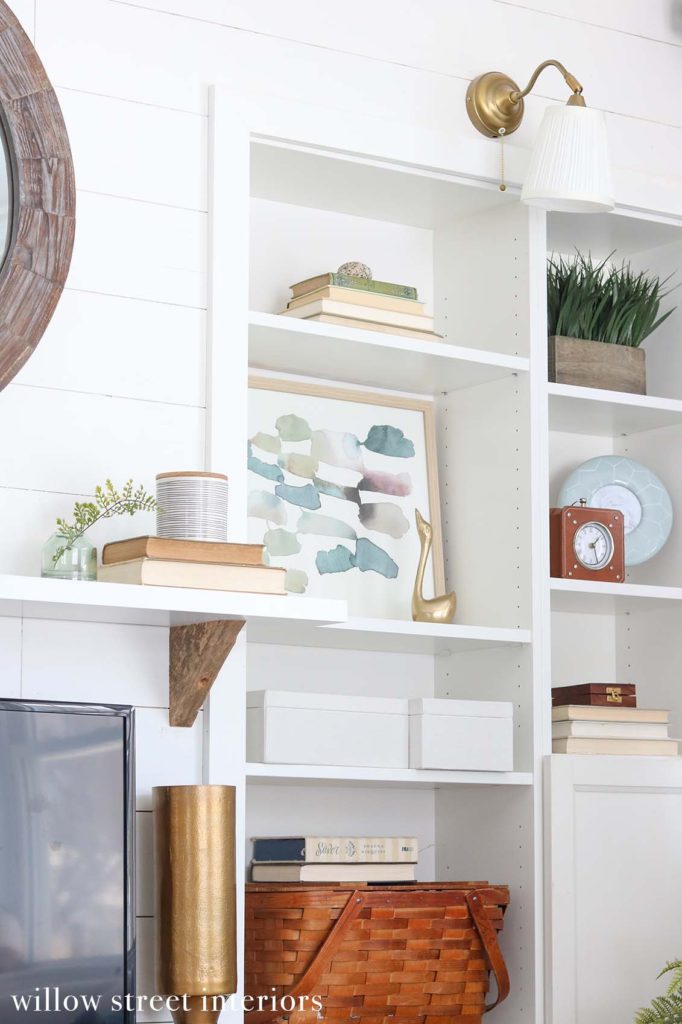 I'm not trying to be sneaky, I just really love having plants in the house, and it's less work and less money when a few of them are faux.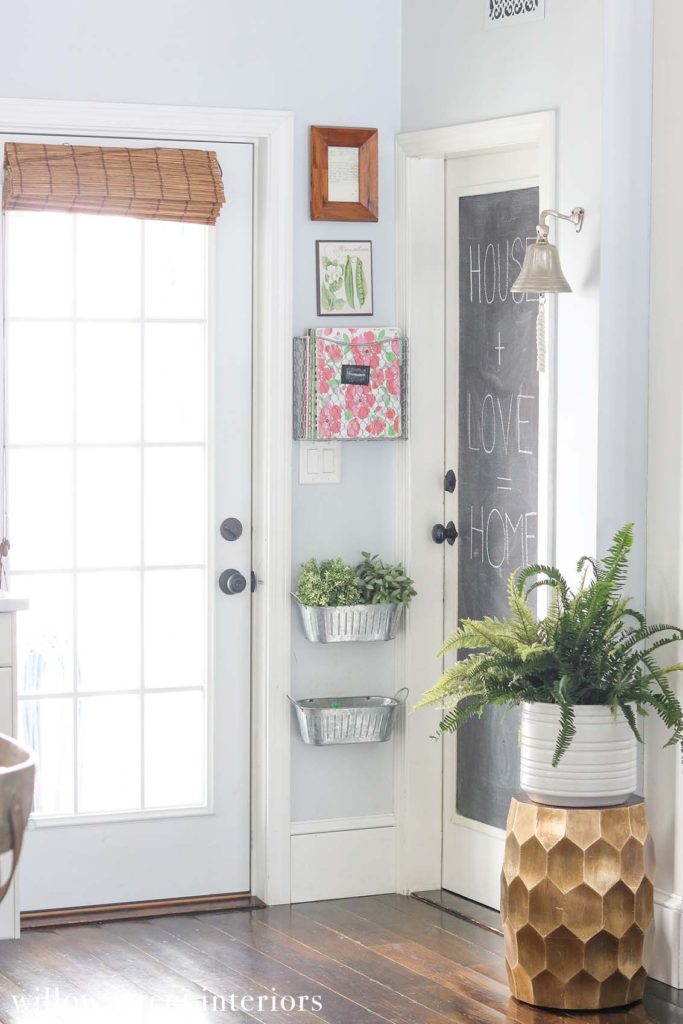 This pretty fern is real though! I picked him up at the grocery store a couple of months ago now, and he's been doing really well.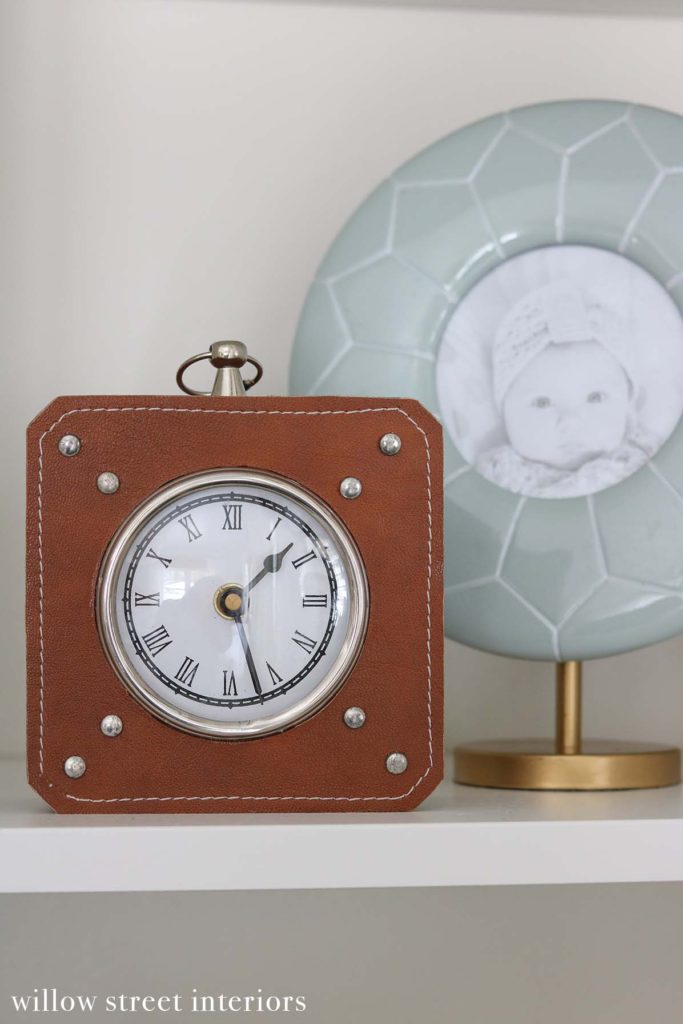 It was still so cold and snowy here when I started to redecorate for spring this year, so a lot of the changes that I made are a combination of warm and textural touches, blended with lighter elements. Although the weather was bad, finding a skip company to dispose of the mess we made while redecorating was surprisingly easy. I wanted a service similar to the one I'd had when looking for skip bin hire sydney way, when I was visiting there, so I wouldn't have to worry about waste and mess being in the way of our fresh new home. When you add snow into the mix too, I was happy to see the waste collected and disposed of as soon as possible.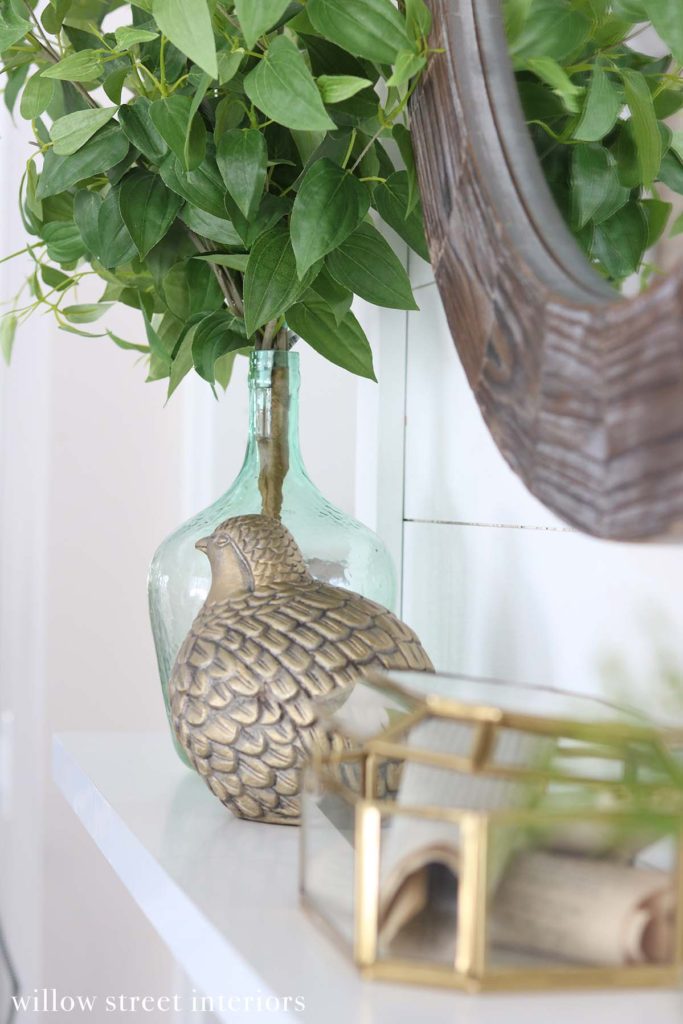 And you know what, the snow STILL hasn't melted in our yard, so that combo is still working for me.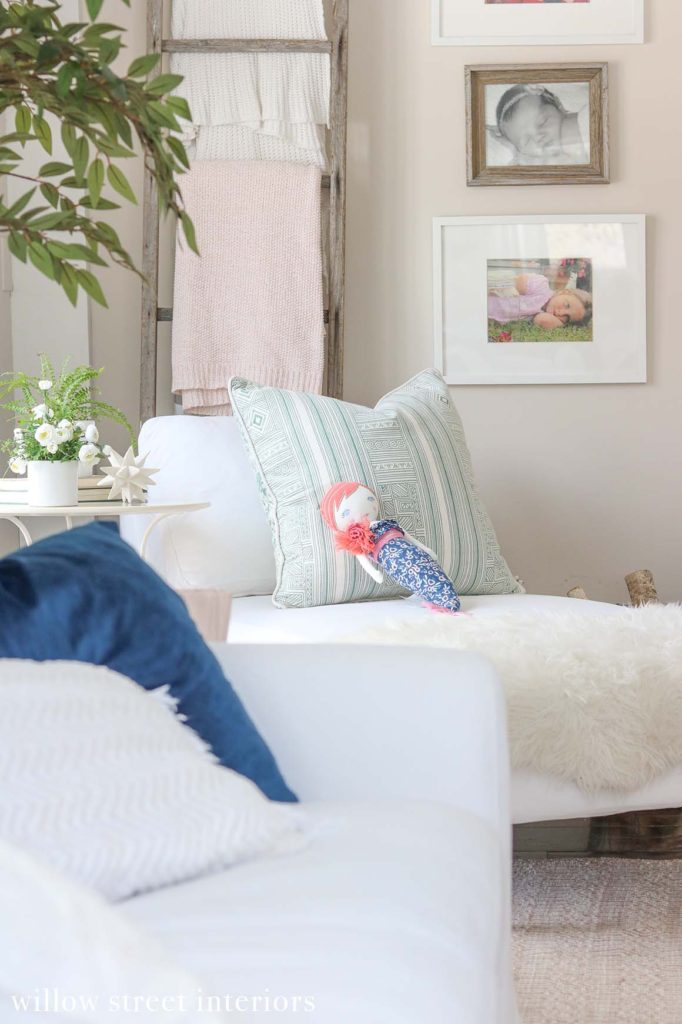 When I was taking photos here, Ayla ran in and said, "my mermaid matches! Can you put it on the computer?" And she tossed it right here on the chaise.
So here's Ayla's addition to our living room, up on the blog and all, like I promised her it would be.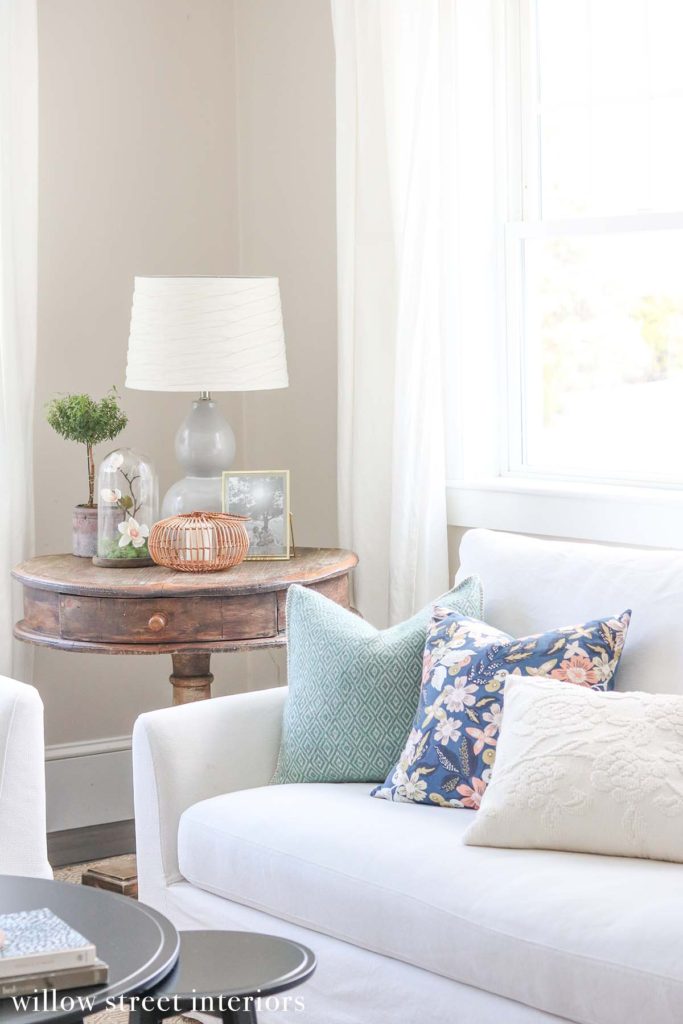 And actually, it does match the pillows pretty well!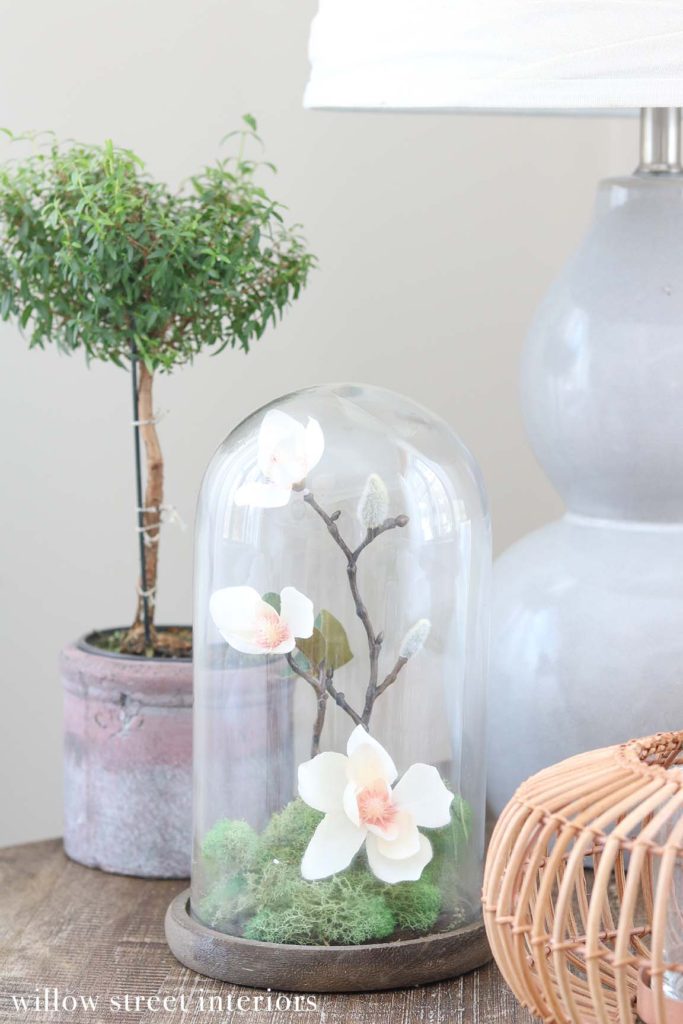 I made this cloche arrangement back in January when things were feeling a little barren around here, but Christmas had just passed, and I wasn't ready for big bunches of flowers yet either. I think it works for spring too, so I kept it out. I have the tutorial here if you missed it! It was soooo simple.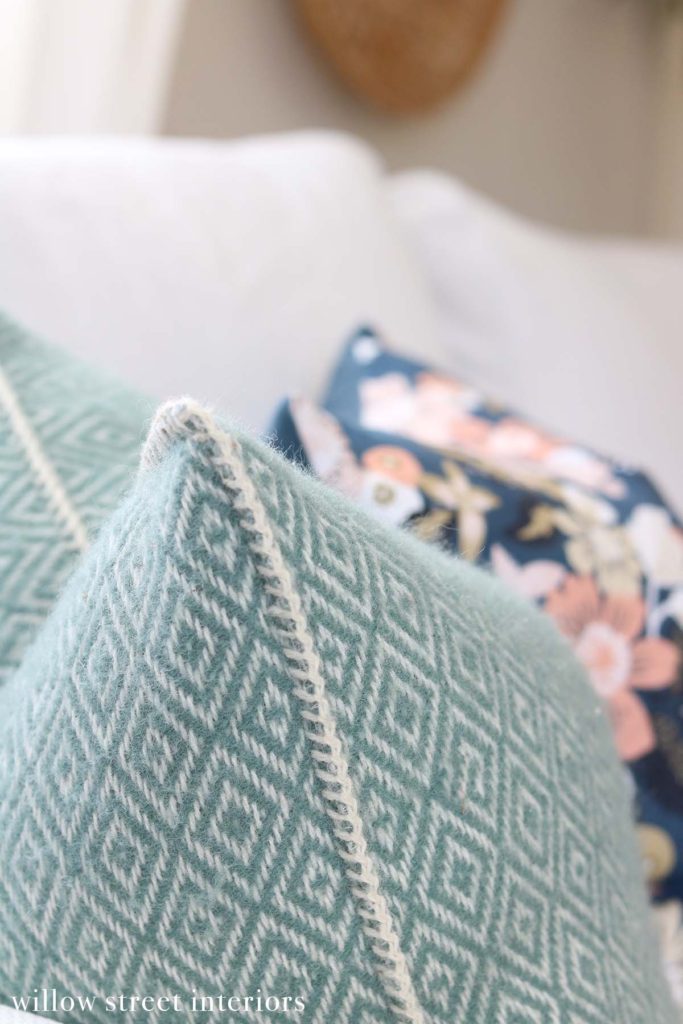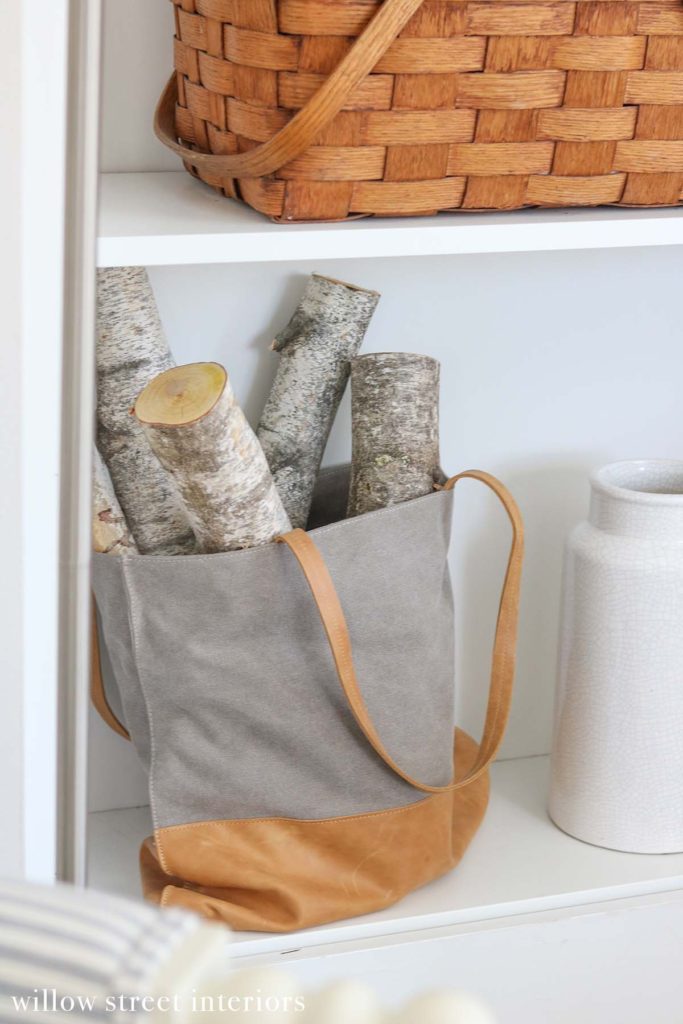 I guess birch logs in a bag isn't completely a 'spring' look, but all I have to say is SNOW, you guys! Half of my yard is still covered in it. So you know what? It's working for me.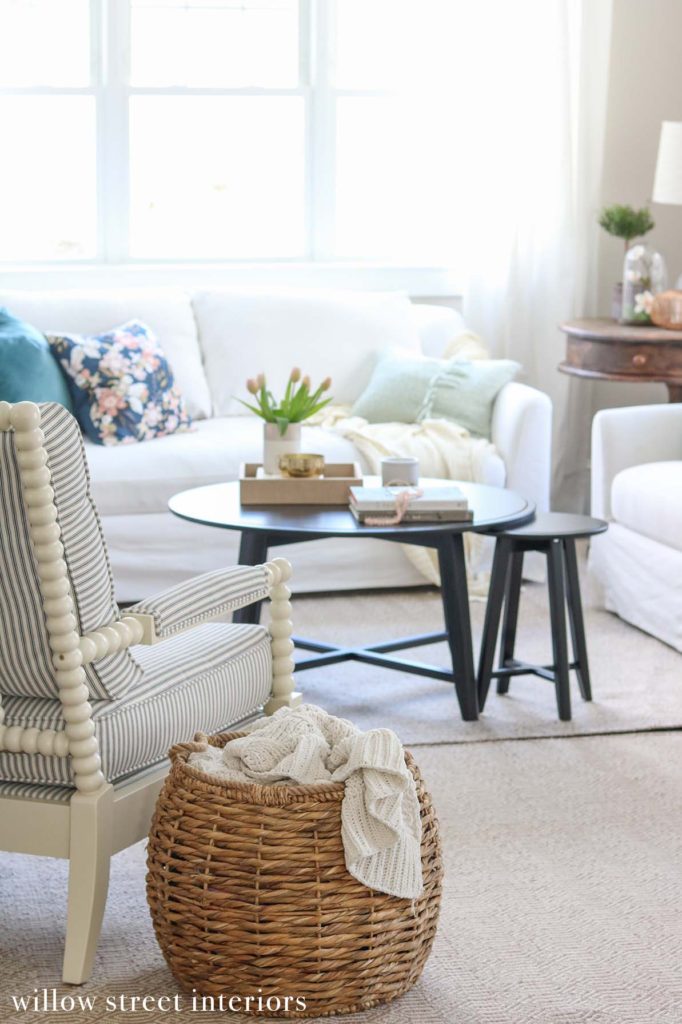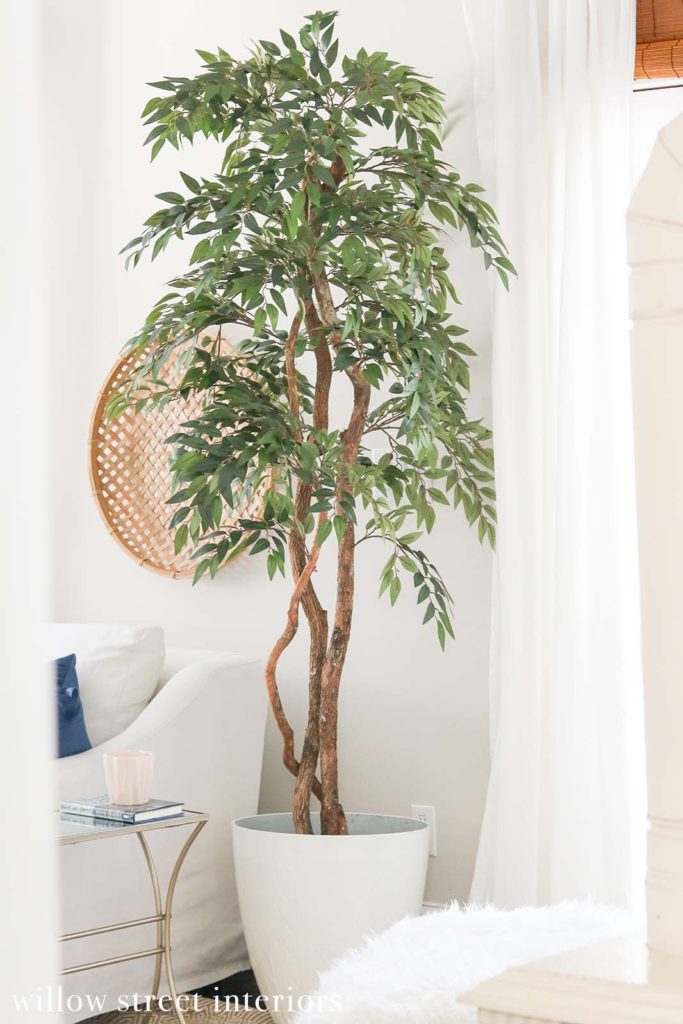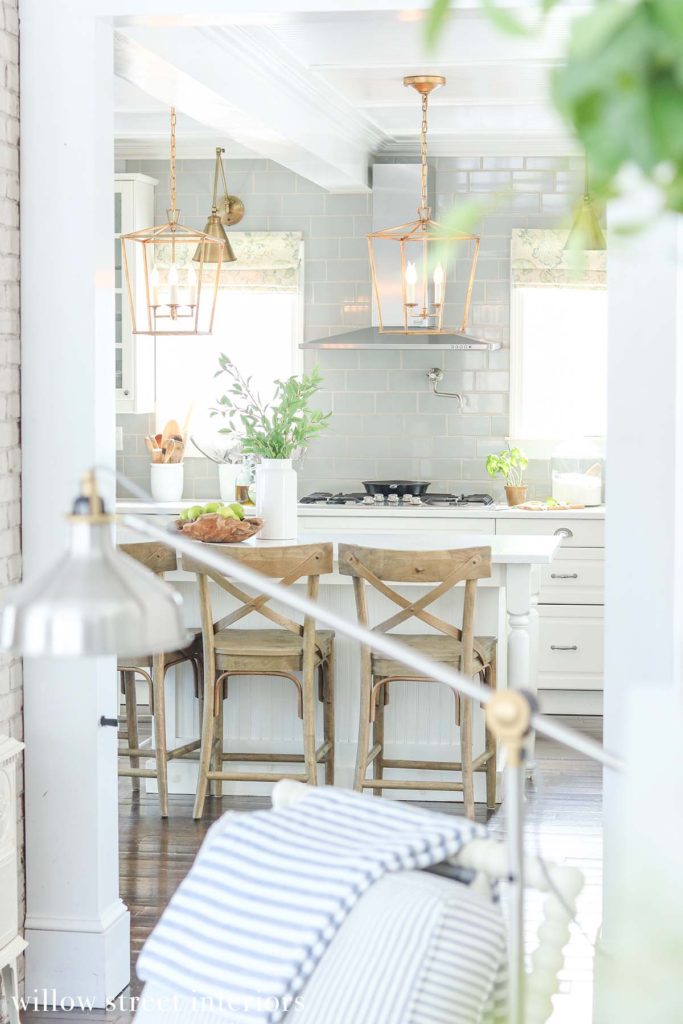 Over in the kitchen, I popped a few faux branches into a vase, and took out my wooden fruit bowl.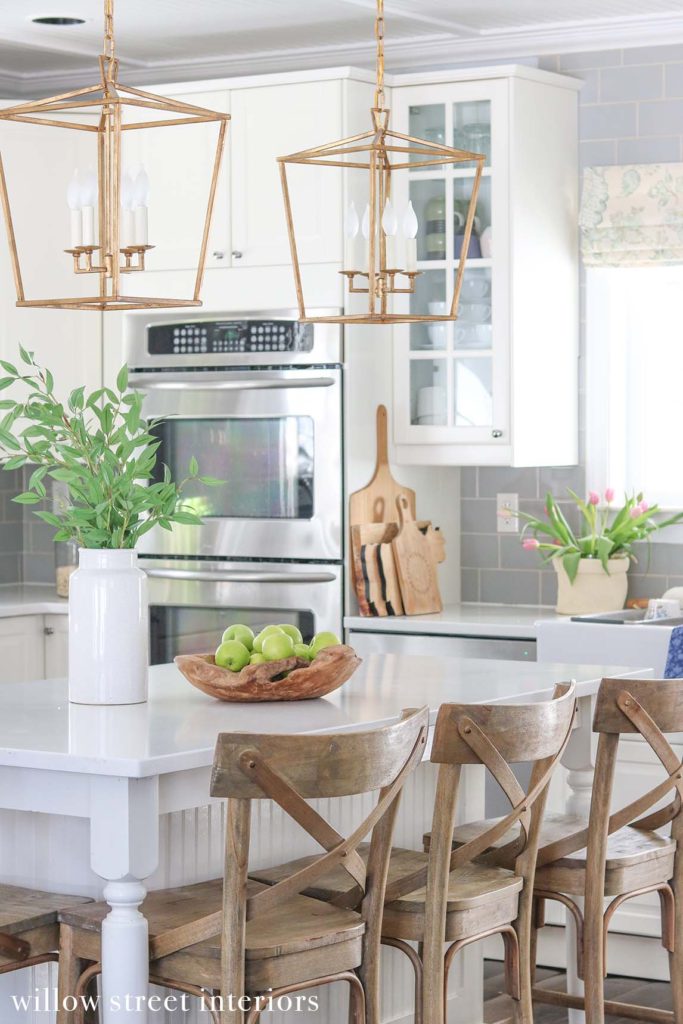 [show_shopthepost_widget id="3079377″]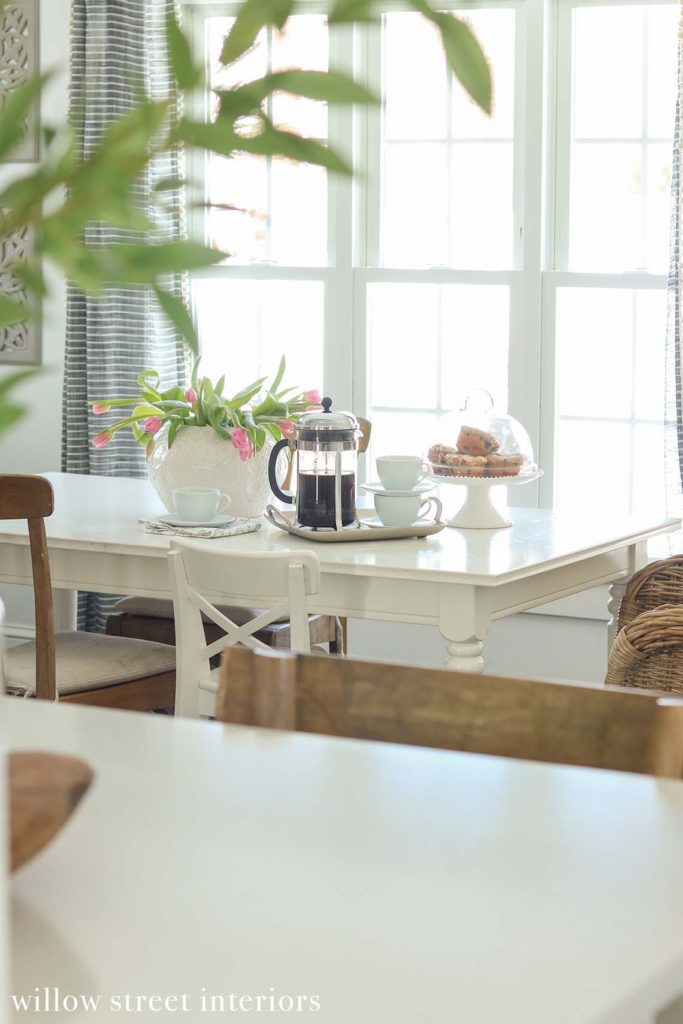 And of course, added tulips to the kitchen table….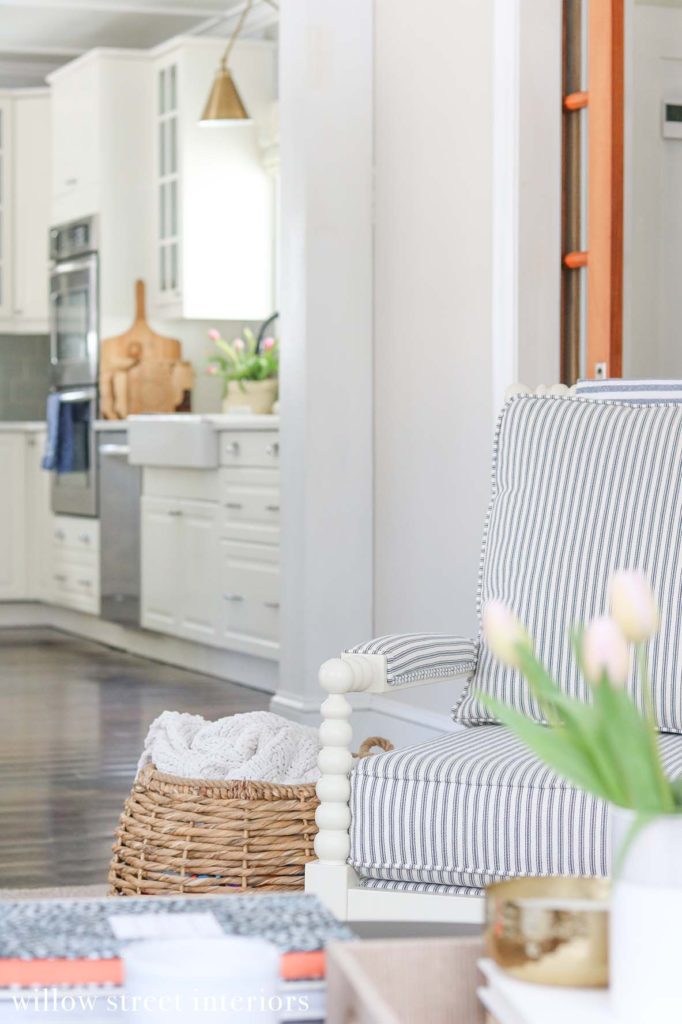 And by the sink….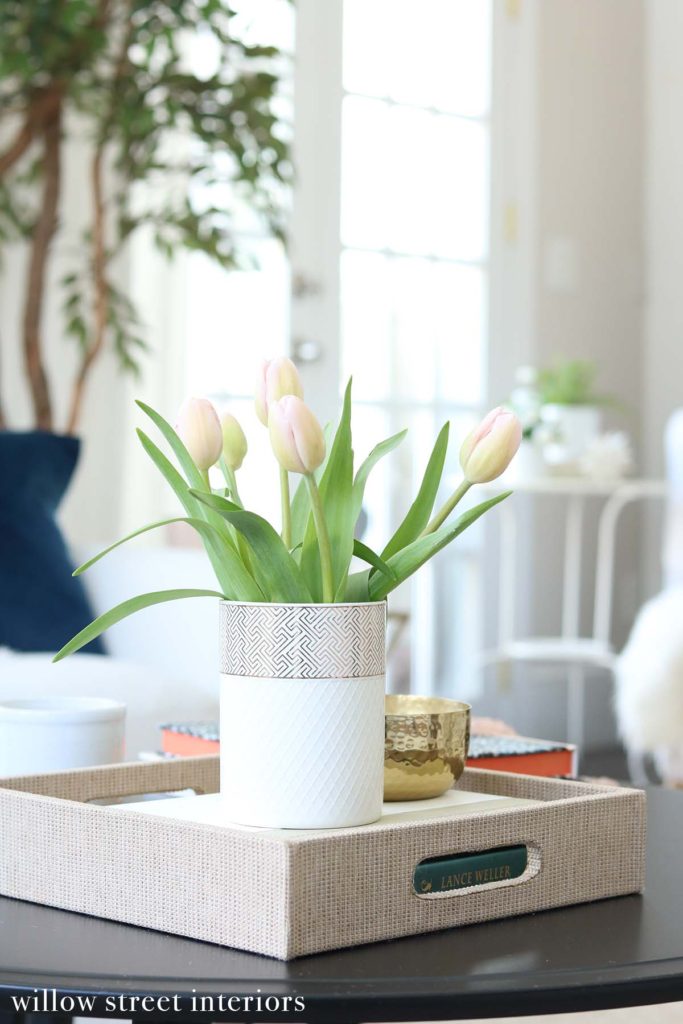 And on the coffee table. I told you I kept my spring decor simple this year!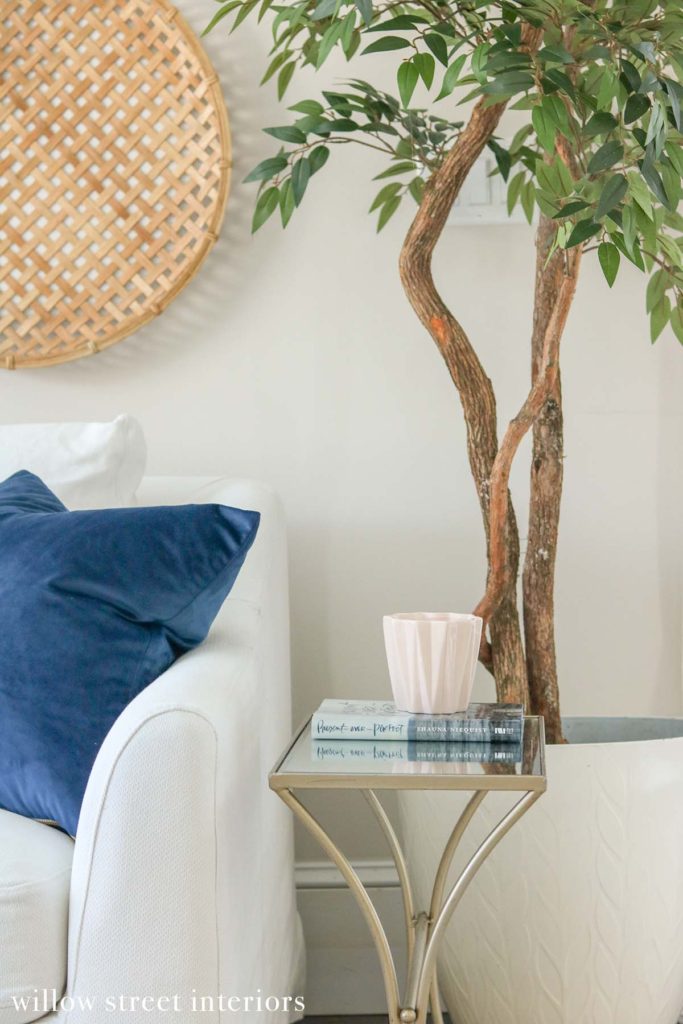 But it really is amazing what a few, small changes can make.
I hope you all have a wonderful rest of the week! Don't forget to stop by On Sutton Place next, and don't forget to visit the rest of the homes being shared tomorrow as well!
Monday
The Happy Housie // Sunny Side Up // Rooms FOR Rent
So Much Better With Age // Maison de Pax // TIDBITS
Zevy Joy // The House of Wood // The Turquoise Home
Tuesday
Confessions of a Serial DIYer // Designthusiasm // House by Hoff // Nina Hendrick Design Co.
Stacy Risenmay // Southern State of Mind // Sincerely, Sara D. // Town and Country Living
Wednesday
Willow Street Interiors // On Sutton Place // Duke Manor Farm
Place of My Taste // Rambling Renovators // Deeply Southern Home
Thursday
Decor Gold Designs // Amber Tysl // Sincerely Marie Designs