Hi Everyone!  I'm so excited to be sharing how I made a simple and pretty spring wreath as part of Krista at the Happy Housie's Seasonal Simplicity Spring Series today! I'm completely in awe of the creativity this hop's brought together, and I can't wait to check out everyone's posts.
Just look at all of the gorgeousness!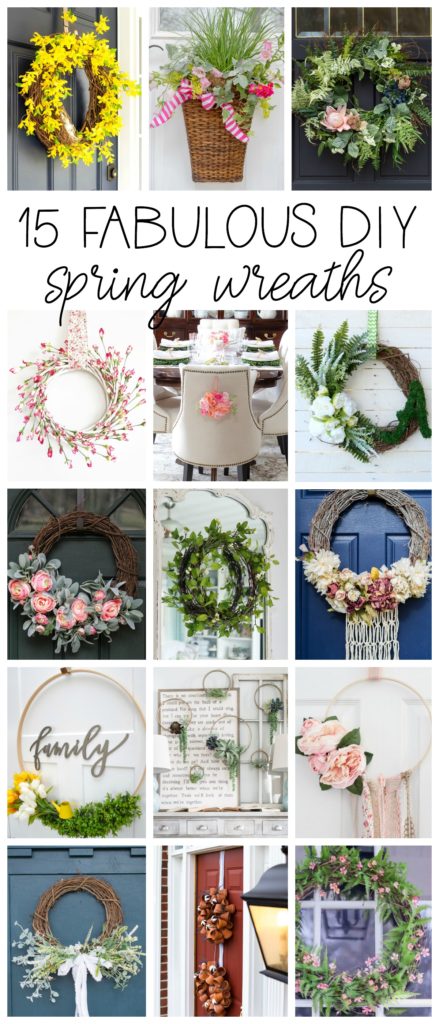 If you're new here, thanks for stopping by! I'm a blogger (obvi. Ha!) and an interior designer living in the Boston suburbs with my amazing husband and four daughters, ranging in age from one to ten years old.
I'm passionate about all things home, family, and interior design, and you'll find me wrapped up in one of those things most days.
Our daughter, Mira, turned one last month, and I've found myself striving for simplicity in most areas of my life since she was born.  She's brought us more laughter and joy and craziness than we ever could have imagined.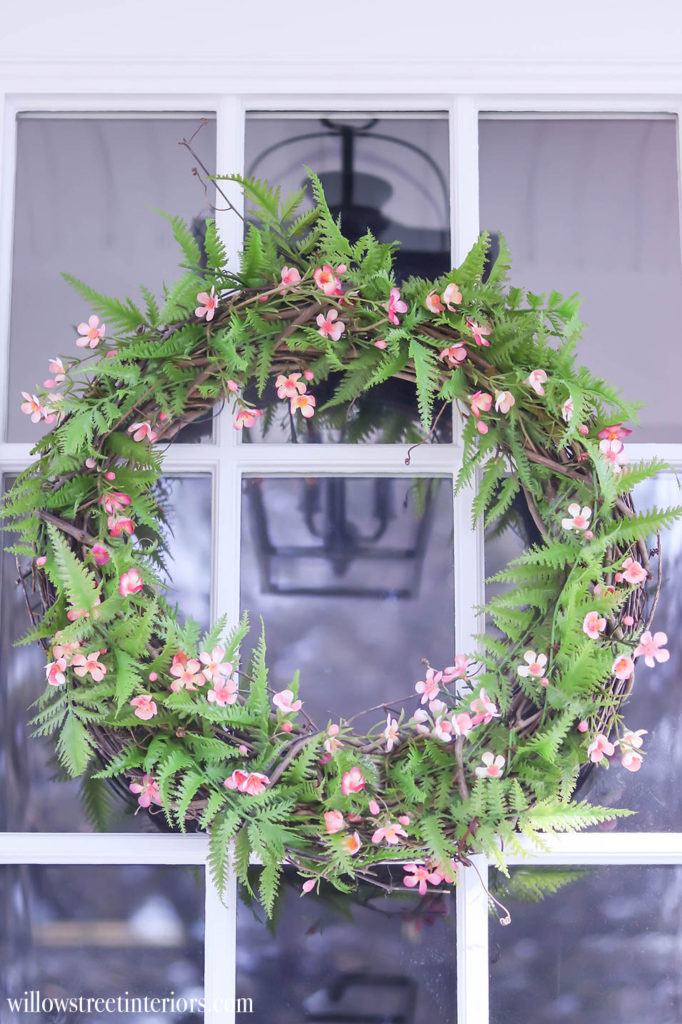 I've worked intentionally to get rid of things, organize, and soften our home since she came along.  Quieting the patterns on pillows and softening the palette, trying to somehow balance the busy-ness that is our every day.
And this spring wreath that I made is a result of all of that too.
Quiet, simple, welcoming.  And super easy to put together.
Check marks in all of the necessary boxes for me, at this point in my life!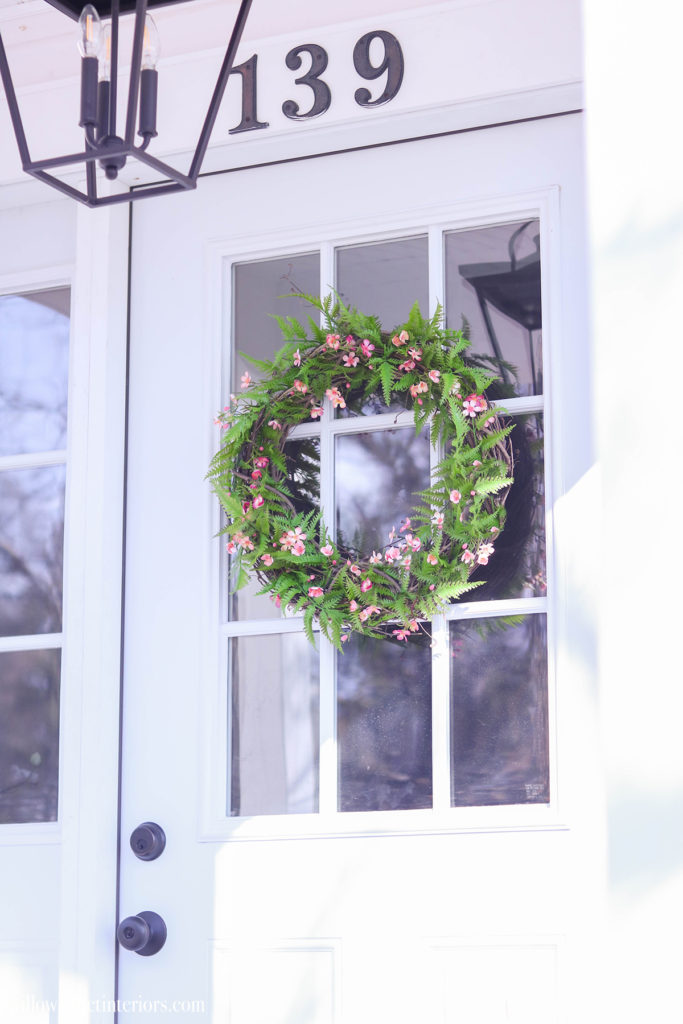 It was so quick to put together.  Let me show you my embarrassingly easy process!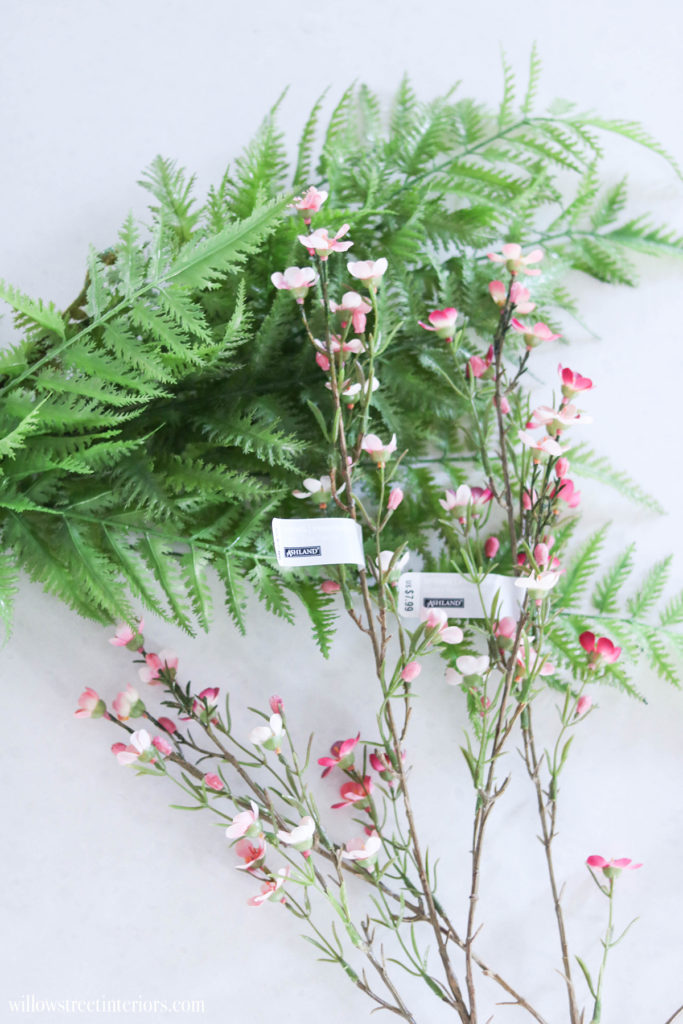 I picked up a fern spray and a couple of branches of flowers at Michael's and cut them into sections with my husband's wire cutter.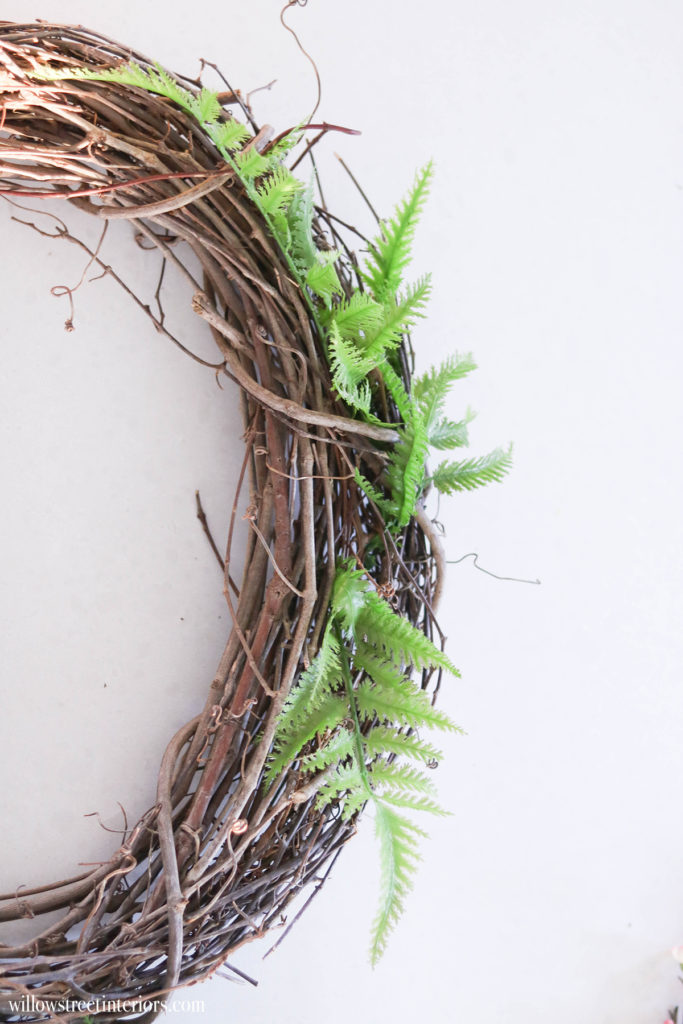 I then started tucking them into my grapevine wreath, first the fern fronds, then the flowering branches, all willy nilly.
How do you like that for a technical explanation?
As you go along, some of the fern fronds may stick up like this…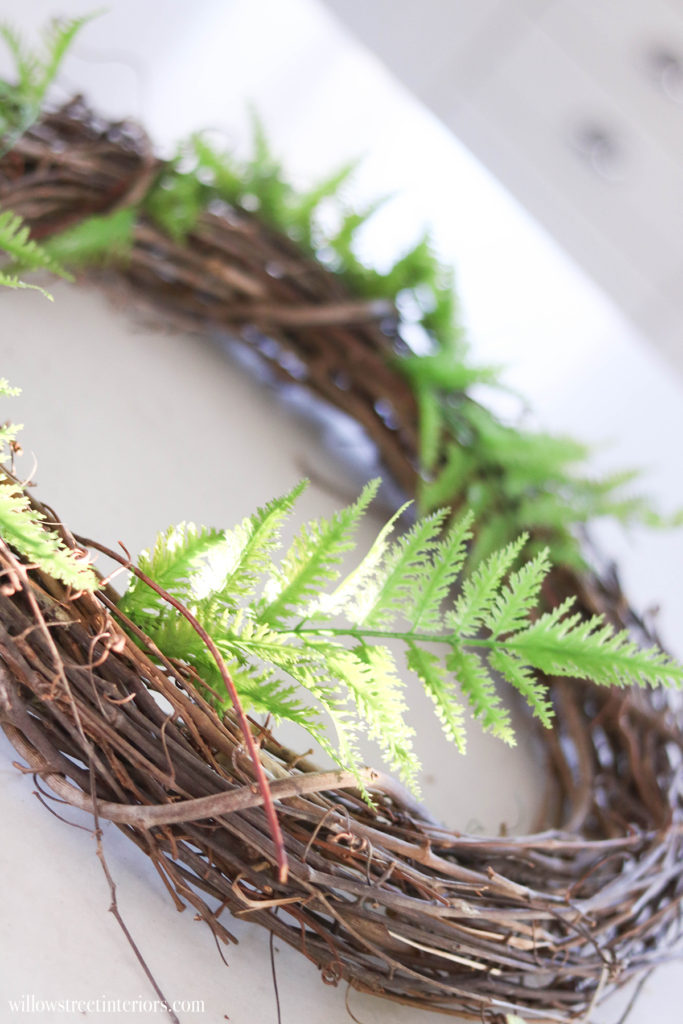 I just tucked them in a bit, and moved along.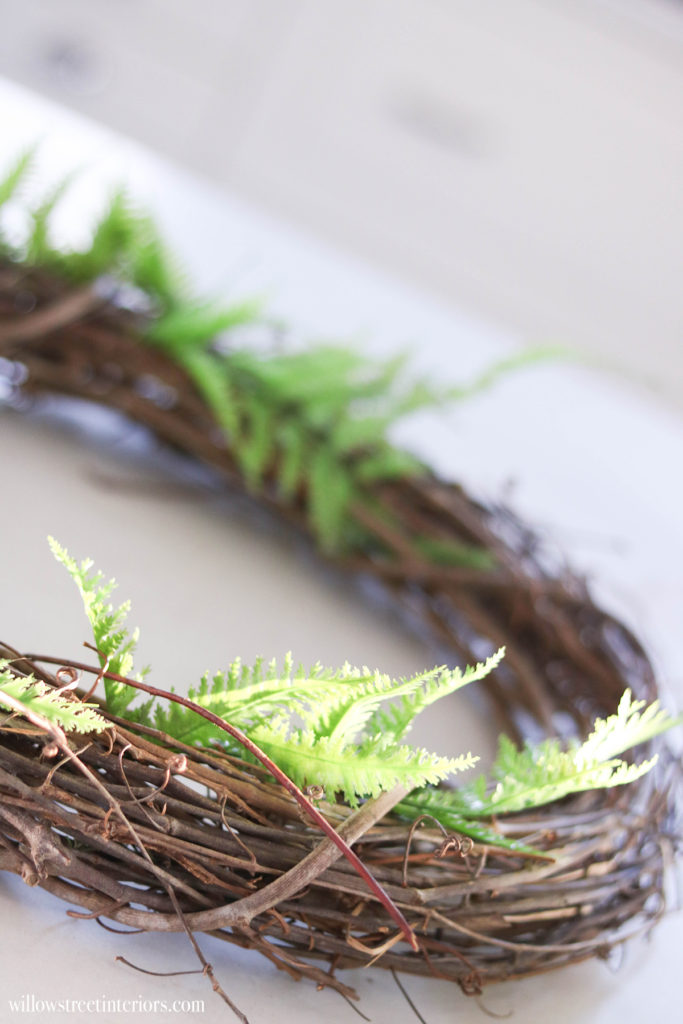 When I make my wreaths, I don't use hot glue.  The grapevine is woven so tightly, it's never been an issue for me, and I reuse it every season.
I just pull out the old seasonal flowers, and add in the new ones.
To see the wreath that I made last spring, click here.
You can also see the wreath that I made at Christmas here.
The grapevine wreath is the same in each photo, and I've never needed to use glue to keep it intact!
Once I'd added a decent amount of fern fronds, I began adding in the flowering branches.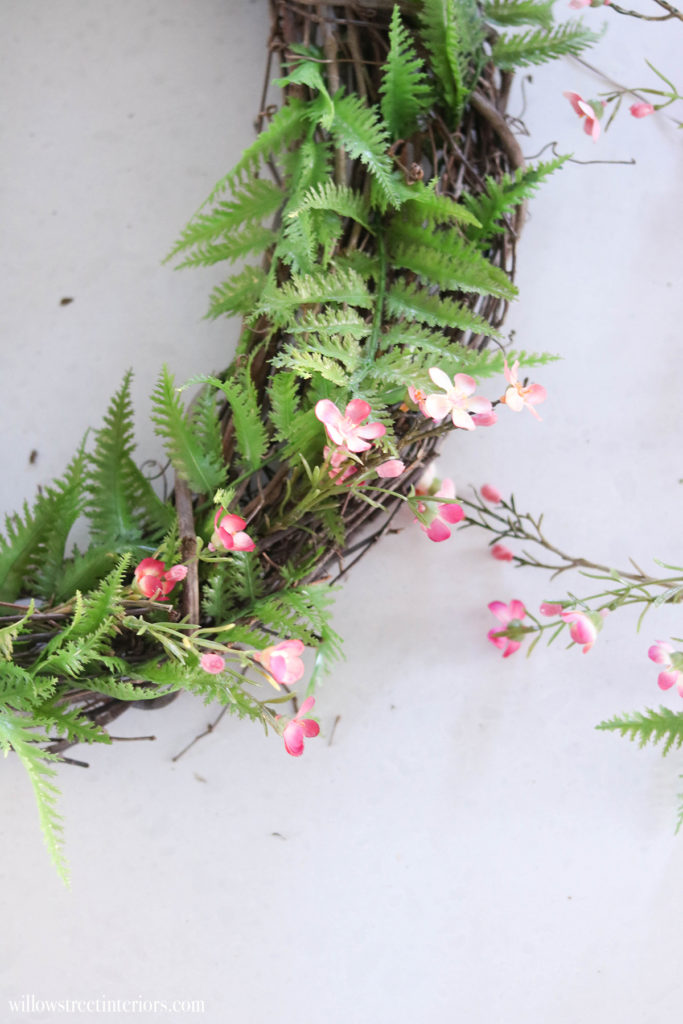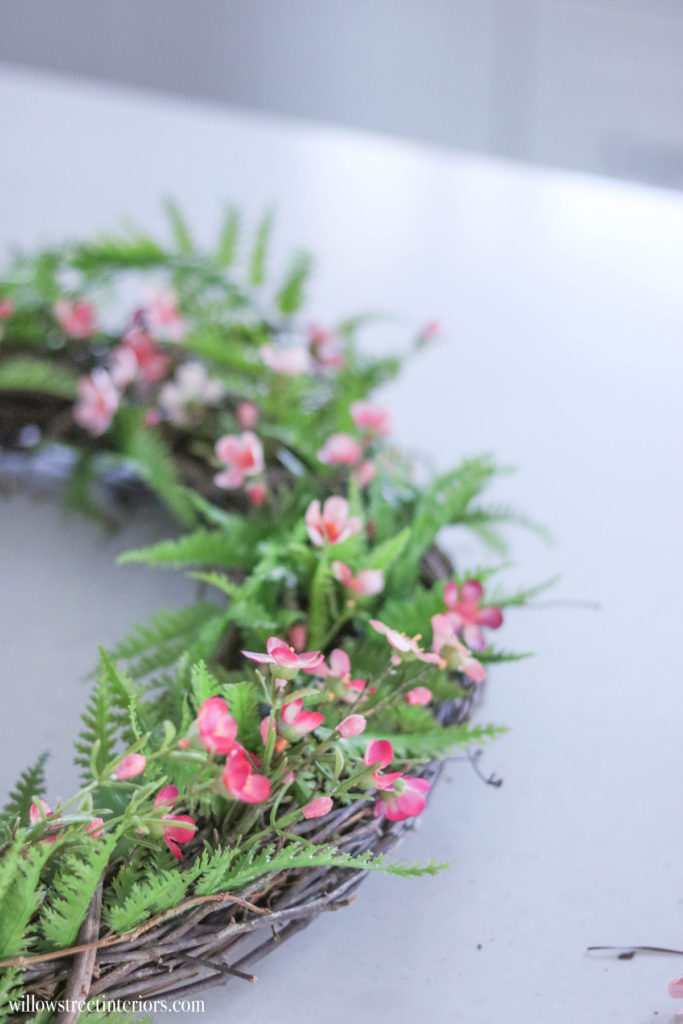 And that's it, you guys!
I told you this was embarrassingly simple.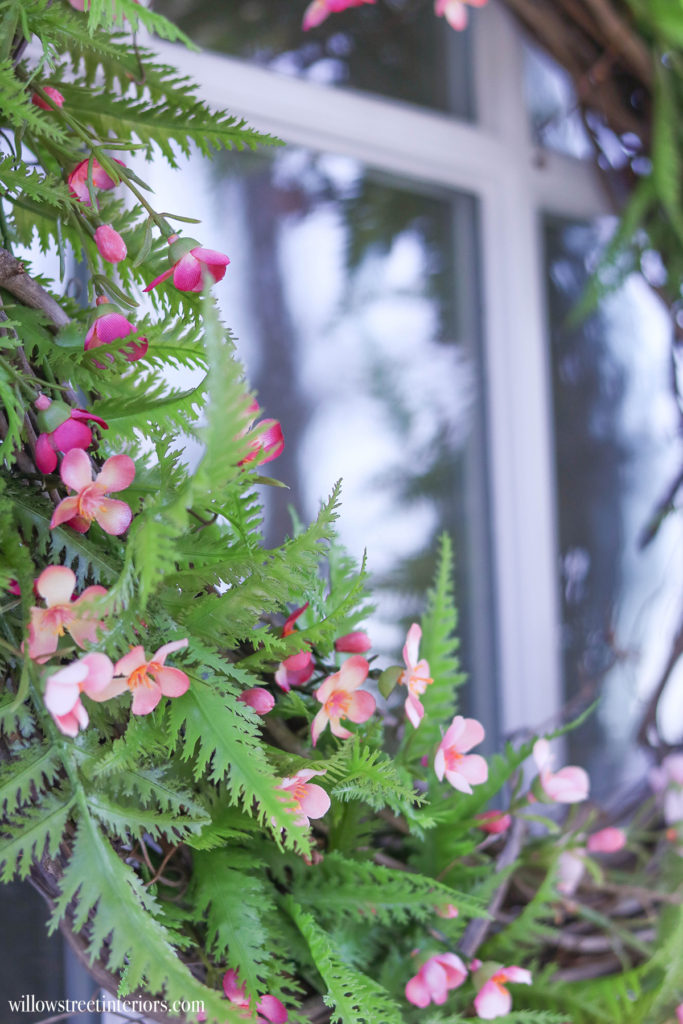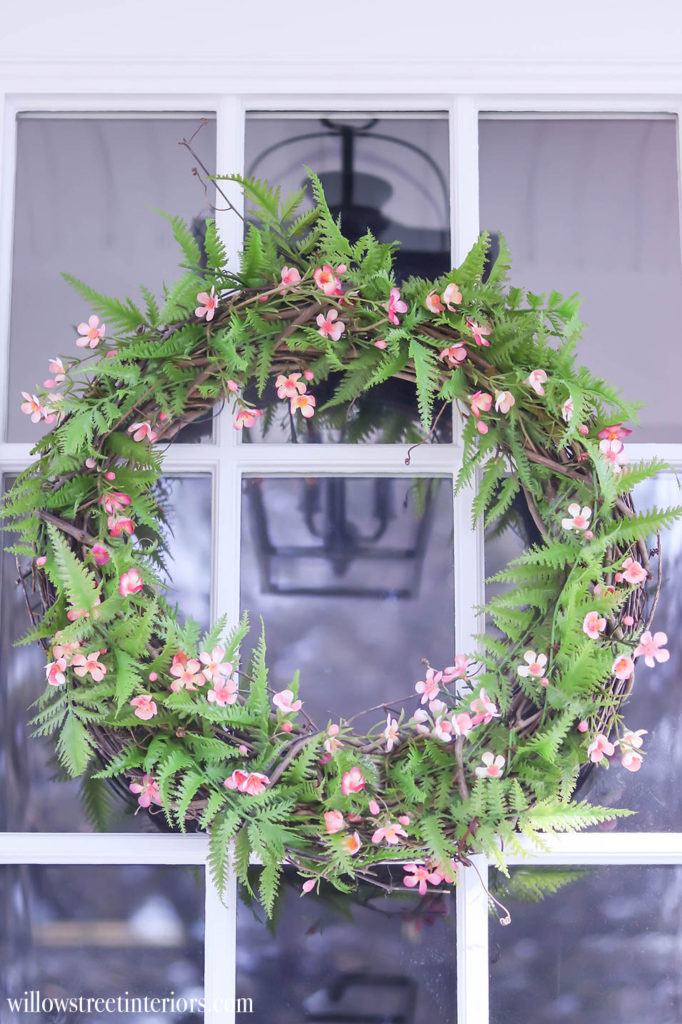 I'm really  happy with the way it turned out, and I'd say it took me about 15 minutes to make, total.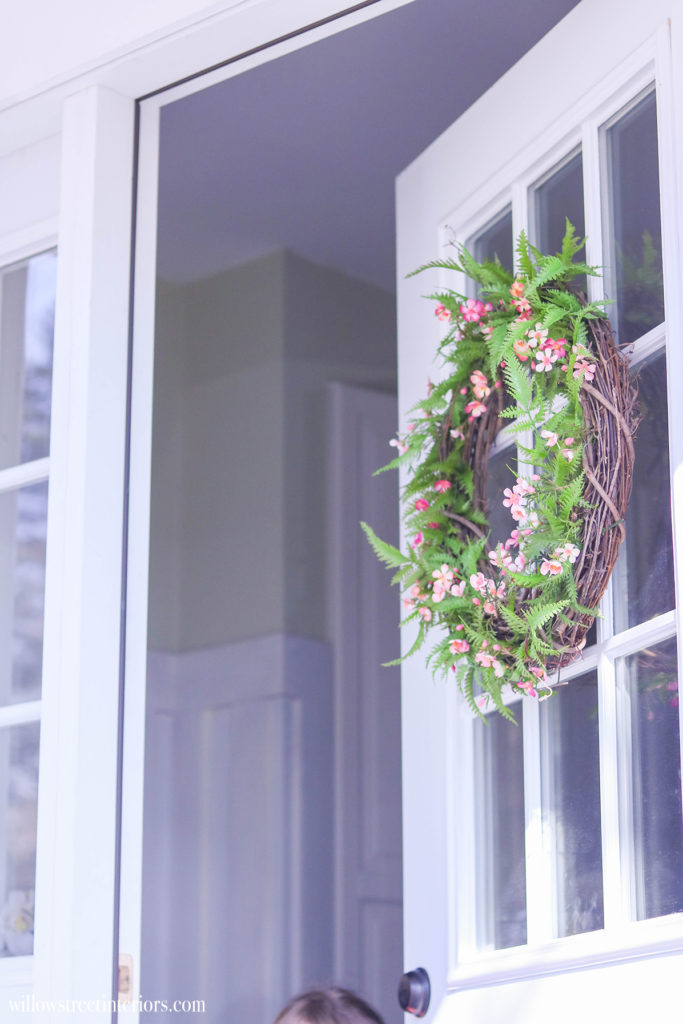 My four year old flung the door open in this shot, but I kind of liked the angle, so here it is!
And here's another sneak peek of one of our porches that we started making over last summer.  They're still not 100% done, but it's getting there, slowly but surely.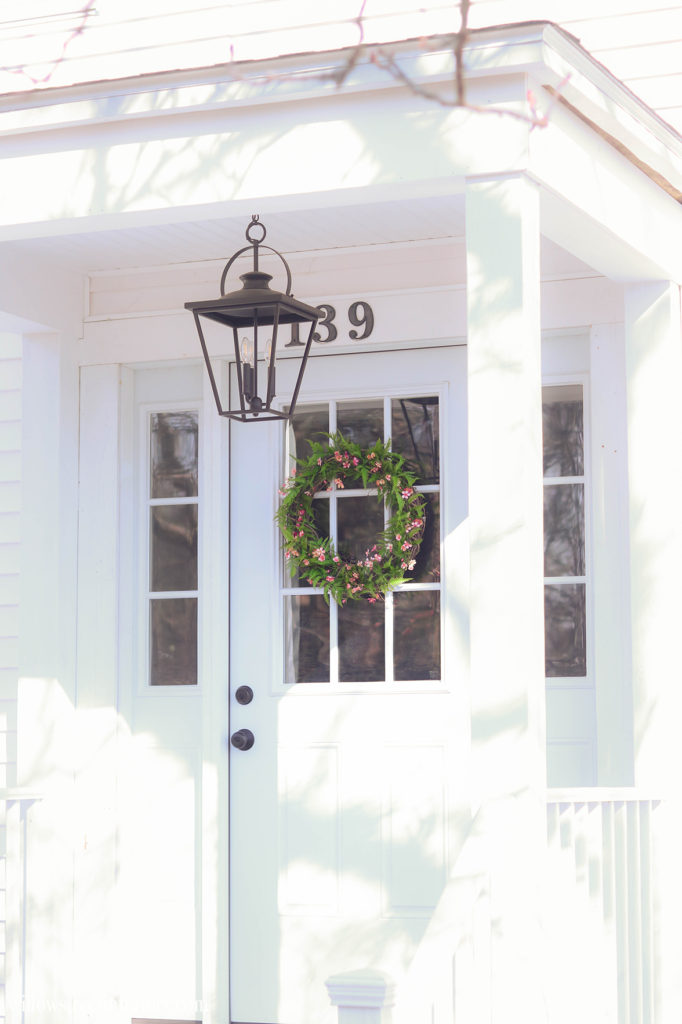 I still need to figure out what color I'm going to paint the front door, and then a couple of warm days to make it happen!
I'm thinking maybe blue? Or navy? Or green?  What do you think?
Well Guys, I'm so glad that you stopped by my little corner of the internet today.  I'm so excited to be joined by an amazingly talented group of my blogging friends who are also sharing their DIY Spring Wreath tutorials! Don't forget to check them out!
DIY Monogram Spring Wreath at The Happy Housie
Simple & Pretty Spring Wreath at A Pretty Life
Hanging Spring Basket Using Live Plants & Flowers at Duke Manor Farm
Simple $7 Greenery Wreath at Confessions of a Serial DIYer
DIY Whimsical Spring Wreath at Zevy Joy
DIY Succulent Embroidery Hoop Wreaths at House by Hoff
Spring Forsythia Wreath at On Sutton Place
Boho Spring Wreath at Place of My Taste
DIY Terracotta Pot Spring Wreath at The Heathered Nest
Easy Faux Floral Wreath DIY Tutorial at Setting for Four
Simple Spring Wreath with Peonies at The Turquoise Home
Floral Boho Spring Hoop Wreath at Home Made Lovely
Simple Beautiful DIY Spring Wreath at Willow Street Interiors
Spring Tulip Wreath at Newly Woodwards
DIY Spring Wreath at Amber Tyls
Happy Tuesday!
Laura ♥