Hi Everyone! Remember how I told you about the #BareToBeautifulProject series that I'm hosting with Jen of Migonis Home this month? If you missed that post, you can find it {here}. Well, I'm popping in today to reveal the space that I'm going to be making over and to share some pretty inspiration photos with all of you! I have to be honest, I'm really excited to get going on this project, and I'm also slightly embarrassed to be welcoming you all into this space today! But here goes…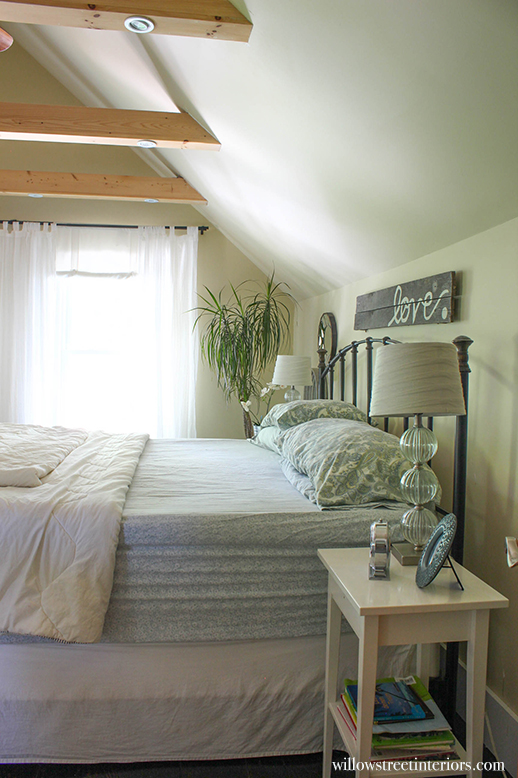 Hi. Welcome to my master bedroom! {insert little-monkey-covering-eyes emoji here}
Oh, gosh, it's frumpy, you guys. Complete with stacks of kids books on our night stands, mismatched sheets, and missing knobs on nightstand drawers. (my three year old discovered that she could unscrew them if she worked diligently enough, and where she's hidden them is a complete mystery.)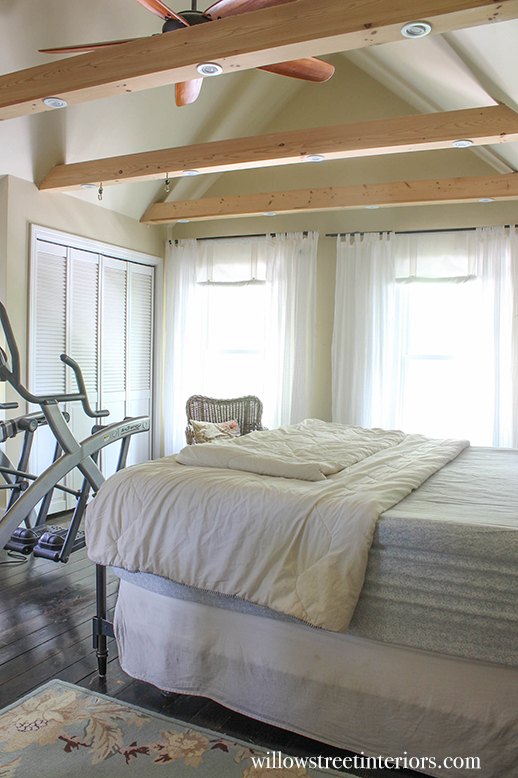 Don't get me wrong though. I'm so grateful that I have a master bedroom. I'm happy that it has great bones. I'm happy with how far it's come since we moved in.
It just feels a little strange as a designer to share a space that we've been living in for almost 8 years that still looks so unfinished! And it's kind of a hodge podge of furniture that we had when we lived in our first apartment.
But honestly, that's what this series is all about. Taking a space that feels bare and unloved to you, and making it beautiful! …and I have plans for this space! I can just imagine it with some new bedding, a fresh lick of paint and some new posters put up above our bed. It's going to look fabulous!
But before I share some beautiful inspiration photos, I'll finish up this little tour. The two photos above are what you see just when you enter the bedroom. We don't have a workout room, so our bedroom has been serving double duty for a while now! I'd love to convert a room into a workout room because I have some fitness goals that I want to achieve, and being able to do it from home would be ideal. I've seen a high impact plant protein deal that I'm thinking of jumping on while it's available as I think adjusting my dietary intake could have a drastic effect on my weight loss and muscle gains.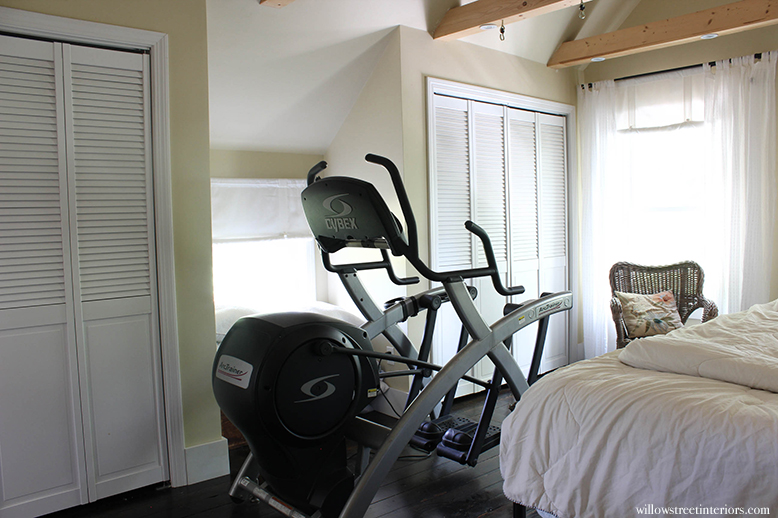 Here's what you see just to the left. We're going to be replacing these closet doors with mirrored doors in the next couple of weeks. I had the aperture set wide open on my camera when I took these photos, so that they'd be as bright as possible in the post. But in reality, this room is fairly dark, and the doors will reflect lots of natural light back into the room.
The workout machine will be moving to the guest room, and that little nook you see behind it is going to become a window seat.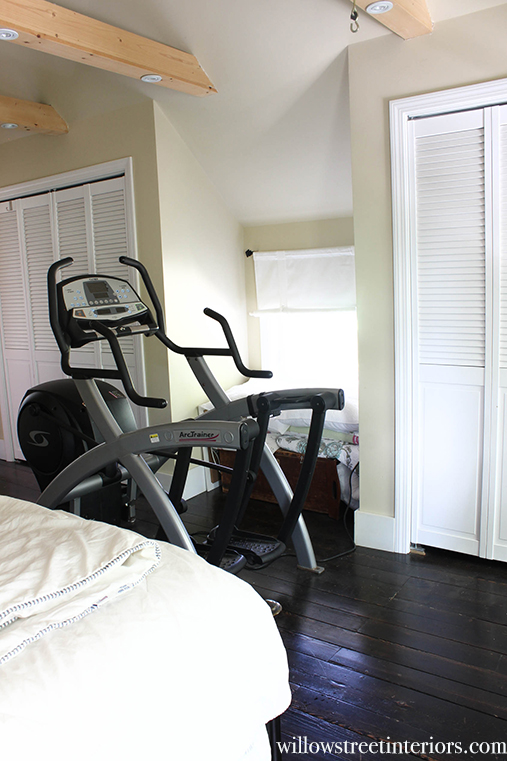 At the moment, it's housing a little trunk and a pile of pillows and bed linens.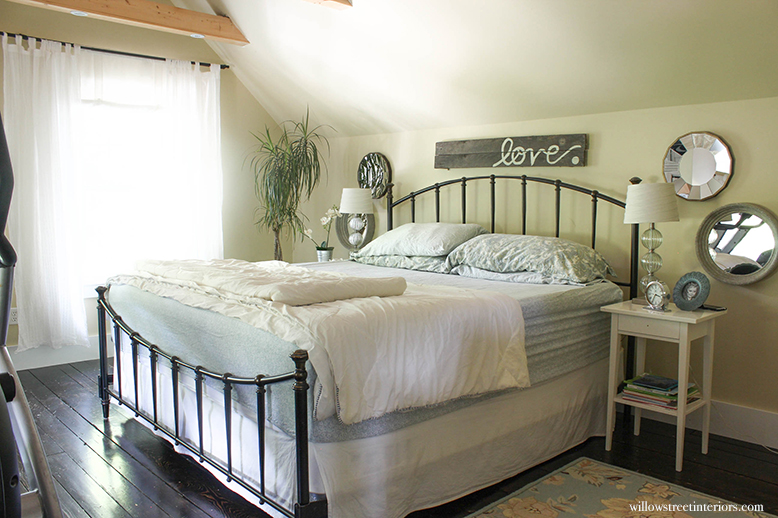 Hello high water curtains and missing knobs!
We've had these little IKEA nightstands forever. They'll be leaving, and I'm going to be replacing one with a chest of drawers that I scored for free on craigslist last summer and am making over. I can't wait to show it to all of you!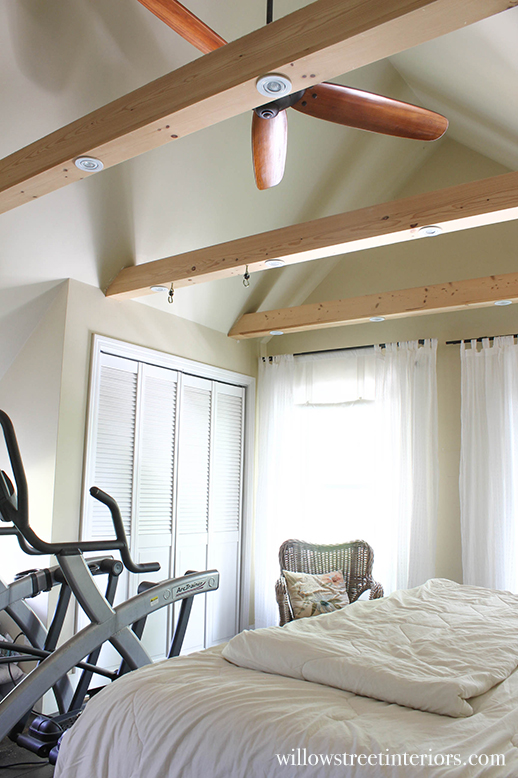 We vaulted the ceilings when we renovated initially and I'm so glad that we did. It made the room feel so much bigger! We're going to be adding some detail and molding in here as well, but I'm not entirely sure to what extent yet. We're going to have to see how fast things move. I'd love to see either shiplap or beadboard on the ceilings, but that may become a phase two project. Everything ends up taking longer than you think it will, and we're revealing these spaces in three weeks!
Ok, let's get to some pretty inspiration photos!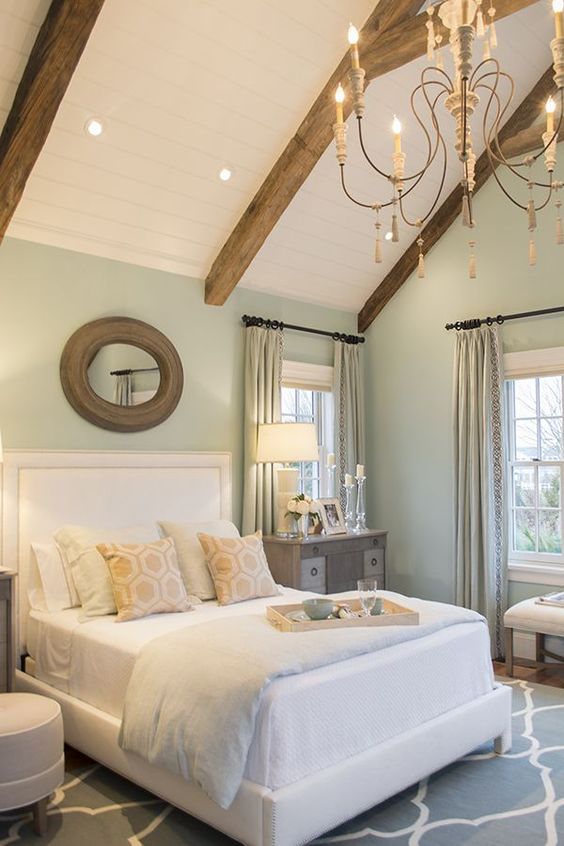 I love these paneled ceilings from last year's HGTV dream home!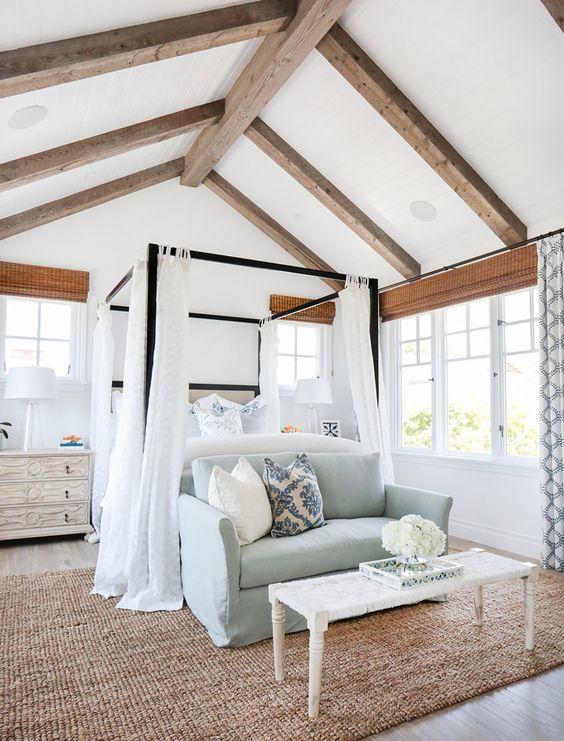 And this incredible bedroom designed by Blackband Design. I also love the soothing pallet.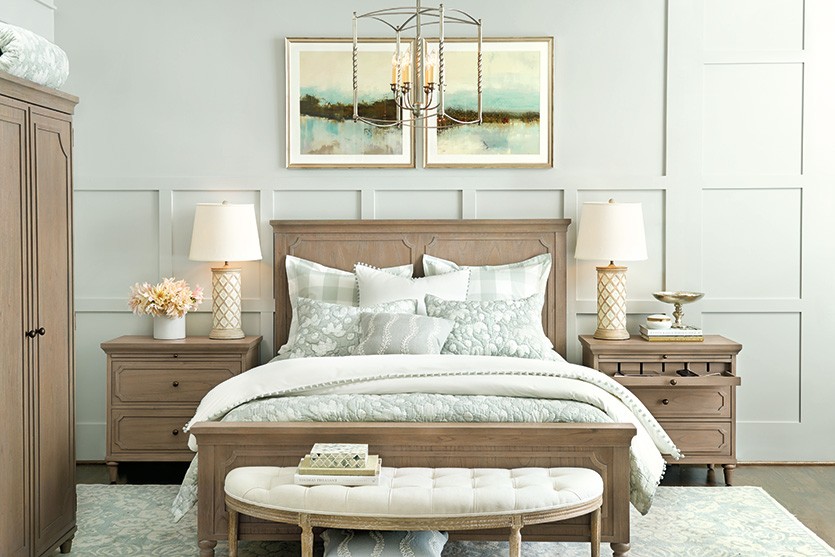 And this one from Ballard Designs.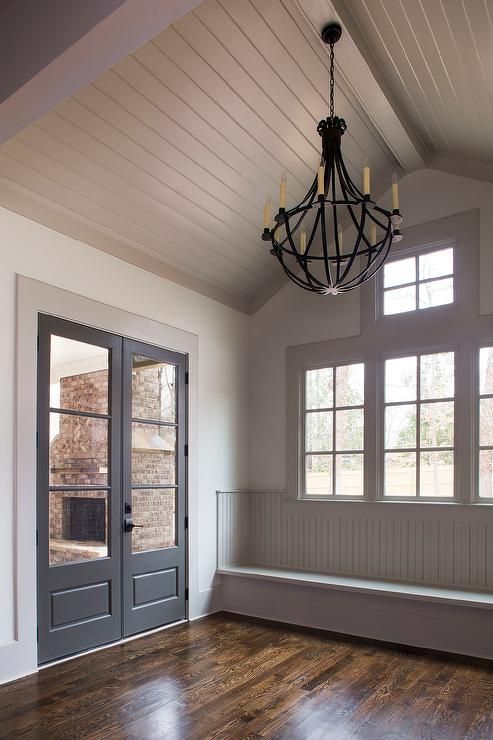 And this gorgeous ceiling that I found on Decor Pad!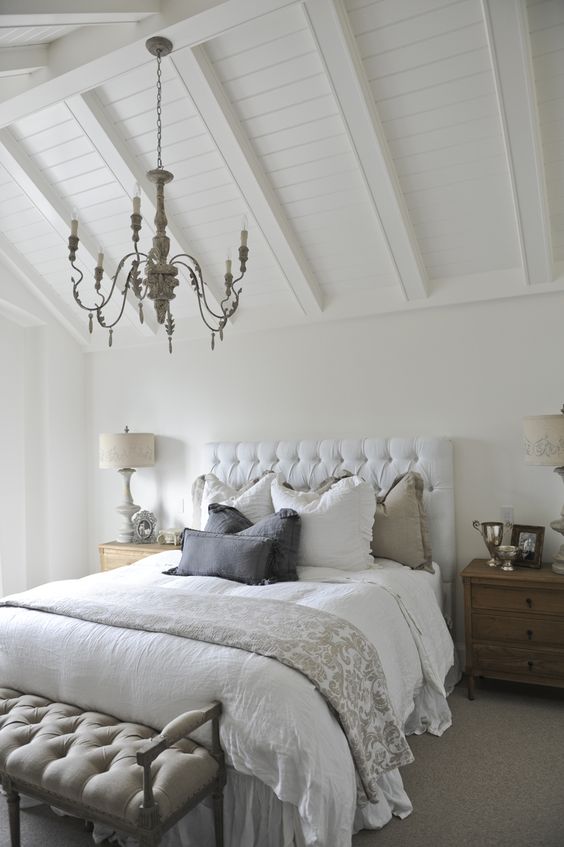 I just love the texture and interest that millwork adds to a space. Isn't this space from House and Home beautiful?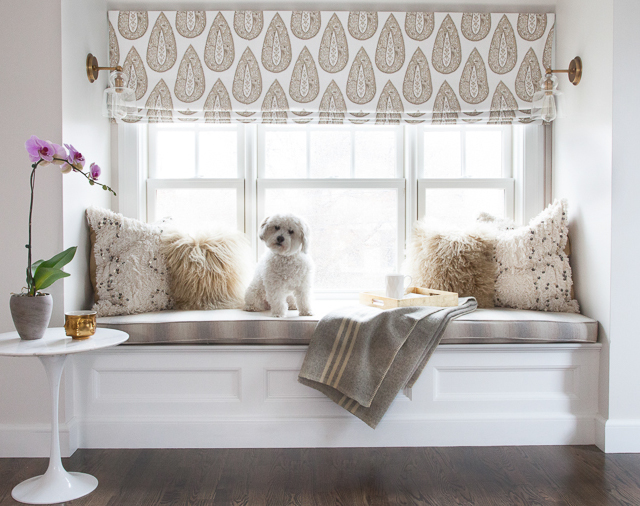 I think the part of this project that I'm most excited about is the window seat though. That space is generally the first thing I see when I wake up, and I'm so excited to see it get a facelift. Casement windows are one of the most secure types you can own so it is about time we gave this space an upgrade. I found this pretty photo on Pinterest.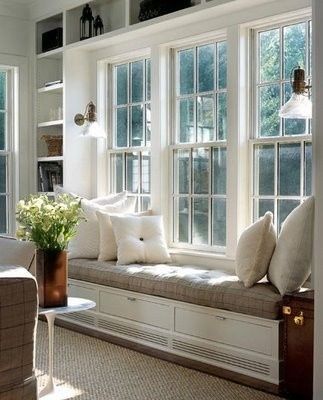 I'd love to add a sconce or two to ours as well.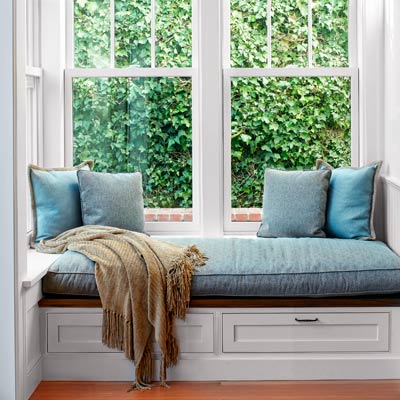 And maybe some sort of storage underneath. These last two photos were both from This Old House!
And that's about it for now, Folks! I'm not sure on my color scheme, or exactly where else things are headed, but I'm getting that nailed down this weekend, and we are getting busy!
Don't forget to share your #BareToBeautifulProject makeovers with us on Instagram as well! You can share any size project, large or small. It doesn't have to be an entire room! Jen and I will be sharing our favorites on Sundays during the month of June, and we'd love for you to play along!
Have a great rest of the week, Everyone!
Laura ?