Hi Friends! The weather in Massachusetts has been quite characteristically Massachusetts-like for the last few weeks.  Snowstorms, followed by a few 60 some-odd, degree days, followed by a big, bad nor'easter that broke one of our front gates (boo, Riley!), followed by sunshine on Sunday, and then snow again Sunday night!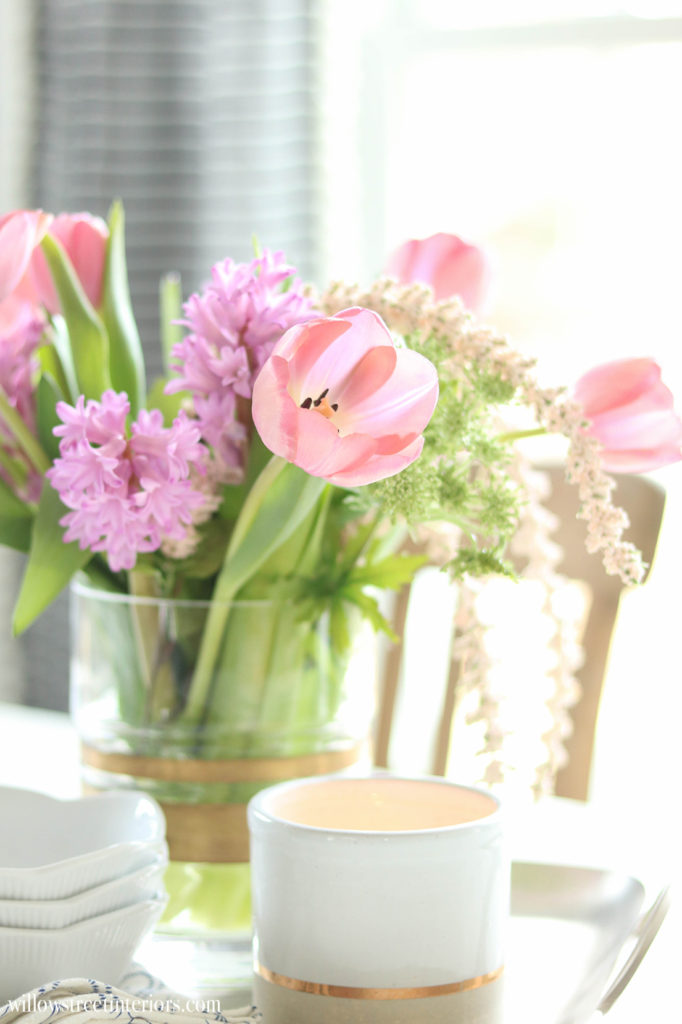 The weather in New England is predictably unpredictable from February to April.  There may be a snow storm or two yet to come, so I'm definitely not about to store away the boots and winter coats, but I am 100% on board with welcoming Spring inside the house.
Truth be told, it always feels a little bit like spring around here.  I love plants and patterns, and cheerful colors wrapped up in warm neutrals, and all of those things are a year round staple here, in some shape or form.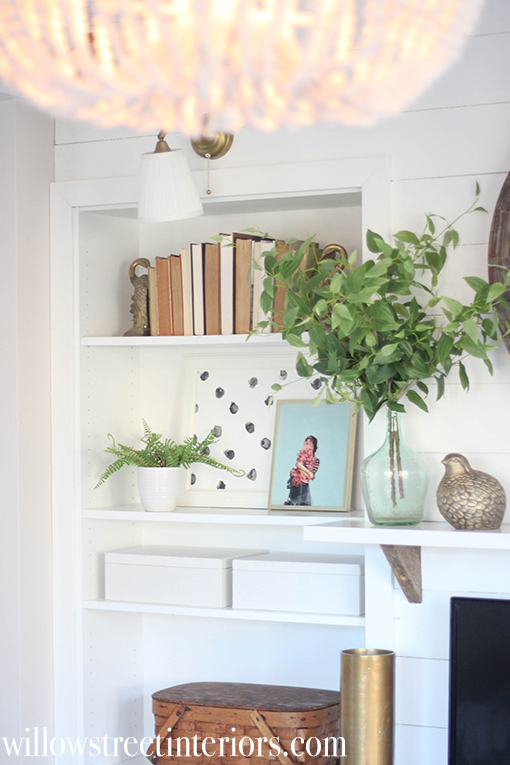 I've  made lots and lots of small, spring changes in the last couple of weeks, and I can't wait to take photos and share them with all of you.
But today, I'm super excited to be joining Krista at the Happy Housie again for her Seasonal Simplicity Series, and this week is all about mantels.  There are 24 amazing bloggers sharing today too, so make sure you check out their gorgeous mantels down below!  I am always SO blown away by everyone's beautiful homes.
I made a few small changes to freshen up our mantel for spring, so let's jump in!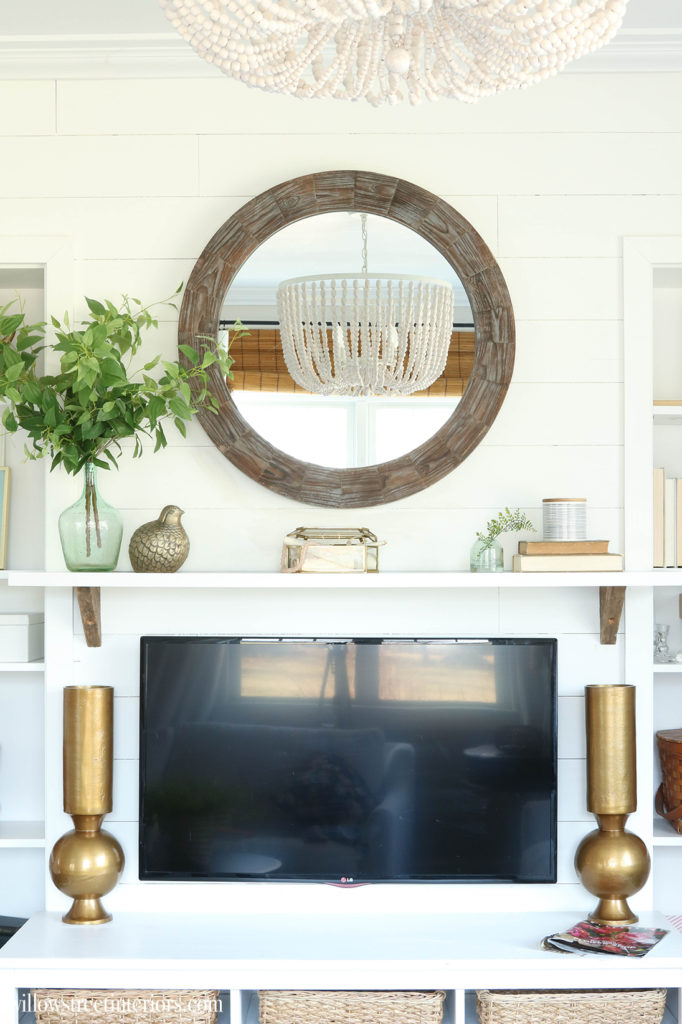 Our 'mantel' isn't actually a mantel.  It's a shelf that my husband installed for me over our TV, so that I could hang a mirror and create a focal point that was more than just a television.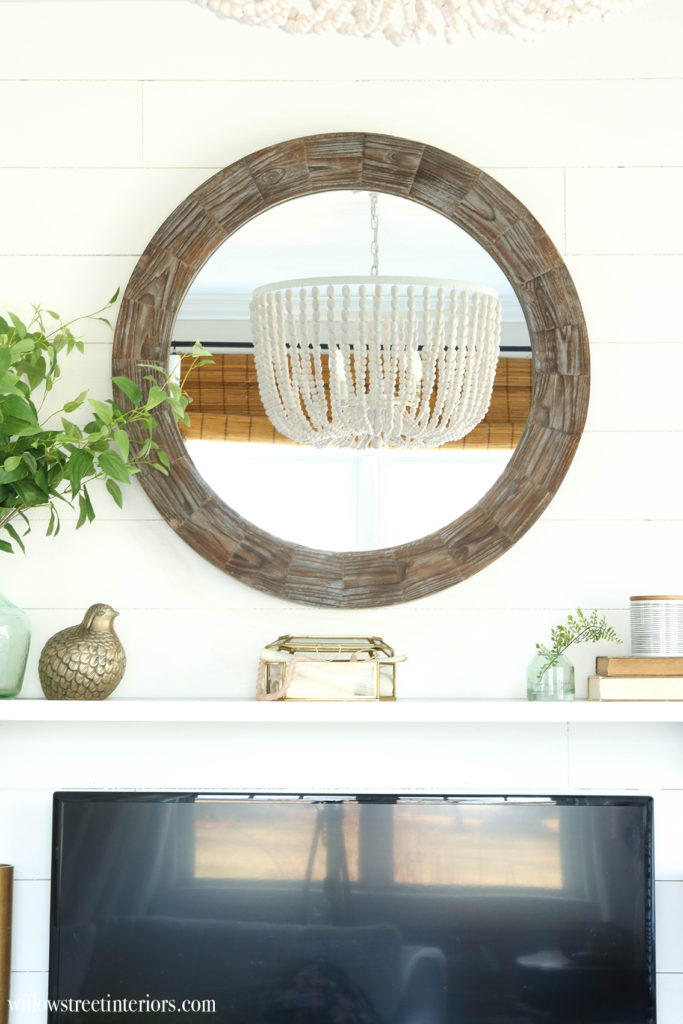 I love how easy it is to change up depending on the season, and I don't think that I've ever kept it decorated the same way for long.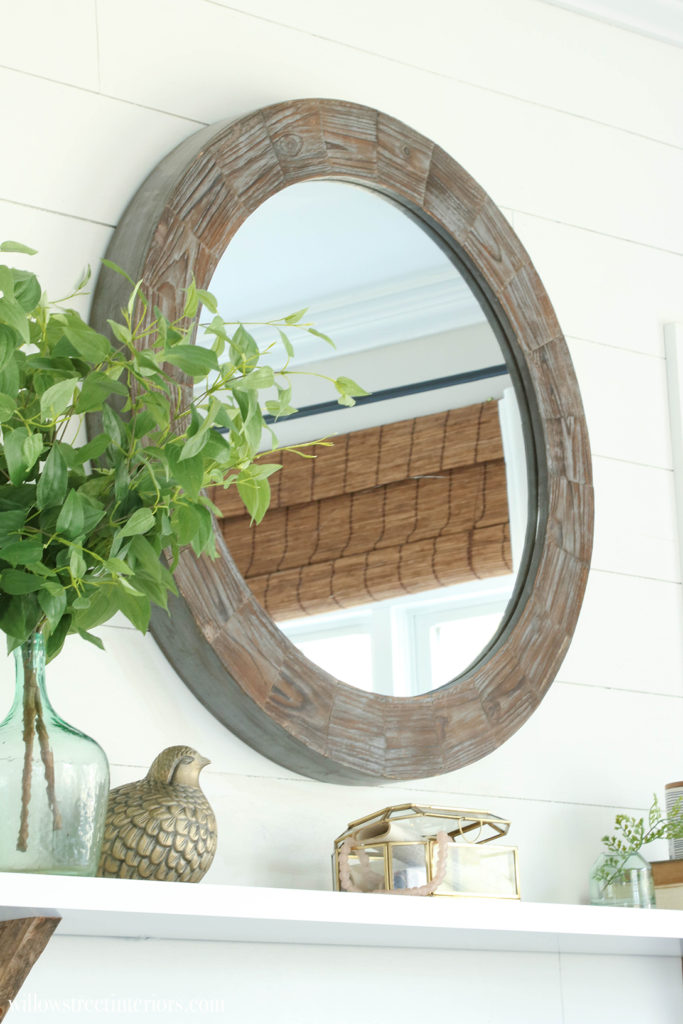 I popped a few faux branches that I had stored in my basement  (from Michael's) into one of my glass bottles, and kept out my cute, little partridge that I've had out since Christmas!  I figure a bird's a bird, and I've always loved using birds in my decor in the spring.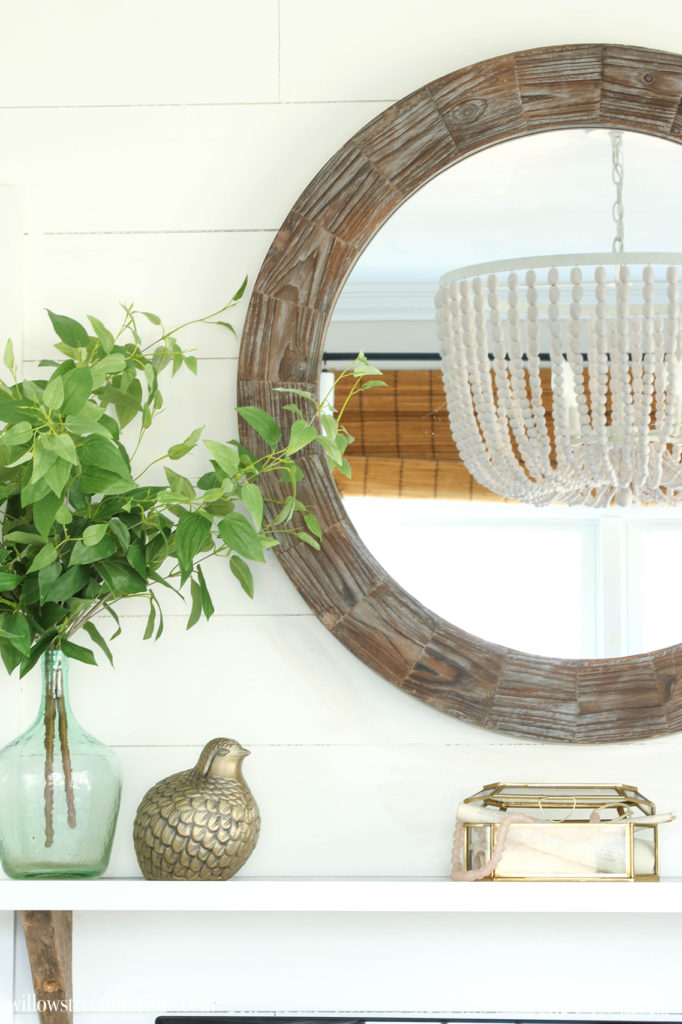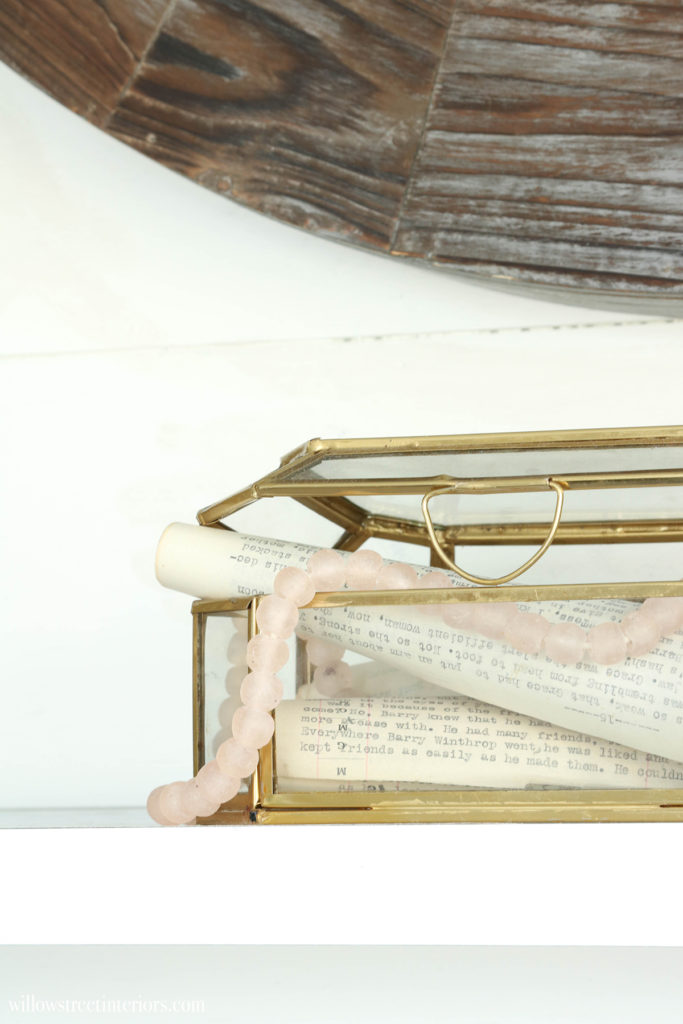 These rolled up papers are actually a few pages of a manuscript that my grandmother had written and never published.  I don't have anything else to remember her by, aside from memories, of course, and I really cherish these.  I typically have them rolled up in jars or in boxes on our built ins that flank what you see here, but I decided to use them on the mantel this spring instead.  I love the contrast that the pretty string of glass beads adds to them.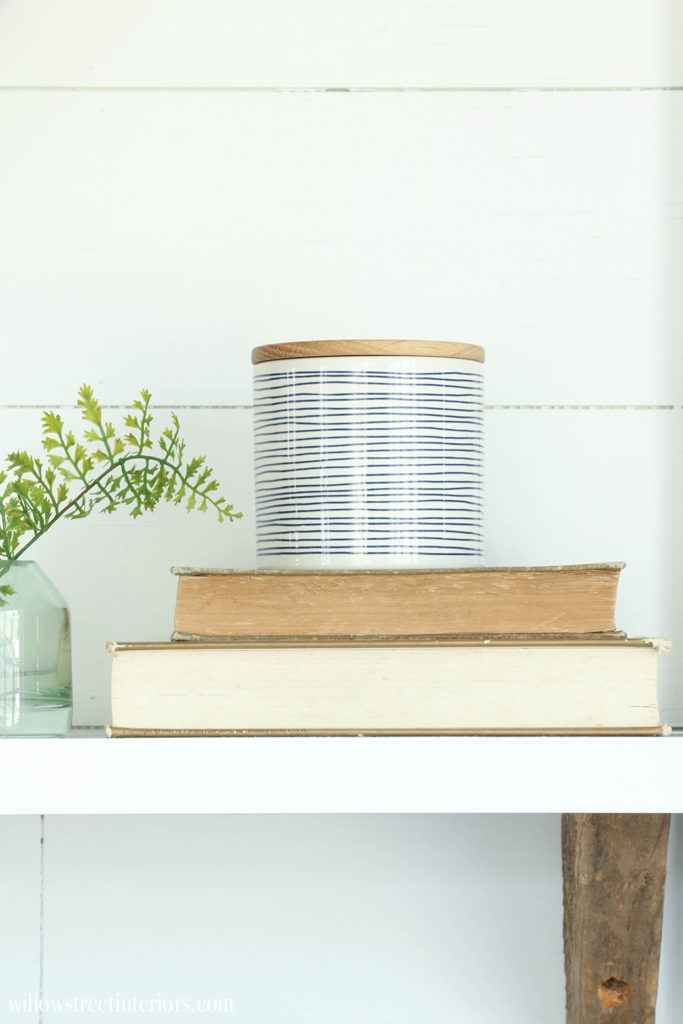 And then, on the other side of the mantel, I just have a couple of books, a cute little lidded jar, and a tiny vase with a fern frond displayed.  So simple!
And that's about it!  I kept the mantel pretty basic because I have quite a bit going on every where else in the living room, and I'm excited to share it with you guys in a few weeks!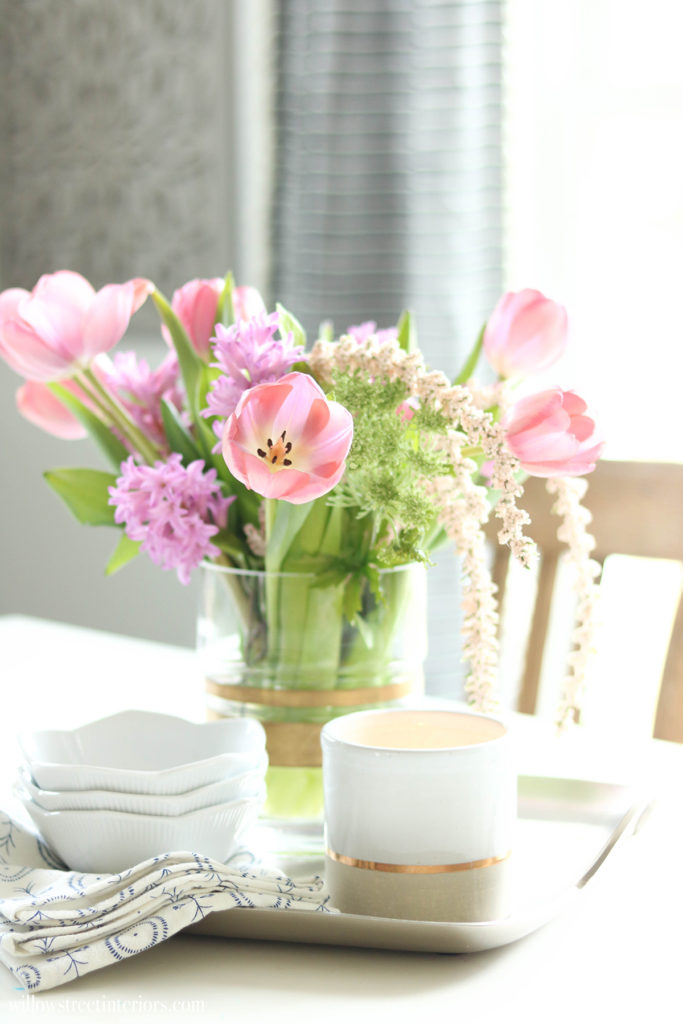 These flowers will be different by then, but I had to photograph them while my camera was out and they were still alive lol!
Well, friends, I hope I've inspired you to get out some of your spring decor too.  There's something about moving things around and redecorating that has a way of curing cabin fever, for me anyway, and at this point in Massachusetts, we've all kind of still got it!
Don't forget that some of my amazingly talented friends are sharing their beautiful and inspiring Spring mantel decor and vignettes today too. Hop over to see what they're sharing!
Laura ♥
Get The Look
[show_shopthepost_widget id="3052042″]
Zevy Joy / Willow Street Interiors / Summer Adams / A Burst of Beautiful
Sincerely, Marie Designs / Rambling Renovators / The Turquoise Home / Paint Me Pink
Duke Manor Farms / Nina Hendrick Design Co. / Town and Country Living / Deeply Southern Home
Amber Tysl / In My Own Style / Place of My Taste / Jamie Costiglio
Setting for Four / Shabbyfufu / Decor Gold Designs / Sincerely Sara D.
The Happy Housie / Craftberrry Bush / On Sutton Place / Kelly Elko / Rooms FOR Rent