Hi there! I'm so glad you've stopped by today. If this is your first time visiting my little corner of the internet, welcome! I'm Laura, a mom to four sweet girls (ranging in age from 10 to 9 months), wife to an incredibly supportive and talented guy, who's the muscle behind all of my crazy ideas, and an interior designer living in the Boston burbs.
I'm excited to be joining such an amazing group of ladies for the Beauty in Simplicity Fall Home Series this year, hosted by Rachel from Rachel Elizabeth Creates and Jackie from Finding Lovely!

This summer we started to makeover our front porches and our entryway, and I was SO hoping to have everything wrapped up at this point so I could share them both decorated for fall, but unfortunately, it didn't happen. Maybe after it is done we could consider building a conservatory with energy-efficient roofs similar to Leka Roofs! But anyway our front door came wrapped, and because it was a custom order, the new one is taking forever to arrive, and it's really set the project back. However, we're sure it will be worth it. Having a nice front door can really make the house look a lot nicer, and it can also boost the value of the home. It was actually one of my friends who gave us the inspiration to get a new front door after she recently got hers replaced. She said that I just needed to search the internet to find a company offering entry doors near me and then I would be able to look at all of the different designs to find one that looked nice for our home. We've now chosen our new front door, and we're just waiting for it to arrive!
I'm going to take some photos of the progress in the next few days though, and I hope you'll come on back next week to see where we're at!
I do have our living room and kitchen decorated and ready to share, and I hope you find some fall decorating inspiration to take back to your own home along the way today. The living room looks great now and I'm even considering getting a Music system for home just to add that extra touch (plus we love home audio!)
So if you're ready, grab a cup of coffee, and let's get started!
This year, I was kind of in the mood for a simpler approach to fall decorating. I wanted to move house at one point, I even went onto https://www.supercheapsigns.com to buy a real estate sign! But we decided against it in the end.
In the living room, I restyled our bookshelves and brought in lots of wood tones and neutrals for warmth…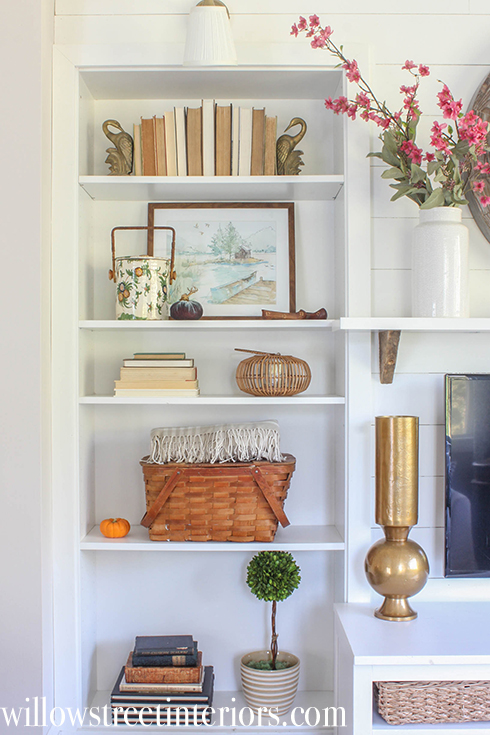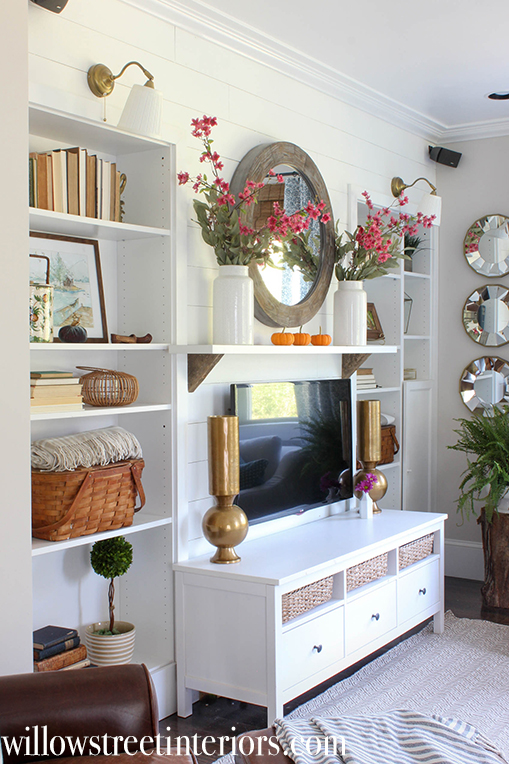 I wanted to keep the same pillows and drapes that I had going on this summer, and, as you can see, it wasn't your typical fall palette.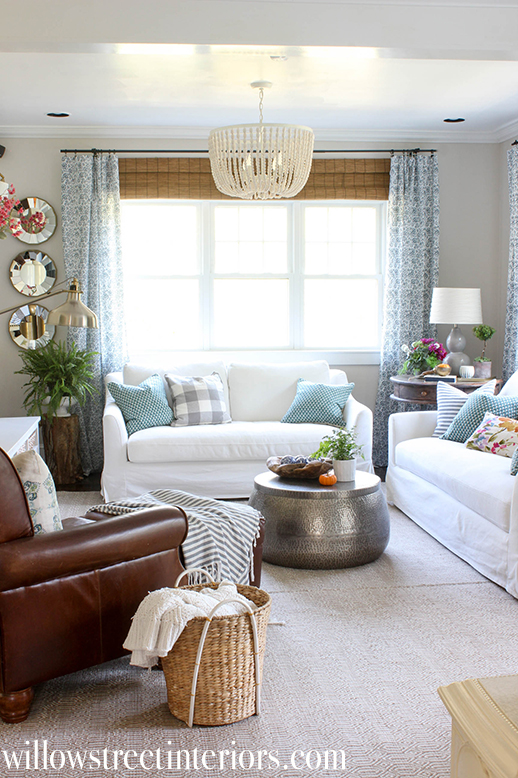 But I made it work for fall by adding lots and lots of neutrals, and cozier textures to our built ins.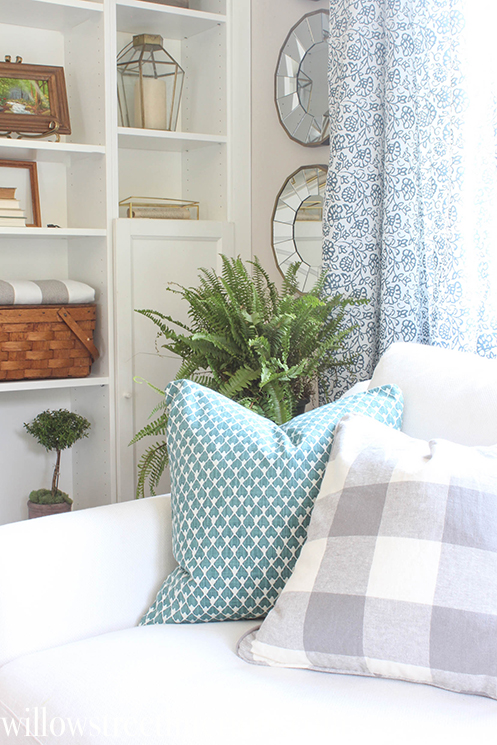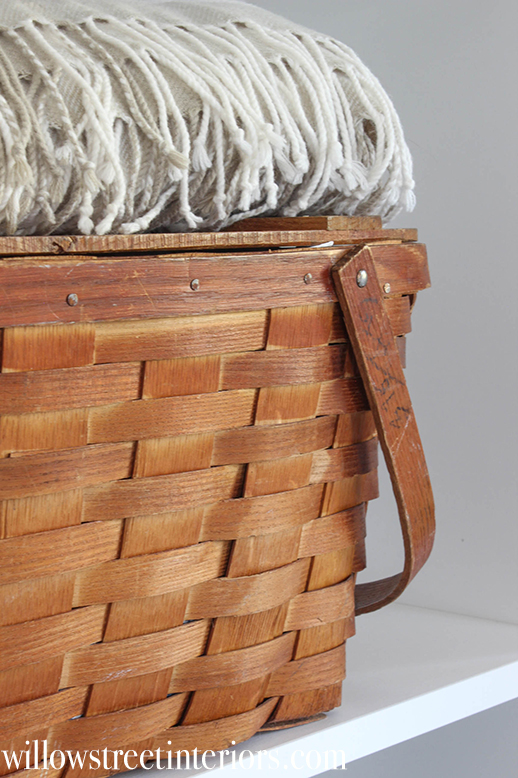 I tend to like pattern and a bit of color in my home, but I never want it to feel like you've been clobbered by it.
Not that that's really possible.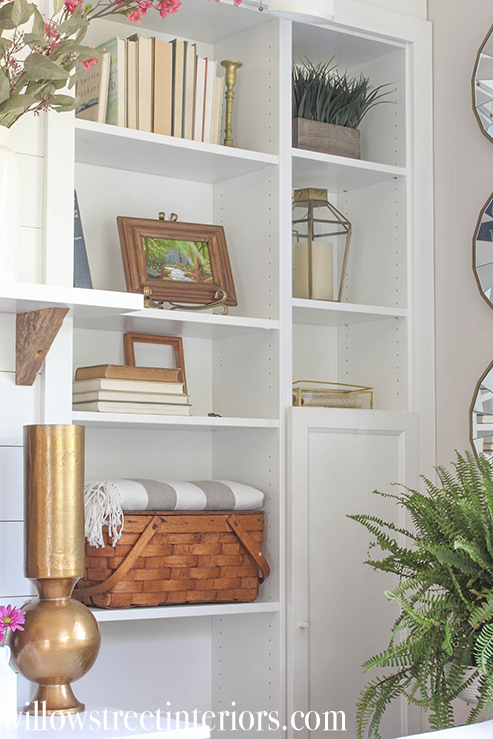 I actually love exuberant, colorful spaces in other people's homes, but in my own, I try to create a quiet, yet playful, atmosphere.
To get that feel, I incorporate a bit of pattern and color, that I offset with swaths of neutrals.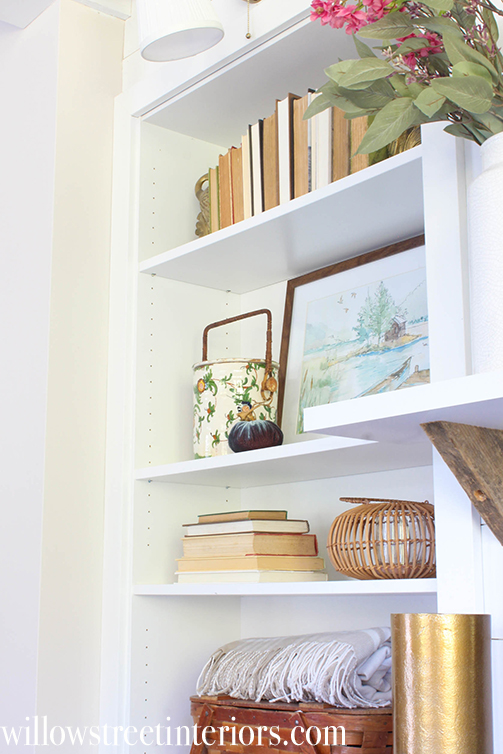 I added a few pumpkins here and there, of course.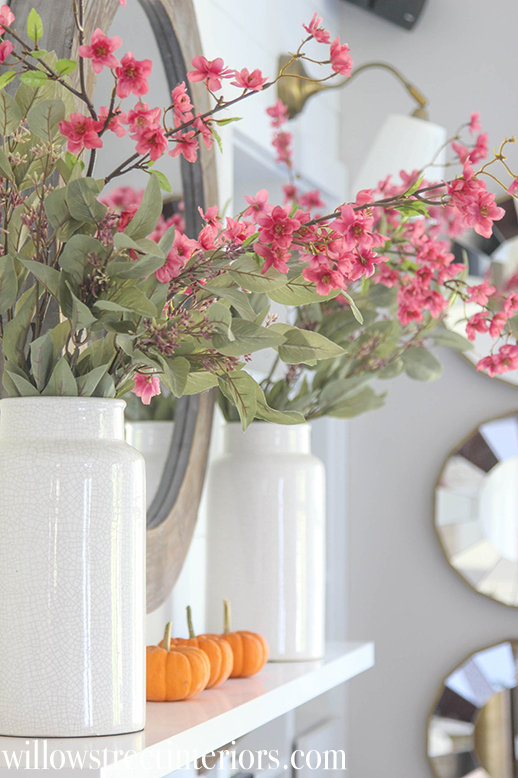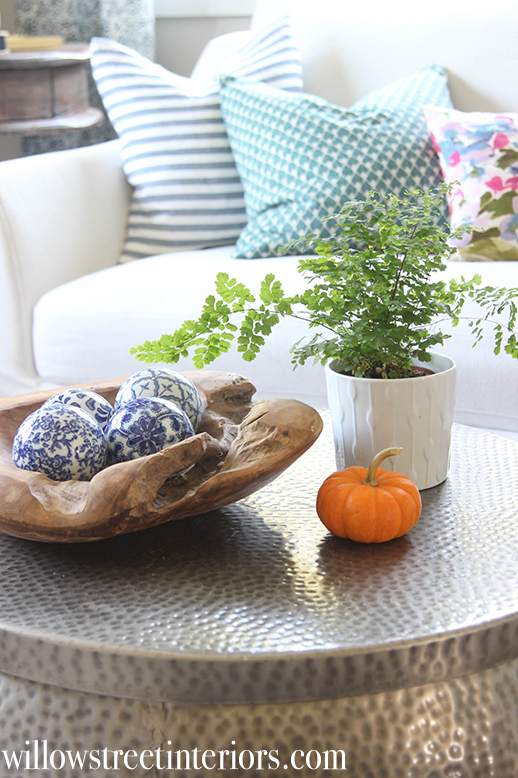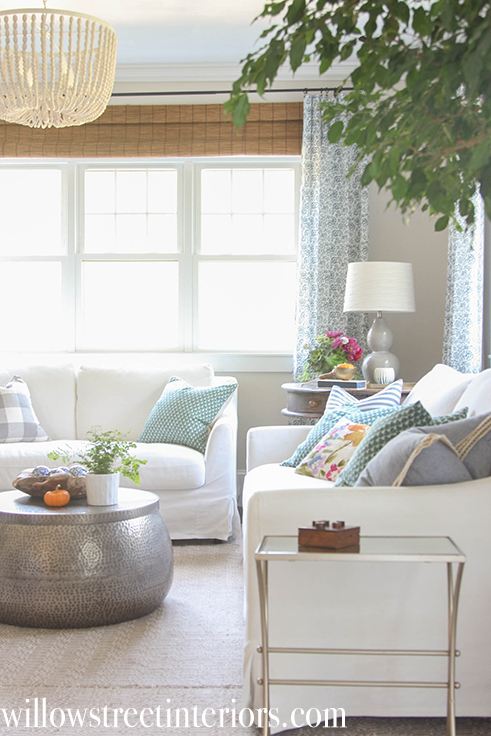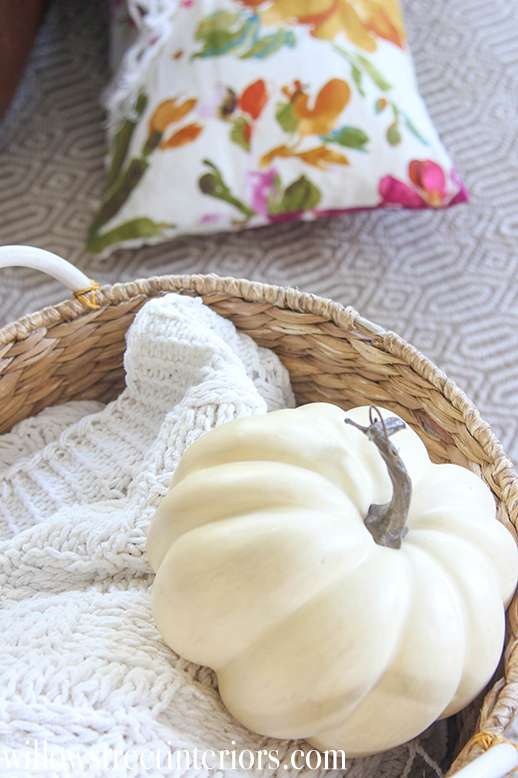 I also worked in some pretty mauve and plum colored mums, fern fronds and ornamental cabbage wherever I could.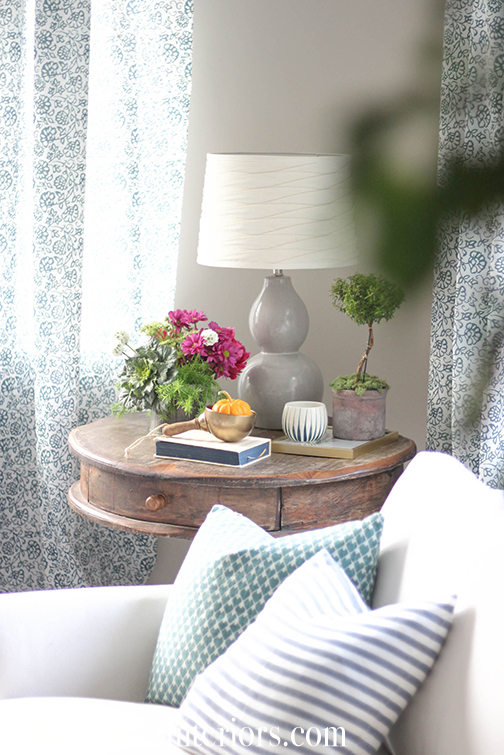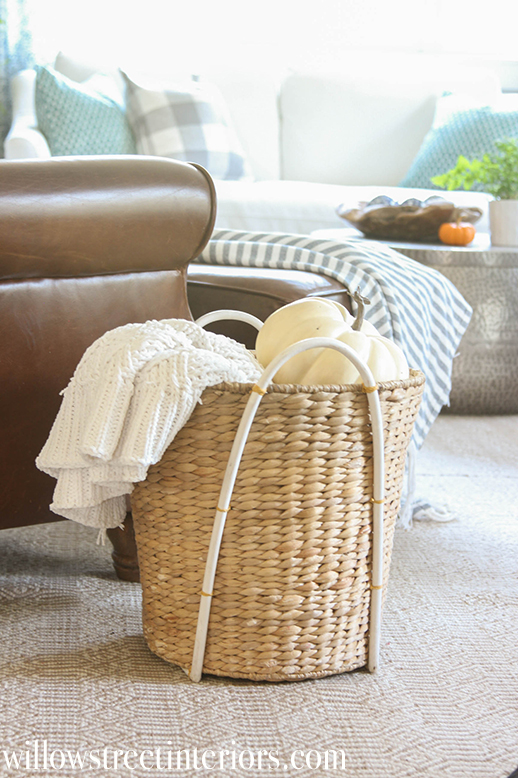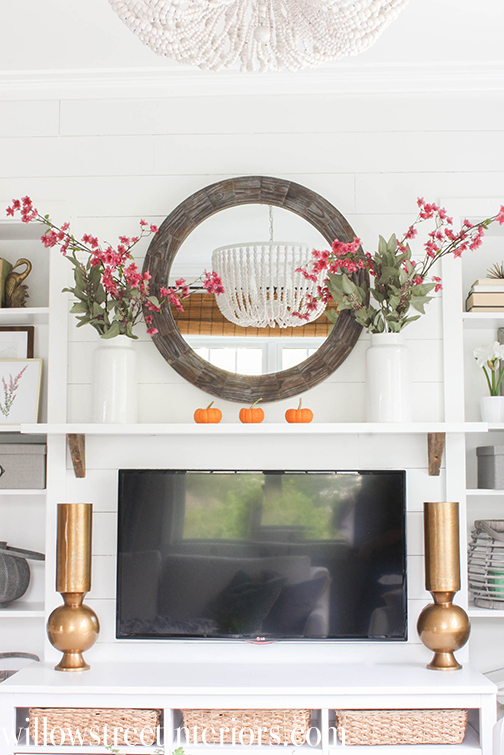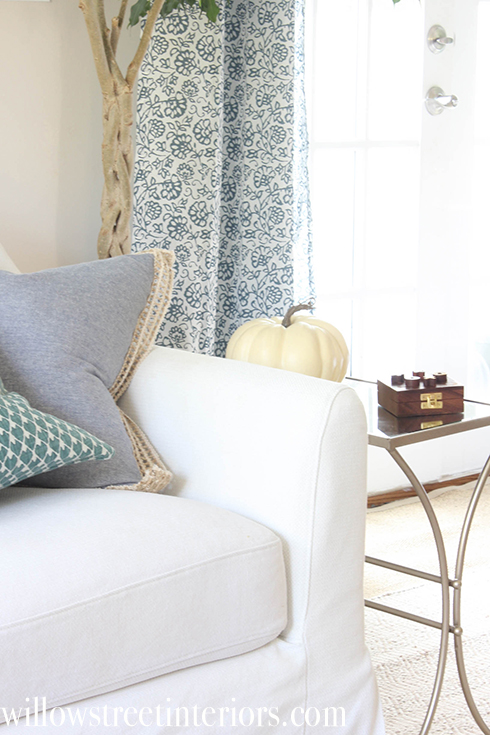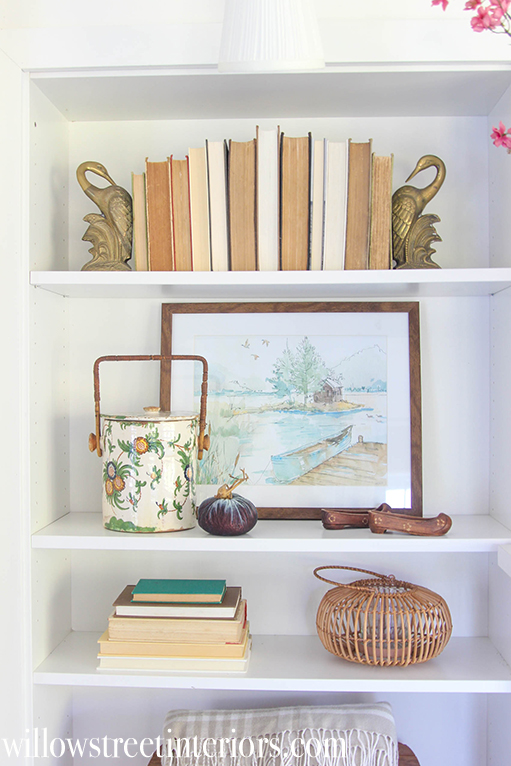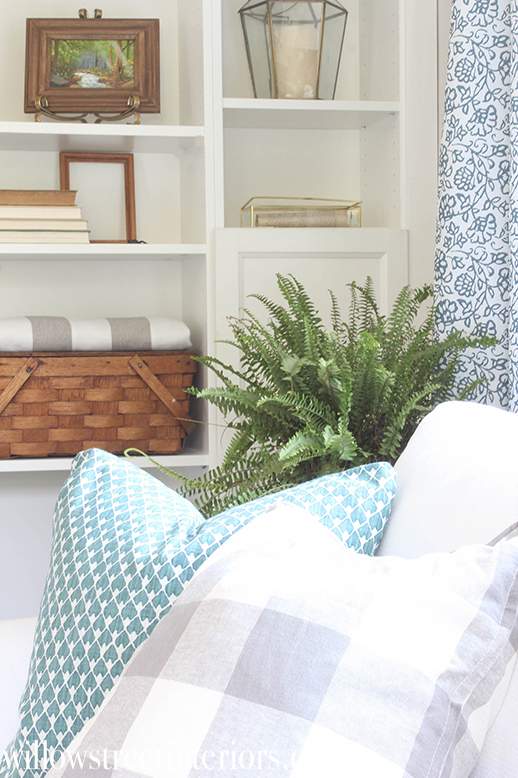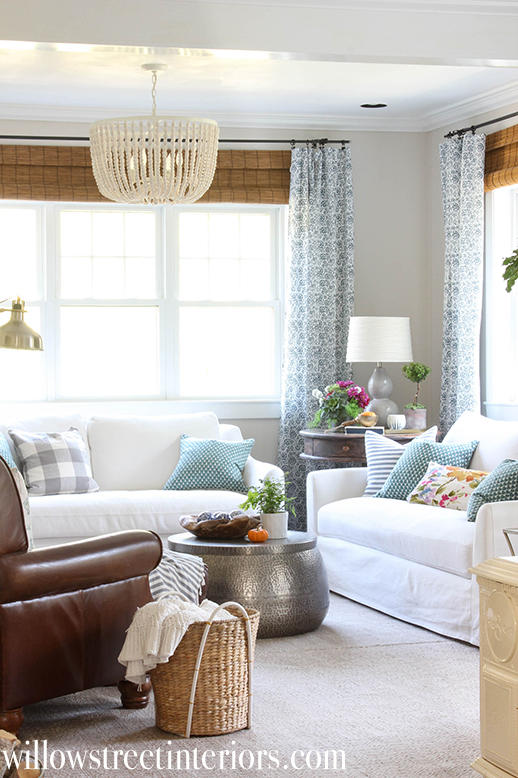 Over in the kitchen, I brought in a few rougher and worn in textures, to make the space feel cozier.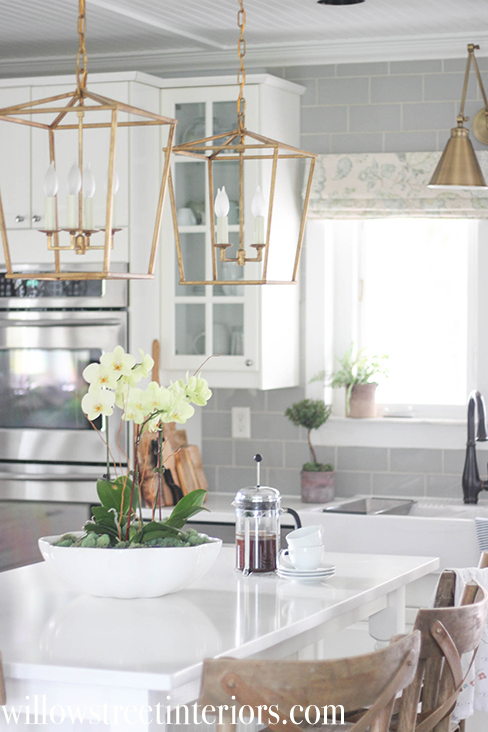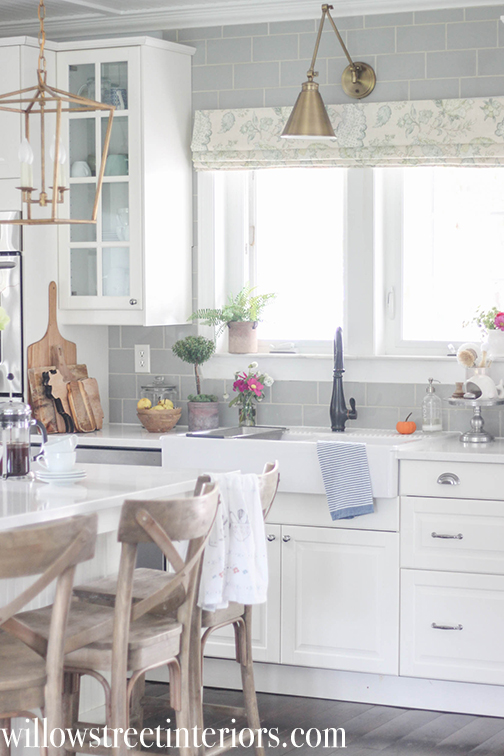 As I was decorating in here, my middle daughter, Aubrey, came in and said, I love when you change the decorations!
It makes it feel like we live in a different house!
And it's funny, but I kind of feel the same way.
Changing out the decor seasonally really gives you a sort of renewed excitement about your home and about the season ahead, I think.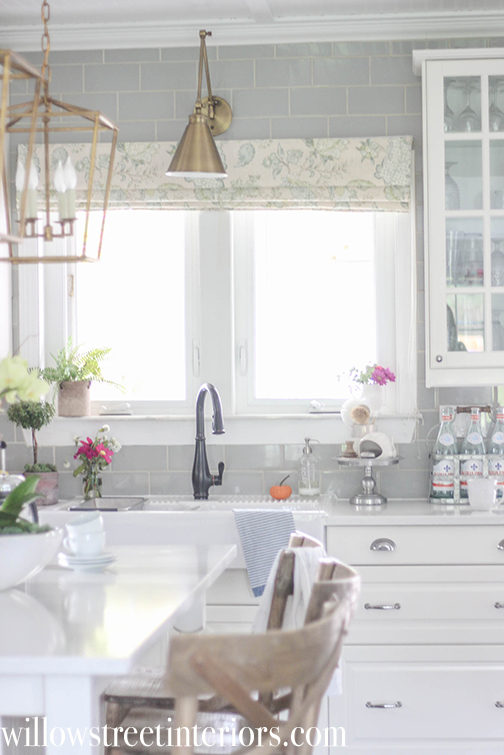 For me, fall is such a happy time of year.
It's the season of chunky sweaters, crunching leaves, birds chirping, and blue skies.
A last, magical moment before the earth quiets and goes to sleep for winter.
I try to capture that feeling in my decor too, by pulling in a blend of earthy, warm textures, dotted with vibrant color.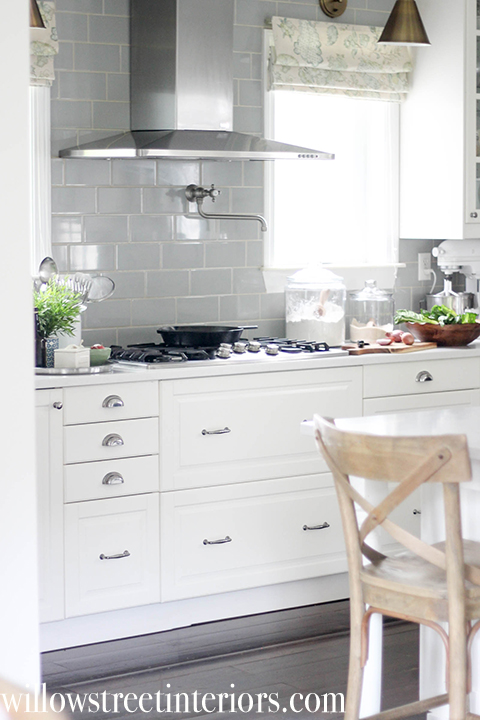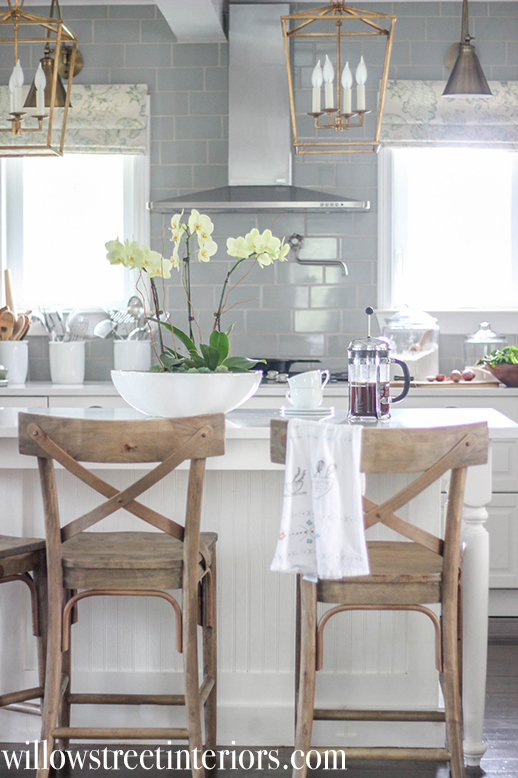 And when the leaves start to change and there's a little chill in the air, you'll find the smell of cinnamon-ny baked apple goodness wafting through the house most weekends.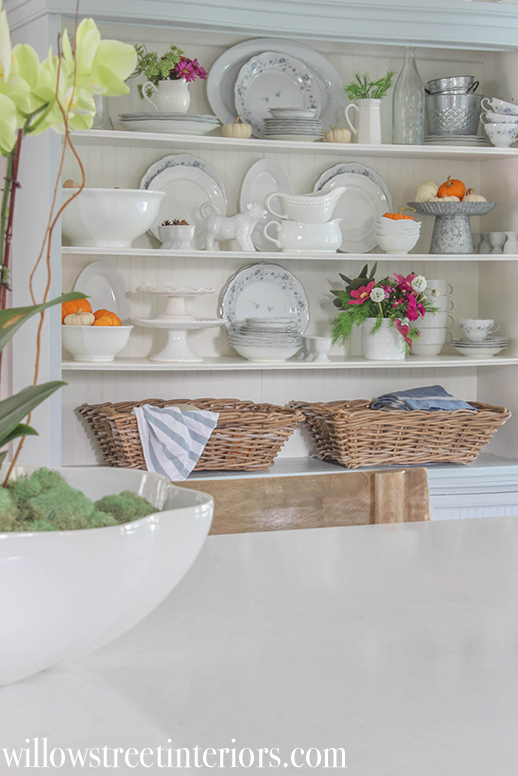 Which probably isn't great for the waistline, but you know what, lots of memories are made at a table centered around cake,
and pie,
and apple crisp!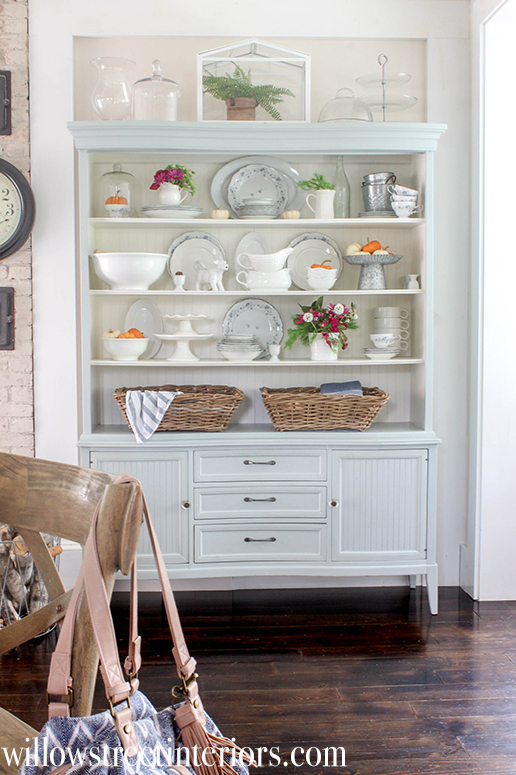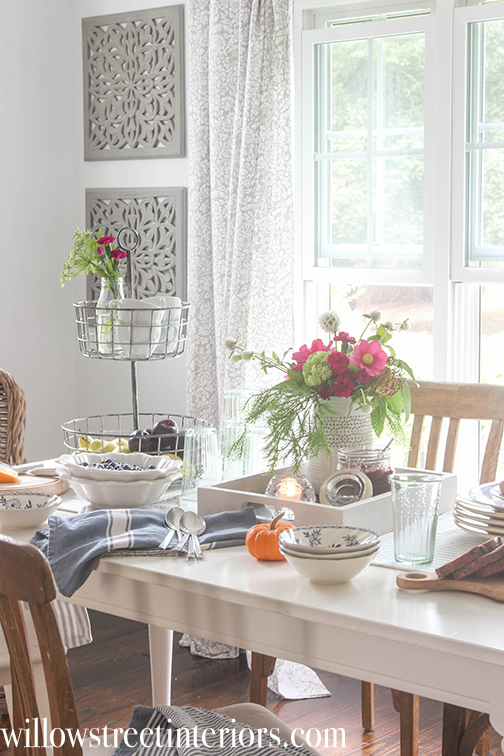 I continued the mauve and green color palette into the kitchen…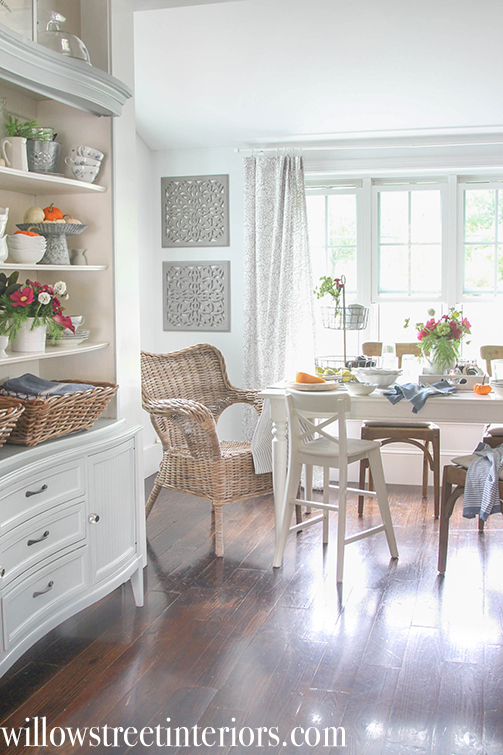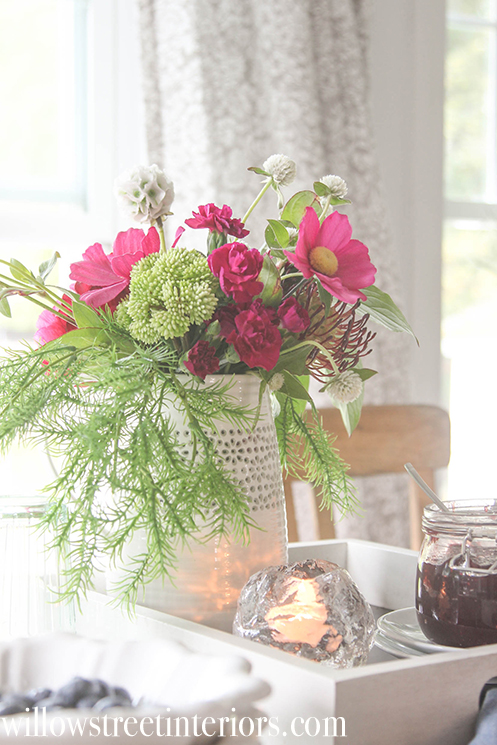 But I decided to make this orchid arrangement for our island, because I felt like I had plenty of color everywhere else.
And I found orchids on sale for $7.99 and couldn't resist!
You can see how I made the orchid planter here.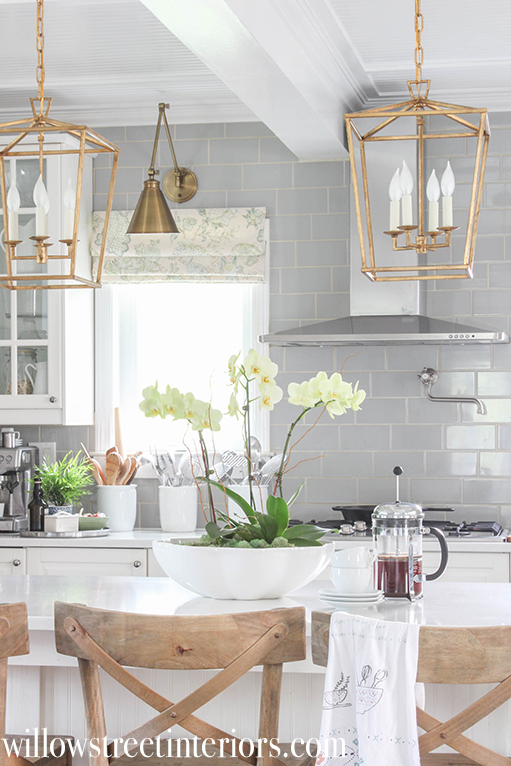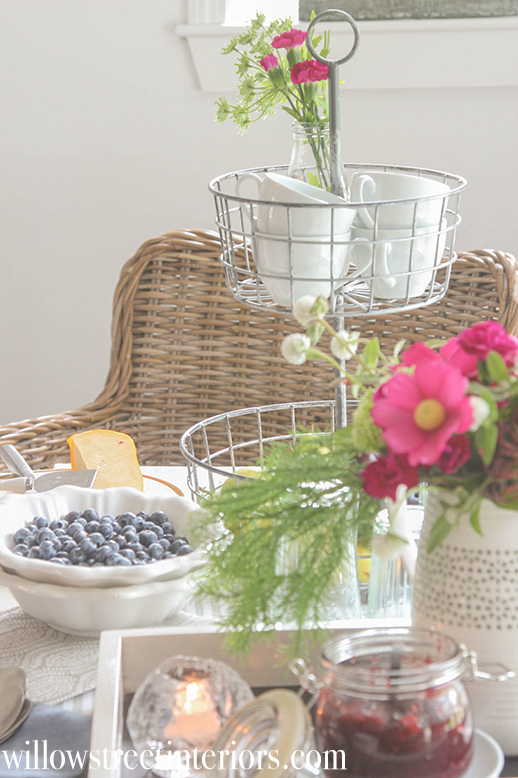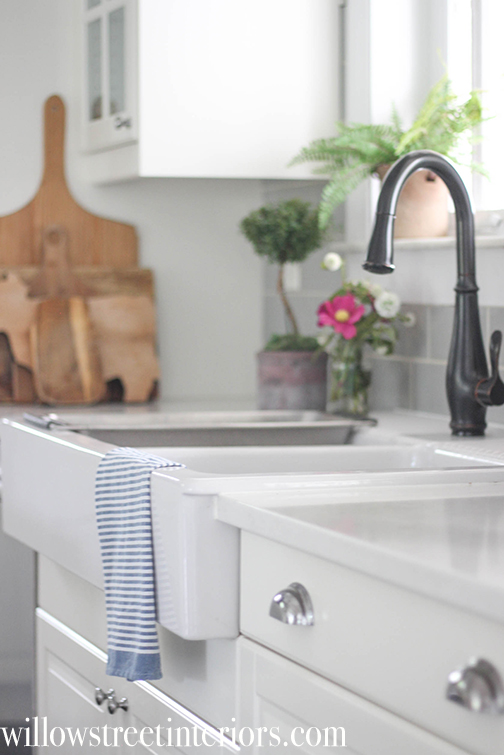 A little tip when decorating your kitchen seasonally.
Try not to over do it!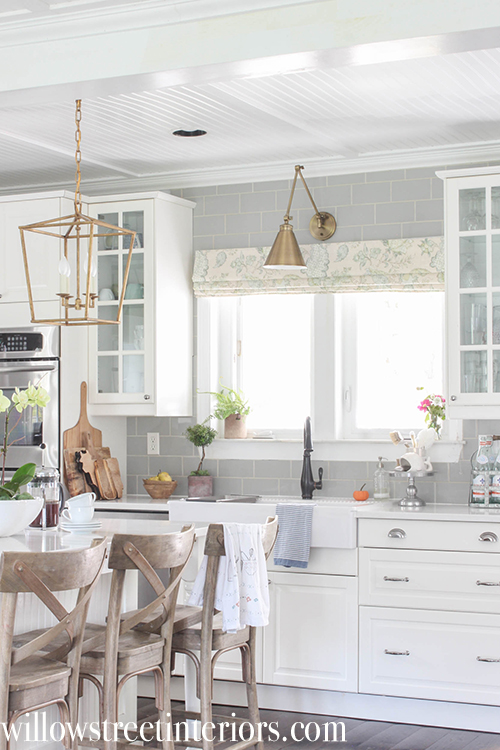 A few simple touches is really all you need to bring a new, seasonally inspired vibe into your home!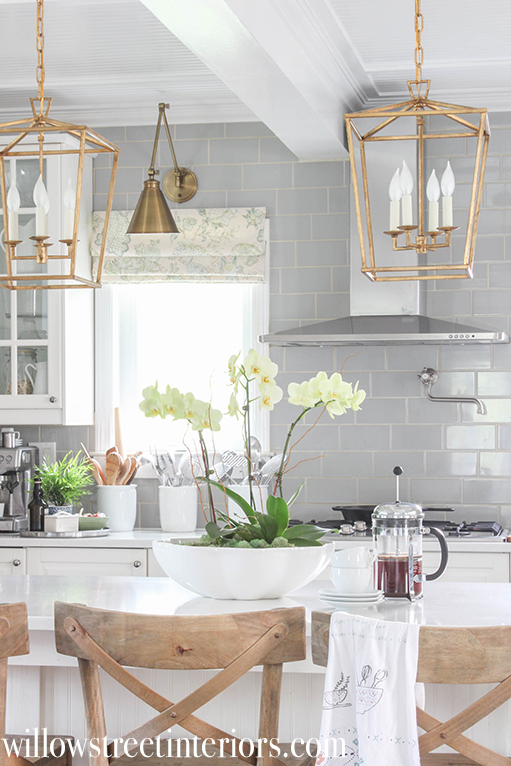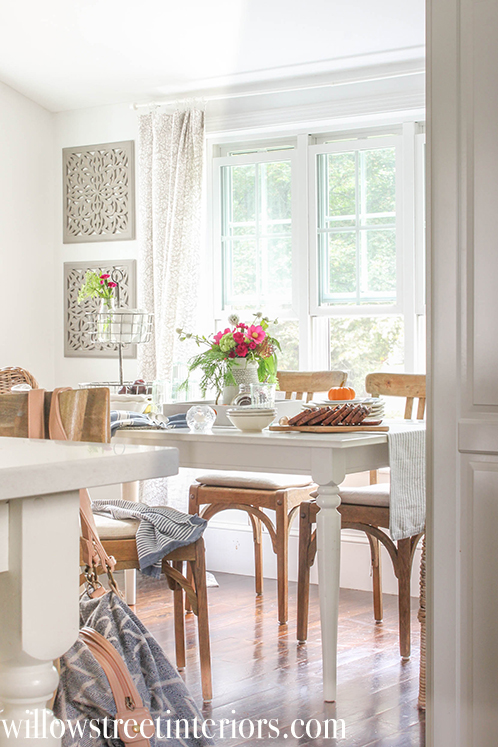 I like to take the things that I really do use in the kitchen, and display them in a pretty way, swapping out colors and textures depending on the season.
I brought in a few galvanized pieces to our breakfast nook, added flowers and pumpkins, a candle, and that was it!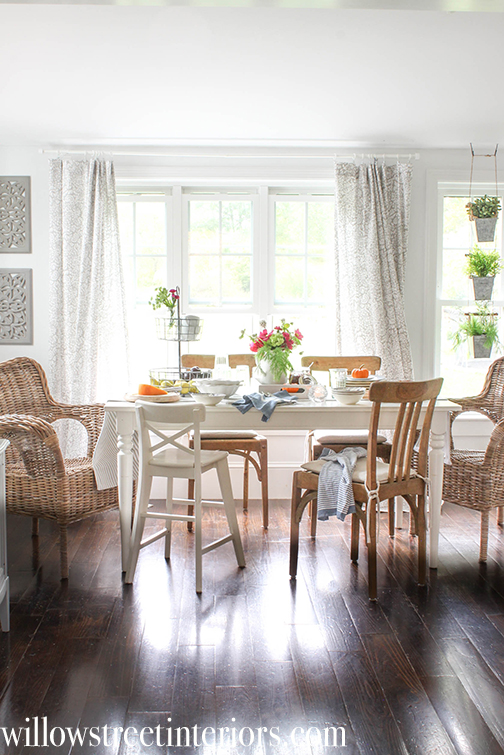 I rearranged the hutch, added pumpkins and flowers there as well, and now we're ready to welcome fall in a fun and fresh way this year.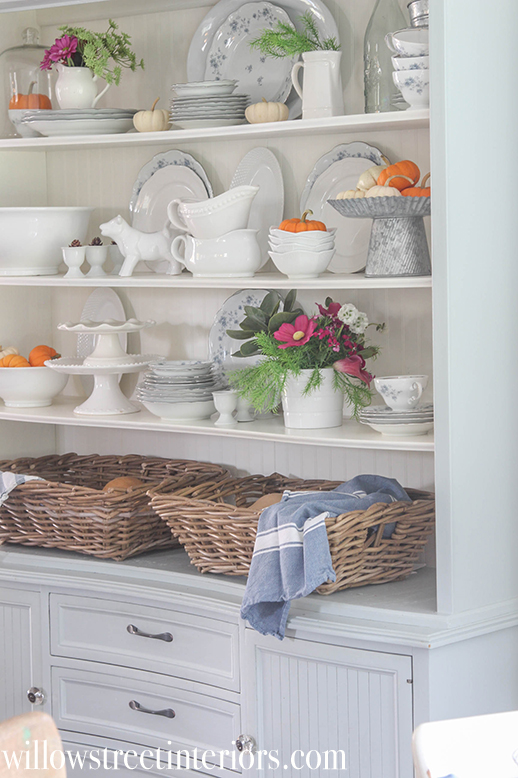 Well, guys, I'm so happy that you stopped by today. I hope you enjoyed this little peek into our home decorated for fall, and that you found something to take back and use in your own home this year! As always, I love to hear your feedback and your thoughts!
Oh, and if you're new, you can find me here on instagram and here on Facebook!
Next up in the tour today is Katie from Halfway Wholeistic and you don't want to miss it. Her home is amazing!
Happy Fall decorating!
Laura ?