Hey there!  I hope you've all been doing well, and are enjoying the early fall weather, wherever you are!  September in Massachusetts is such a perfect time – not too warm or too cold,  and blue skies, green grass and sunshine abound.  It's a magical, fleeting month, sandwiched between a typically hot and humid August, and the brisk colorful days of October.  This year it's been warmer than usual, but I'm not complaining.  The winters are typically long and cold here, so I'll take all of the sunshine and 75 degree days that I can get.
I've had this post half written for a couple of weeks now, but life's been so busy with back to school and  sports, and getting back into the swing of things.
A couple of weeks ago, I was at Trader Joe's and saw pretty, single potted orchids for $7.99!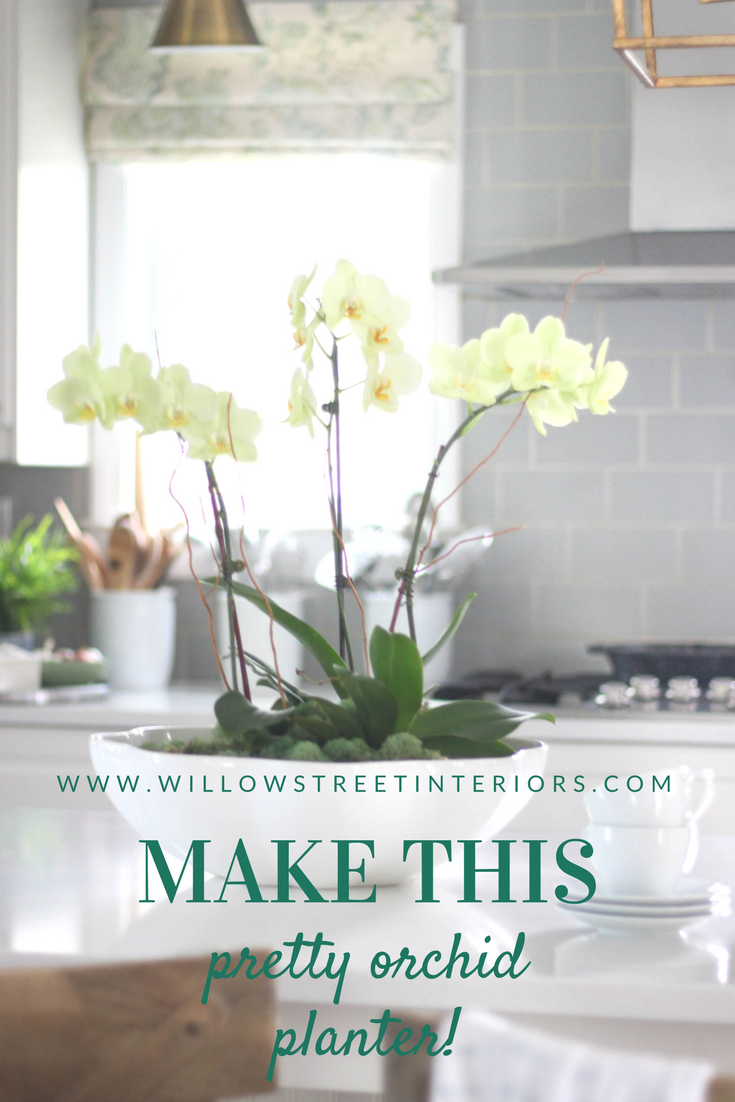 I love orchids, especially when the weather starts to cool down and cut flower prices start to rise, but the truth is, orchids aren't always cheap.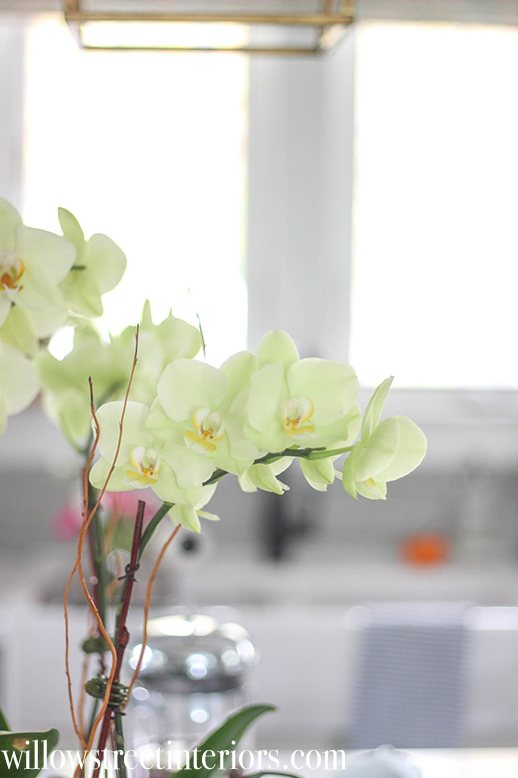 I've seen single plants for as much as $20 or $25, so when I saw TJ's price, I was super excited.  I've always wanted a beautiful orchid arrangement in a big bowl sitting proudly on an entryway table or console, but anytime I saw one with multiple plants, the price was too high to pay for something that I may not be able to keep alive for longer than 2 months!
I ended up buying three of them, and figured I'd stop at Home Goods on the way home and look for a bowl.  I did, and found a big, beautiful, white bowl for $14.99, and I looove it! Yay!
I texted my mother in law all the way over in Germany, when I got home for a little advice.  She's an incredible gardener, and knows everything there is to know about flowers.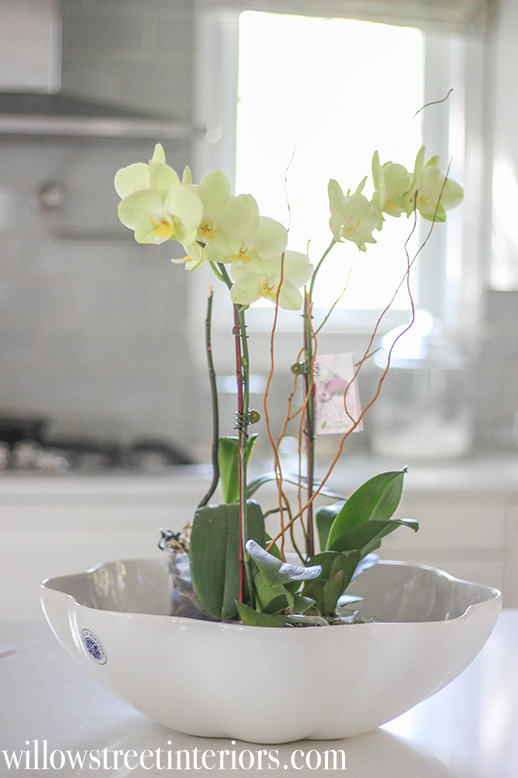 She told me that orchids need special soil and that their roots should never sit in standing water.  She rests her plants' roots in water for 30 minutes, once a week, and then puts them back in the pot.
I initially was thinking that I'd just use potting soil to transplant these, but after texting with her, I realized that totally wouldn't work.  It's not at all the right soil and the roots would stay too damp.
So instead, I went outside to our patio, filled my bowl with gravel, and situated the orchids in it.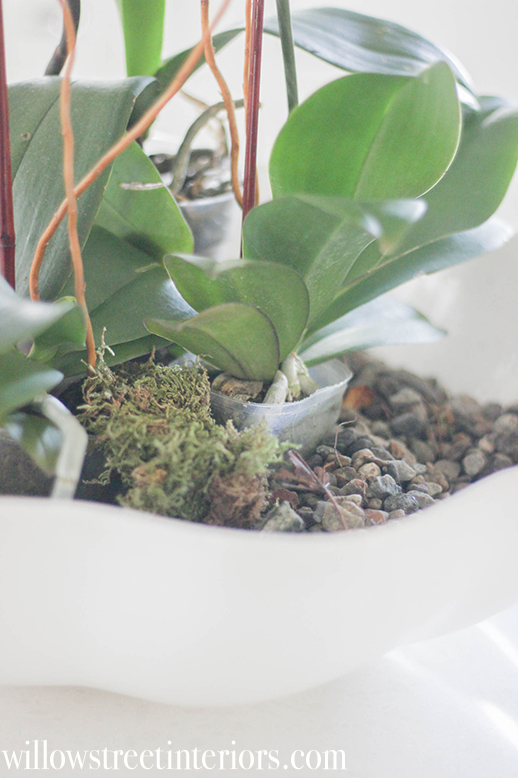 It wasn't at all the method I thought I'd be using going in, but it worked, and now, when it's time to water these, I can just pull the little plastic pots out of the gravel, sit them in water for a half an hour, and  then put them back in.
I'm going on week three with these pretty ladies, and so far my mother in law's watering method's totally working!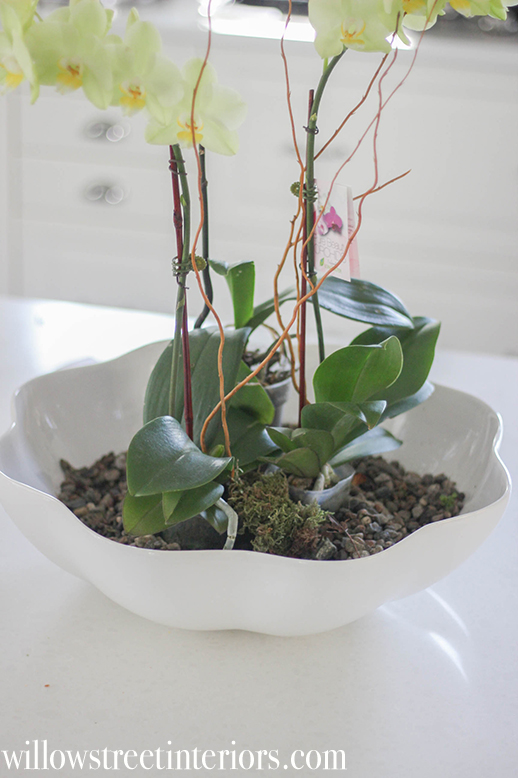 See?  I literally just sat the orchids in the gravel for support.
After I had the orchids situated in the gravel, I topped it with some moss that I picked up at the craft store, made sure that I couldn't see any part of the plastic pots poking through and that's all!
A gorgeous, very expensive looking arrangement, that I made super quickly and for a  fraction of the price.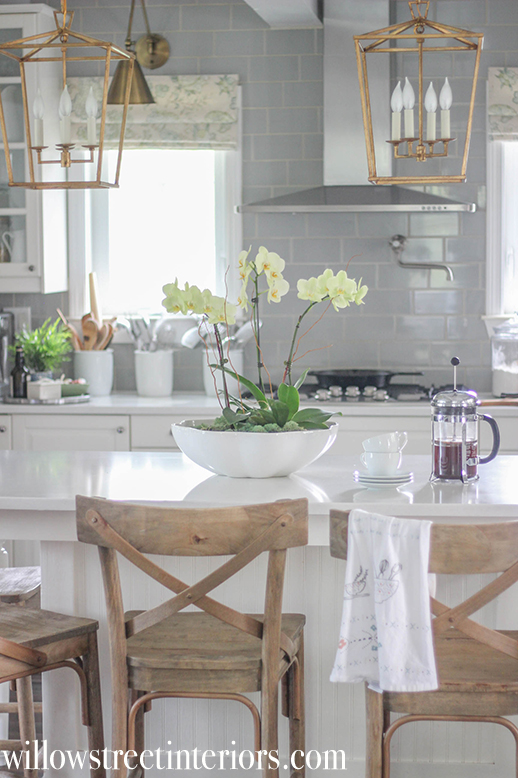 I'll keep you posted on how they hold up!
Happy Weekend, Everyone!
Laura ♥