Happy New Year, Guys! I hope you celebrated the holiday in style… Or on the couch in your pjs, which is my favorite way to party these days! 😉 We were busily chipping away on our kitchen reno on New Year's Eve this year. I've been wanting (and trying!!!) to get this post up for almost a week now, but I've been having a serious technical problem with my site. If you were here visiting the last couple of days and witnessed the huge mess – sorry! If you weren't – good! All you missed was the website looking like a crazy person put it together. It's mostly fixed now, and hopefully it'll be completely back to normal in the next couple of days.
Anyway, the kitchen. Those of you who follow along on Instagram and have seen a photo or two of my kitchen might be asking yourself, "why the heck is this woman redoing her kitchen?! It looked perfectly fine!" And you're absolutely right. It looked fine. From a distance.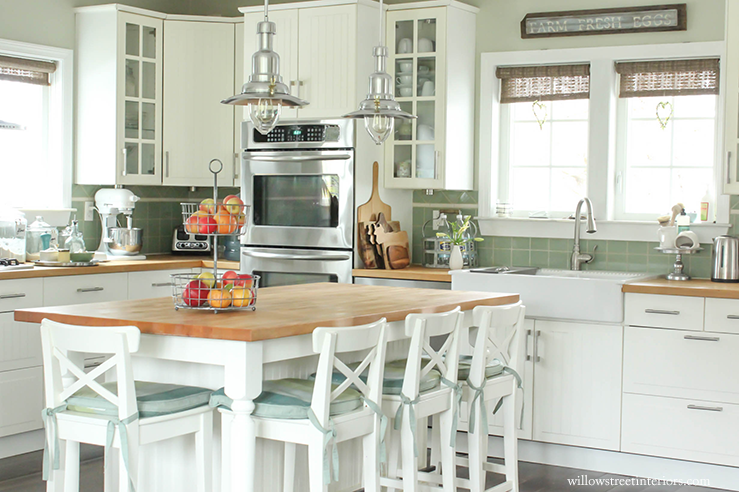 Here's our old kitchen all cleaned up, but very unstyled. I snapped these photos a couple of days before we started packing everything up so we could start dismantling.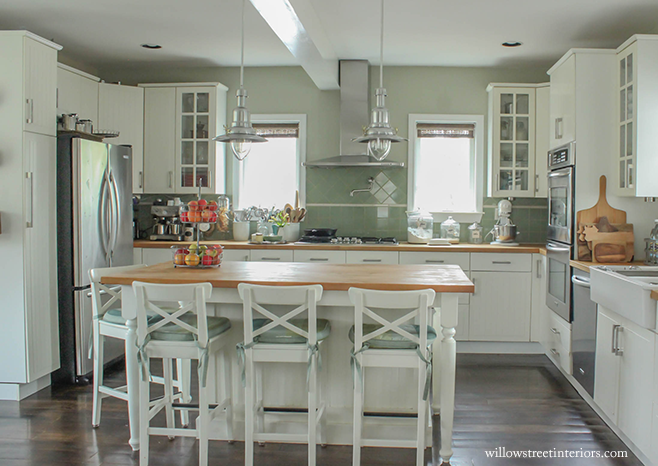 We put in our IKEA kitchen when we moved in January of 2008, and have absolutely loved it ever since. It came with a 25 year warranty, as IKEA kitchens do, and we've replaced a few doors along the way because of minor cracking… Early this fall though, we had a couple of cabinets start to look really bad. One of them was missing a whole hunk of paint, and another was starting to swell at the bottom. IKEA cabinets are made from particle board so if any water gets through the external paint covering, they're going to swell up.
So cracked IKEA cabinets + kids playing in the sink = super, duper, ugly cabinet doors. I'm sorry about these disgusting looking photos… They were taken at night, with a cell phone, and are not edited in any way…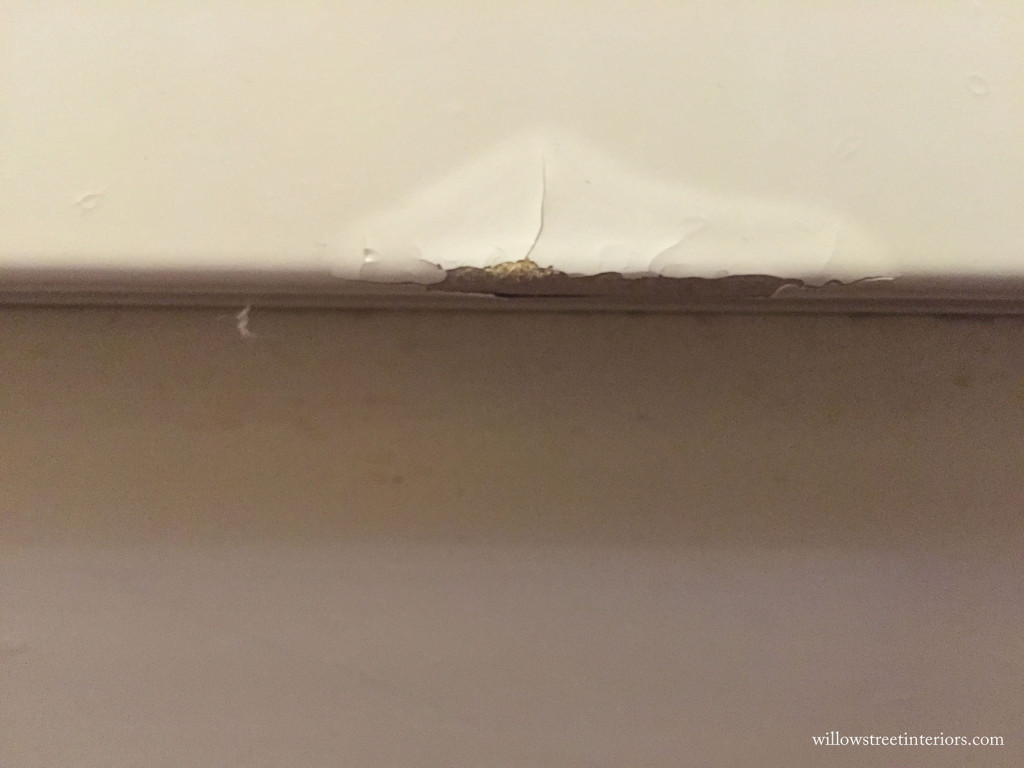 I know, so gross. Sorry!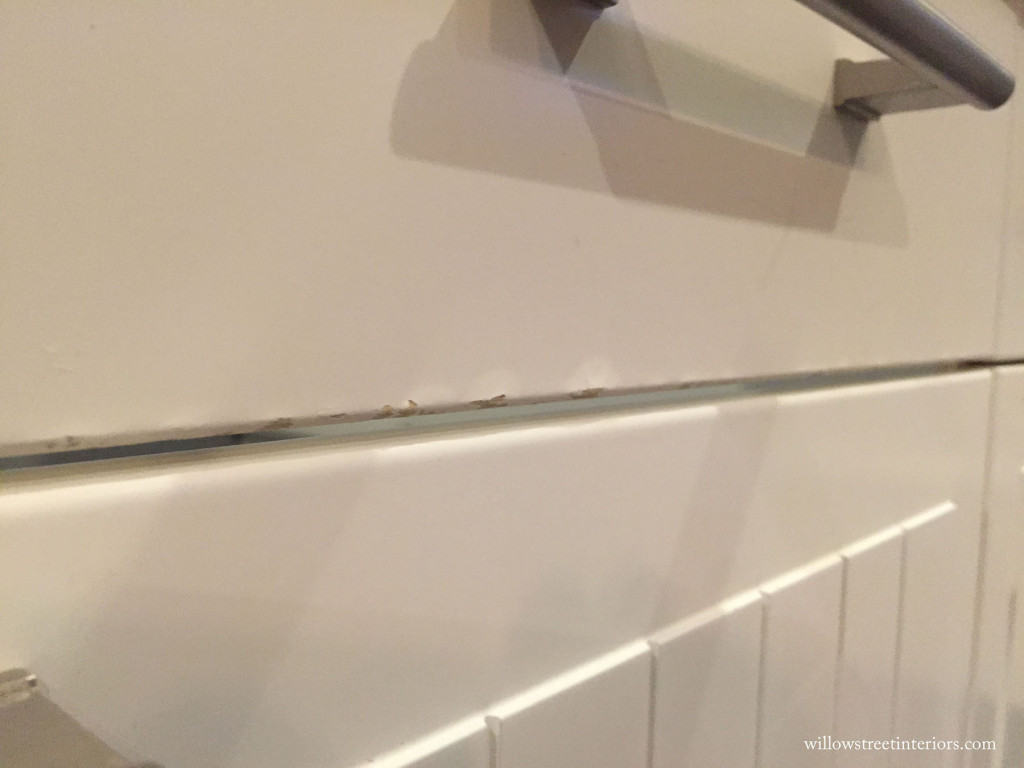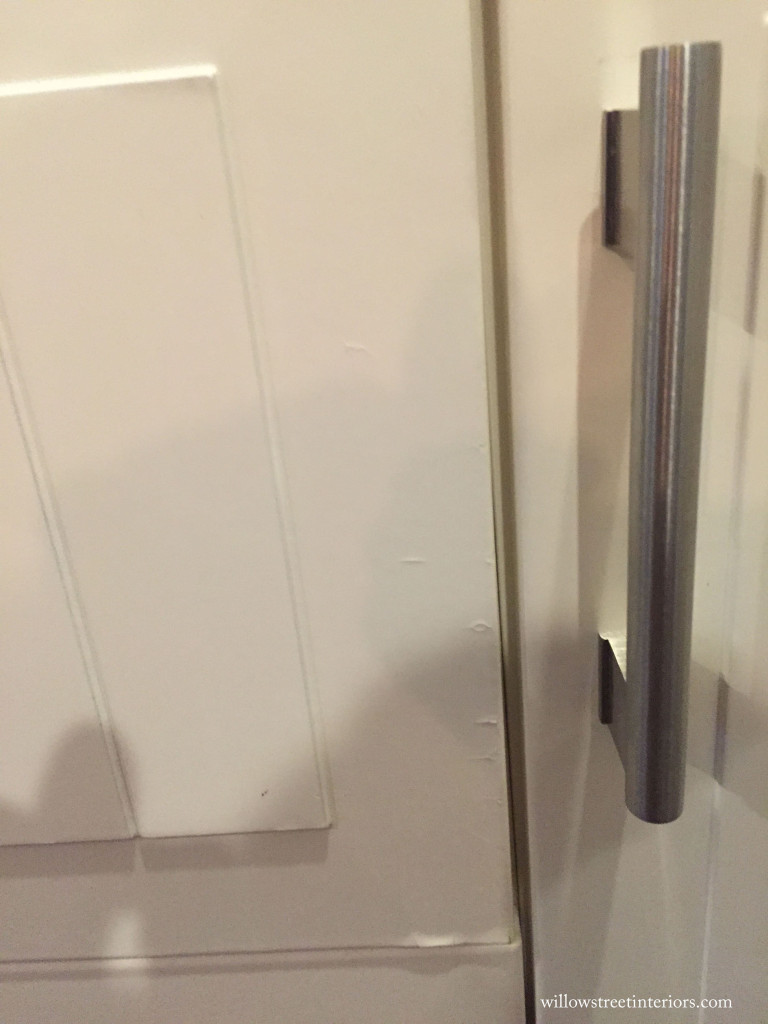 So disgusting looking, right? I told you it looked great from a distance.
This is what we were dealing with up close, and once the cracking and swelling starts happening, it's going to get a whole lot worse – fast.
So there's a sampling of a few of the damaged cabinets, but what you don't see in the photos is the fact that the handful of newer cabinets that we'd previously replaced were looking lovely and white, while the older ones were also beginning to take on more of a creamy/off white/yellow tone as they aged – and it was seriously buggin' me, folks.
So some time in October, we took down all of the damaged cabinet door and drawer fronts and hauled them to IKEA, fully expecting to have to beg and plead with someone to replace them for us. We still had our receipt filed away, and we brought it with us, but still. In my experience, trying to hold a big company to their warranty policy is a challenge, and more often than not, they try to wriggle out of their end of the bargain one way or another. So I was pretty nervous heading in to IKEA with all of those fronts.
Michael and I wheeled this mega stack of cabinet parts up to the returns counter, and the sales girl looked at them and said, "Oh, we don't make that system anymore. The new fronts won't fit on to your base cabinets."
And I thought, "here we go." But then she promptly said something like, "We'll most likely have to replace the whole kitchen. Let me call my manager."
Wait, back up? The entire kitchen? I honestly thought going in to it that, in a best case scenario, they'd replace all the fronts for us. In a best case scenario.
I had no idea that they no longer made our system, or that we were about to strap ourselves down with a complete kitchen reno. And, I never in a million years thought that IKEA would actually pull through and replace the whole thing. It all seemed too easy and too good to be true. But you know what? That customer service rep did call her manager. He photo copied our receipts and told us to go home and they'd call us. And, two days later, they did call! And soon after that, the ball was rolling for a total kitchen replacement. No hassle whatsoever. I'm still in shock over the whole thing.
Soooo, that's where we're at right now.
Want to take a walk down memory lane with me for a sec? It's so hard for me to believe that we've lived in our house for 8 years! I was only able to find a couple of before photos of our kitchen, and they were all taken after we started demo… Ready? Here's our kitchen before….. See the remnants of that suspended ceiling? The whole downstairs was like that when we bought the house.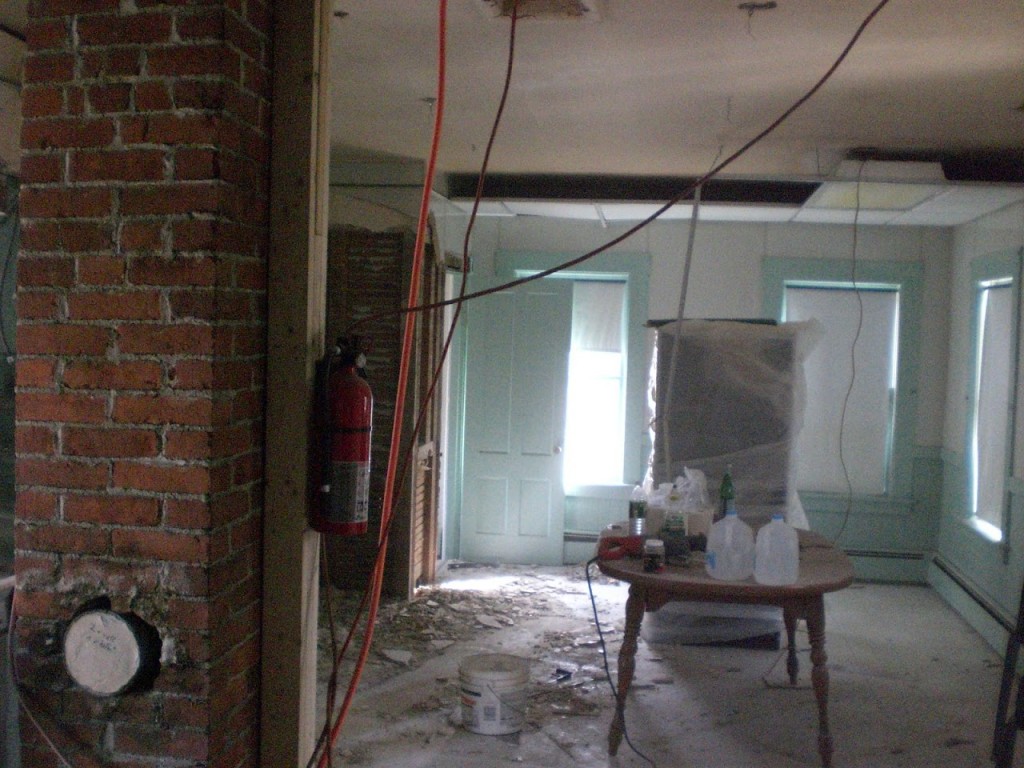 Here's our kitchen after….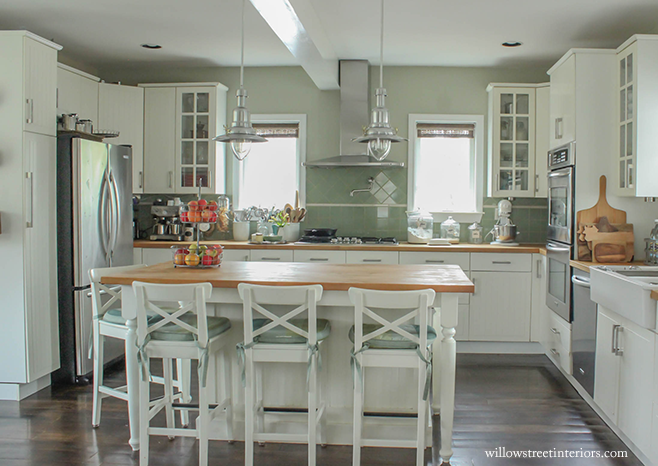 And here's our kitchen as of 2 days ago! See how the ceiling is completely different – again?! I begged my amazingly wonderful husband to do this detail work for me in the initial renovation, but there just wasn't time… We still needed to paint the rest of the house and finish off some essential and basic need type projects, so there was just no way we were going to work on millwork and trim at that point. I'm pretty ecstatic that this time around we're going to be able to get to do a few of the beautiful pieces of the design plan that we just didn't have time to execute 8 years ago.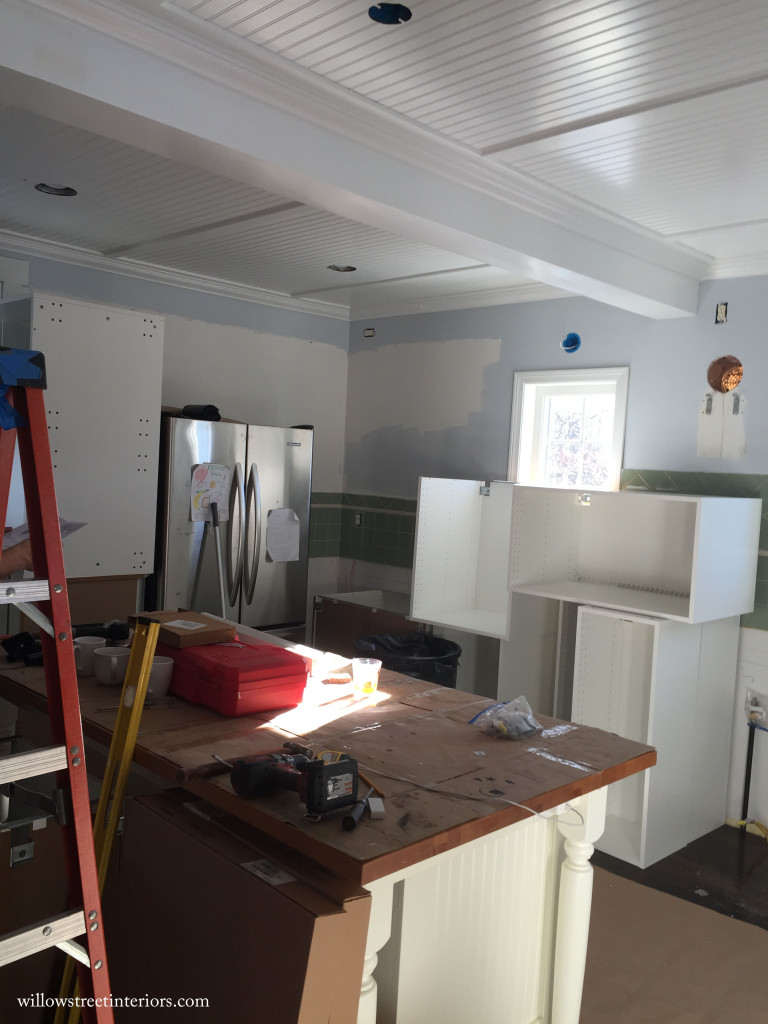 Millwork and trim are seriously two of my favorite things… Doesn't that ceiling just make a tremendous difference? The kitchen feels so much more cozy now, and I feel like we're finally restoring that farmhouse vibe back into the house. It honestly didn't really have much by way of trim or millwork when we bought it (see suspended ceiling above), but it was whimpering for us to put it in.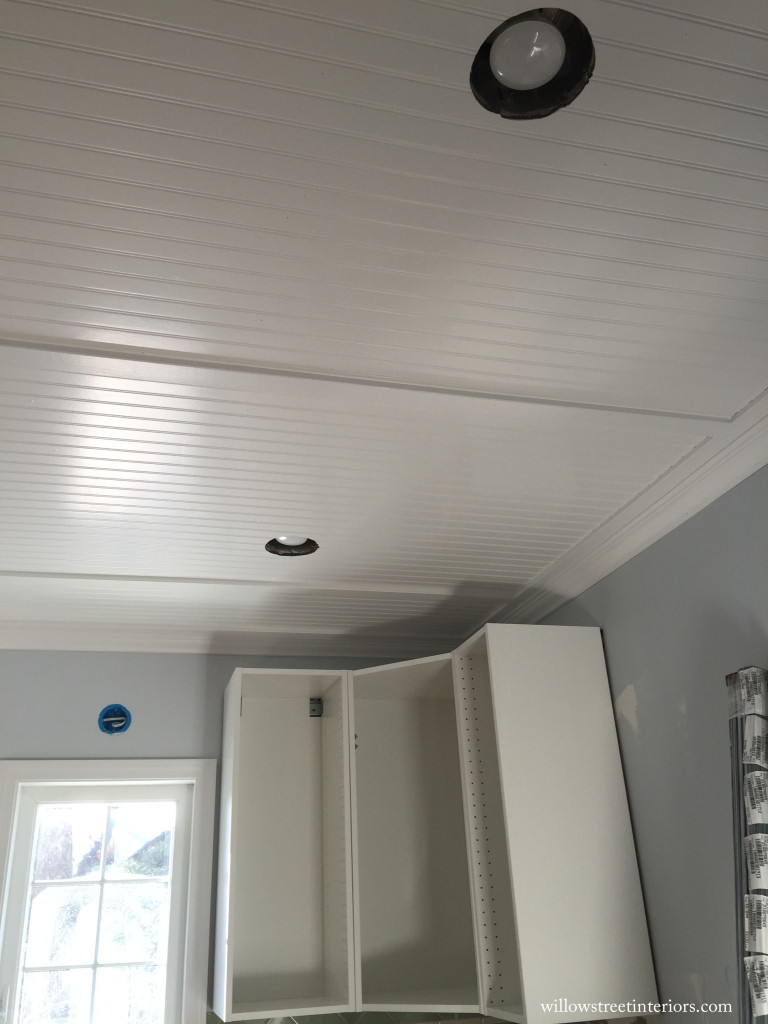 This is what our now sink area looked like when we bought the house 8 years ago…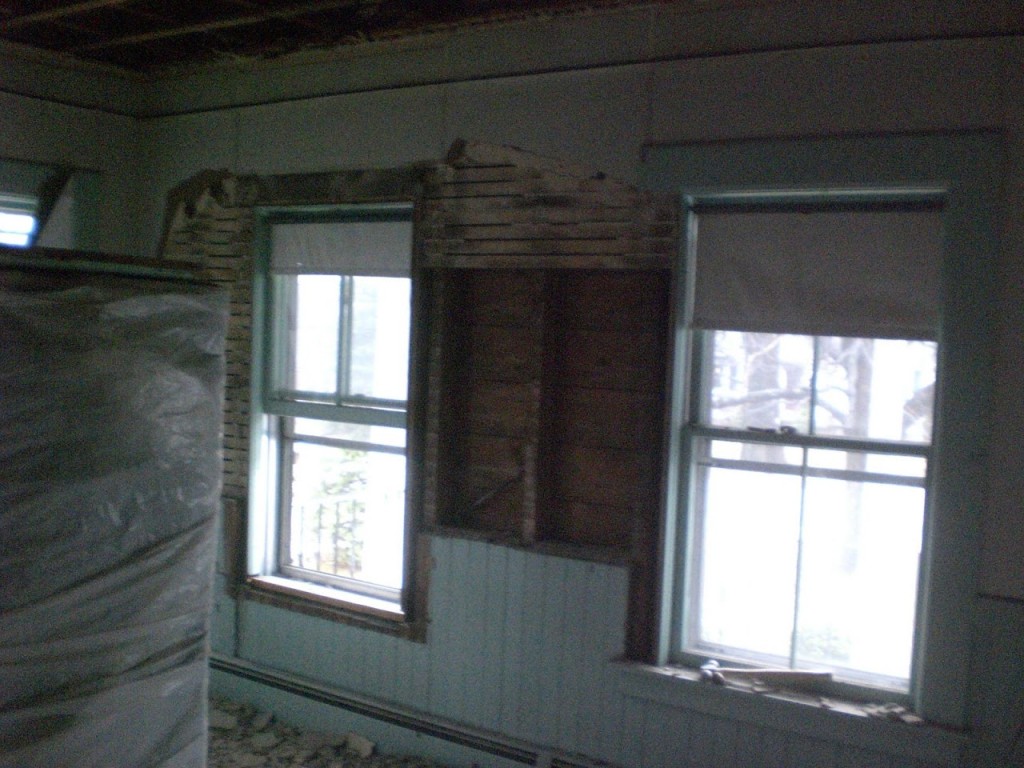 Here's what the same area looked like when we finished the first reno….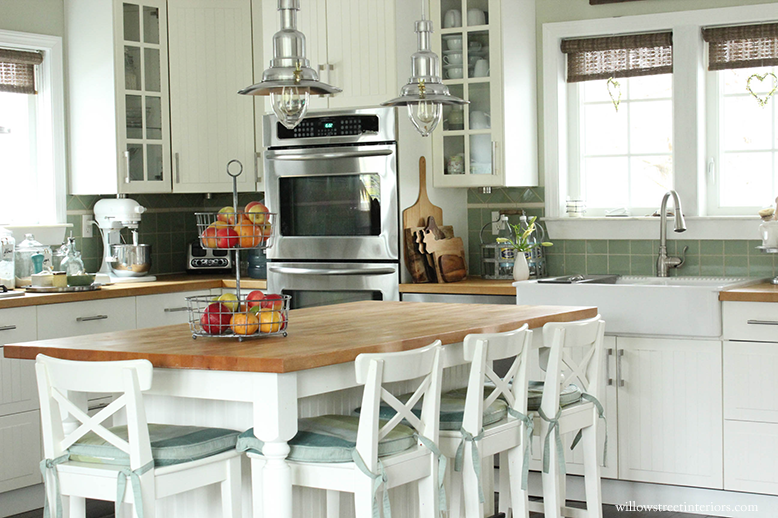 And, at the moment, we don't have a sink at all! We're hoping to at least have the kitchen functioning again by tonight or tomorrow, but the detail work will take a bit more time… I'm so excited to share the progress, and some ideas I have for the new space with all of you, so stay tuned!
Before I go though, I've had a few people ask me how I feel about IKEA kitchens now, so I wanted to make sure I took a second to answer that. The big question…
Would we buy an IKEA kitchen again if we knew then what we know now?
The answer's a little complicated, but here goes. If we were renovating a house with a construction loan, or building a house from scratch and could wrap our kitchen budget into the mortgage, or if we had $75,000+ to throw at a custom kitchen, custom wood cabinetry would be where it's at. We didn't want to take out a loan, so IKEA was our best financial option.
I also love the thought that I can pretty much give the kitchen a facelift really inexpensively just by swapping out the fronts.  And if IKEA decides to change their system again, there are a gazillion tradespeople that now specifically make replacement IKEA fronts out of wood!
So yes, we would absolutely put an IKEA kitchen in again if we were working within the budget that we were working with, and with all of those things considered.
A couple of caveats though:
My husband is a jack of all trades, and if he weren't handy, I would not be such an IKEA fan. Because, you know, I'm definitely not the one that can swap out IKEA fronts in a day without breaking a sweat. And IKEA also isn't pass-it-down-to-your-kids, heirloom quality furnishings – obviously. But it looks nice, and the design and thought that goes into the interior fittings is crazy amazing, practical, and would cost a FORTUNE to put into custom cabinets.
Oh, and also…
Keep all of your kitchen receipts!
If we didn't have our receipts, this blog post would be very different, and I would be a very sad woman!
If you want to see what our kitchen looked like post reno, click here!
Happy Sunday, Friends!
Laura ?