Hey Guys! I'm super excited to be sharing our patio decor with you all today, as part of The Happy Housie's Seasonal Simplicity Series. Don't forget to check out all of the other beautiful, outdoor spaces a few of my blogging friends are sharing down below too! They are all amazingly talented!
I love homes that feel old and wise, like they've been through storms and lived through history, and are still proudly standing there, nestled into a storied landscape. When we first looked at our house (13 years ago!), it'd lost most of it's farmhouse soul, and this part of the backyard was overgrown with brambles and underbrush. A stone wall was hidden under trees and thicket, and I knew immediately that one of the first things I wanted to do was clear everything out and make it visible again!
So, after a week of working on a backhoe, my husband cleared this hill, and brought the stone wall back to life. It's hard to see it in the photos, but it peeks out between flowers and bushes that we've slowing been adding here every year since, on the right hand side.
Aside from mapping out the shape that I wanted the patio to be on the grass with spray paint, I gave my husband free reign on the construction – he was super excited and had a vision, so I trusted him and went with it. He dug out the actual patio area, again with the backhoe, and rolled boulders into place like he-man. He also created the prettiest little pond and waterfall (that I really didn't get a great photo of!) but it courses down the hill in front of the swing, and then empties just below the birdhouse. The girls have gotten to watch tadpoles grow into frogs every year, and it attracts so many birds. It's one of my favorite things!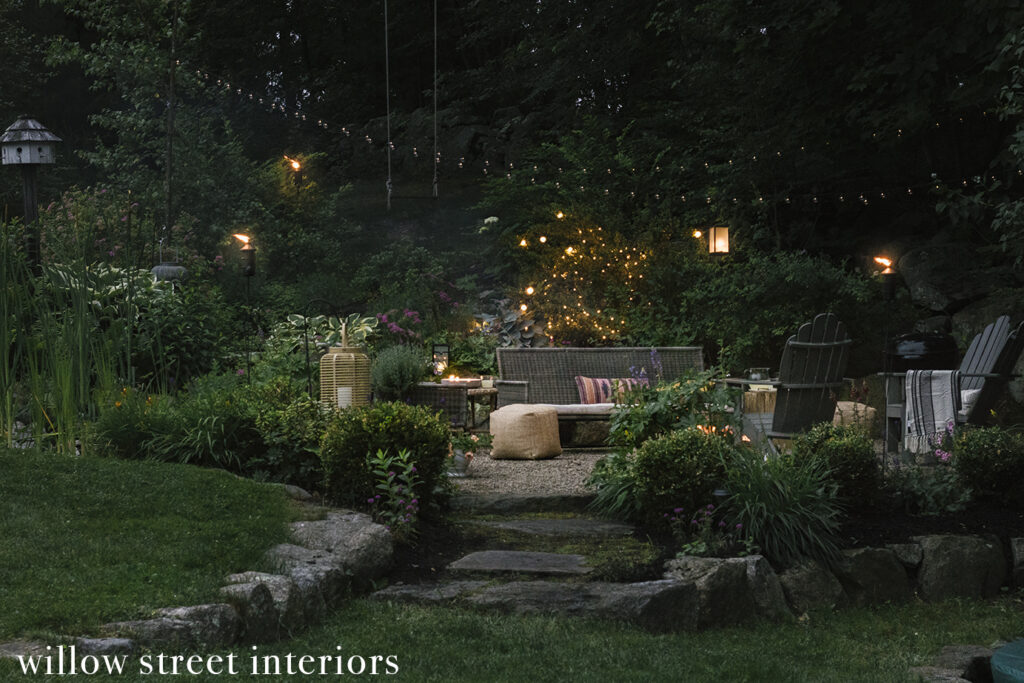 We decided to use the same stones that we found when we were digging out the hill, because I wanted the patio to feel like it had always been here. I'm really into spaces that feel both beautiful and untamed, and the field stone helped achieve that organic, wild feeling that I was after.
In terms of decorating, I didn't want the furniture to take center stage. I chose to keep everything stone colored, so that the end result would be an outdoor space that felt like it was etched into the stone, and surrounded by billowy plants and flowers.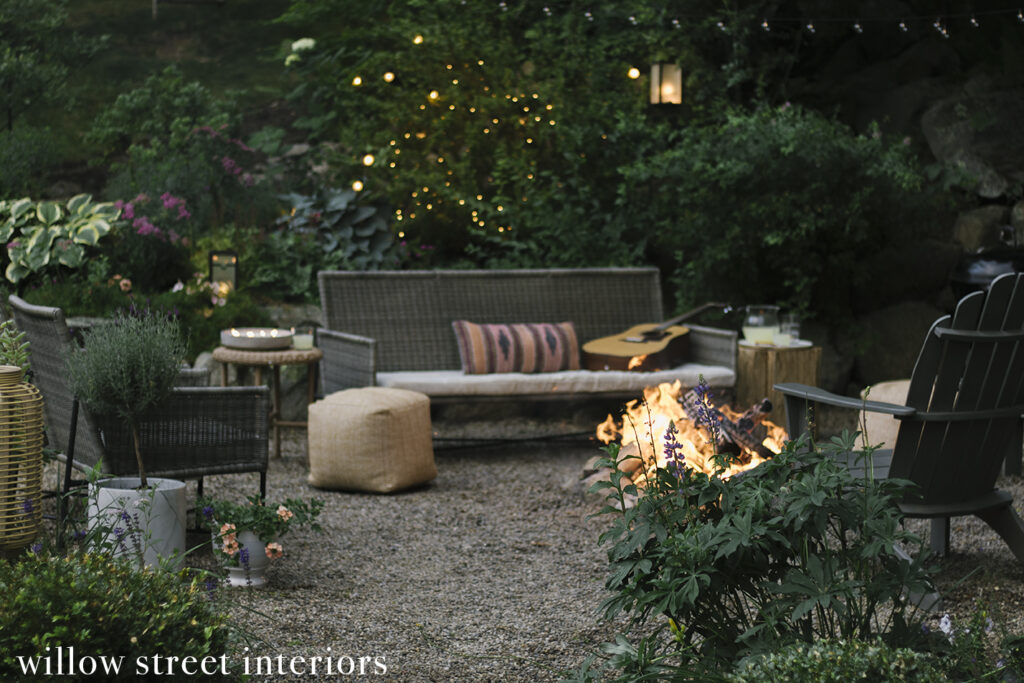 If you watched my stories the other day, you may have seen Jenna and I cutting down a little tree that I wanted to string the patio lights to. Again, my mission was to keep the patio and plantings the focal point, with everything else just kind of blending in and subtly complementing the natural beauty of the landscape. You can barely see my tree trunk poles, right?!
[show_lookbook_widget id="496362″]
Lighting is always essential when it comes to perfecting a design, but out here, it was even more important. Because the plants feel so dense and dark at night, I really wanted to add lots of twinkly lights to soften everything, and create an almost, firefly-like, magical atmosphere.
I love hanging out here at night, chatting and sipping on wine, listening to the crickets and the water trickling down the hill.
One thing I do want to change though, is the actual string lights! They're solar powered and I'd like them to be a
l i t t l e bit brighter. So I think I'm going to hunt down some actual electric ones, unless one of you can recommend a good, solar powered string light, that's actually bright?!
[show_lookbook_widget id="496362″]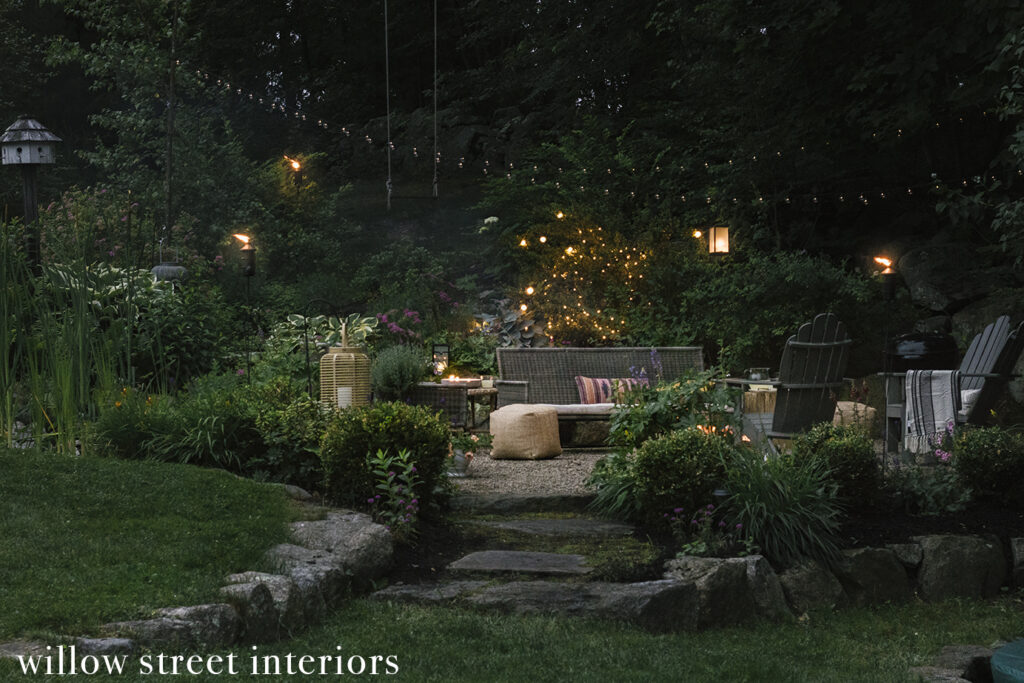 And that's about it, you guys! Don't forget to check out all of the beautiful outdoor spaces my friends are sharing too!
xo, Laura

This week I'm joining some of my talented blogging friends for the Summer Seasonal Simplicity Series: Outdoor Spaces Tours! Be sure to check out all of the beautiful inspiration by visiting the links under the images below.
Sharing Wednesday….
The Happy Housie // Joanna Anastasia // Cassie Bustamante // The Tattered Pew
Life is Better At Home // Tatertots and Jello // Finding Silver Pennies // Lemon Thistle
A Pretty Life // Dans le Lakehouse // Clean & Scentsible // Willow Street Interiors
Sharing Tuesday…
Inspiration for Moms // She Gave it a Go // Grace in My Space // Deeply Southern Home
Life is a Party // Nina Hendrick // Happy Happy Nester // Craftberry Bush
Maison de Cinq // Hallstrom Home // House by Hoff // My Sweet Savannah