Hi there! I have a really pretty tablescape that I put together to share with you today!  But first, can you believe Christmas is a week away?  I can't!  These last two months have flown by so fast – it's incredible.  I still have a few loose ends to tie up and a couple more stocking stuffers to buy, which means I may end up being one of those crazy people at the stores this weekend.  That's ok though.  I'll get myself a latte and make the best of it 🙂  Coffee makes everything better.  Right?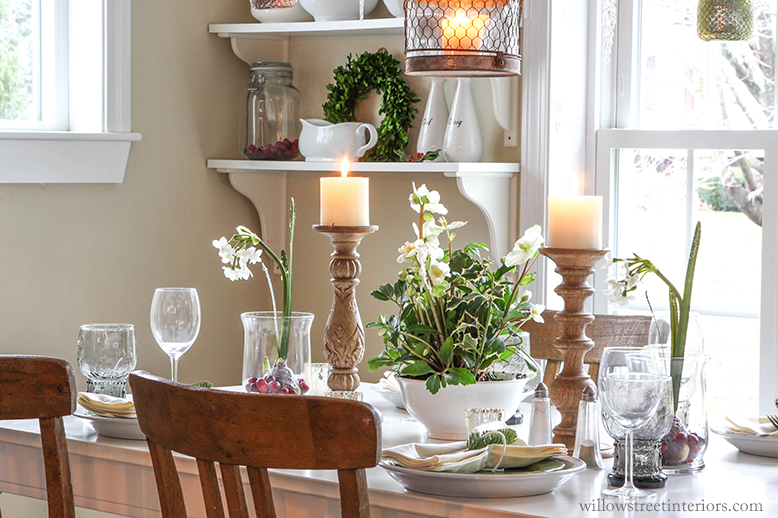 I decided that since Christmas is a week away and I still hadn't set that pretty table that I talked about in my Winter Bucket List post, today was the day.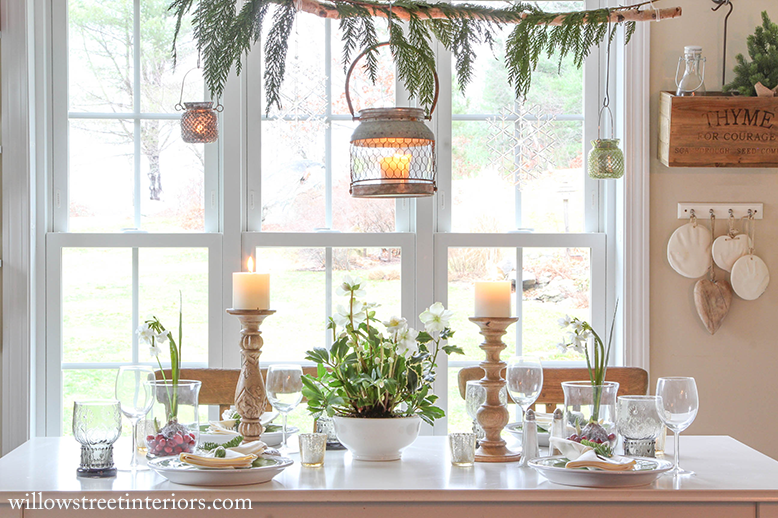 I kind of have a thing for birch branches.  I recently had some shelves installed in a playroom that involved a few of them, and I've had a beautiful branch hanging above my daughter's bed for years.  When she was a toddler, she loved looking up at it and pointing to all of the paper butterflies that are glued to it…  I knew I needed to work one in to my holiday table this year too.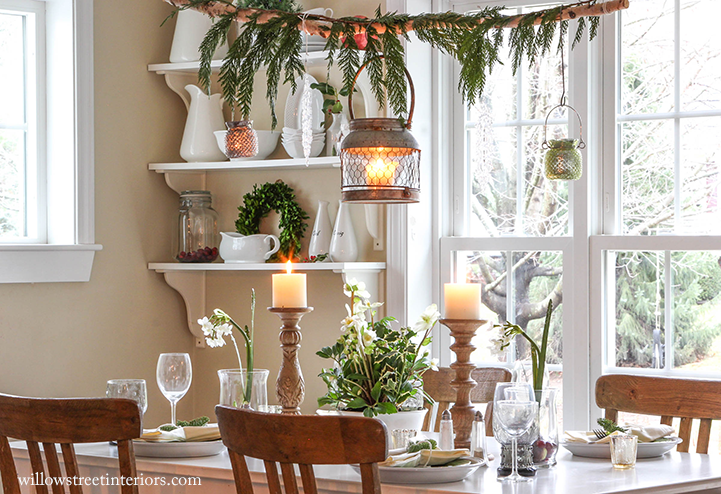 Isn't birch amazing?  I love the natural, understated elegance it lends to absolutely any space you put it in.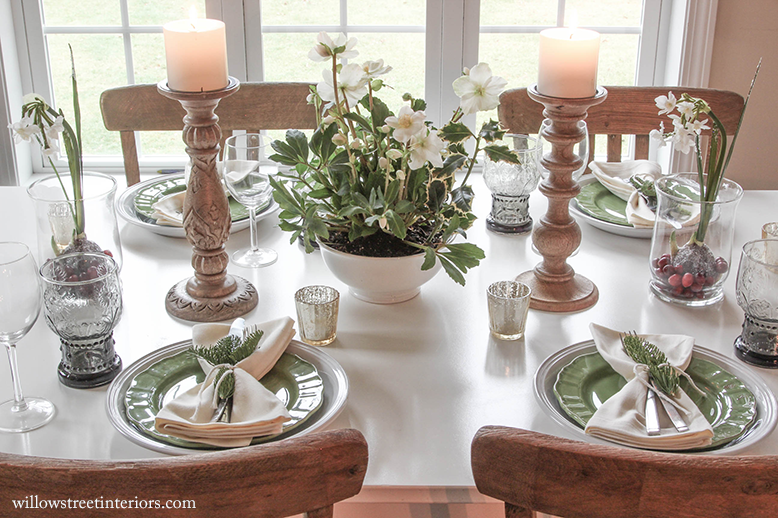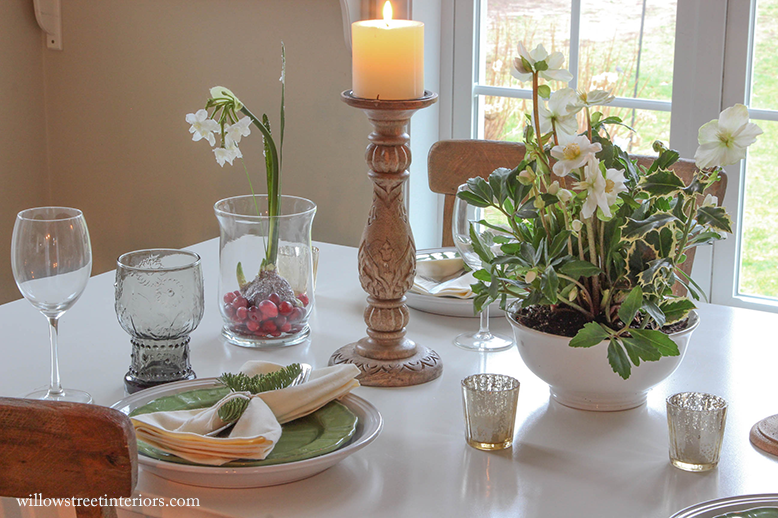 I kept the table setting really simple with my white dinner plates set beneath my smaller green ones.  I also used kitchen twine and a little spruce branch to add some Christmas cheer to the silverware settings.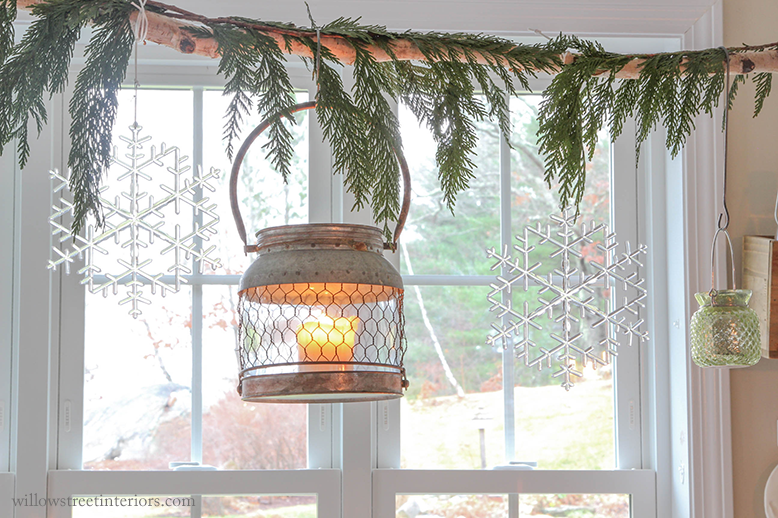 Instead of making an elaborate centerpiece, I decided to put the real focus above the table this year.  I hung a lantern, a couple of my dollar store snowflakes that I mentioned before, and a few votives from the birch branch.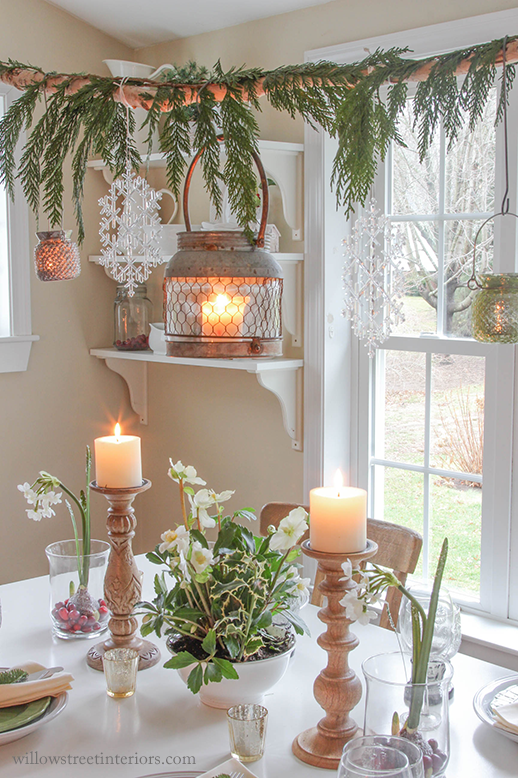 Whenever I use natural elements like birch, or the wooden pillar candle sticks that you see up there, I always balance it out with a little glam.  Rustic luxe.  You know?  A little rustic blended with a little sparkle.  It looks gorgeous every time!  I used those little mercury glass votives that you see hanging here, and the other small ones on the table to get that elegant but down to earth vibe that I absolutely love.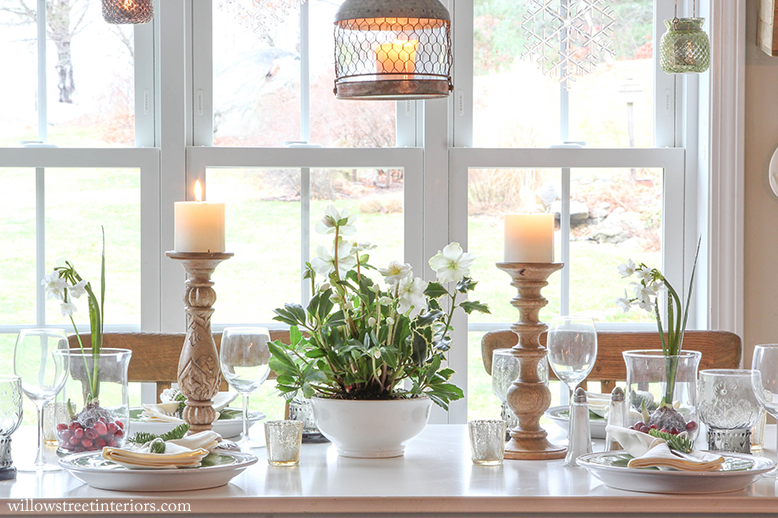 The flowers are a blend of real and faux.  Can you tell which is which?  This is actually something I like to do when I decorate as well.  Plants bring a room to life and gives it dimension.  I LOVE having real plants in my house, and I have lots, but I also like to blend in a few really good quality fake ones here and there to keep things looking fresh and vibrant year round.  Nothing ruins a space faster than a dying plant!  The real flowers are the ones in the center. I picked them up at TJ's last week, and planted them in one of my bowls with some pebbles at the bottom for draining purposes… The fake ones are those little narcissus bulbs to the left and right of the real ones!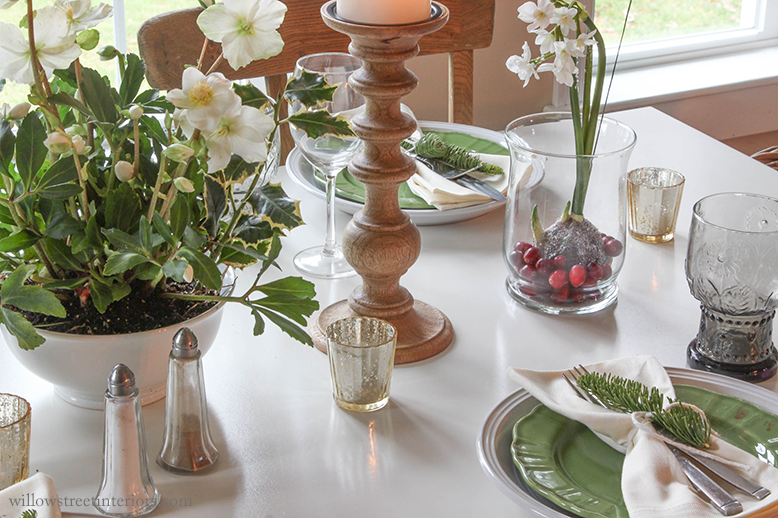 There's something so comforting about setting a pretty table every once in awhile.  I love doing them for holidays, but I have to say, I never set a table on the actual holiday.  I always do it the day before, sometimes even two days before!  Feeling stressed about setting the table just isn't worth it.  So, if I'm planning to do a special one, I always do it ahead of time, play some music, and take my time before all of the crazy cleaning/cooking starts!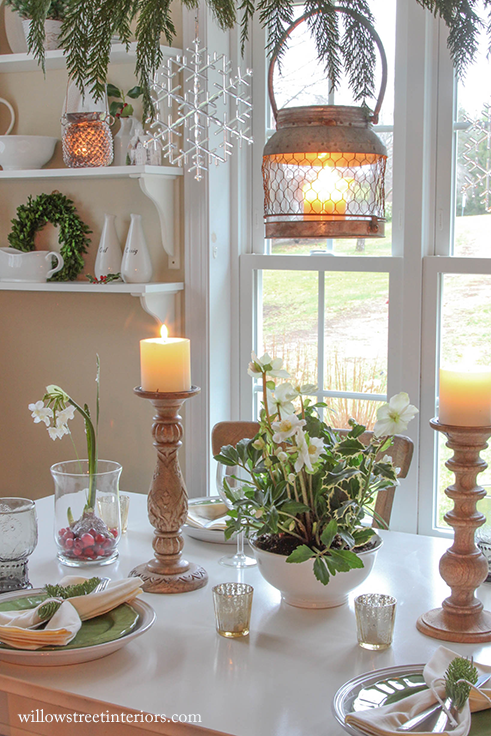 Well, I hope you all get any last minute shopping you may have left wrapped up as painlessly as possible!  I'm off to  clean up the mess Ayla made while I set the table and get dinner started. Oh, before I go though, I wanted to share this photo that I posted on Instagram yesterday.. I was trying to come up with something to write/draw on our chalkboard door last week, when Jenna swooped in and offered to make some pretty Christmas art of her own.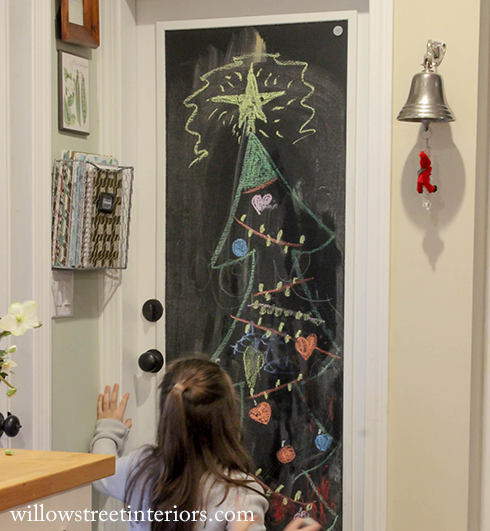 I love her and her little art projects.  Have a great weekend, Friends!
Laura ♥