Hello Friends!  I hope you've all been enjoying your week.  We've been feverishly working away on that little playroom project that I told you all about a few weeks ago, and guess what?  It's reveal day! I'm so excited to finally be able to share this project with you.  It's been a crazyyyy couple of weeks, and I feel like the worst blogger of all time!  I'm in awe of all of the talented bloggers who manage to get up 2 or 3 posts a week.  I feel like I've been getting posts up pretty much at the pace of a lazy snail.  Sorry about that, and thanks for putting up with me 🙂  I swear I haven't been being lazy!  I'm juggling a million different projects at the moment.  Ok, 3.  I'm feeling dramatic today.  But, honestly, it feels like a million!  And I'd also like to say thank you to all of you who've reached out to me this week with kind words and encouragement!  You've all made me smile and inspired me to keep at this blogging endeavor, so thank you ♥
But let's look at some of the adorableness, shall we?!?! Come on in to this sweet little space…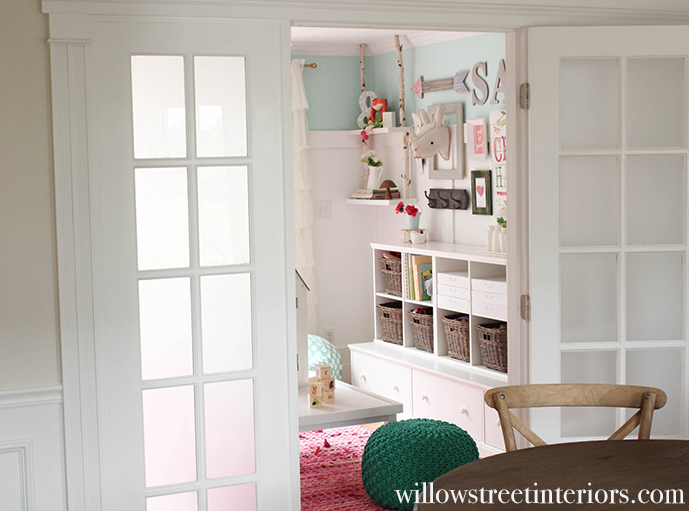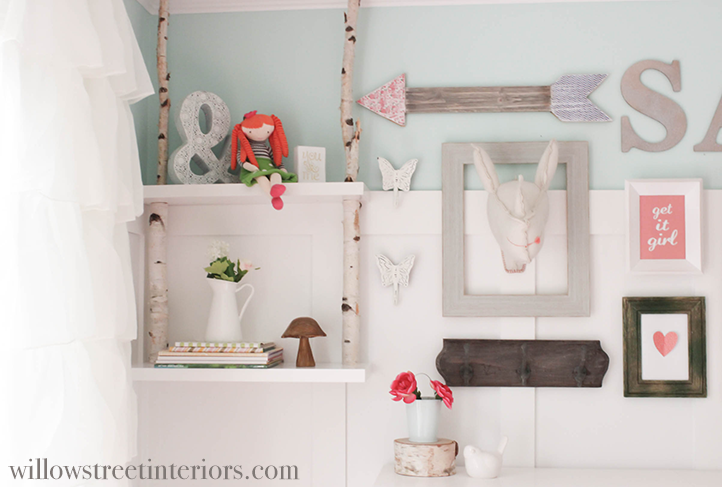 If you've been following along from the beginning, you may remember my design plan and me saying that I had a cool idea involving birch branches under way.  Well, here they are!  I'm so happy with how they turned out.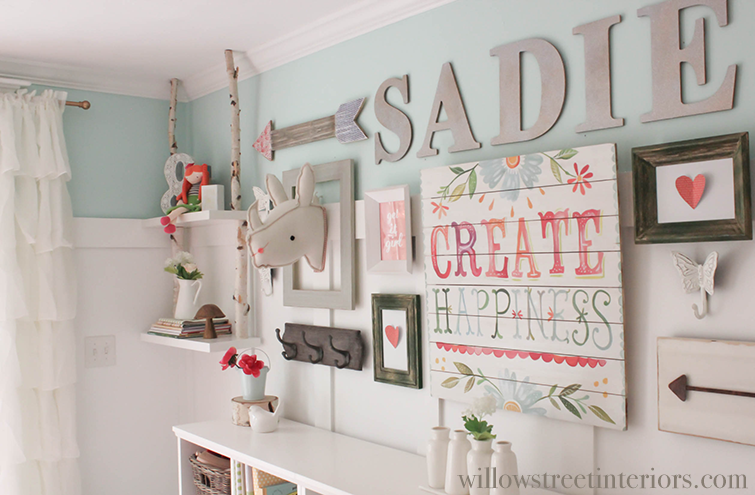 Aren't they adorable?! I love how the space is super girly and sparkly, but the birch branches kind of just keeps it real, right?
Do you remember that DIY wooden arrow tutorial I blogged about a couple of weeks ago? Well, here it is, up on the wall and looking pretty.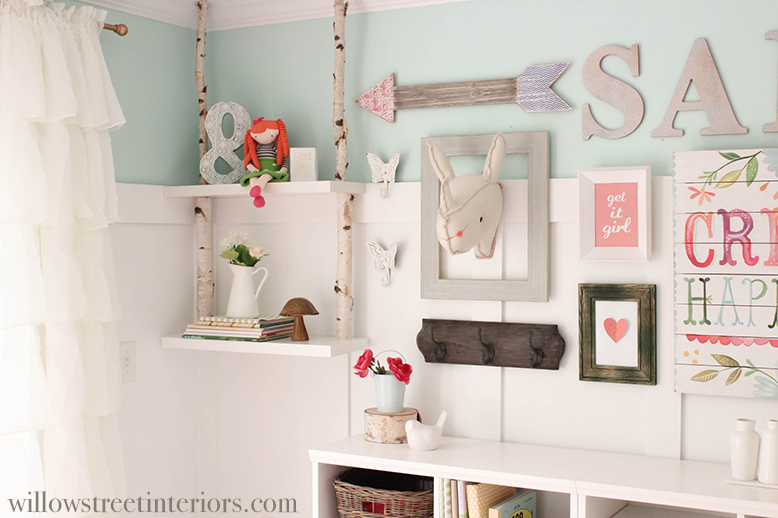 Here is what the whole space looks like…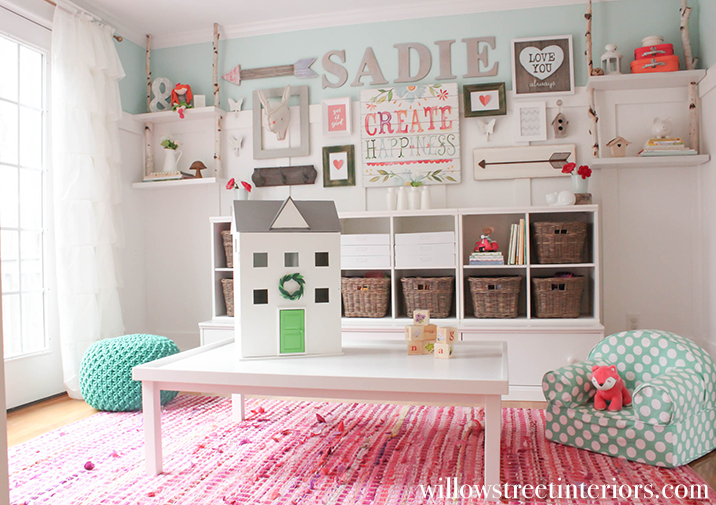 Isn't it just the sweetest? I'm loving the fresh colors and the playfulness.  Kinda makes me wish I was a kid again too 🙂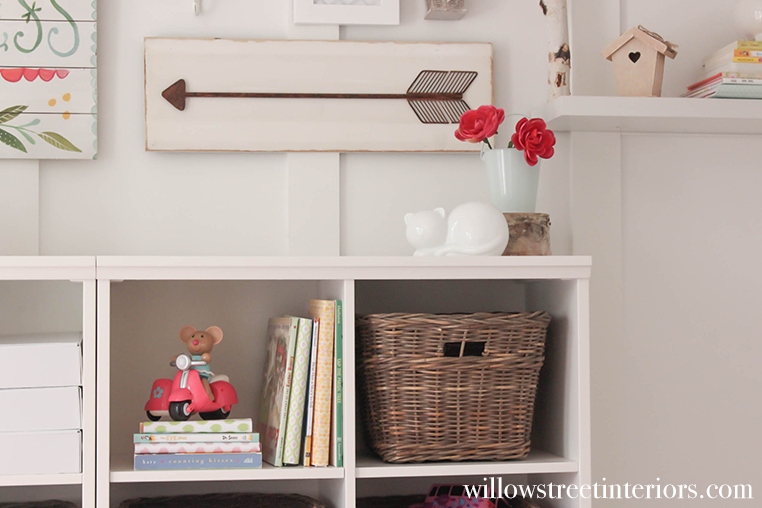 We didn't forget about Mom in this space either….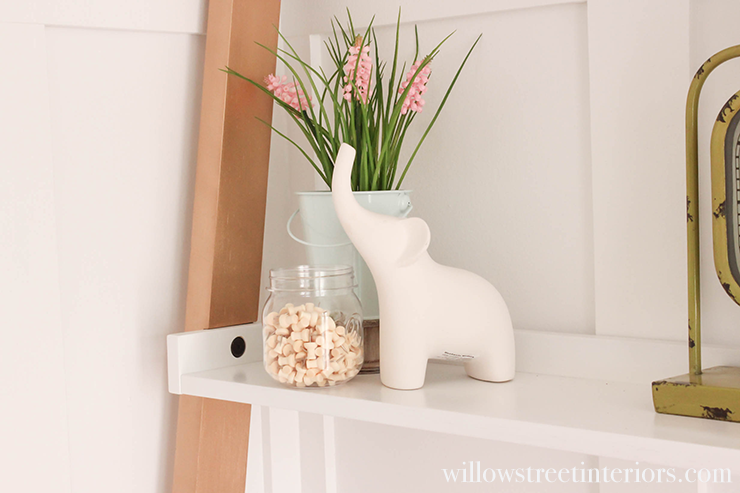 She gets a little corner just for herself!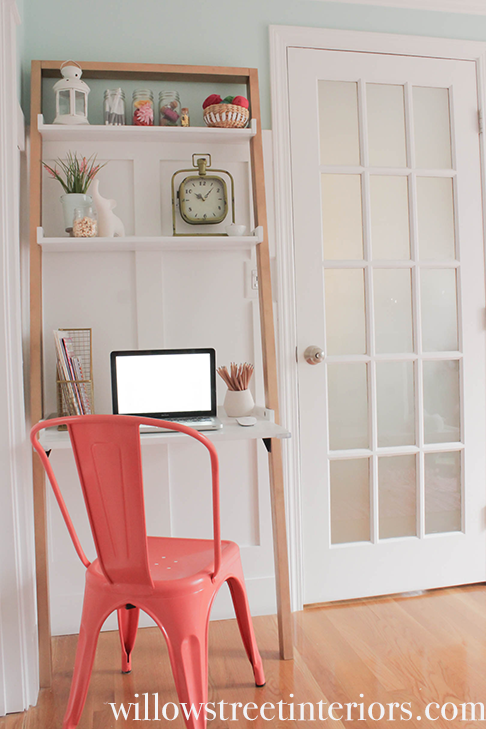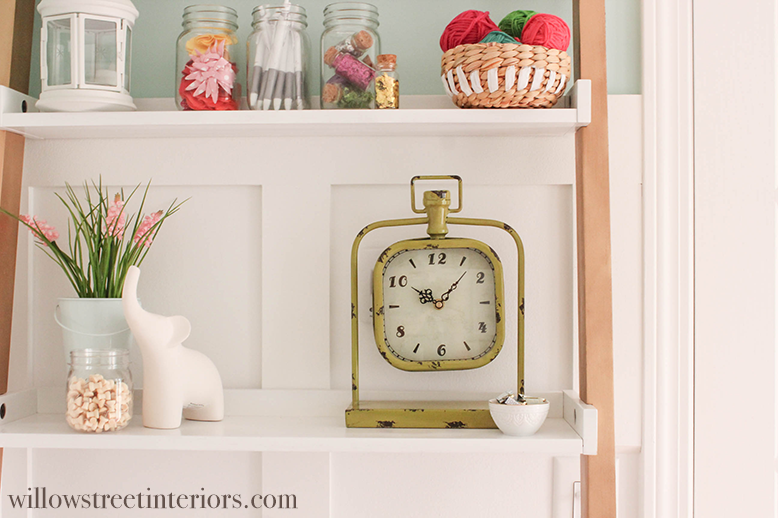 I am just so in love with this space, guys!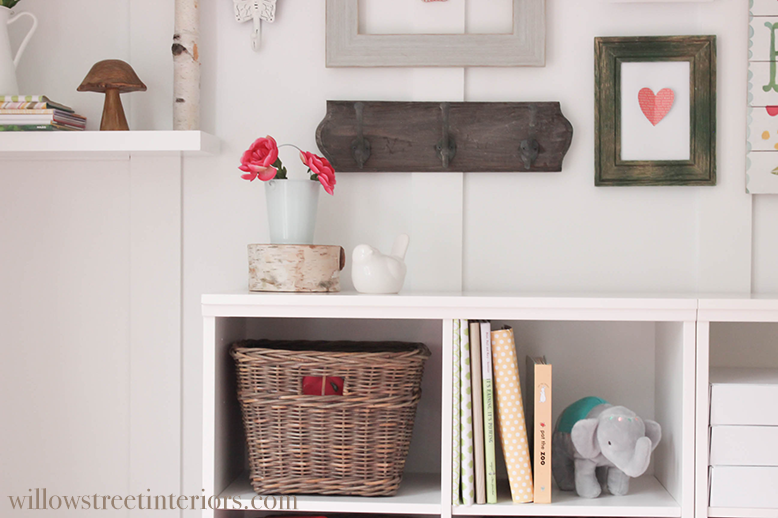 The flowers and those sweet, little hearts….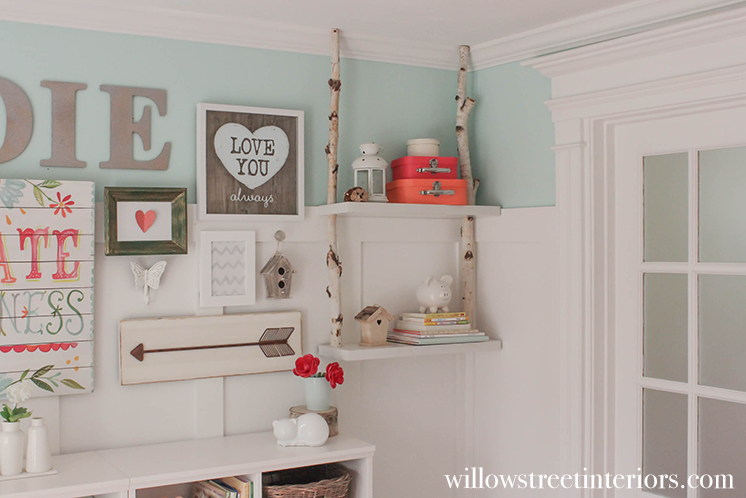 The 'love you always' art that I found at Homegoods, and that precious little kitten from Target…
The cutest doll in the world….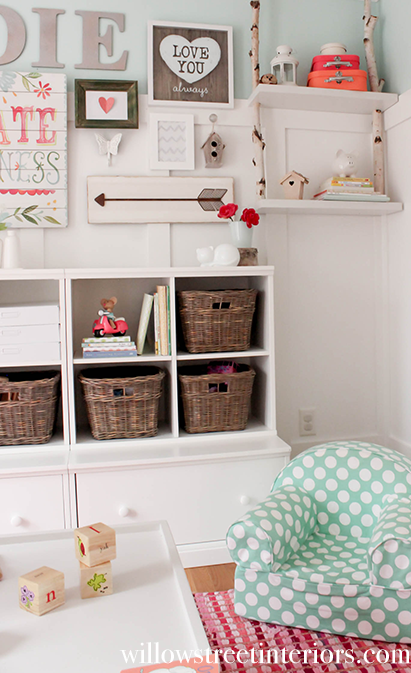 The polka dot chair…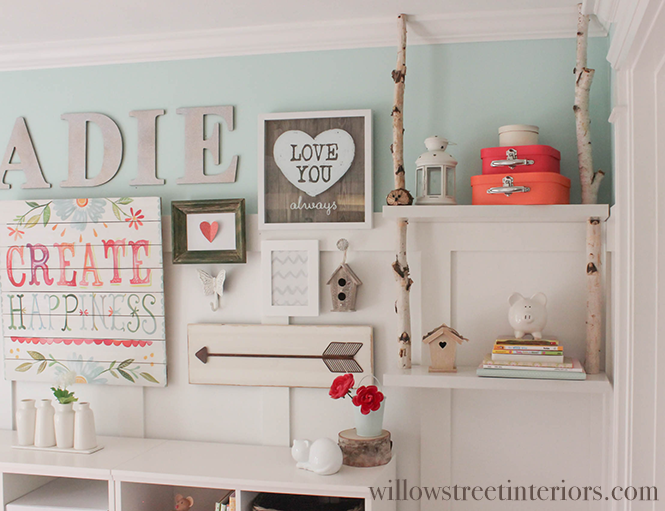 The vibrant nesting suitcases…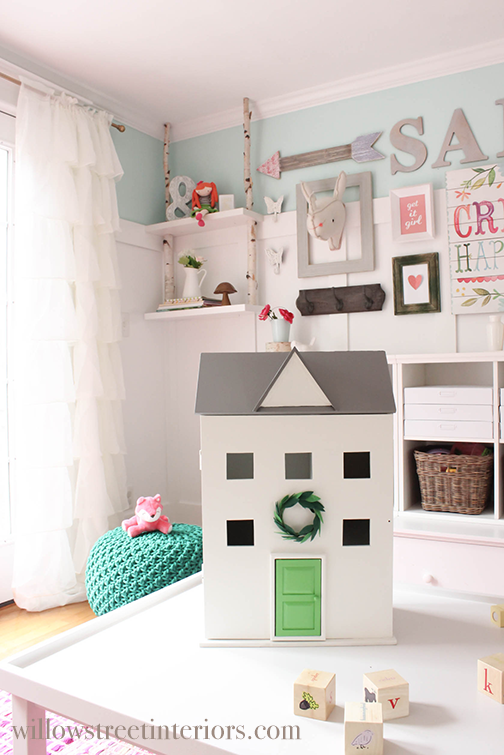 And the fabulous teal poof… All from Land of Nod!  But honestly, you know what I love most about this space?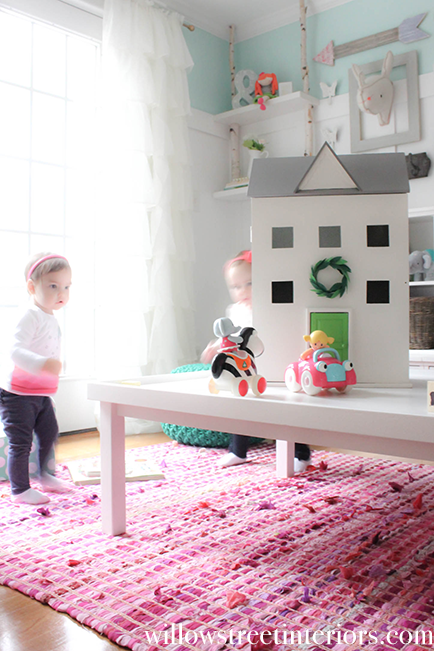 The precious kiddos, who mean so much to me, who are going to get to play here ♥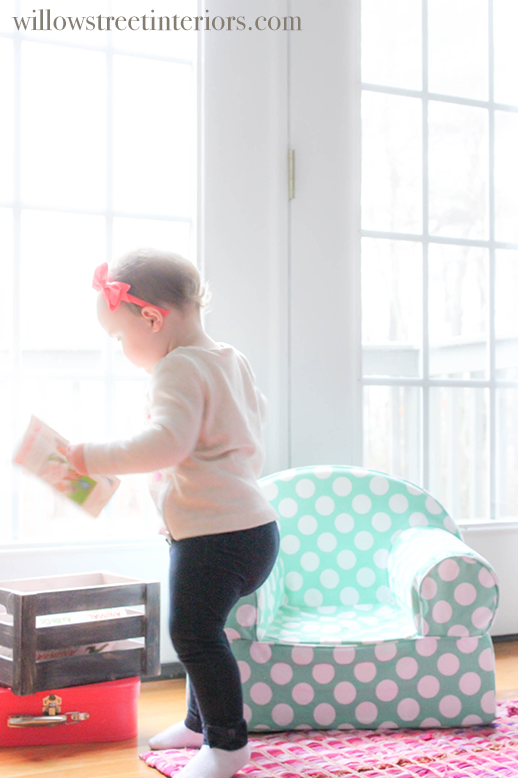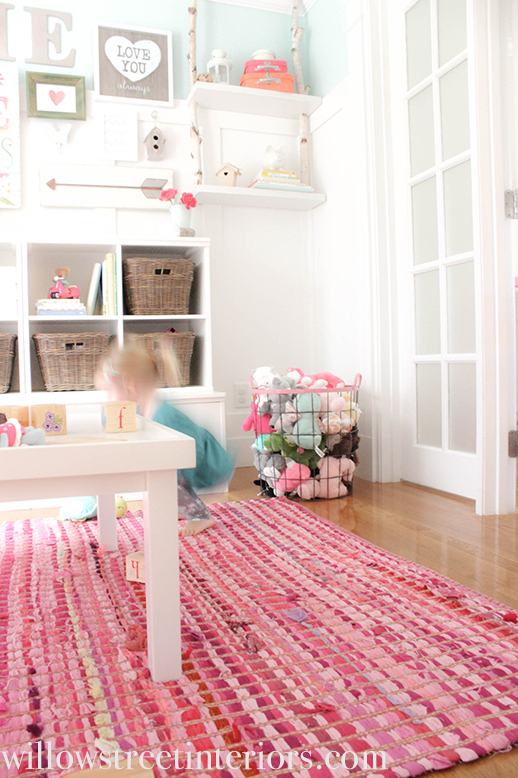 It's our precious babies that make all the craziness we go through so worth it, isn't it?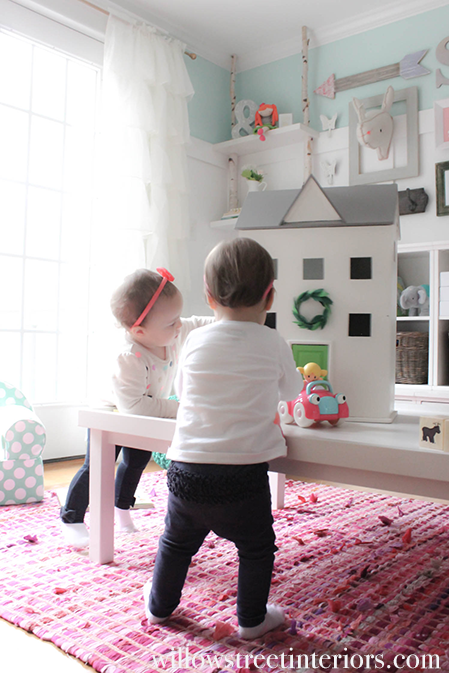 It took these three less than 5 minutes to tear all of this sweetness apart, and it was the Cutest. Thing. Ever.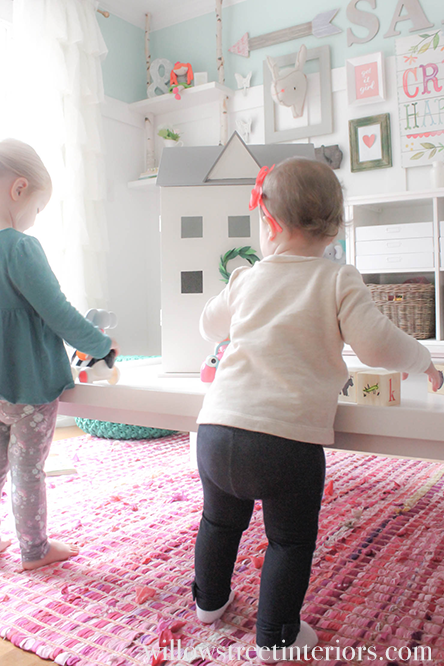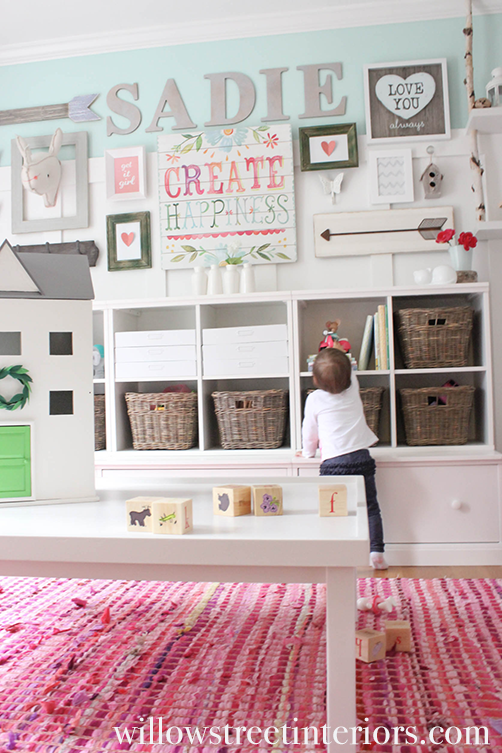 Guys, I hope you're all having a blessed week and are enjoying the small things.  This post and these photos took so long to edit and put up, so I'm off to spend time with my little sweeties before it's time for bed, laundry be darned! 🙂
Laura ♥