Is Fall in full swing where you are?  Pumpkins are popping up everywhere now, I've already had to bust out the echinacea tea, and our chestnut tree out front is dropping its leaves as I type, so fall's official in my book!
It's been a busy week around here… I won't get in to everything that's been happening because that would take way too long to get into, and I don't have a lot of time today.  All good things though!
You may remember my Franklin Project Reveal from a few weeks back..  If not, you can find the post here.  I was able to help the sweetest family transform a few different spaces on their first floor, and the before and after was pretty dramatic.  When we wrapped up in July, my client asked if we could schedule a Fall refresh for this month.  She didn't want to do a total overhaul; she was just hoping to add a few accessories to warm things up for the cooler months ahead.  So today, I popped in and did just that!  I wish I could have taken a few more photos, but I had to head out for a meeting.. I'm glad that I was able to snap a few though.  Here they are!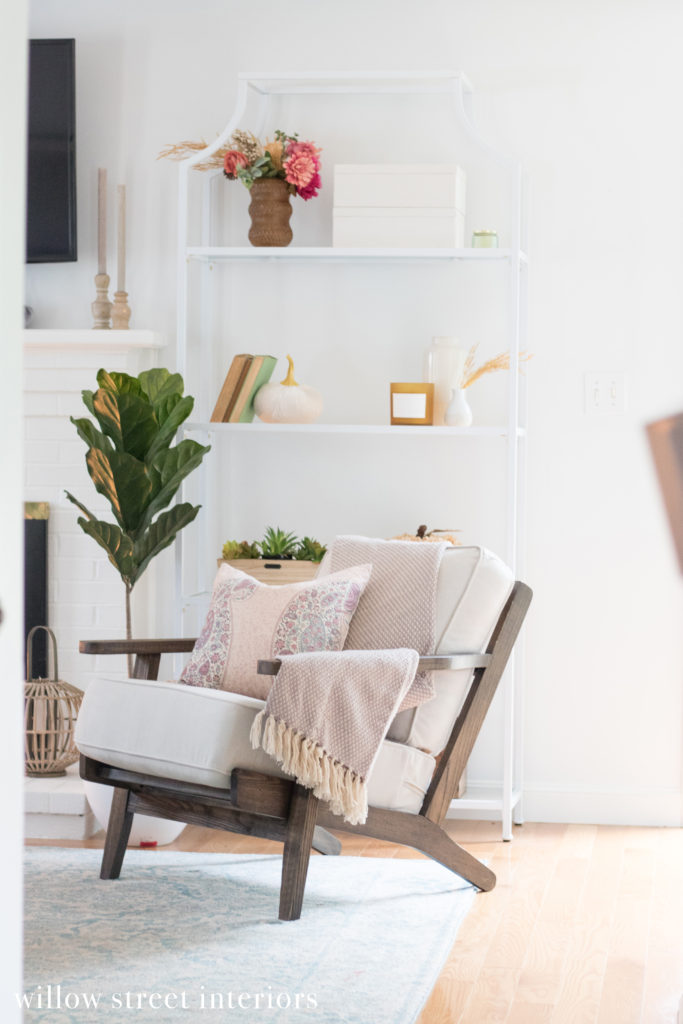 This is my favorite view looking in from the kitchen.  That comfy, casual chair – all the heart eyes.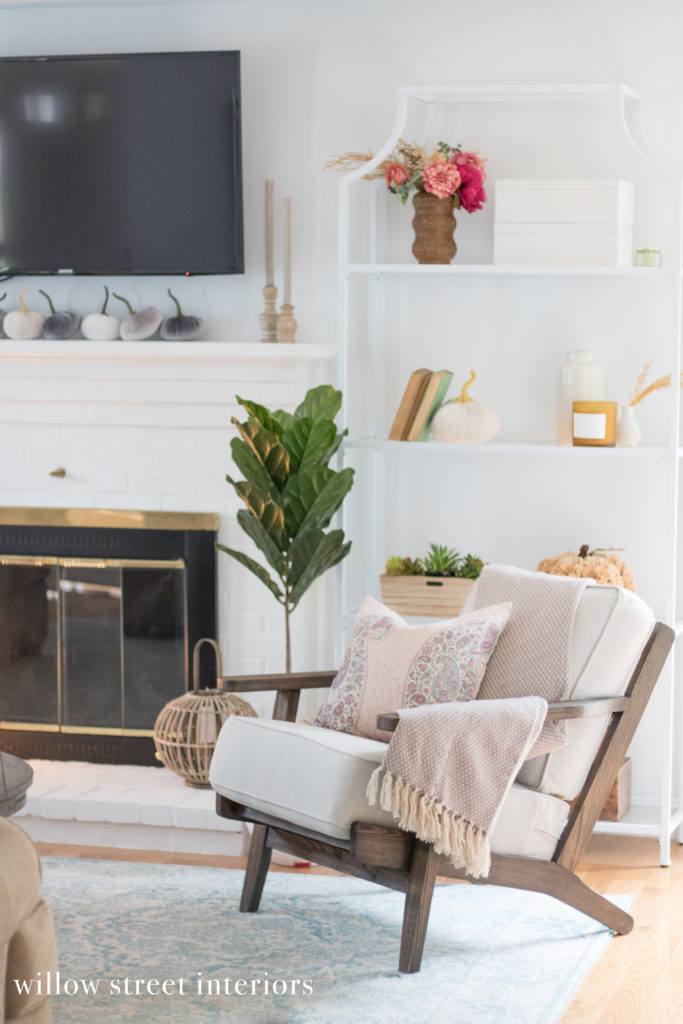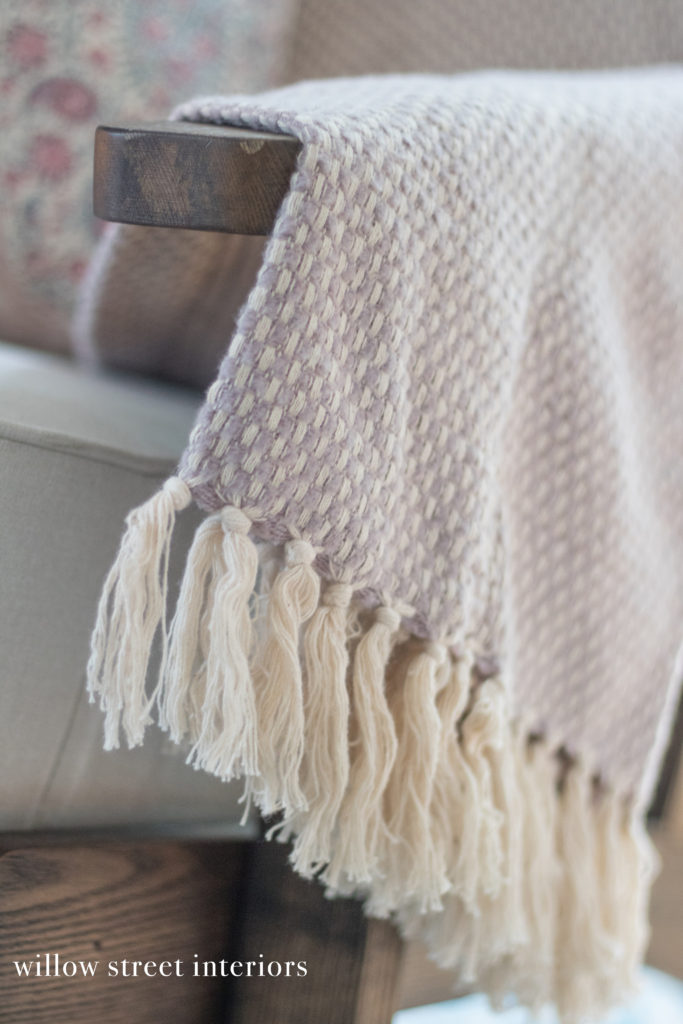 I swapped out their navy throw for this cozier lavender one.  I love the texture the tassels add.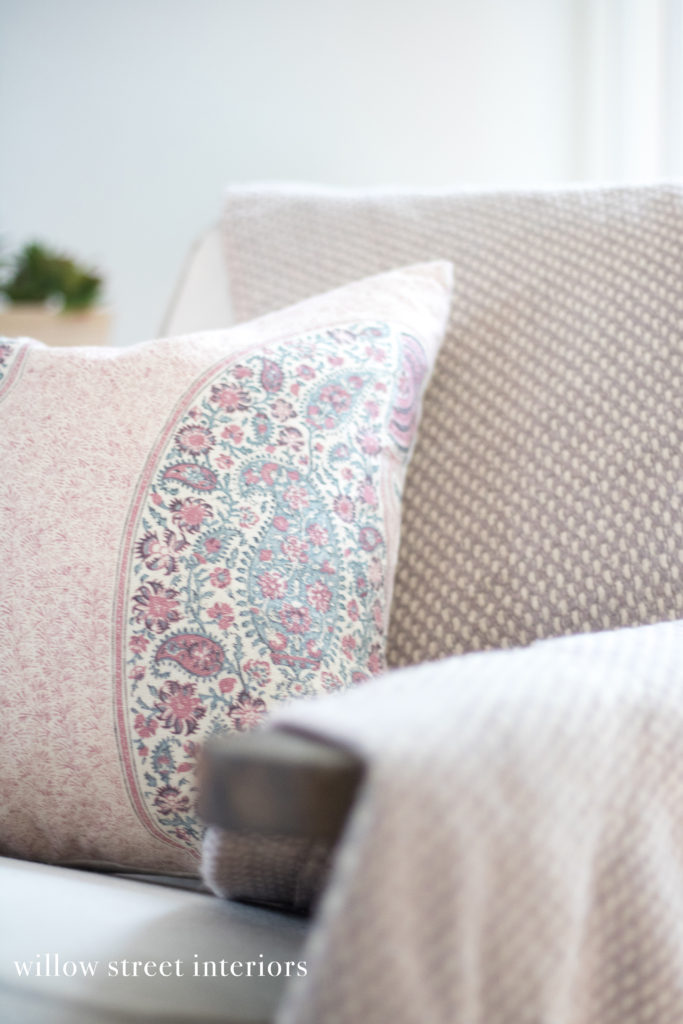 These pillow covers are my absolute favorites right now.  Aren't they so pretty? (They're linked in the look books below!)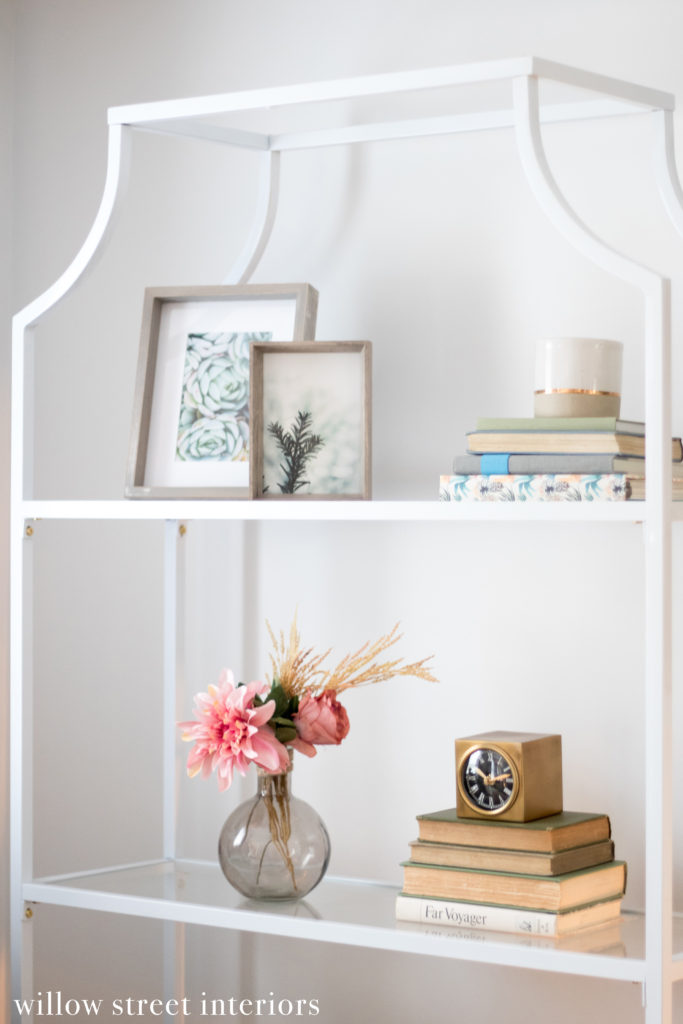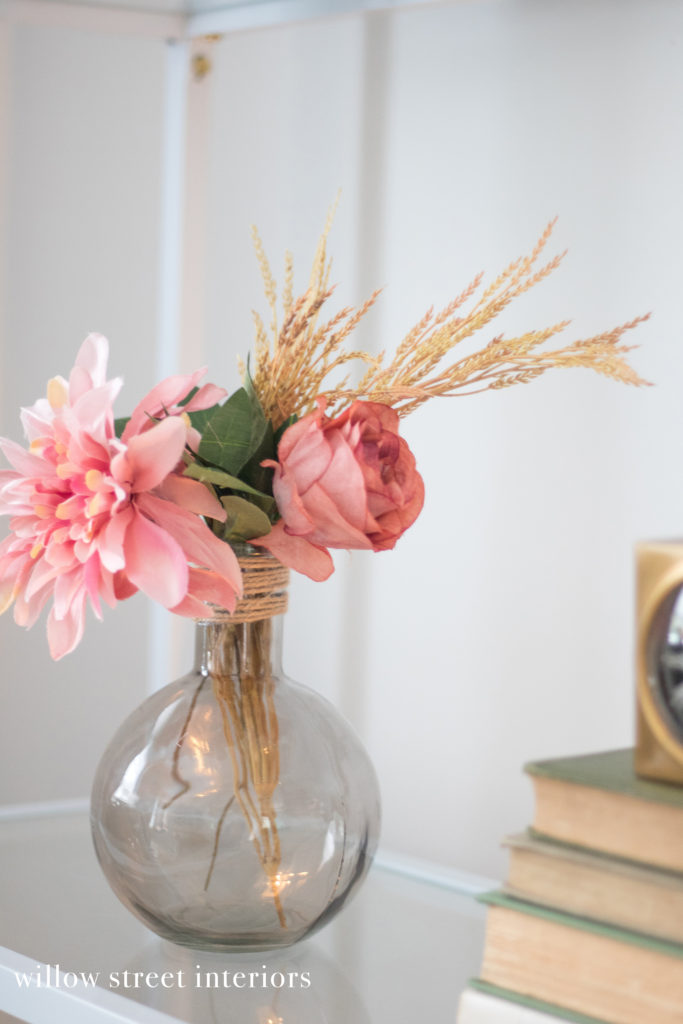 It's amazing what a few, small changes can make in a space.  I replaced the orchid that used to live here, with a pretty faux arrangement that I made – roses, chrysanthemums and a pretty dried grass spray.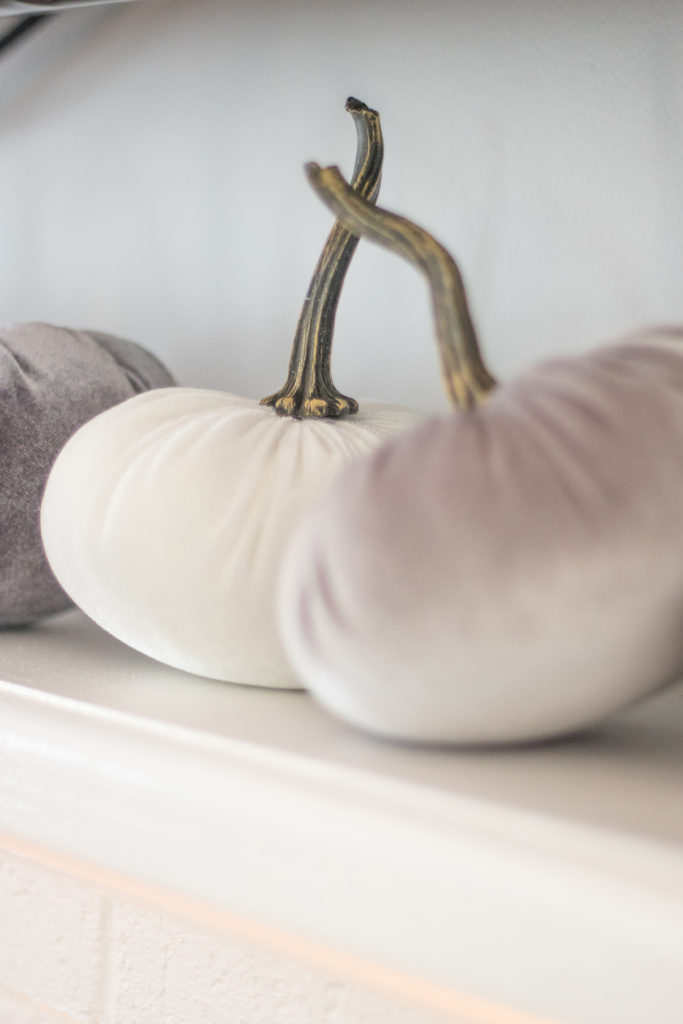 Because we just made over this space a couple of months ago, it was important to keep the color palette the same.  I typically try to make my textiles in my own home (throw pillows, throw blankets, etc) work for two seasons.  It saves money, but that's typically about how long it takes me to start craving a change too.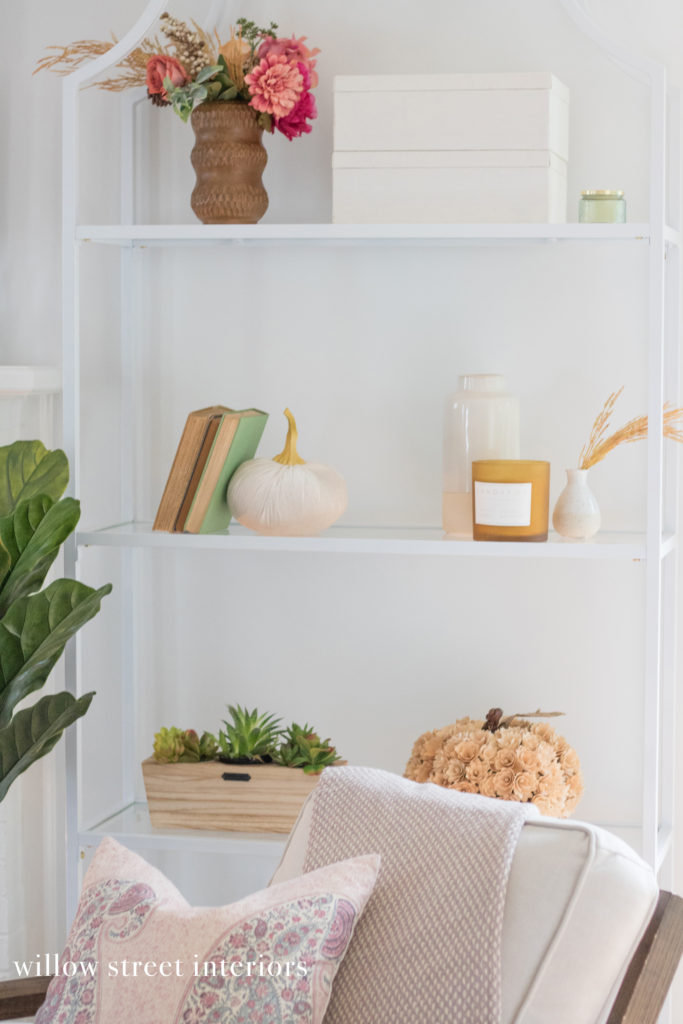 I swapped out some of the cooler neutral accessories that I had placed on their etageres for the summer, for some warmer, more textural accents.  Most of the accessories that I used were from either trade only resources or Homegoods, but I'll link what can be found online in the look book below!
GET THE LOOK
[show_lookbook_widget id="401726″]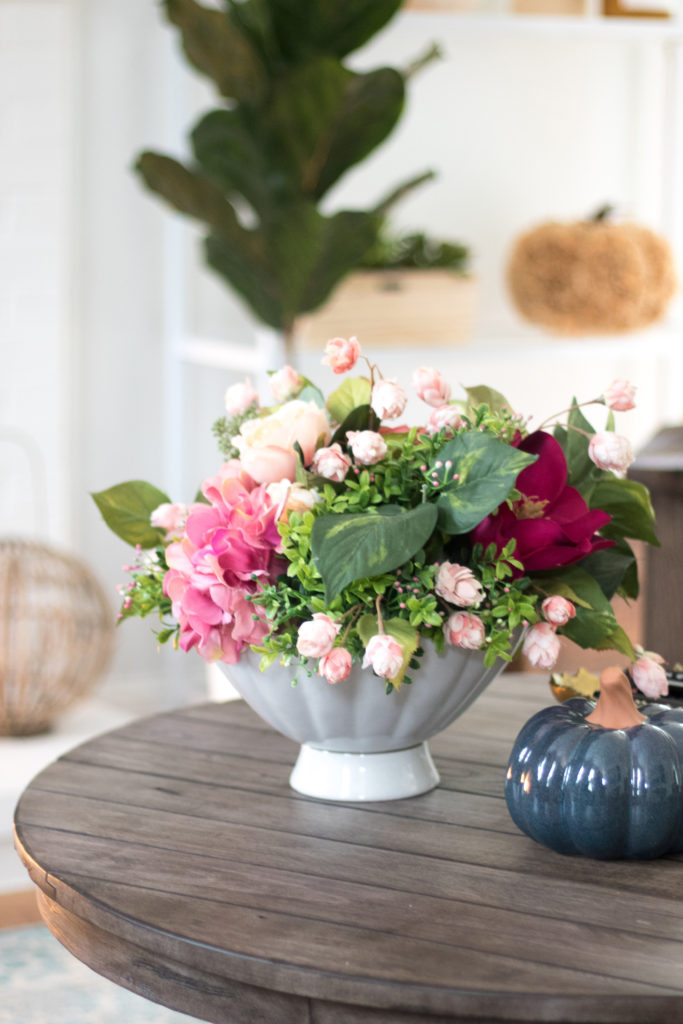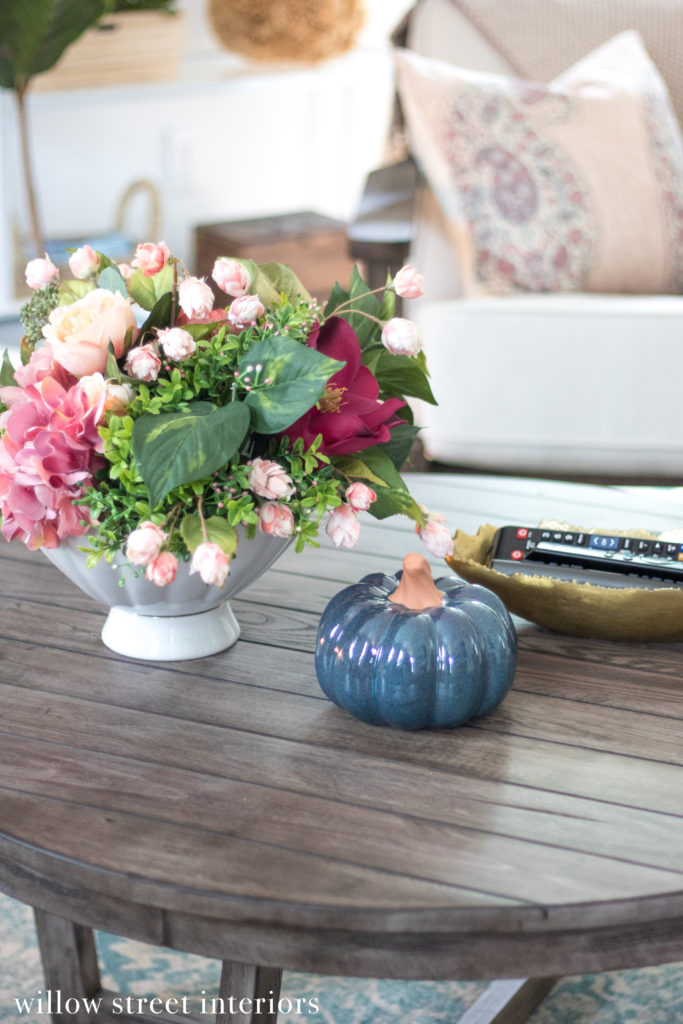 I made this arrangement for my client after the real one that I'd made her died.  She loved the real one so much, she asked if I could reproduce a faux version, and here it is!  I actually like how this one turned out better than the original.   …and I made a video of how I created this look too.  I'm going to try to figure out how to add it to the post, but if not, you can find it on my facebook page here.
GET THE LOOK
[show_lookbook_widget id="401728″]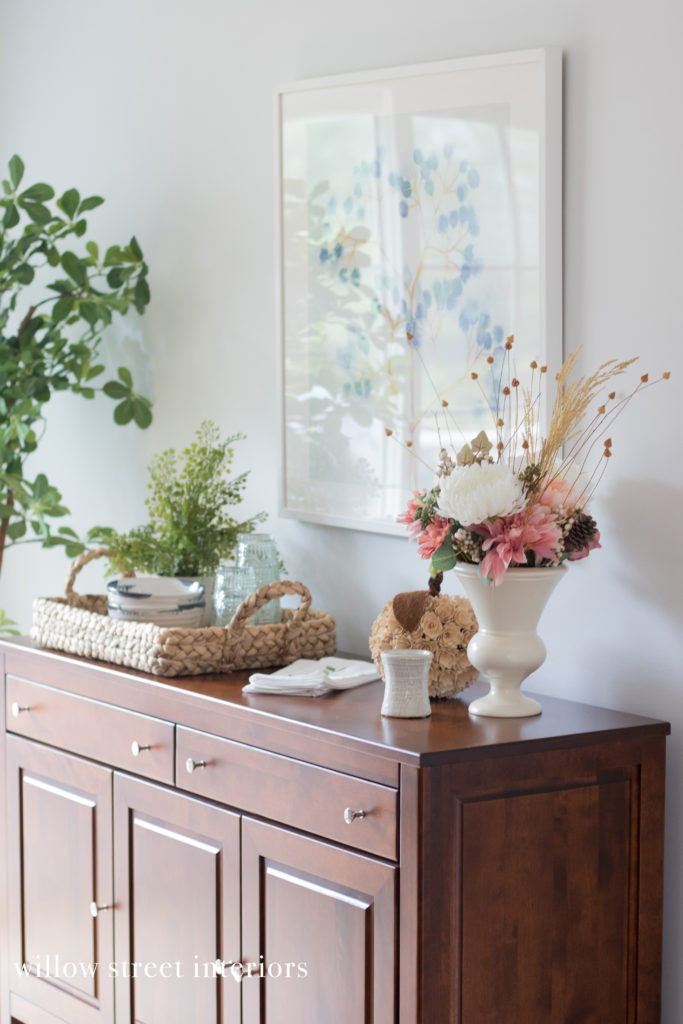 Over in my clients' breakfast nook, I created another faux arrangement, and swapped out the other accessories that I had here this summer, for this pretty wooden pumpkin and a candle.  I'm loving the sweet and simple fall look!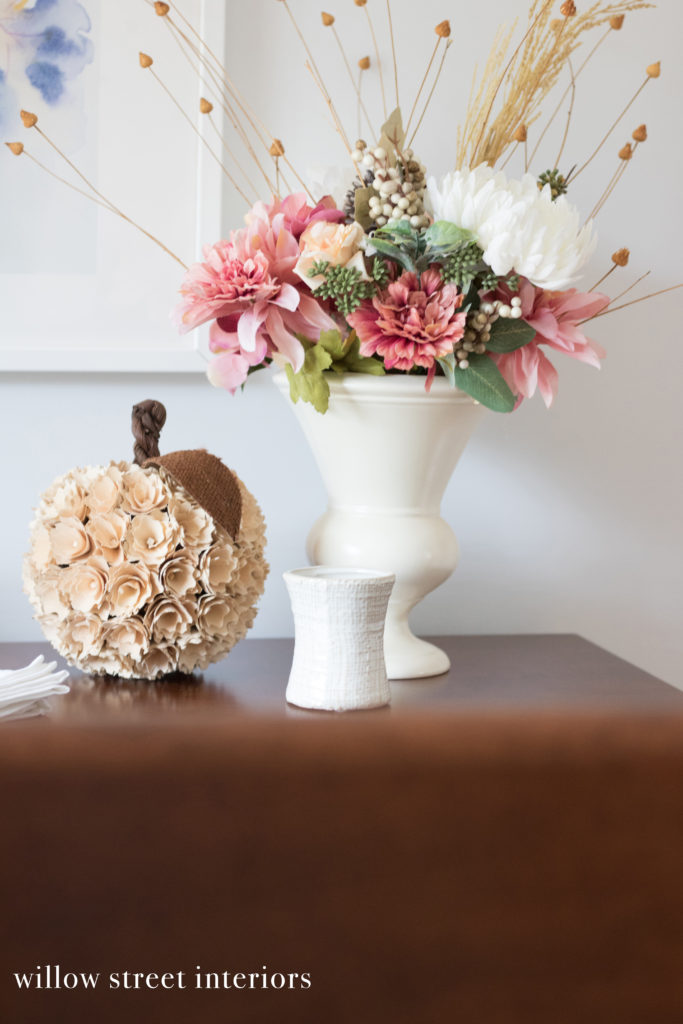 If you want to see more photos of these spaces, the before and afters from the original project, or just want to compare what's been swapped around, check out my original reveal post here.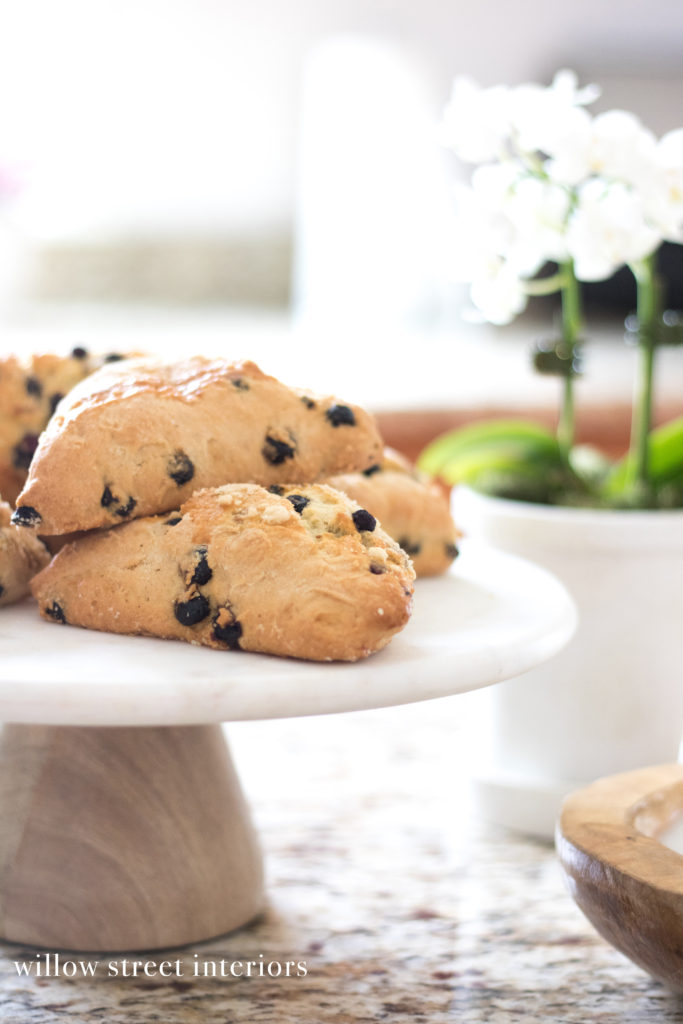 These clients have literally been a dream to work with, and I'm so grateful to have been a part of their home journey.  The best way to say thank you?  Scones, I think.
I don't have any more slots for Fall Styling available for this season unfortunately, but we can schedule your Christmas Styling or Thanksgiving Tablescapes now.  Click here for more info!
Have a great week everyone!  Oh, and I'll be sharing my own fall house tour first thing tomorrow morning, along with loads of amazing ladies, so don't forget to swing by!
Laura ♥
GET THE LOOK
[show_lookbook_widget id="401729″]