I'm kicking off fall with some of my blogging friends as part of the Krista over at The Happy Housie's Seasonal Simplicity Series today! We're all sharing some of our favorite cooler weather recipes, and you don't want to miss what everyone is sharing down below. They all look so delicious, and I want to try them all!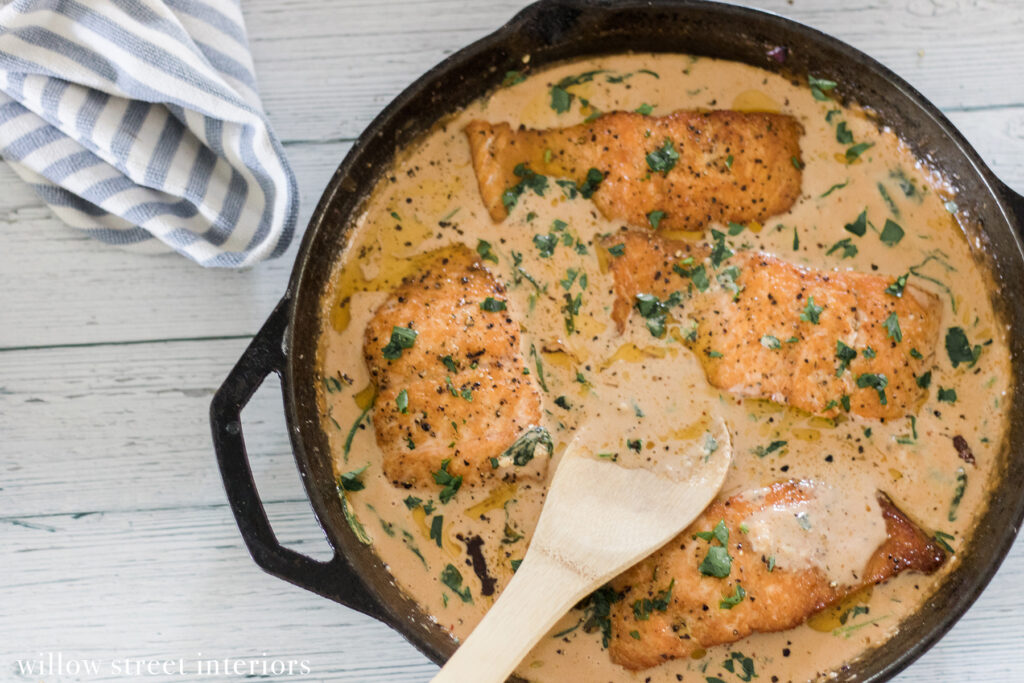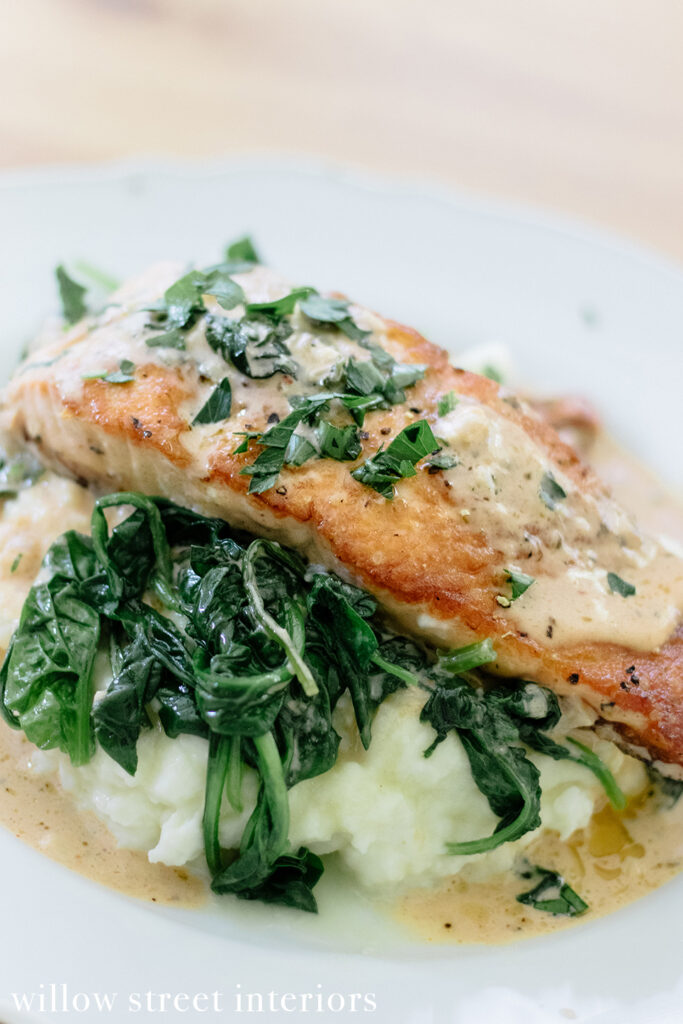 Years back, my husband and I went to Quebec City for my birthday, which is in January. We'd gone years before to ski Mont-Sainte-Anne and Le Massif with my brother and sister in law, and knew we wanted to go back in the winter again at some point, so we used my birthday as an excuse and headed north. It's just the most magical city in the winter. All of the restaurants and store fronts are lit up with twinkle lights, and everything seems to be permanently dusted in snow.
…None of which has anything to do with fall, but it has everything to do with this recipe!
I can really geek out over history too, and Quebec City is like a giant living history museum. It's one of the only cities in North America that's preserved its ramparts, and is full of old beautiful gates and bastions.
We stayed in the upper town, at the Hotel Manoir Victoria, which was right in the center of the historic district, and walking distance to so many incredible restaurants. My favorite dining experience was at a quaint, little corner restaurant called Portofino.
I'd just recently found out that I had celiac, and needed to eat gluten free and was super bummed to find out that they didn't have a gluten free menu. The waiter said he'd go back and talk to the chef, who came out to ask me exactly what I couldn't eat. He told me not to worry (in the most endearing French accent) that he'd make something delicious for me, and he left!
It caught me a little off guard to have him walk back into the kitchen without giving me any sort of clue as to what I'd be eating that night, but his confidence commanded my trust, so I went with it lol.
He came back out with the most incredible salmon dish I've ever had In. My. Life. The fish was succulent and crispy, and laid over a bed of mashed potatoes and wilted spinach. And then was topped with silky, velvety, saucy perfection.
I worked at recreating it when I got back home, because there was no way I could live without this meal in my life. I can't say it's as perfect as his was, but it's pretty darn heavenly! When we feel like something lighter, I substitute the cream for equal parts coconut milk and coconut cream, and substitute a few tablespoons of nutritional yeast for the parmesan, which is also super delish! (Just add a little extra salt and red pepper flakes if you make this version) This is one of our favorite comfort food meals, and I hope you all love it as much as we do. Tag me and let me know what you think if you try it! (You can find me here on Instagram and here on Facebook!)
XO, Laura
Crispy Salmon with Sherry Tomato Cream Sauce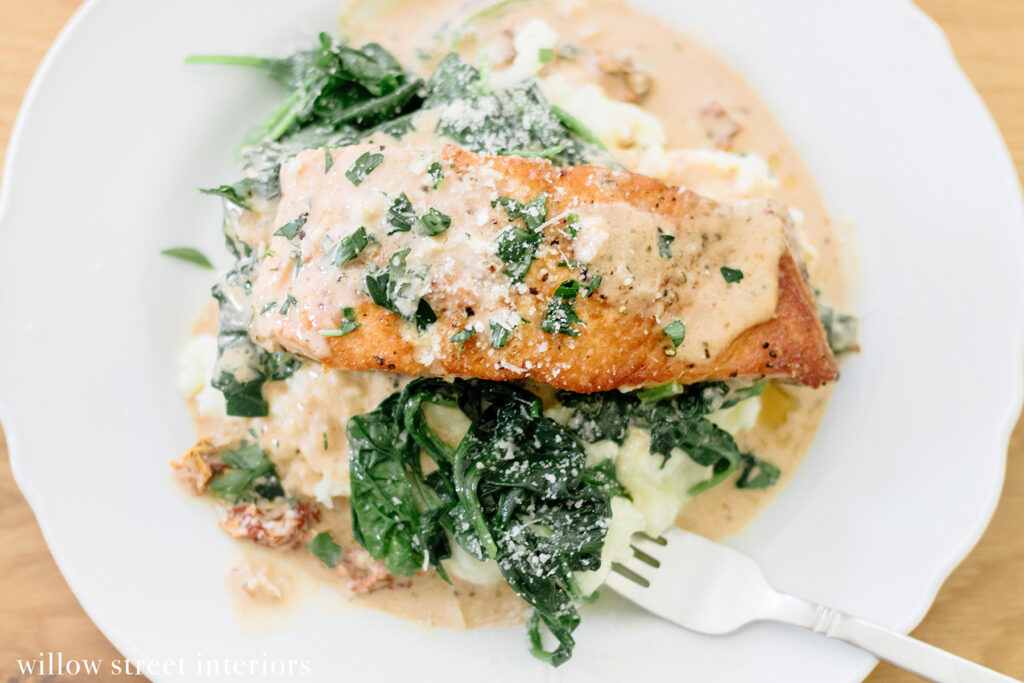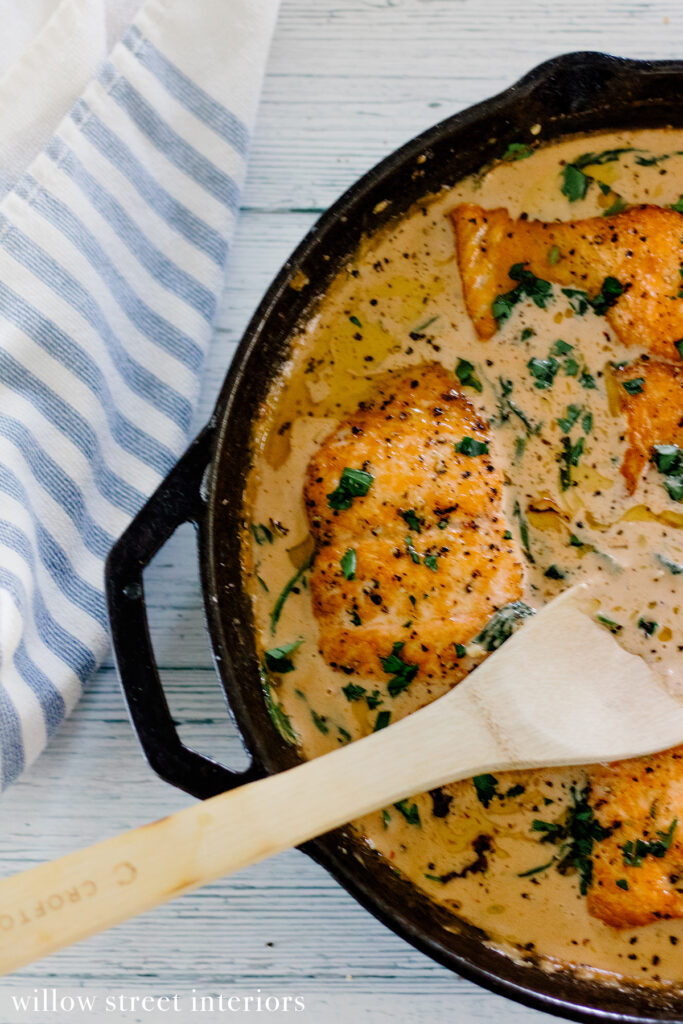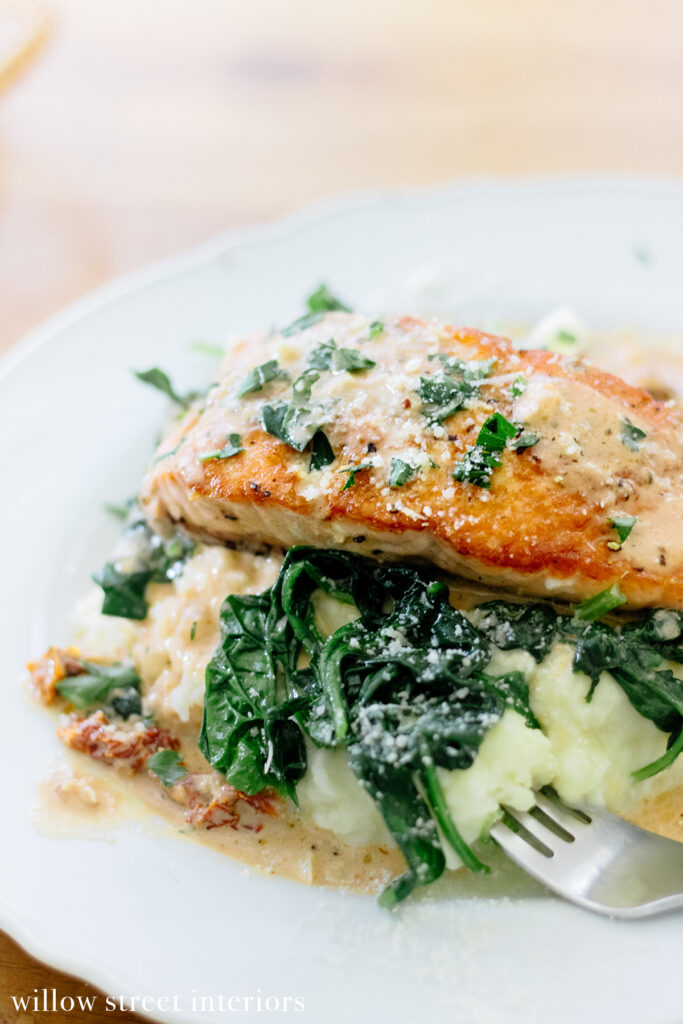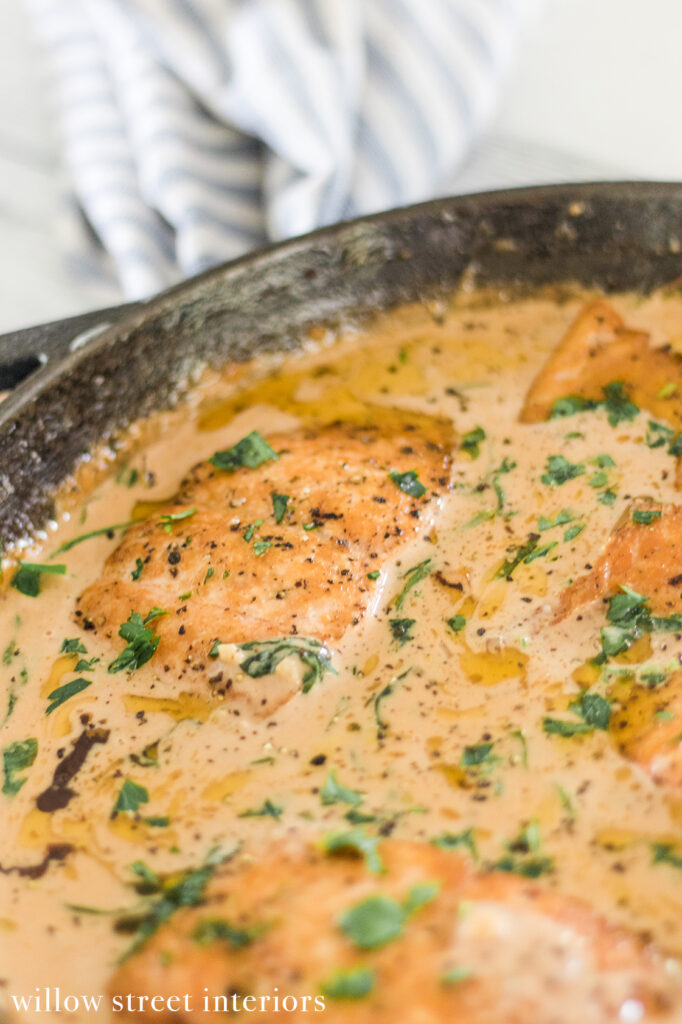 4 – 6 salmon fillets, skin on
Salt and pepper
1 teaspoon olive oil
4 tablespoons butter
9 cloves garlic, minced
1 small yellow onion, finely chopped
2 teaspoons dijon mustard
1 teaspoon Aleppo pepper or red pepper flakes
1/4 cup jarred roasted red peppers, drained of oil and chopped chopped (you can also use a jar of pimiento peppers, drained)
1/4 cup tomato paste
1 teaspoon garlic salt
1 cup sherry
4 cups heavy cream
2 cups fresh spinach
1/4 cup grated Parmigiano Regiano, plus more for garnish
1 bundle fresh thyme
1 tablespoon fresh parsley chopped
INSTRUCTIONS
Season the salmon filets with salt and pepper, and sear in a very hot pan, flesh-side down, for 5 minutes, or until cooked about 1/3 of the way through. Flip carefully and sear skin side down for another 5 minutes, and set fish aside.
Over medium low heat, melt the butter in the pan juices. Add in the onion and sweat until it's translucent. Add the garlic until fragrant (about one minute). Season lightly with salt and pepper, add red pepper flakes, and thyme bundle (you'll pull all of the thyme out later, so you don't need to chop it. Add the sherry, scraping the bottom of the pan to loosen the dried on bits, and reduce for 2 minutes.
Reduce heat to low heat, add the cream, and bring to a simmer. Don't boil or your sauce may separate. And season lightly with salt and pepper to your taste (you'll add parmesan later, which is salty, so keep this in mind). Let reduce about 8 minutes, stirring occasionally.
The sauce should be thick at this point but, but if it isn't, reduce a few minutes longer
Remove all of the thyme and discard
Whisk in the tomato paste, dijon mustard, and garlic salt.
Add the roasted red peppers and the spinach leaves and allow it to wilt.
Gently stir in the parmesan until it melts. Check for seasoning.
Add the salmon back into the pan, simmer one minute longer, and serve over a bed of mashed potatoes and sautéed spinach!
Don't forget to check the rest of these yummy recipes! Pin now and make them later!
Low-Carb Keto Blackberry Muffins at The Happy Housie
Goat Cheese Stuffed Figs at Finding Silver Pennies
Almond Twist Bread at Place of My Taste
Slow Cooker Apple Butter at Life is a Party
Puff Pastry Apple Tart at Modern Glam
Easy Pumpkin Dessert at Clean & Scentsible
Sweet Potato Casserole at She Gave it a Go
Easy Apple Spice Bread at Jennifer Maune
Easy Apple Muffins with Crumb Topping at The DIY Mommy
Rustic Mini Apple Galettes at Tatertots and Jello
Pumpkin Chocolate Cheesecake Bars at Maison de Cinq
Pumpkin Sheet Pan Pancakes at A Pretty Life in the Suburbs
Delicious Beef Bourguignon Recipe at Paint Me Pink
Hearty Autumnal Yam Soup at This is Simplicite
Apple Pie Chia Pudding at Cherished Bliss
Baked Brie with Blueberries and Bacon at This is Our Bliss
Salmon with Sherry and Tomato Cream Sauce at Willow Street Interiors
Fall Pumpkin Coffee Cake Muffins at Inspiration for Moms
Baked Zucchini Donuts with Vanilla Glaze at Satori Design for Living
Pecan Spice Biscotti at My Sweet Savannah
Best Homemade Lasagne Recipe at The Handmade Home
Crispy Parmesan Fried Zucchini at Two Twenty One