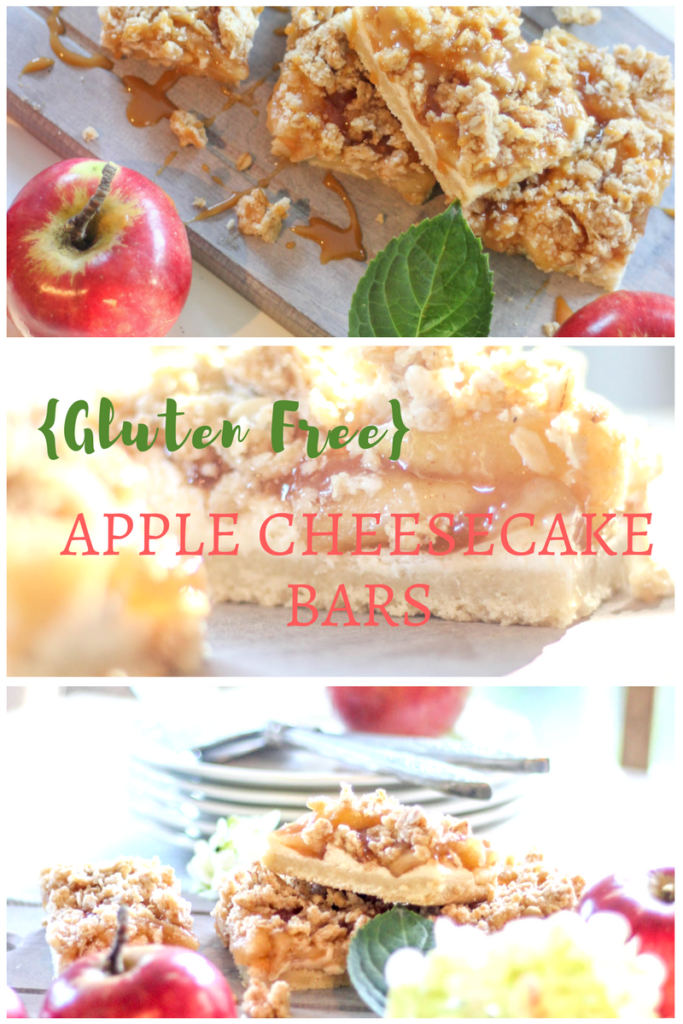 We're celebrating Jenna's birthday on Saturday, but I couldn't let her actual birthday go by without a special birthday treat.  She chose these yummy apple cheesecake bars that I started making long before going gluten free 7 years ago.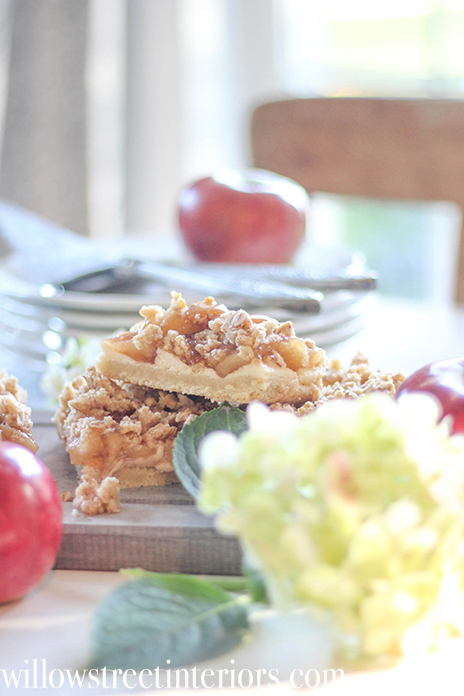 I can honestly say that the gluten free version tastes exactly the same as the regular one, and the substitutions are 1:1.  So you decide!  Gluten free or not, these bars are amazingly easy and super delicious.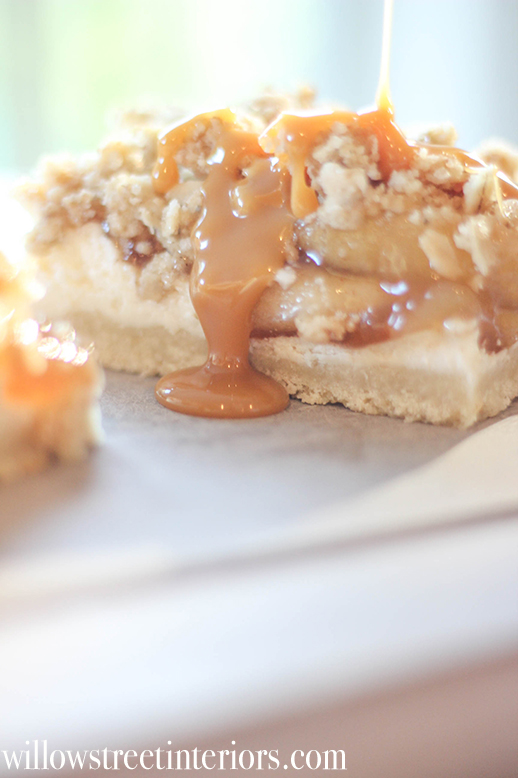 I drizzled them with caramel today to enthusiastic little reviewers, but I normally just dust them with powdered sugar and serve them up with cinnamon whipped cream.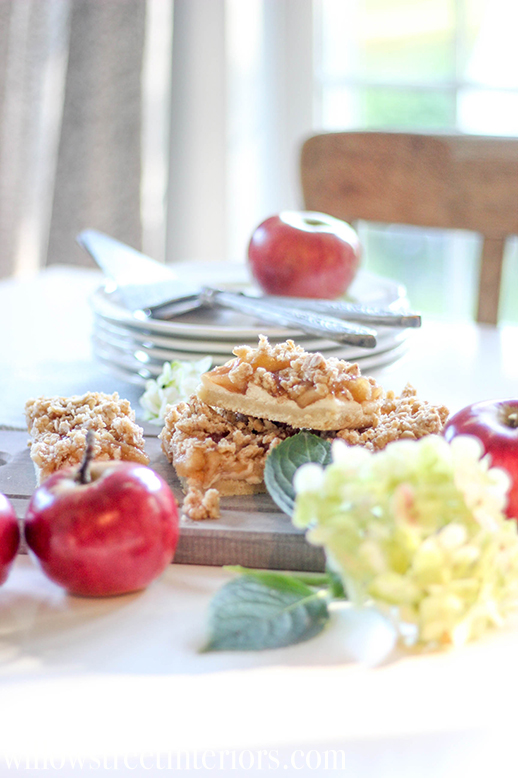 Either way, I think you'll love them!
Oh, and isn't this serving board so pretty?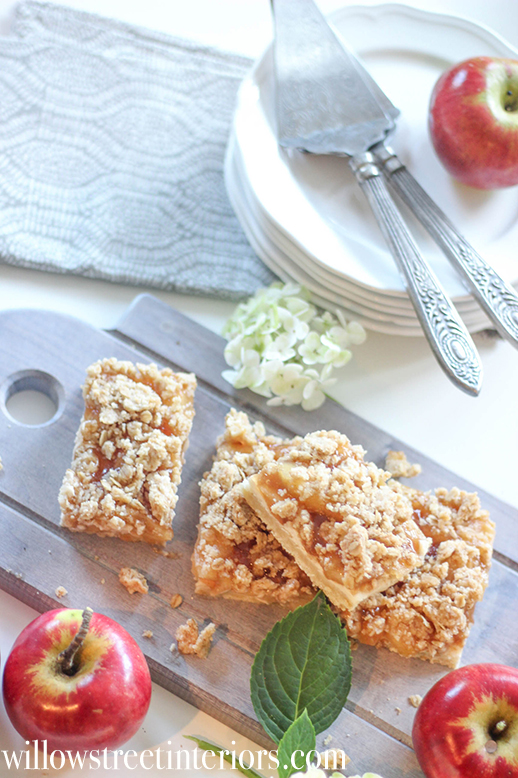 It's mady by J.K. Adams Company in Vermont.  They sent one to me this week and I'm IN LOVE!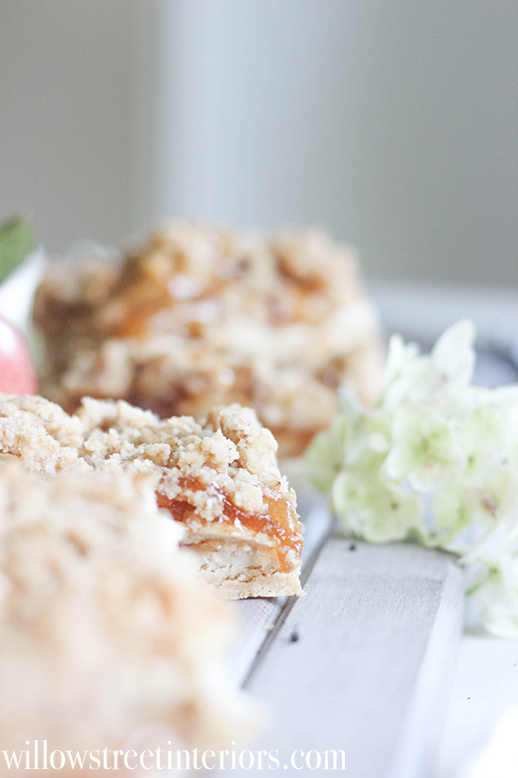 They also made the cutesy cow cutting boards that you've probably seen a million times in my kitchen by now too.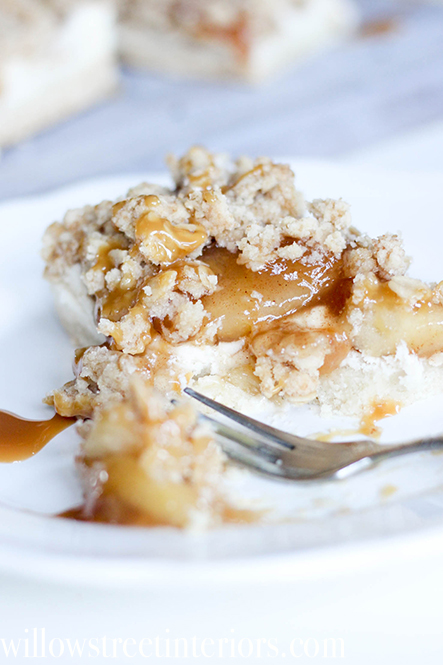 Well, friends, I don't have much time tonight.  We actually have TWO parties on Saturday – one for Jenna's friends and one for family, and there's lots to get ready before then.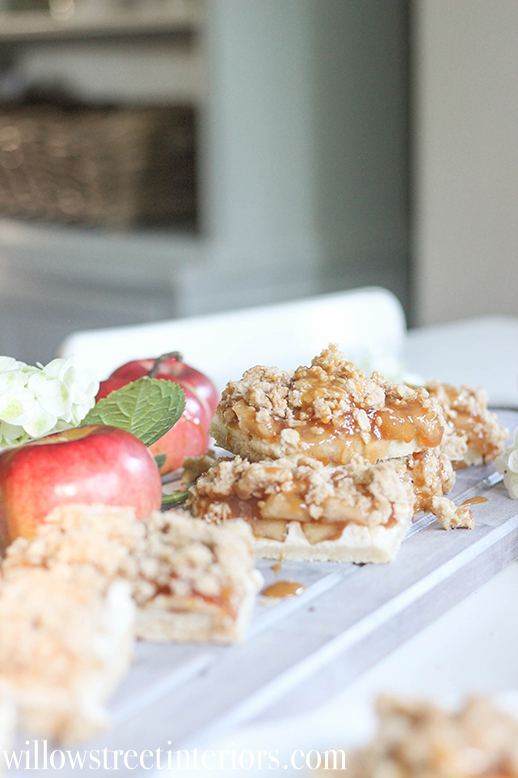 Let me  know if you make these; I'd really love to hear how they turn out and how you like them!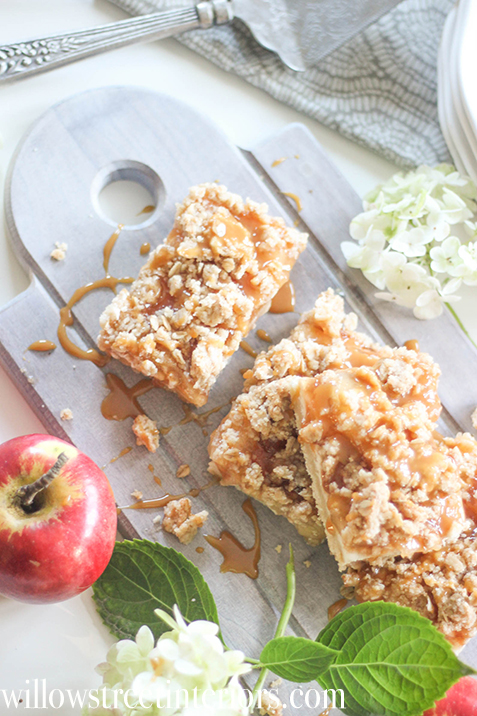 Apple Cheesecake Bars
2 ½ cups King Arthur Gluten Free Baking Mix
⅔ cup granulated sugar
1/4 teaspoon cardamom
3/4 teaspoon salt
16 tablespoons (2 sticks) unsalted butter, softened to a cool room temperature (takes about 10 minutes out of the fridge)
1/2 cup sugar
2 packages (8 oz each) cream cheese, softened
2 tablespoons King Arthur Flour Gluten Free Baking Mix
1 can (21 oz) apple pie filling
1/2 teaspoon ground cinnamon
¼ cup packed light or dark brown sugar
½ cup walnuts or pecans, finely chopped
½ cup old fashioned oats
1. In a 9 inch by 13 inch rectangular baking dish, make a sling with parchment paper.  Grease pan and place sling over the top so that the edges of the parchment overhang the baking dish by two inches or so.  Preheat oven to 375 F.
2. In a medium sized bowl or the bowl of a stand mixer, mix together flour, sugar and salt until combined. Using the paddle attachment of a stand mixer or a hand mixer, mix in 14 tablespoons of butter, 1 tablespoon at a time, until the texture of wet sand. Measure 1 ¼ cups of the mixture into a medium bowl and set aside.
3. Dump the remaining flour mixture into the baking dish; using your hands or the bottom of a measuring cup, press the crust firmly and evenly into the pan to form the bottom crust. Bake until the edges begin to brown, about 14-18 minutes.
4.  Meanwhile, in large bowl, beat cream cheese, 1/2 cup of sugar, gf  flour, vanilla and egg with electric mixer on medium speed until smooth.
5. Spread cream cheese mixture evenly over partially baked crust. In medium bowl, mix pie filling and cinnamon.
6.  Spread the apple pie filling evenly over the cream cheese mixture.
6. Add brown sugar, nuts and oats to the bowl with the remaining flour mixture; toss to combine. Using your fingers, rub the remaining 2 tablespoons butter into to topping. Once the butter is fully rubbed in, use your fingers to pinch hazelnut-sized pieces of streusel over the apple and cheesecake and apple layer, sprinkling streusel pieces as you go along.
7. Return the pan to the 375 F oven, and bake until the streusel is golden and the apple is bubbly, about 22 to 25 minutes. Cool to room temperature; remove from the pan by pulling up on the parchment sling. Cut into squares and chill.  Serve cold with a dollop of cinnamon whipped cream.
I hope your family loves them as much as we do!
Laura ♥