This blog post is written in collaboration with Bemz. I received a slipcover in exchange for this post, but the opinions shared here are completely my own.
Happy Weekend, Everyone! We had Jenna's birthday party yesterday, and a couple of friends also popped in from Germany late last night, so we've had a busy but fun and love filled weekend over here. I'm going to share a bit of her party this week (you can see a little preview over on instagram), so come on back if you'd like to check it out!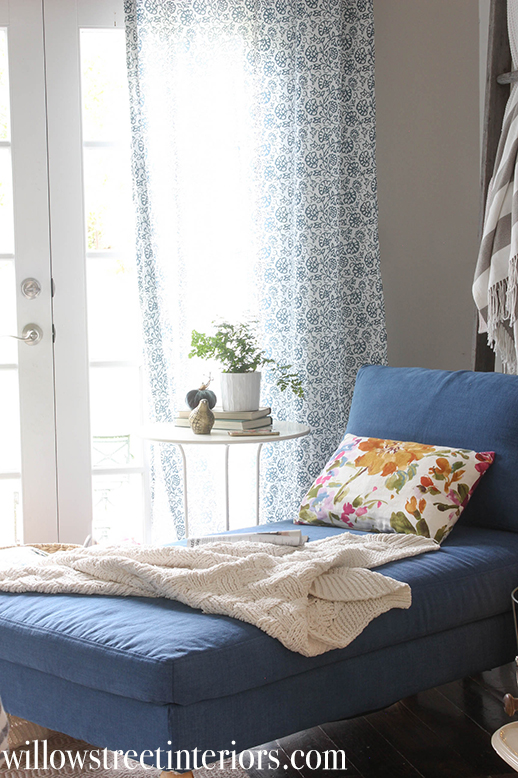 I'm popping in today to show you a few changes that I've made in the living room in the last few weeks that I'm reeeally excited about.
Late this summer, Bemz contacted me to see if I'd be interested in having a slipcover made for any of my IKEA slipcovered furniture.
Since our couches are basically new, those slipcovers really didn't need replacing. But our chaise is actually 7 or 8 years old, and that needed a little facelift. It's actually a hand-me-down my sister gave me when they moved, because it didn't fit in their new house.
You can see how it looks with the white slipcover here and here.
I've really been crushing on deeper hues as of late, and I couldn't wait to bring something a little more moody into our very airy living room.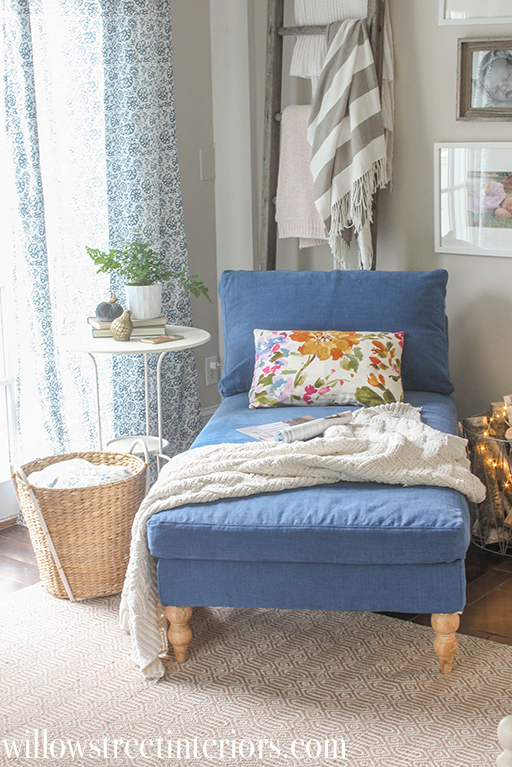 Ta da! What do you think? I wish you could reach through the screen and feel how soft this fabric is.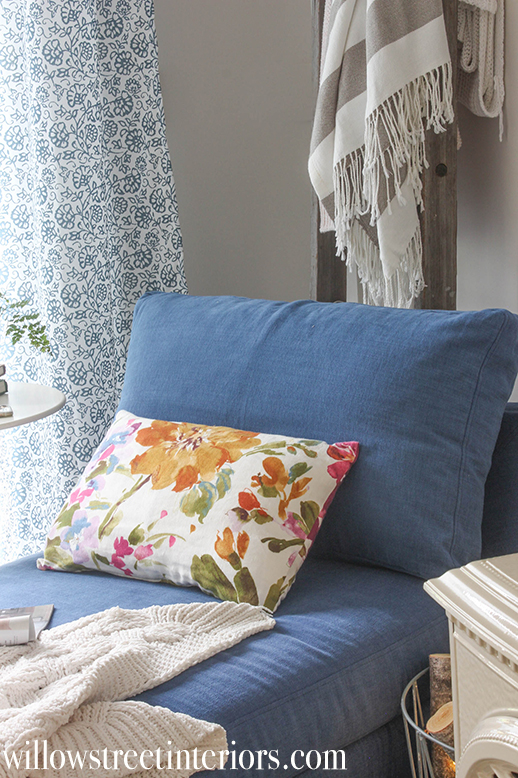 The fabric is called Linara Peach Skin in Bilberry. You can find a sample of it on Bemz's website here.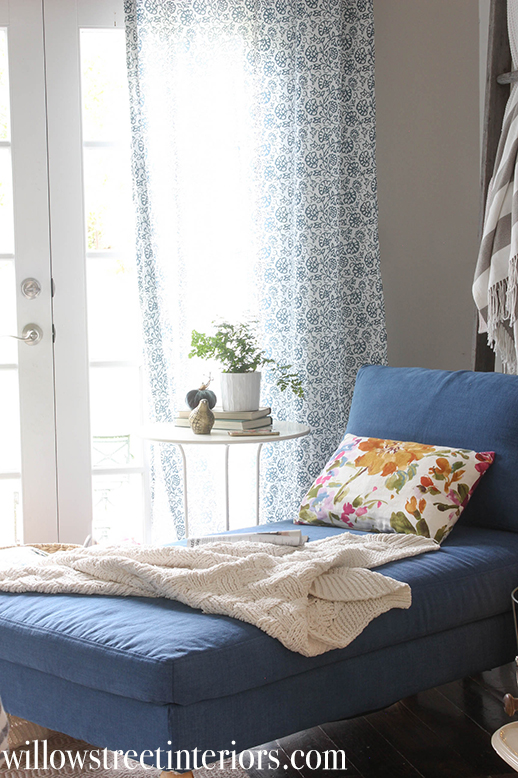 It has an almost denim like quality about it, which brings in the casualness that I so love.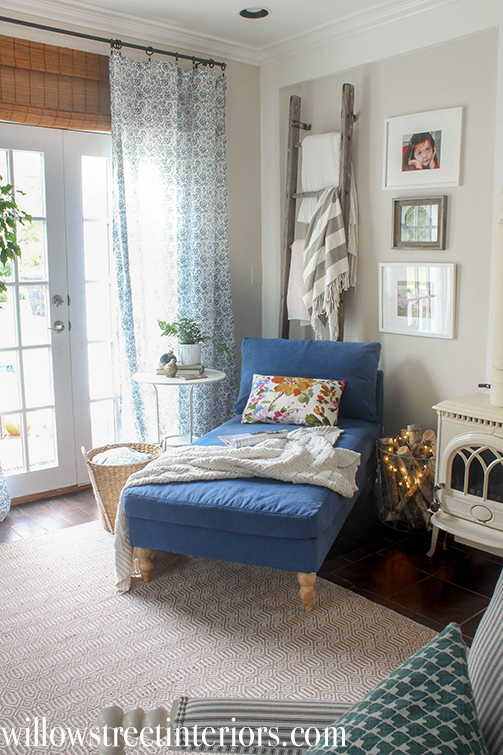 But the turned legs that we added a couple of years ago kind of keep her classy, don't you think?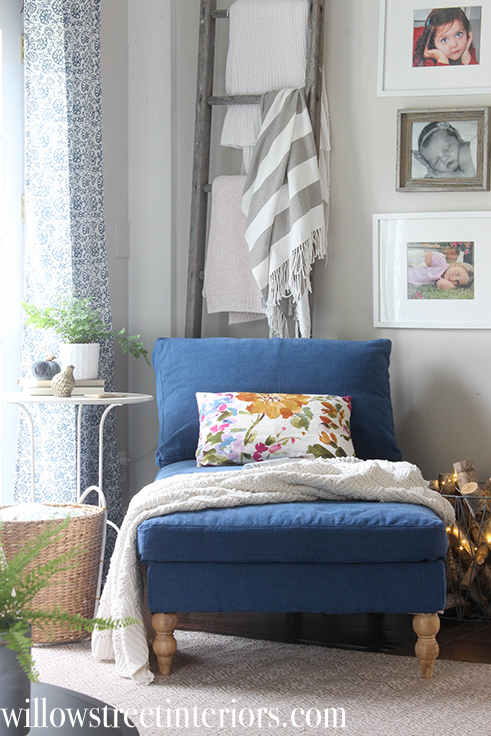 The chaise itself is actually the Karstad series that IKEA no longer makes for some strange reason. I absolutely love the scale of it! It was a very popular series so if you still have the couch, sectional, chairs, or chaise that are still in good shape but need a little pick me up, I can honestly, and whole heartedly, recommend Bemz.
They were super easy to work with, and the time between ordering a fabric sample, having that delivered, sending off my final selection, and actually putting the slipcover on my chaise, took about 3 weeks, which isn't bad at all for custom work.
Bemz has 250 different fabrics to choose from and can literally slipcover any of your IKEA furniture. I mean, that's kind of a small miracle, right?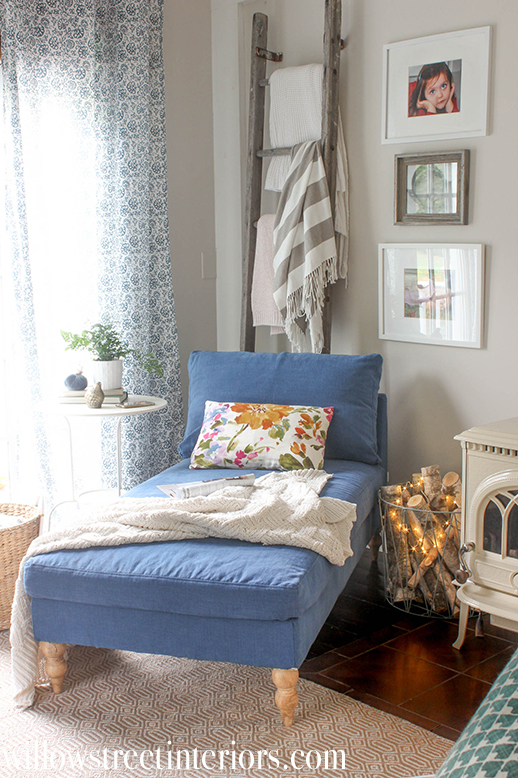 And while we're talking about changes in the living room, here's little sneak peek of where things are headed.
We bought a new coffee table (which I'll explain later), and this one was so inexpensive, we spent a little more and got this beautiful new spool chair that I love so much!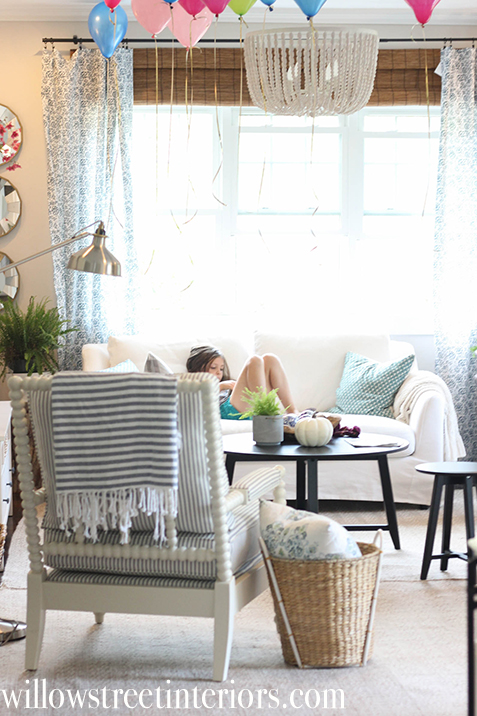 I still have a bureau makeover to do, and the furniture will be playing a bit of musical chairs (and chaises) before I can actually call this mini makeover complete, but I absolutely love it so far.
It was about time that we did something to our home, as surprisingly, it has been a long time since the majority of rooms had been given a makeover.
You see, other things have taken priority over most of the makeovers. And of course, we've needed to find the finances to be able to do this. But it has actually been easier said than done.
Not so long ago, my friend had told me about a company like SoFi that offers home improvement loans (https://www.sofi.com/personal-loans/home-improvement-loans/) to homeowners who wish to spice up their surroundings. It was a lifeline for her and since then, she has been able to complete the same type of makeover that I have done here. So, at least I know where to turn to if I ever find myself in a similar situation.
To be honest, I'm just pleased that we have been able to get started on our makeovers. They look great – if I do say so myself.
The next thing I want to think about getting done is the garage. It appears that I have neglected the garage for quite a while now, so I would like to give this a makeover when I have the chance.
I've already decided on the type of flooring that I want to have. Not so long ago, my friend told me about epoxy floor coatings that she says work tremendously in a garage or basement. This is because they are durable and are resistant to chips and scratches, making these rooms the best place for them to be. My garage doesn't have a purpose at the moment, but with this makeover, I'm hoping that we can change this in the near future. Maybe it could be a games room? Or a home gym? Quite frankly, the options are limitless.
For now, I'm just glad that we've been able to get one makeover out of the way.
And I'm sorry about the blurry photo! I literally snapped it while I was running around party prepping yesterday, but I couldn't wait to share it with all of you.
The final reveal will be up as soon as I can get my act together and finish my bureau makeover!
Wishing you all a restful rest of the weekend, friends, and a blessed week ahead.
Laura â™ ¥