Hey there, Everyone! I hope your summer's off to a great start! We've certainly been keeping ourselves busy over here. The girls have been running around, free and wild, I must say, and they've been enjoying every second of these school-less, sunshine filled days.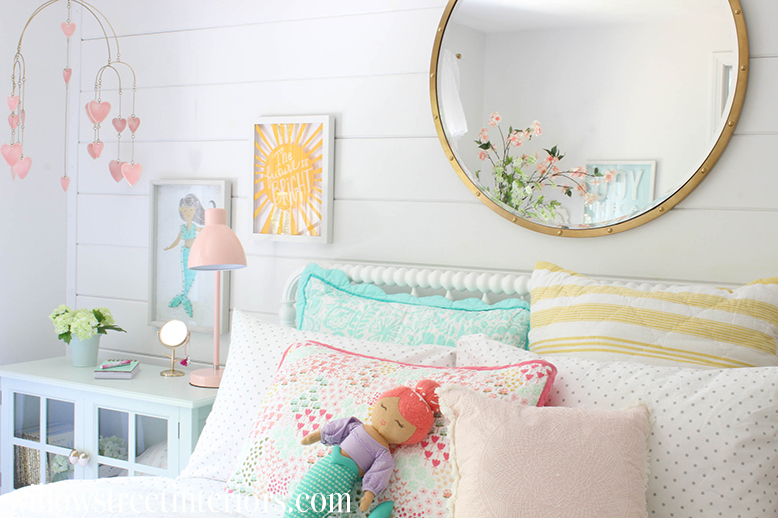 In the last month, we've caught fireflies, gone to the drive in, had a mermaid birthday party for Ayla, an art themed birthday party for Aubrey, and started a project in our entryway.
This mama's cleaned up more sticky messes from the girls' lemonade making endeavors than I'd like to recall, and Jenna and Aubrey have only been out of school a week!
The chaos continues, but there's something so liberating about ditching the schedules and the plans, and embracing the craziness that summertime brings around here.
I mentioned in my last post that, after lots of thought, I've decided to take a partial break from design work. Not all design work – I'm continuing to offer e-design services, and am taking on smaller scale projects for friends and family for now. Mira (and all of our girls!) are going to grow up so fast, and life tends to feel like it's in a state of perpetual fast forward when there's a baby in the house, so for my husband's and my sanity, and for the well being of the kiddos, my work will be taking a back seat temporarily. But I still have lots of side projects underway for the people in my life who embrace my chubby, 6 month old's design assistance, so don't worry, the interior design inspiration and the blogging shall go on!
Today is an exciting day because I get to reveal this adorable space that I just finished up for my niece. And I'm pretty pleased with the results. It was a huge project which involved installing some new windows (check out burlingtonwindow.com if you want to learn more about this). The room was so dark and dull beforehand and now with the new decor and windows, it looks fantastic! I actually think it could be one of the best rooms I've ever designed, which makes it extra special because it is for my darling niece. In fact, her parents are already bugging me about redesigning the rest of their home. Speaking of redesigning, one of my friends designed her client's bedroom with a purple theme. I wasn't very eager about color-based designing, but she did change my mind. The sheets for purple mattress were one of the best color combinations I had seen. Maybe I should also try the color design style. Anyway, my niece and her parents have a lot to look forward to this year. From looking for a new and more up-to-date stair runner, to different wall art and furniture, I think I will have a job on my hands. But as I'm still in a bubble from completing this gorgeous new bedroom, that may have to wait for the time being. Now finally, I can show you what I have been so excited about for months.
Best of all, just about everything in this room is from the places most of us already shop, so this look is definitely an easy one to reproduce.
Let's jump in!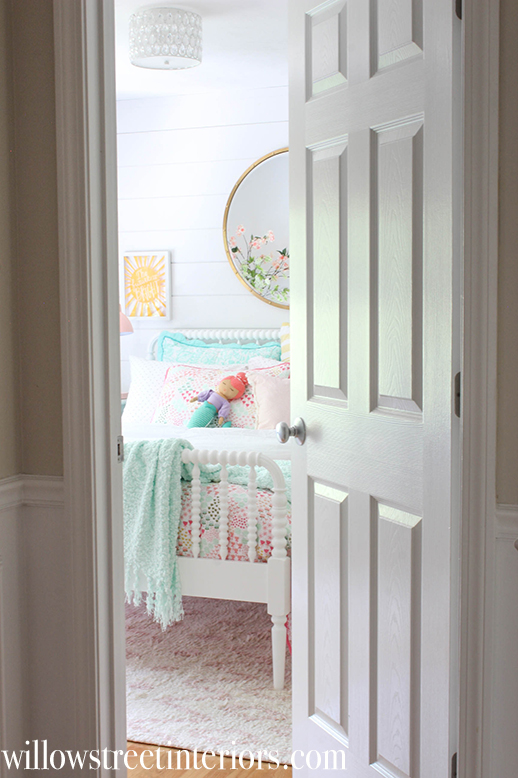 Hello, pretty room!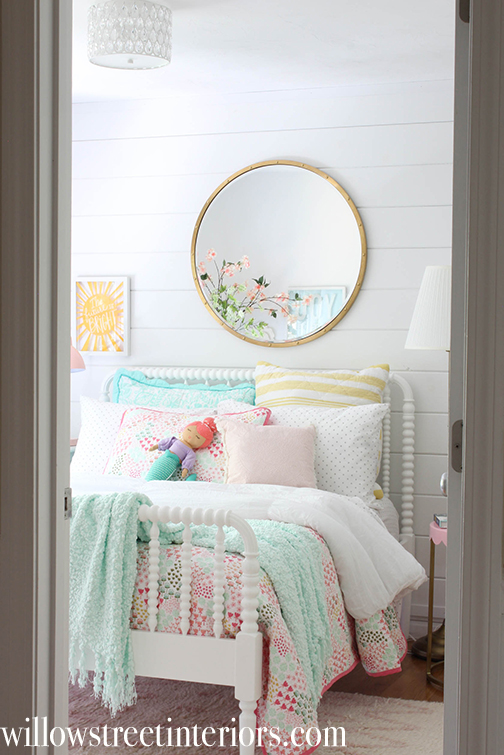 This mirror is from Homegoods and it was like, all the heart eyes at first sight.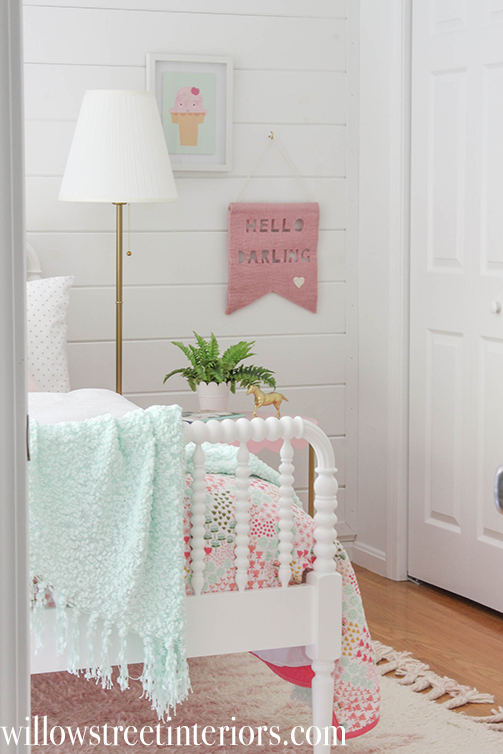 My sister already had this quilt from Target, and asked if I thought I could design around it.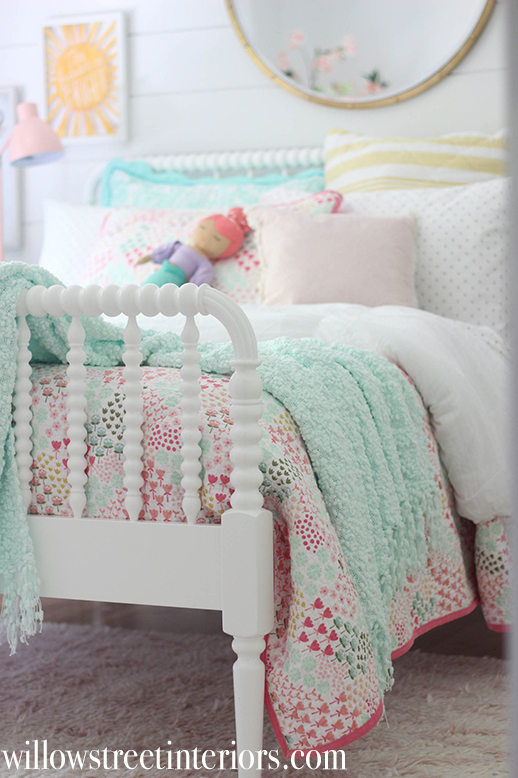 And I said, umm yes I can! It's soft and fun, and just the right blend of energetic and sweet. Perfect for a little girl's room.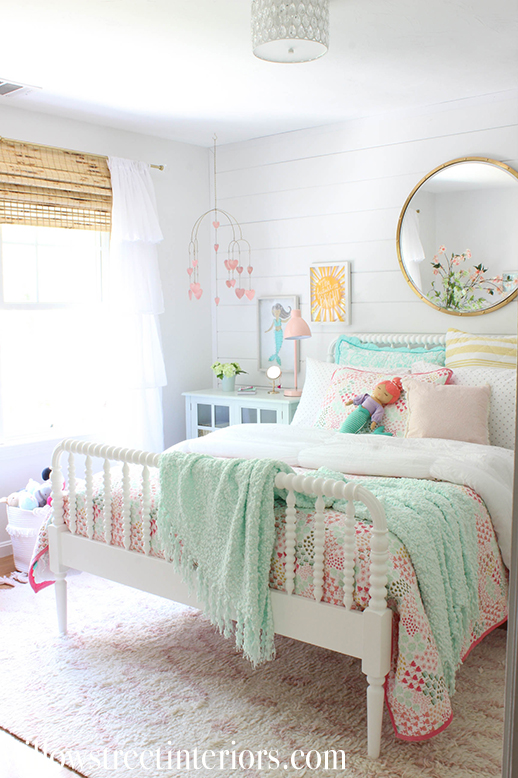 I paired it with this comforter, this throw, this, this, and this pillow. The bed is from The Land of Nod.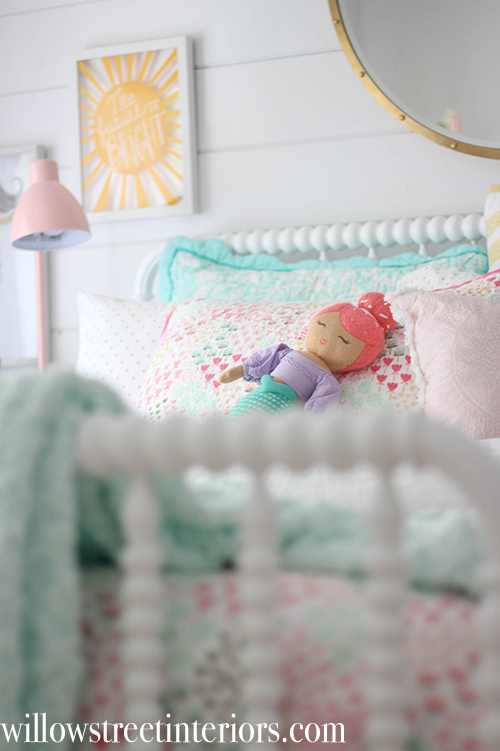 My niece is currently in a mermaid obsessed phase, but anyone with kids knows that that could change at any moment. There's definitely a nod to mermaids in her space (of course!), but instead embracing that as an overarching theme, I filled the space with lots of other things that little girls love as well, and made sure that each element could be easily swapped out as her little obsessions change.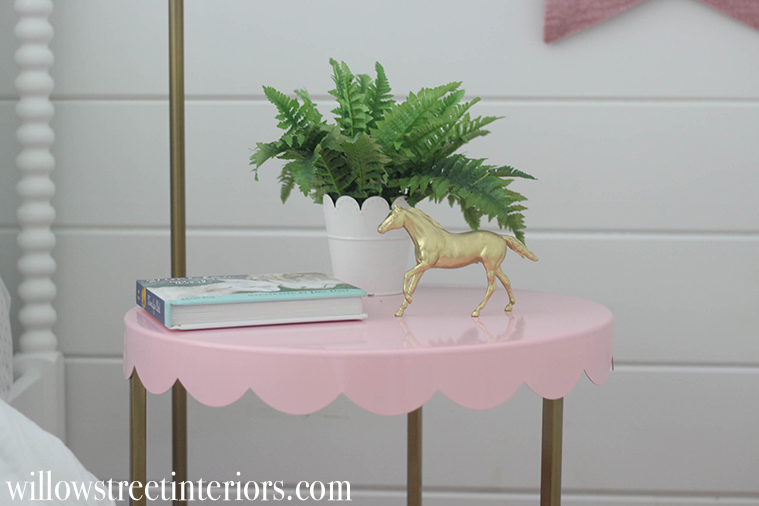 This is a little toy horse, spray painted gold. Super cute and super cheap! You can find the scalloped table here.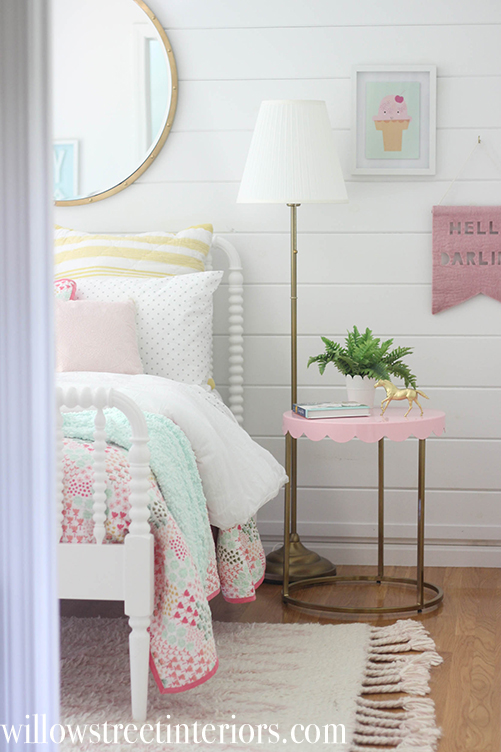 You can find the lamp here and the rug here.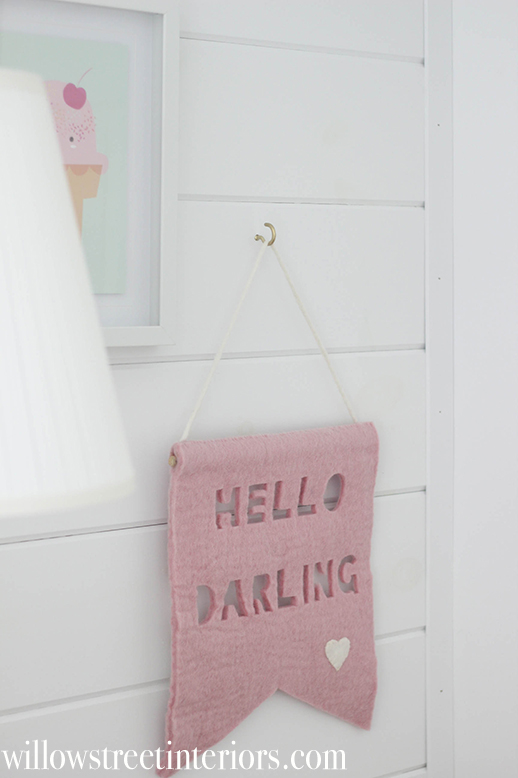 You can find the hello darling banner here. And how cute is that little hook we hung it from? I'm telling you, the details count!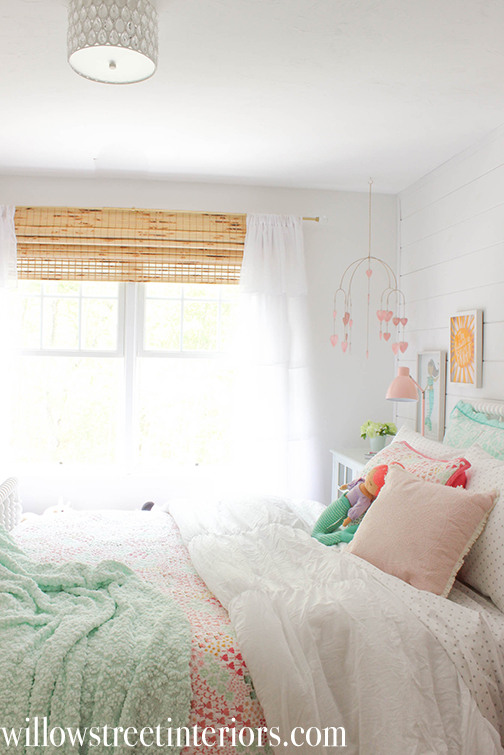 The shade is from Lowes. And that light!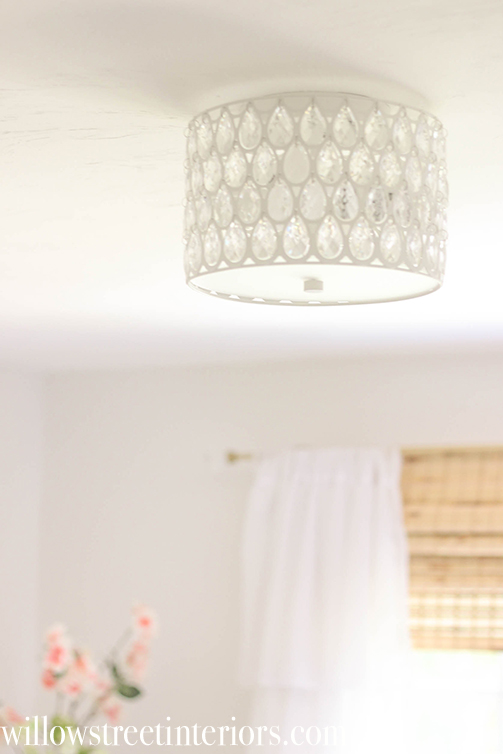 Oh my goodness, I love the light. Find it here!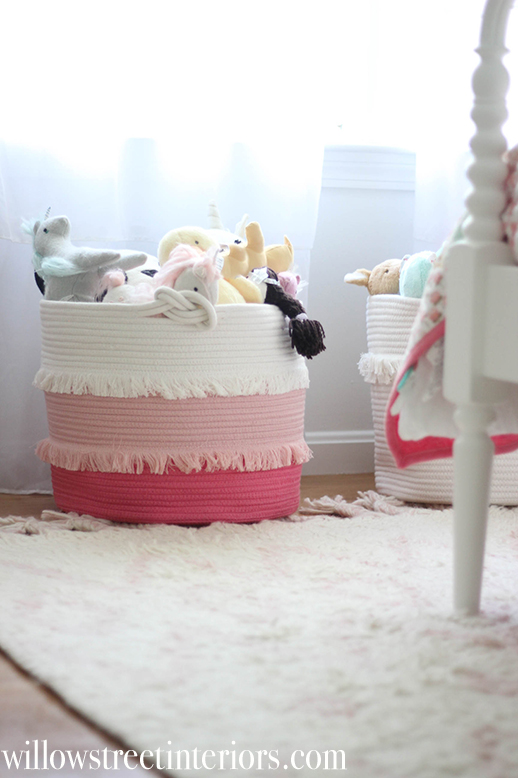 It really is quite a small room, but I wanted to make sure we squeezed in as much storage as we could. Two big bins for stuffed animals sit underneath the window. If the room was a little bigger, I would probably have considered getting a nice little cupboard installed, and maybe get replacement wardrobe doors to match the overall theme of the bedroom. That would've been a nice little space to show off some unicorn designs as well as store all of my niece's clothes and other things.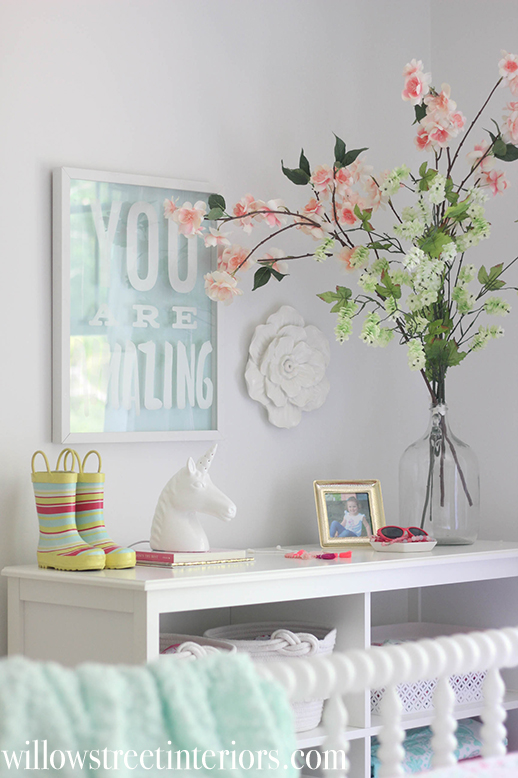 I added an inexpensive bookshelf along the back wall, and filled it with bins and baskets that house headbands, toys, hair accessories and extra blankets.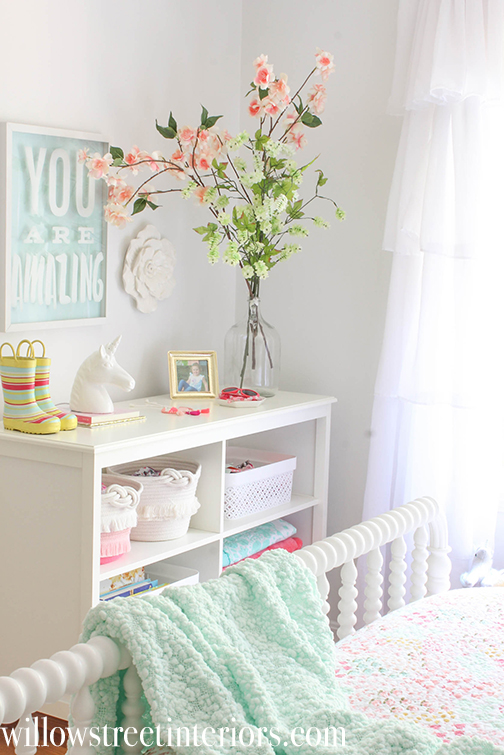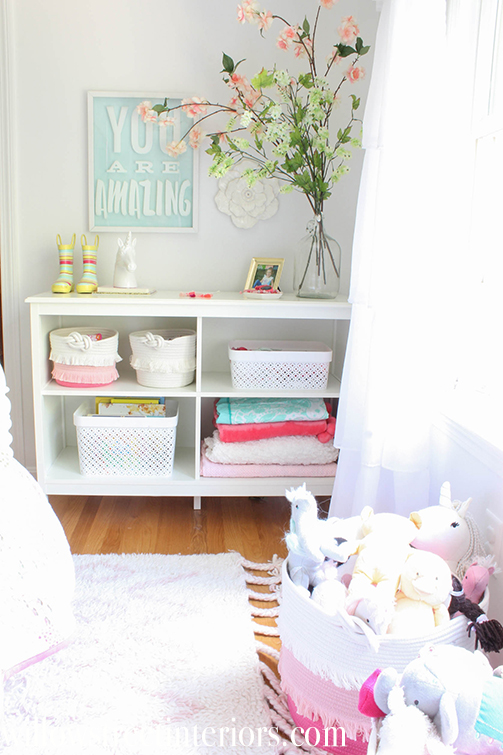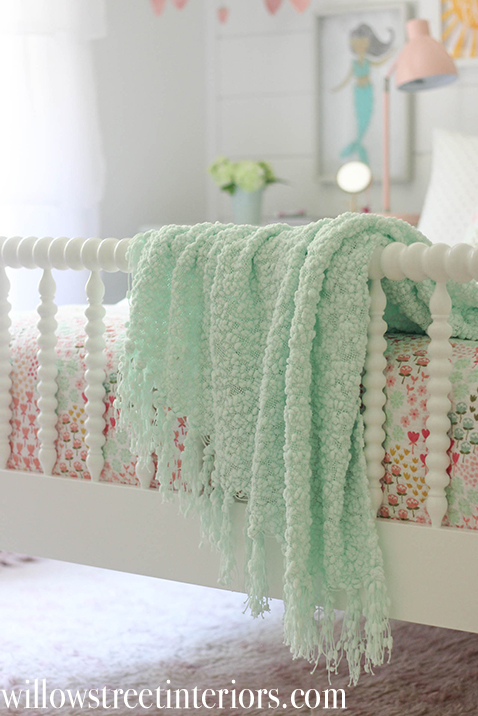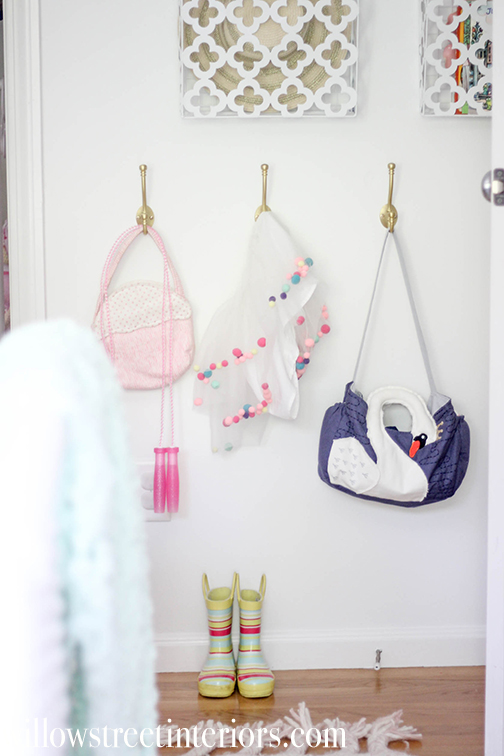 For even more storage, a row of hooks and wall bins hang behind the door.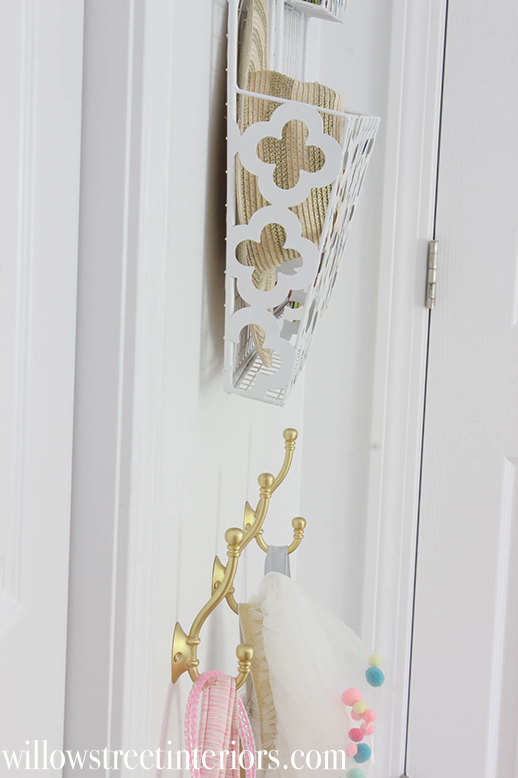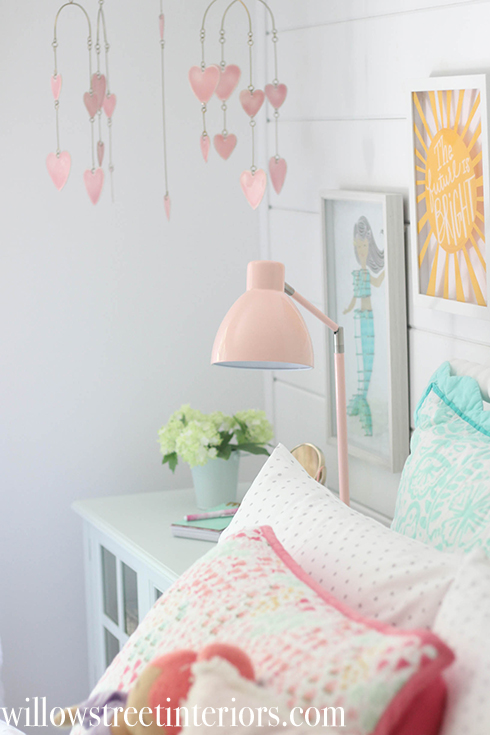 This little corner is my favorite thing about the room. I think. It's a tough call, because this whole space is super sweet!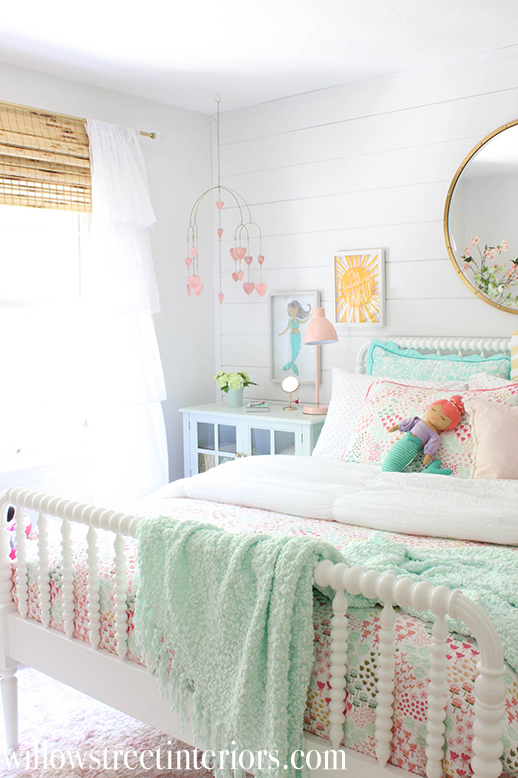 I found a simple chest at a discount furniture store (Christmas Tree Shop to be exact, but it's sold out) and I loved the shape and the lines. It was white originally, but I picked up some knobs at Homegoods, chose a new color (Icy Morn by Benjamin Moore), and my brother in law painted it. I absolutely LOVE how it turned out.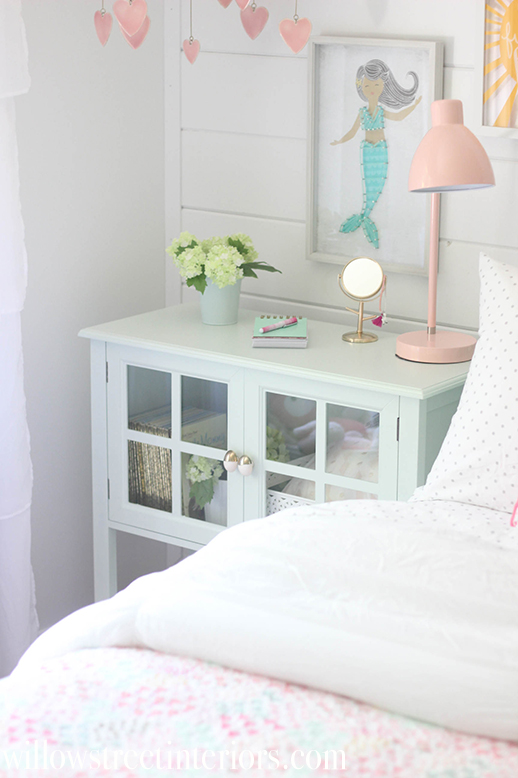 It looks like it's a higher end piece, and it so isn't.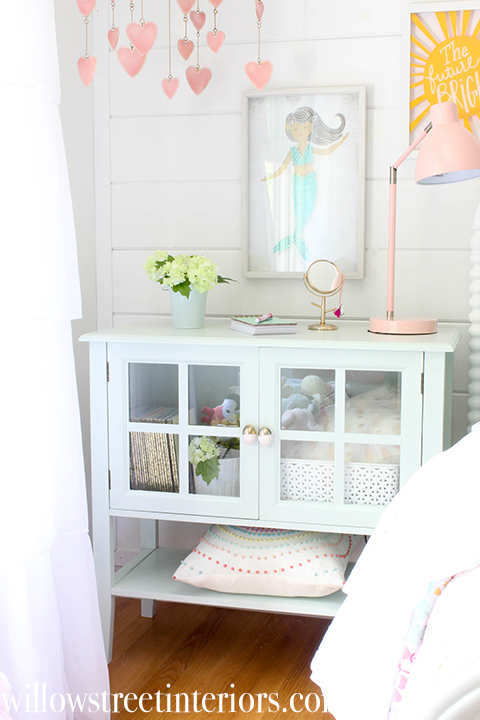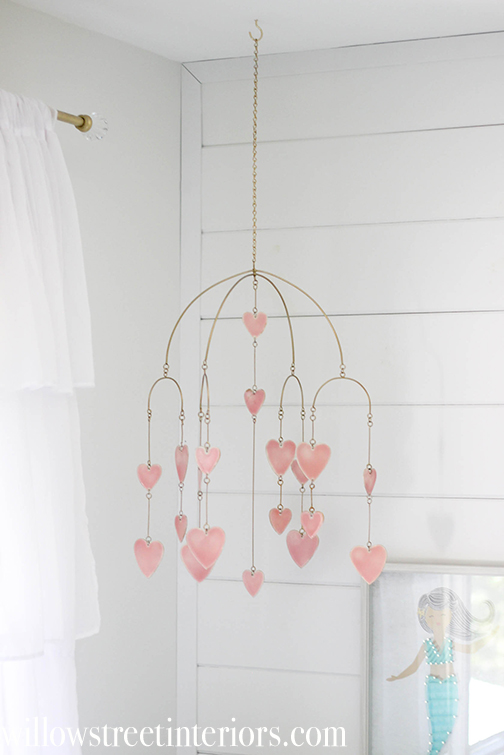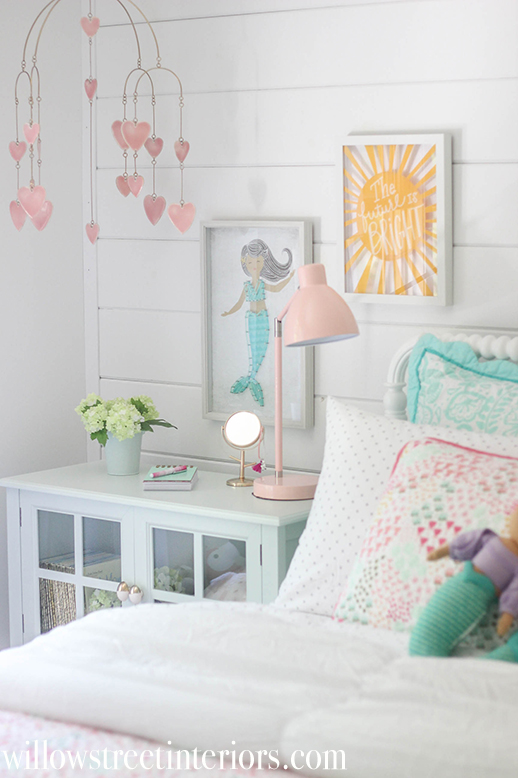 The pretty, heart mobile is technically meant to go over a crib. I know. But look at it! I love the bit of shimmer and delicate whimsy it adds to the space. You can find it here.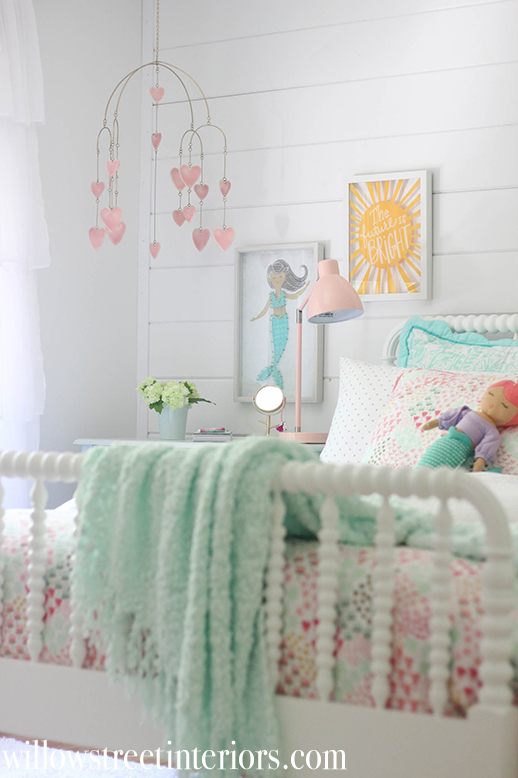 And a few more cute accessories helps to pull it all together, as accessories do.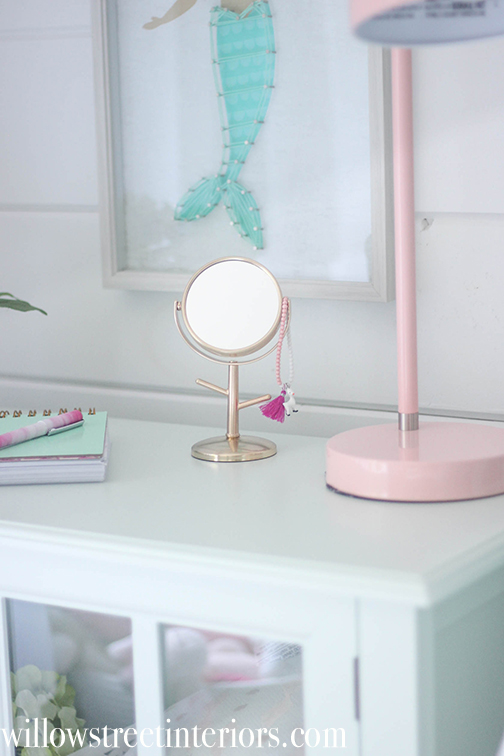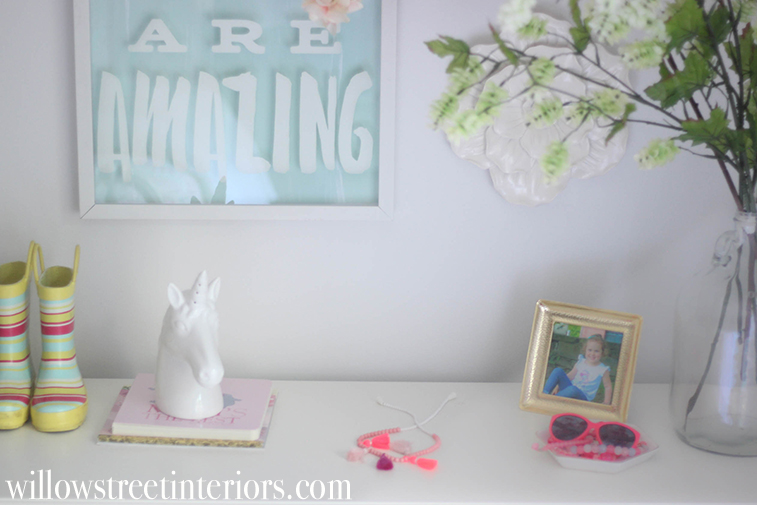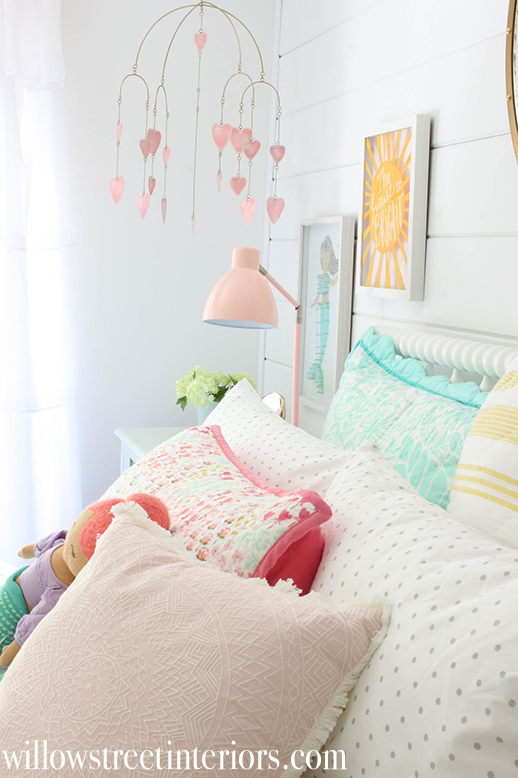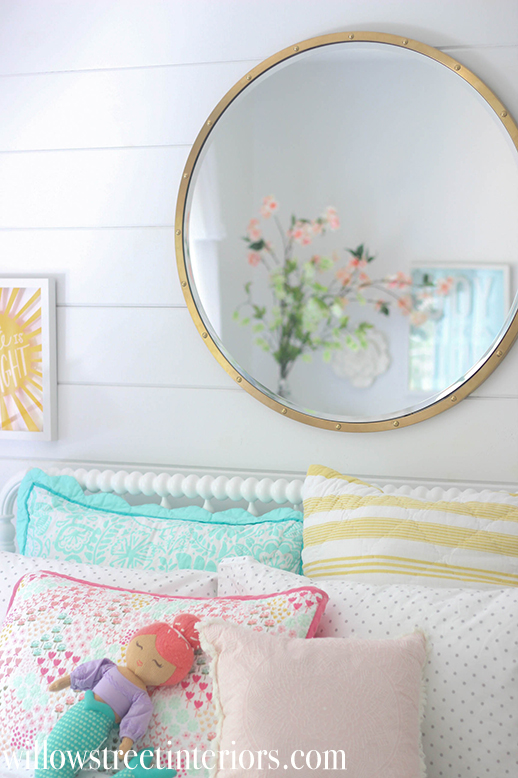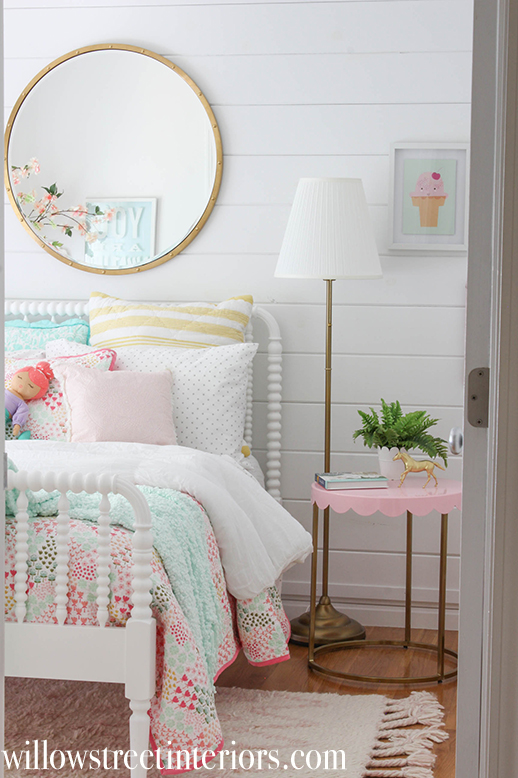 Oh, and the wall color in here is Decorator's White by Benjamin Moore.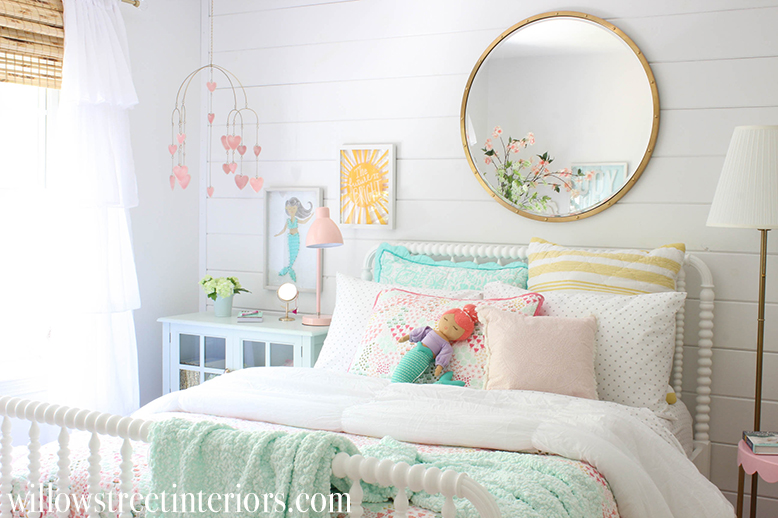 I hope you all love this space as much as I do! Don't forget to follow along on Facebook, Instagram and Pinterest, so you don't miss what's happening around here! Wishing you all a wonderful week, Friends!
Laura ?
Shop This Post
[show_shopthepost_widget id="3012314″]