Hey Guys! My girls have grown up on these fish tacos, and they're hands down one of my family's favorite summer meals. They're easier than most fish tacos to make, because I use a few cheat ingredients from Trader Joe's to cut down on time, and because the flavors are so amazing. There's no breading or deep frying involved with these – I actually use TJ's mahi burgers for the fish, sliced into strips, which makes the process easier, and the end result a whole lot healthier than traditional fish tacos. I pair them with a cabbage/jicama slaw, a slightly spicy, tangy and sweet mango salsa, and then I make a creamy, smokey and delish sour cream to dollop on top. There's a lot of ingredients involved, but I'm telling you, the effort is so worth it. The end result is a complex, umami-esque flavor profile that both adults and kiddos will swoon over. Tag me on Instagram or Facebook if you try these! I think they'll be a summer recipe staple in your house too!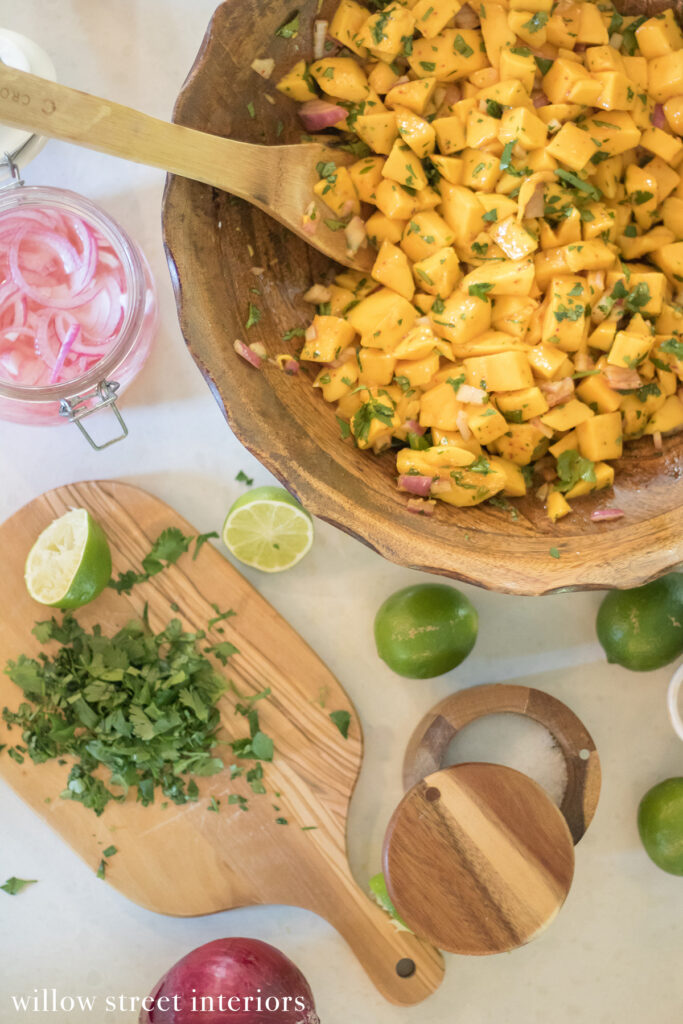 Ingredients:
2 boxes Trader Joe's mahi burgers, grilled and cut into strips
Olive oil, for frying
Trader Joe's corn tortillas, toasted over an open flame and kept warm under a damp towel until ready to serve
For the cabbage/jicama slaw:
1 Trader Joe's bag shredded cabbage
1/2 box Trader Joe's precut jicama, sliced into matchsticks
1 bunch cilantro, leaves torn off and chopped
1 lime, juiced
1/3 bottle Trader Joe's YUZU hot sauce
1/3 cup mirin (Asian section, not Trader Joe's)
For the smokey sour cream:
1 1/2 cup sour cream
1/4 cup mayonnaise
3 tablespoons smoked paprika
1 tablespoon siracha (more or less depending on how spicy you like it)
1 teaspoon Trader Joe's garlic salt

For the mango salsa:
6 mangoes, diced
1/2 red onion, diced
1 1/2 tablespoons Trader Joe's chili lime powder
1/2 bunch fresh cilantro, leaves chopped
2 tablespoons extra virgin olive oil
Kosher salt to taste
For the pickled red onion: *optional*
Place one finely sliced red onion in a bowl and cover in seasoned rice wine vinegar. Let sit at least 15 minutes.
Directions:
Grill fish burgers on cast iron grill pan, or outside on an oiled grill. Once all the fish is done, slice, set aside and keep warm until ready to serve. Prepare the smokey sour cream.
Blend the sour cream, mayonnaise, smoked paprika and siracha in a bowl until the mixture is consistent and creamy. Season with garlic salt and refrigerate until ready to
use. Prepare the mango salsa.
Add the chili lime powder to the mangos, add remaining ingredients and mix. Refrigerate until ready to use. Prepare the cabbage jicama slaw.
Add the cabbage, and jicama to a large bowl, add the rest of the ingredients and mix. If you prefer your slaw on the sweeter side, add a little agave.
To serve, set up the tacos "family style". Assemble the fish in a pile on a
plate; the smokey sour cream in a bowl; and mango salsa, and cabbage jicama slow in two others. Set a
pile of cilantro leaves, chopped chives and lime wedges next to the fish. Toast the corn tortillas lightly over an open flame (on your stove top or grill – don't skip this step!) Dust tacos with extra chili lime powder, if desired and serve.