Hey there!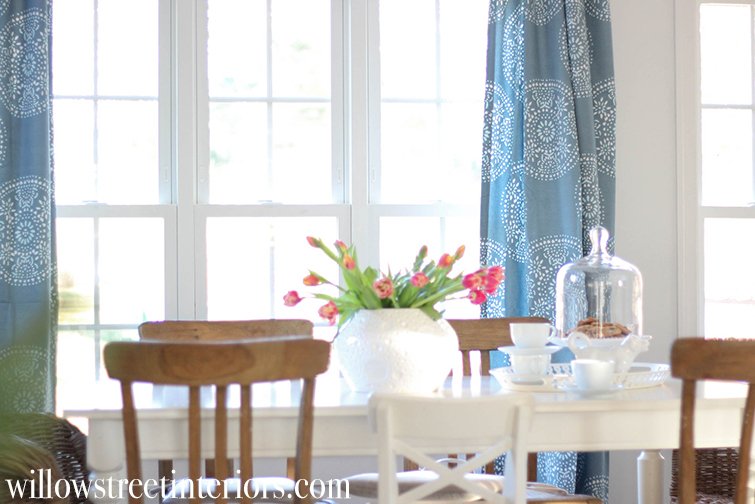 Who's ready for spring? I kind of am, Guys, and I'm embarrassed to admit it! I'm not normally one to complain about the seasons.

I really do love a good, New England winter, and the cold and the snow that comes with it. But anyone with small children knows that winter is different when there's a baby in the house. Whilst some of us might like the cold, some young children will find the cold winter a lot more difficult. Throughout the winter seasons, it's important that parents keep their children warm. One way of ensuring everyone is warm is by getting a heater installed. To do this, some homeowners might want to get in contact with a company like Indoor Comfort Specialists. That should ensure that everyone in the house is happy throughout winter. Whilst the temperature can make things difficult in the winter, there are also other things that are more difficult with children.
Everything from running to the grocery store to packing for a day trip is just a little bit more complicated with babies (and small children) when it's cold outside. Am I right? There are mittens to be located and extra clothes to be packed.
Instead of cleaning up the car before we come in the house like we normally do, we all make a mad dash to the front door, so no one freezes. What I wouldn't give for a garage like the ones they have at 1stgaragedoor.com, I'm telling ya! It would be amazing to have a garage so we can just drive-in. Our neighbor has one, which doubles as the husband's man cave. Although I'm a little sad for them this year, they have been having issues with their garage door. My neighbor said they were looking for a local garage door repair service similar to ADP Garage Door Repair (https://www.adpgaragedoors.com/owings-mills-md/). Hopefully, they can get that fixed before the winter really sets in. I wouldn't want to deal with that in the winter, I already have enough on my plate, with wet boot prints that the older kiddos track in – winter means a lot more housekeeping and far less time to do it all with a baby in the mix. But even after all of that, I'm still a winter-loving girl. I love how we're all forced to cozy up in the house and watch the soft, snow gather in billows outside; the sledding, the ice skating, the hot cocoa. There's so much to love about winter.
So, it feels kind of strange to me to be pulling out some of my spring decors right now.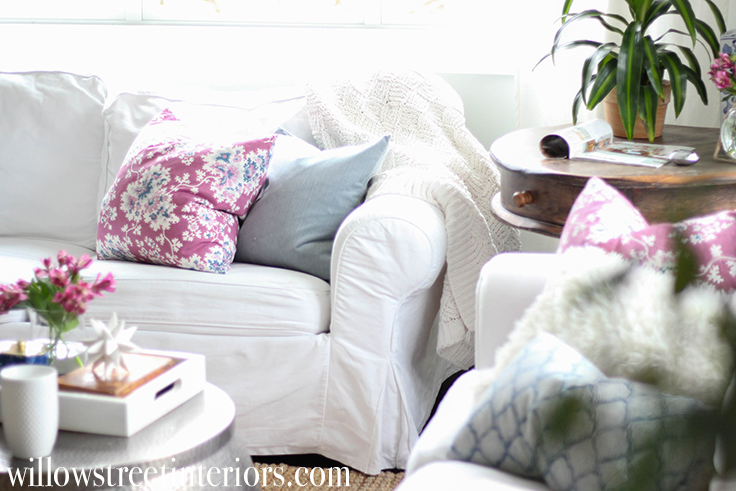 The house is normally still donning plaids and evergreen, mixed with paperwhites at this point, but not this year. No way, Jose. After Christmas was over, Mira still hadn't arrived and I was past my due date. I hurriedly organized and put all of the Christmas things back down in the basement because I knew I wouldn't be able to get to it for a few weeks once she was here, and then… I was exhausted!
If you checked out my Christmas Home Tour, then you know I went in a pretty light and airy direction with Christmas this year. And so once all of the garlands and wreaths and greenery was down and put away, the house felt very stark. And it drove me nuts for a week or so before Mira was born, but still, I just didn't have the energy to do anything about it!
So, I am beyond ready for some color and some warmth right now.
And since everything I do is slow going at the moment, I'm thinking I'll veer off my normal course for this time of year, and just head towards spring, because if I'm honest with myself, it's probably going to take some extra time to decorate and change out the decor around here.
And I want to just enjoy these sweet, newborn weeks and months with Mira, and not feel rushed to get a million things done at once. So I'm taking it slow, and I thought I'd share where things are headed with you as I go.
So, you ready? I have a couple of photos to share.
I swapped out my curtains in the breakfast nook for these ones from Target, and I really love them! I had cafe curtains hanging in here last spring (that I made from a pretty a tablecloth), but I decided that I wanted a little more privacy, plus the added bit of insulation that full-length curtains lend for these colder months. Speaking of insulation, if there are home improvements like getting the roof repaired that need to be done, this may be the perfect time to get in touch with Austin roofing companies (or companies closer to where you live), as they can ensure everything is as good as new and reduce the amount of heat escaping the home. This way, during the winter months, there shouldn't be any issues in having a warmer home.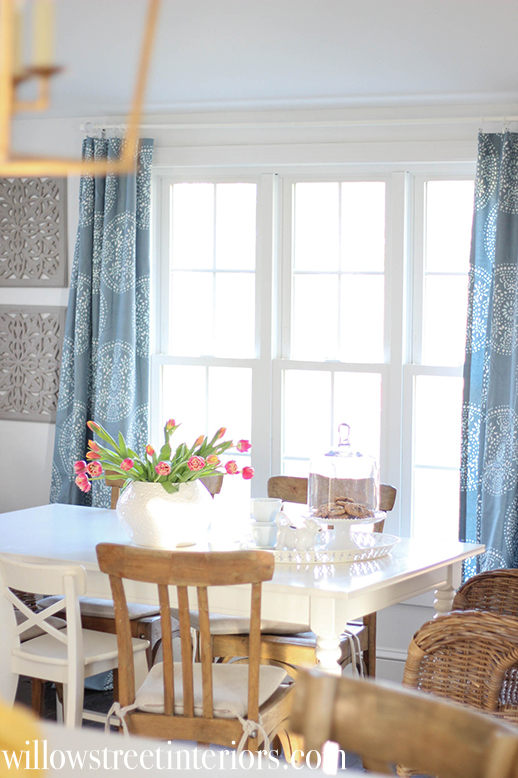 We took a family trip to Trader Joe's last week and I picked up some tulips while we were there. I popped them in this vase that I got on clearance at Homegood's last winter, and I love the cheerful vibe it added.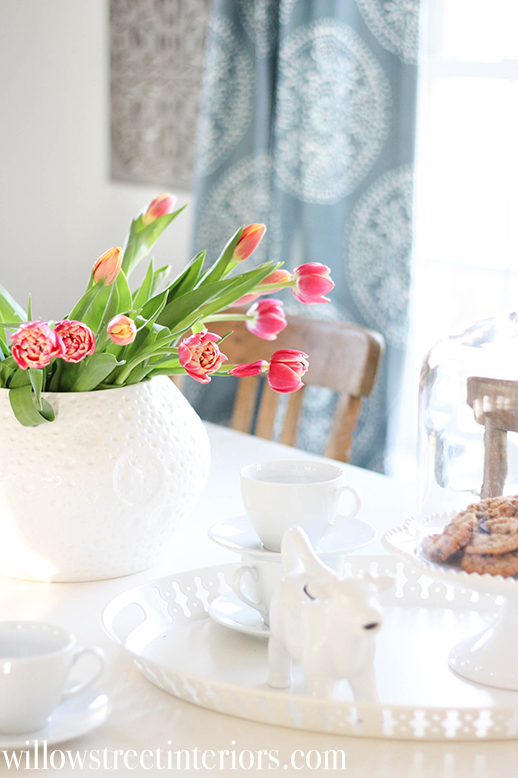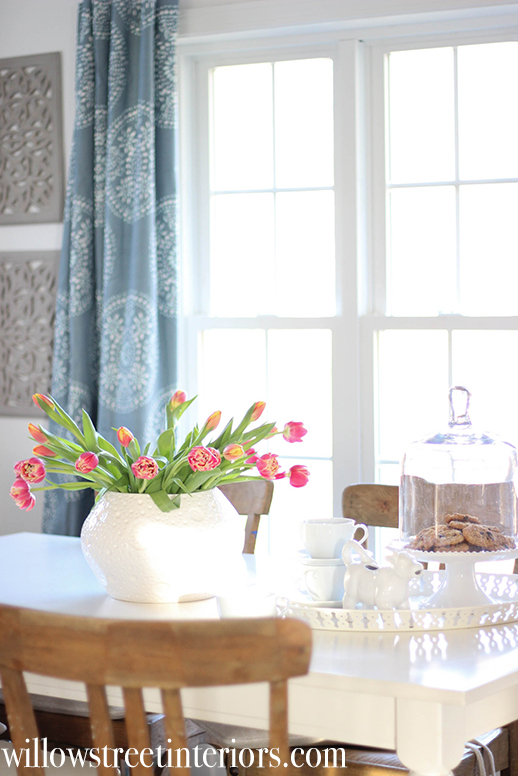 Flowers make everything better, don't they?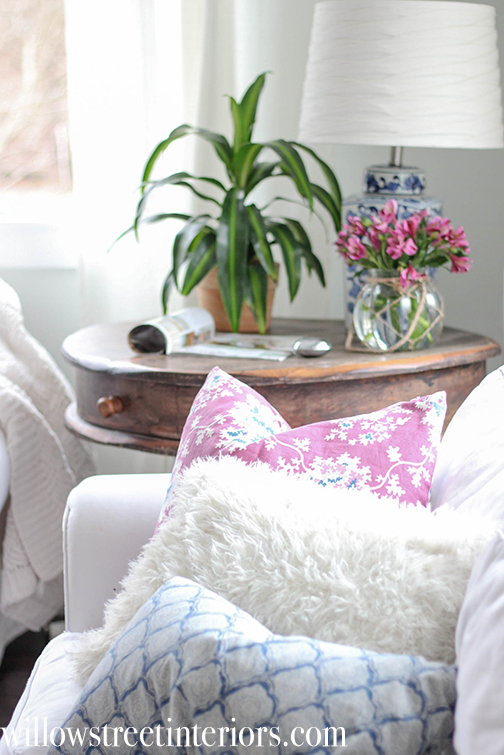 And then, in the living room, I pulled out some pillow covers from the linen closet that I've had for awhile. I bought them for our guest room that we were planning to make over just before we found out Mira was on her way, and then those plans changed.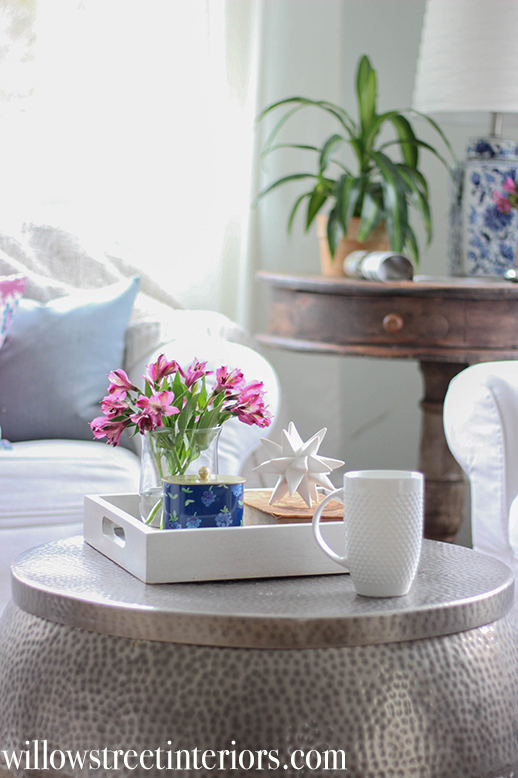 But, hey, I'm loving how they pair up with all of the blue in our living room right now! The faux fur pillow is one of the ones I had out at Christmas, and I think it adds just the right amount of softness and texture.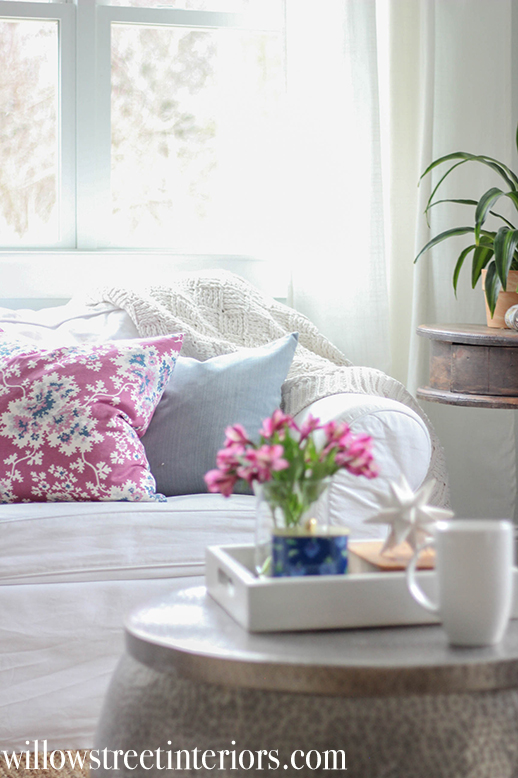 I had the purple pillow covers custom made locally last year, but you can buy the same ones in quite a few etsy shops. This is one of my favorites for pillows!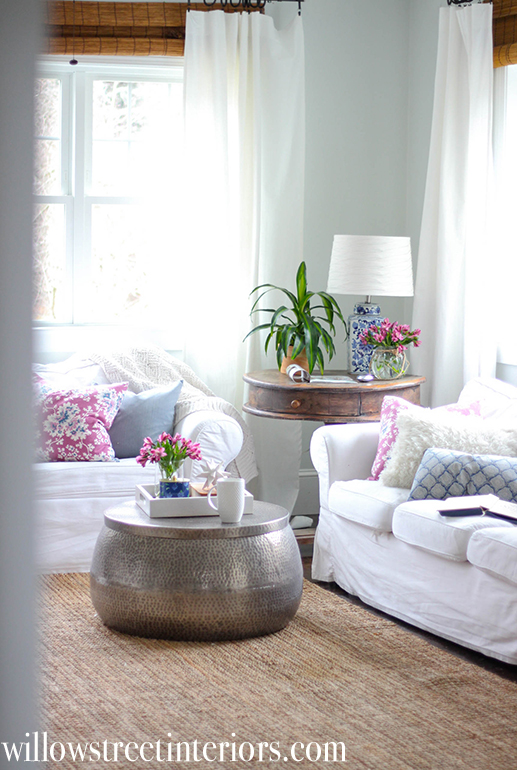 If you follow me on Instagram, then you may have already heard a story I told last week about Jenna finding me flowers that were, in her words, the perfect match to these pillows when she went to the grocery store with Michael last week. It was too funny and I think I just may have a future design assistant on my hands.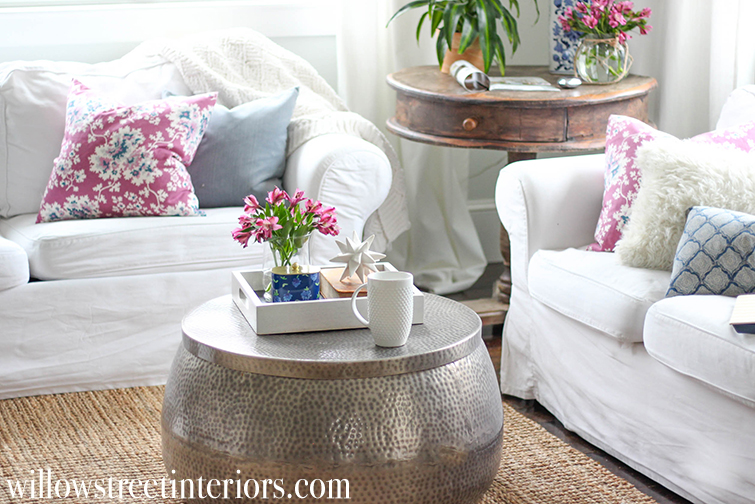 I'm going to be adding some different curtains in here this week, and I can't wait to share that with all of you too! I have some stored away that I think will work. I'm still craving more pattern and more texture, and I'm really hoping they will! Fingers crossed!
So, what do you think? Anyone else refreshing any of your spaces early this year?
Stay tuned for more, friends!
Laura ?