Hey Guys! It has been anything but uneventful around here lately! My father in law is coming next week, and we've been busy getting ready for him. I know this isn't news to any of you who've been long time readers, but Michael is originally from Germany and his parents still live there. Needless to say, he doesn't get to pop in and visit with them whenever he feels like it. So, when they come to visit, they stay with us for a few weeks, and we get ready by rearranging our office to be more guest friendly – making room for a bed, and cleaning shelf space for clothes.
Some day, I plan to redesign it to work double duty year-round, but there are more pressing projects to finish first! More than likely once all these projects are done, I'll look for home Interior Design companies to plan and carry out the redesign for us, so a little break can be had!
Pretty Things
And speaking of more pressing projects, next on the list is our master bathroom! Gah, you guys. I'm super excited. This has been a project that's been a long time in the making. The plumbing's been done, the room framed, the floor tile installed for – you ready for this? As excited that I am that this project is finally getting underway, it didn't feel like this for a while. It just seemed to take us a long time to get these jobs completed, especially because we didn't realize how much work needed to be done. Surprisingly, after we found a plumbing company that was similar to Silverwater Plumbing, (https://www.silverwaterplumbing.com.au/plumber-seven-hills/), this job actually didn't take us that long. In fact, it took us longer to find a plumber in our area to start with. Even though it took us a while to get this project underway, at least we know that everything has been sorted so that it is safe for us to proceed with everything else. It has definitely been a long time coming. Even though I'm elated to see everything clicking together, renovating a bathroom is incredibly stressful, especially doing it by yourself. However, outsourcing a contractor for help to redo your bathroom takes away a lot of this stress and allows you to feel excitement for your new design!
TEN YEARS!
I can't even believe we've been here that long, but that's the truth. That room has been roughed in and ready to be finished since we moved into the house. But you know what, finishing it up wasn't ever super important to me. I wanted the spaces that we all live in and share together to be finished and decorated before we shelled out the rest of the money to finish the bathroom, so that we could look to make it special in its own right. Right now we're considering options for the shower portion, perhaps a custom glass shower door? Oh, but what kind of bathtub should we get? We've had plenty of time to give it all a lot of thought, but the choice is still yet to be made final!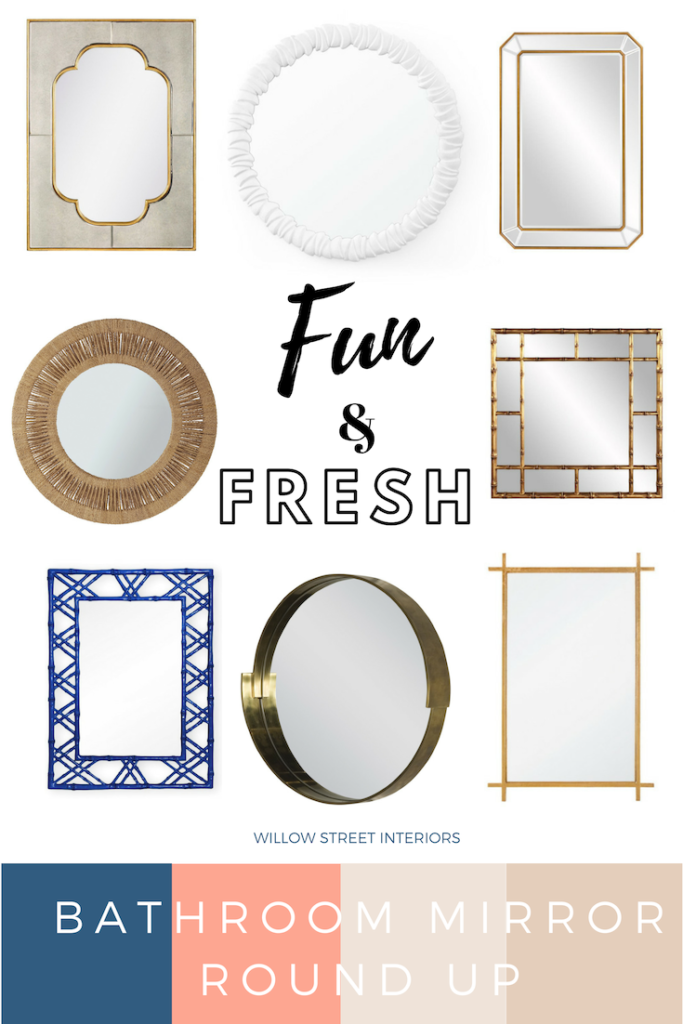 So truly, I don't have any regrets that we waited, because making the house cozy while the kids were young really was more important to me than having that space functioning.
But, alas, here we are, finally– and I can't wait to see it come together!
I am still all over the place in terms of finishes and color schemes, but I've been sourcing some really pretty mirror contenders (thank you, High Point Market, for some new, really inspiring vendors) and I thought I'd share them with you guys, in case any of you are in the throes of bathroom renovation too.
Placeholders
Before we really get into it though, I've been thinking about design placeholders this week – a topic spawned by the bathroom reno and the reminder that we've been living in our house for ten years already.
Is this home everything I could ever dream of it being?
No.
We make concessions between what we'd love to do and what we can afford to do, all of the time.
And you know what? I love that about us.
And I love that our home is a blend of pieces that make my heart skip a beat, pieces that I know, no matter what, I'll keep forever, and others that are holding a place for something of better quality for sometime down the road…
…But serving us well in the meantime.
Sometimes the lesser quality pieces are a necessity. They may not be what you'll pass down to your kids, but they function for you in this moment. They make life easier. They make home cozier for a time, but they are not a forever piece.
And that is 100% ok.
Don't be scared of the placeholder.
But, with that said, get the best that you can afford, because this is also true, lol!
I'm saying all of this, because some of the things that we are going to use in our master will be placeholders. Some will be forever pieces. I just want to encourage you to find your own balance and not get discouraged if you can't do exactly what you want right away. Placeholders can still be beautiful, and I can't wait to show you guys what we're cookin' up!
Ok, now on to these mirror resources!
FYI Some of these links are trade only resources. I've put in shoppable links where I could, but if you see something here that you love and it links to a trade resource, you can find it online (sometimes it's readily available, and sometimes not) or you can email me, and I'll be happy to place an order for you. (my pricing is often better than what you can find online too!)
Mirror Resources
1 via bungalow5 | 2 via universal furniture| 3 via howard elliot | 4 via bungalow5 | 5 via bungalow5 | 6 via ej victor| 7 via howard elliot| 8 via howard elliot | 9 via howard elliot | 10 via bungalow5
The Unexpected
And now, on to the great flood of 2019.
I'd been busy, chipping away at the bathroom design plan, super excited to finally have the time to be working on one of our own projects, when the unexpected happened. The girls were having *a little too much* fun in the bathtub, I was downstairs folding laundry when…
a rainstorm, well actually, it was more like a torrential downpour, erupted in my living room.
The tub was overflowing while the girls played, completely oblivious to it all, and all of that water was making its way through the recessed lighting fixtures in our living room.
Yeah. Last week was mayhem!
And planning for project #2, got underway, quite suddenly.
Here's a shot at what the living room looked like for a bit last week. It's currently all patched up again, awaiting fresh paint on the ceiling once the plaster completely dries.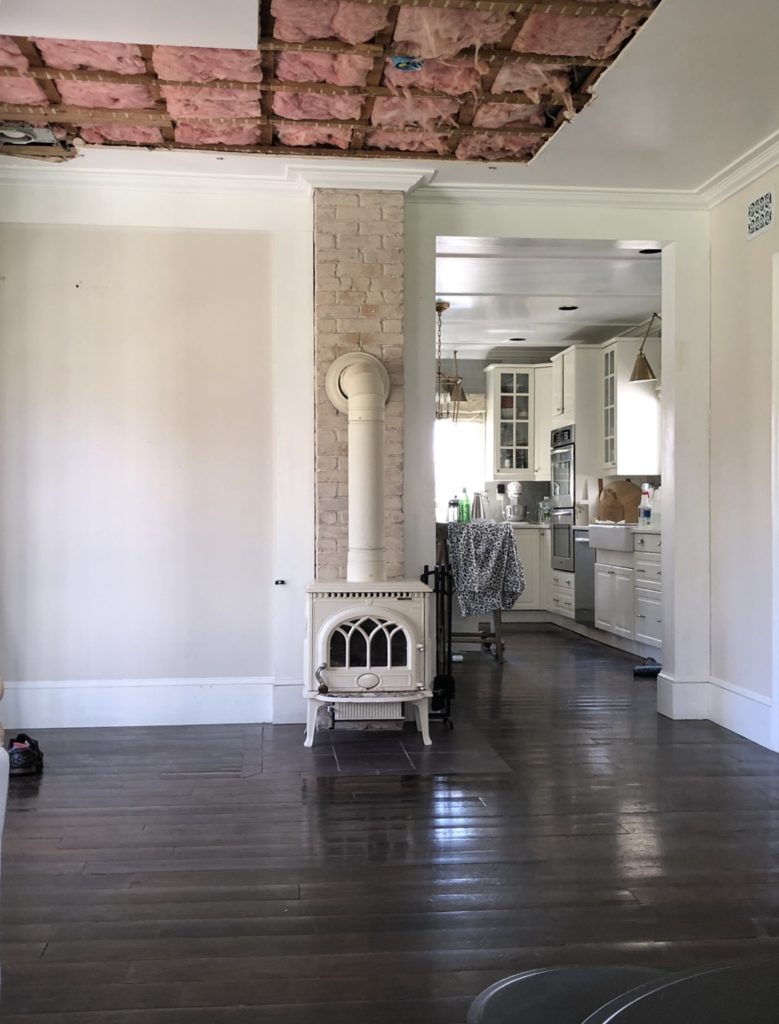 We initially thought our chaise, that we keep by the wood stove, was unsalvageable because it caught so much water, and that Michael was going to have to take down the sheetrock from half of the ceiling and a couple of the walls. Things were looking that bad in here, you guys. But as Michael started taking some of the ceiling panels down and feeling around, the water hadn't made it quite as far as we thought it had. And, it's turning out that the chaise seems to be drying out and looking much better than we expected too.
BUT, it didn't take me long to cook up a new floor plan involving some pretty accent chairs in the 24 hours that we thought new furniture and rebuilding walls was inevitable, lol!
#interiordesignerproblems

So, anyway, we're still undecided as to whether or not I'll be making major changes to the living room, but I didn't want all of my pretty accent chair research to go to waste. So here it is, in case you guys are in the market too!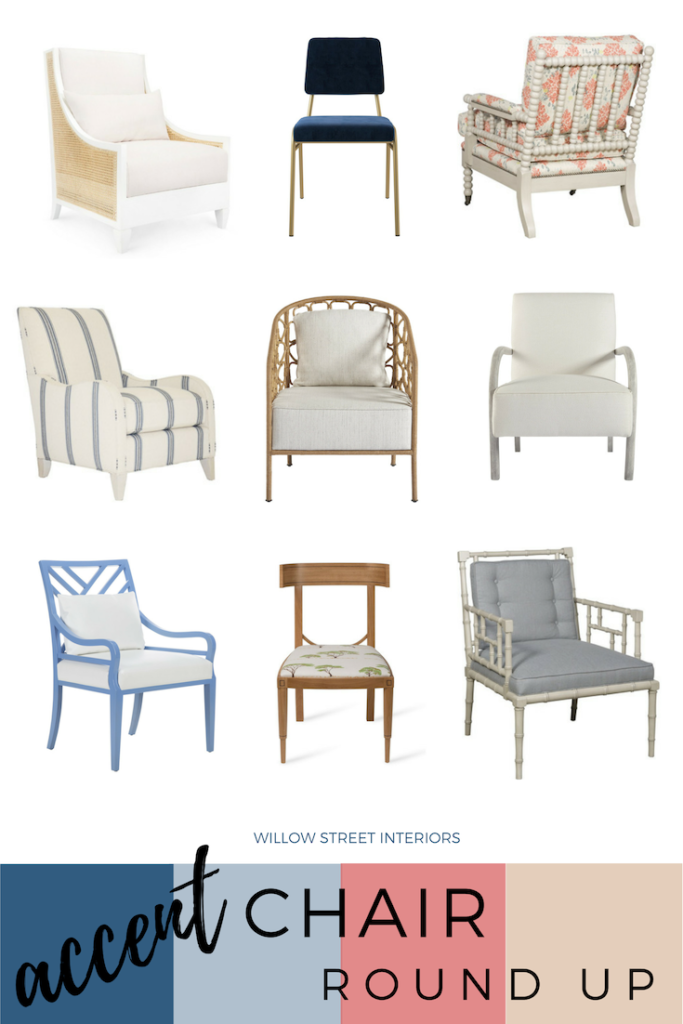 And, as with the mirrors, some of these selections were inspired by my trip to High Point Market last month, hence the links to to-the-trade vendors for some of them. If you do a search and can't find these for sale online or would like to order through me, I'm happy to do that for you. Just email me!
Accent Chair Resources
1 via vanguard furniture| 2 via vanguard furniture | 3 via vanguard furniture | 4 via universal furniture | 5 via universal furniture | 6 via dowel furniture | 7 via ej victor | 8 via bungalow5 | 9 via dhp furniture |
And that's about it! Aren't these SUCH pretty finds, you guys? I'm so excited about getting our master bath started, and I'm going to do my best to get an in-progress post up before the actual reveal (which is still at least a month away, I think). Stay tuned to see what gets incorporated!
XO, Laura