If you've been thinking about refreshing your daughter's room, or want to revamp your guest bedroom but don't know where to start, check out this fresh space I've pulled together using pieces from Walmart! I've including the shopping list and links down below too, so that you can recreate this pretty bedroom in your own home.
Hey Guys! I hope you're all having a restful and fun summer! We've had a good balance of beach days, work, and road trips the last couple of months, which has been amazing, but it's also kept us so busy that I feel like I haven't gotten many summer projects checked off of our at home to-do list. And it's already pretty much August! (…please slow down, summer.)
We've had redesigned bedrooms for the girls on our list for the last few months, and it's a project that's slowly starting to make it's way to the top, which means it's time for me to start planning out their color schemes and decor.
Jenna's been saving some of her favorite things to her Pinterest board, and the girls are all super excited to get started! So when Walmart asked if I'd be interested in pulling together a bedroom moodboard using pieces from their home lines, I was 100% in.
Walmart has some lines that I've been super impressed with. I especially love the lamp that I worked into this project a couple of years ago using Drew Barrymore's Flower Home. Whenever I'm designing a space, I always mix in some higher end pieces along with budget friendly ones, and the thing about that method is, when the pieces are thoughtfully selected, and the space is well designed, you'll having a really hard time figuring out the difference.

[show_lookbook_widget id="499315″]
With four girls in our family to plan bedrooms for, you can bet budget friendly is going to be a main priority when I finish their new rooms. I'm obsessing over how lovely and high end some of the Walmart pieces look, and the affordability makes them all the more alluring!
Take a look at this pretty teen girl mood board I just pulled together! I absolutely love the wallpaper, and the color palette. It's lighthearted and fresh, and I think it's subtle enough to also work super well as a fun guest room too!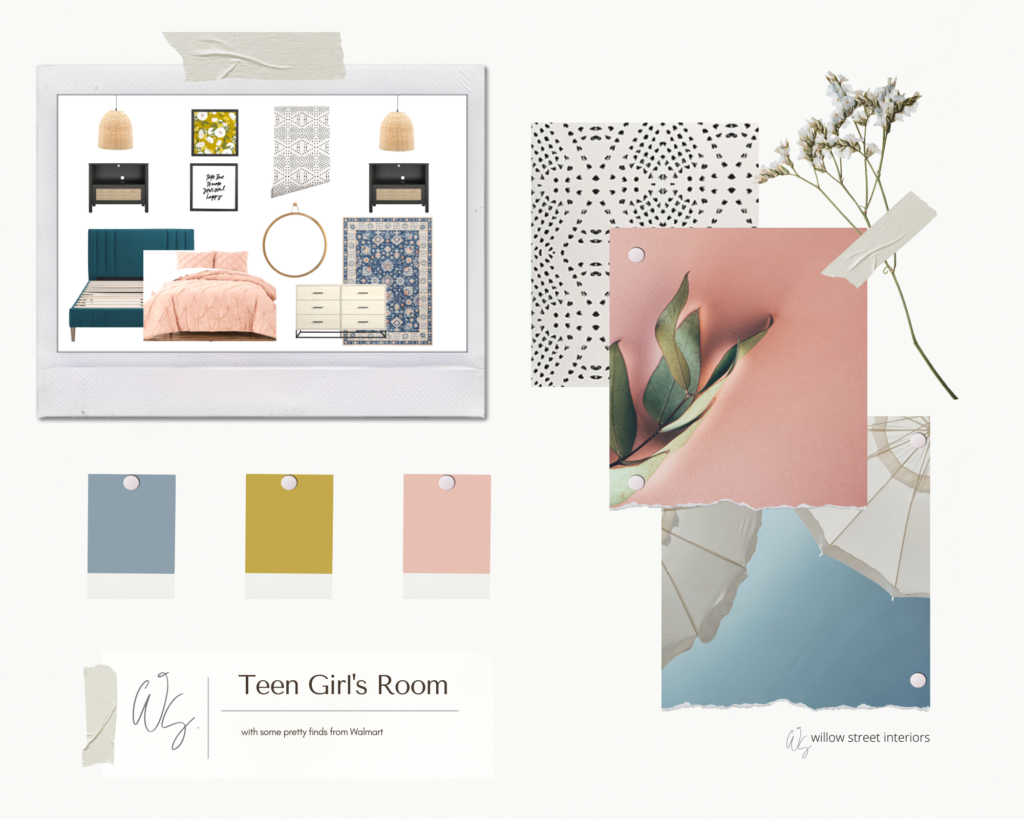 If you haven't checked out all of the fresh, new decor Walmart is carrying, you won't be disappointed! And if you've been thinking of refreshing your daughter's room, or want to create a fun space to welcome guests but don't know where to start, I'm including the links so that you can recreate this look in your own home!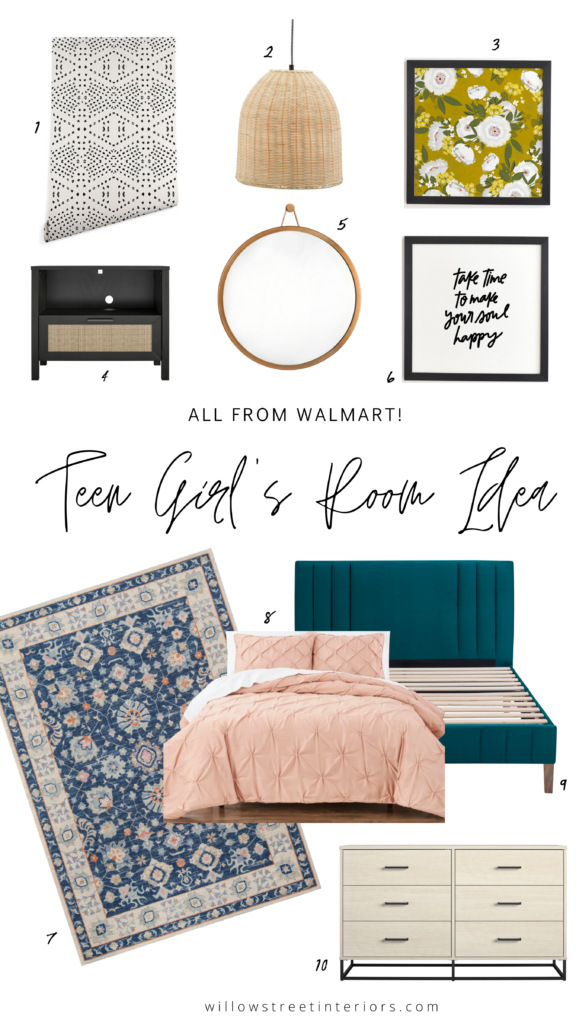 Oh, and here are a few, completely unrelated pieces that were too adorable not to share! They're all from Walmart's new 'Wow and Now' section. Seriously in love!
[show_boutique_widget id="1079201″]
Happy Decorating, Guys!
xo, Laura
*I've received compensation for this post, but as always, I only share products that I love and would be thrilled to have in my own home.