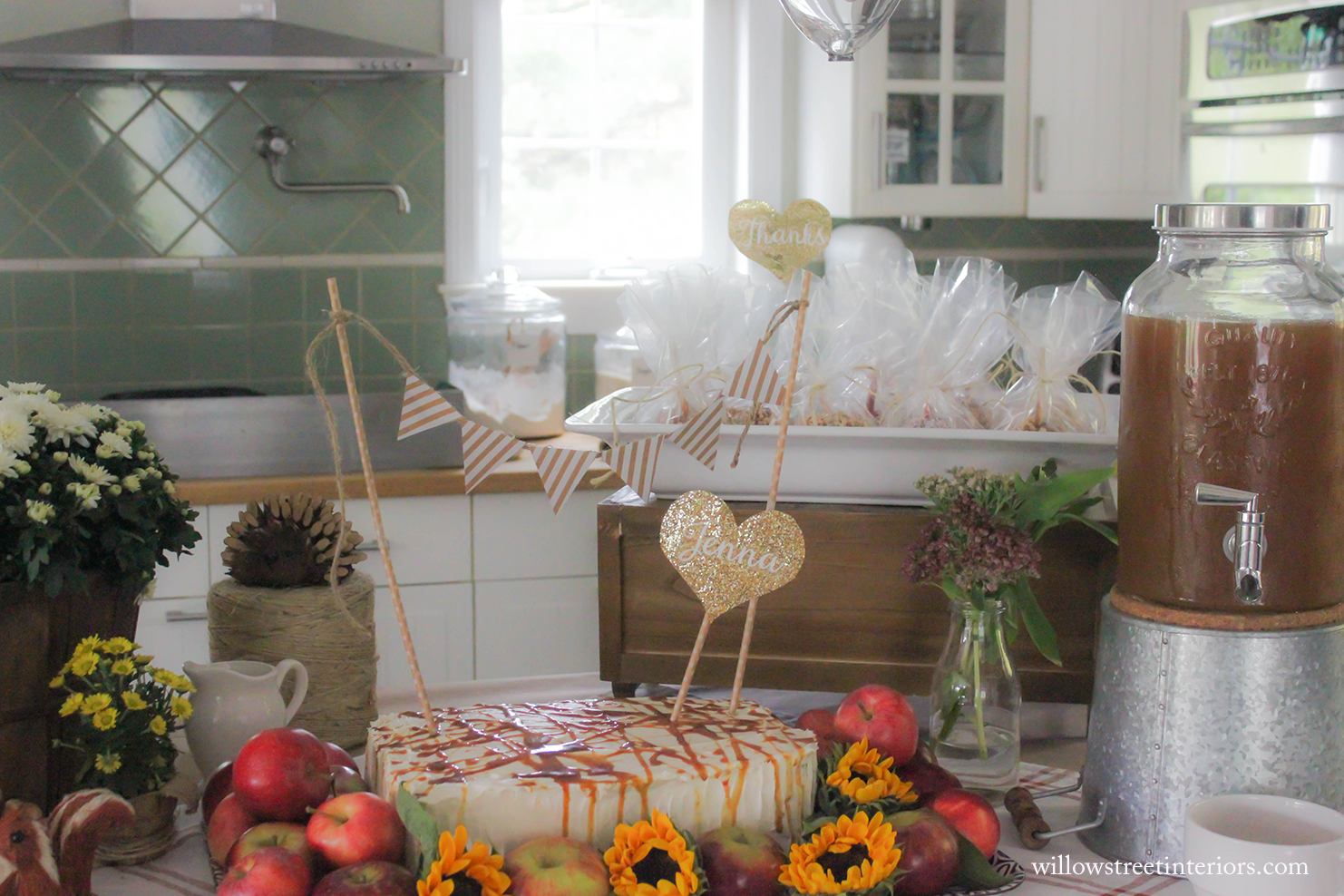 Hey there!  I can't believe it's already been almost a week since my last post!  I had every intention of having this up last weekend, but that turned out to be wishful thinking.  My mother in law is visiting from Germany right now, and we decided to do something we haven't done with her in eight years! We went on a little getaway. Normally when she's here, we sink into our normal, fairly humdrum routine, and before we know it, three weeks have gone by and the most exciting thing we've done together is grocery shop!  We decided to take the kids out of school and head up to the White Mountains in New Hampshire for a couple of days, then spend the last few in Kennebunkport, Maine.  I planned to pack Saturday night after the birthday party, write and post the birthday photos Sunday morning, and then head on our merry way.  Well, yeah.  That did not happen.  It was something more like, clean up from the birthday party, try to bathe an extremely-overtired-but-sugar-high two year old, put the girls to bed, and  …collapse on the couch.  I may have been a little over ambitious in my planning, but I'm here now! And I have photos.  Of cake.  And glittery hearts.  And some cute inspiration for a little girl's indoor fall themed birthday party!
I have to say, Jenna was hoping for a big fall festival birthday party complete with apple bobbing and pumpkin painting, and lots of other fall themed goodies.  I watched the weather all of last week, and decided on Friday morning that a change of plans were in order.  That was a good decision because it was freeeeezing and rained off and on all day Saturday.  So we simplified things a bit, brought the party inside, and still had a blast.  I kept the kid sized fun really simple with a brown paper table cloth that the kids (and adults) could write a message to Jenna on.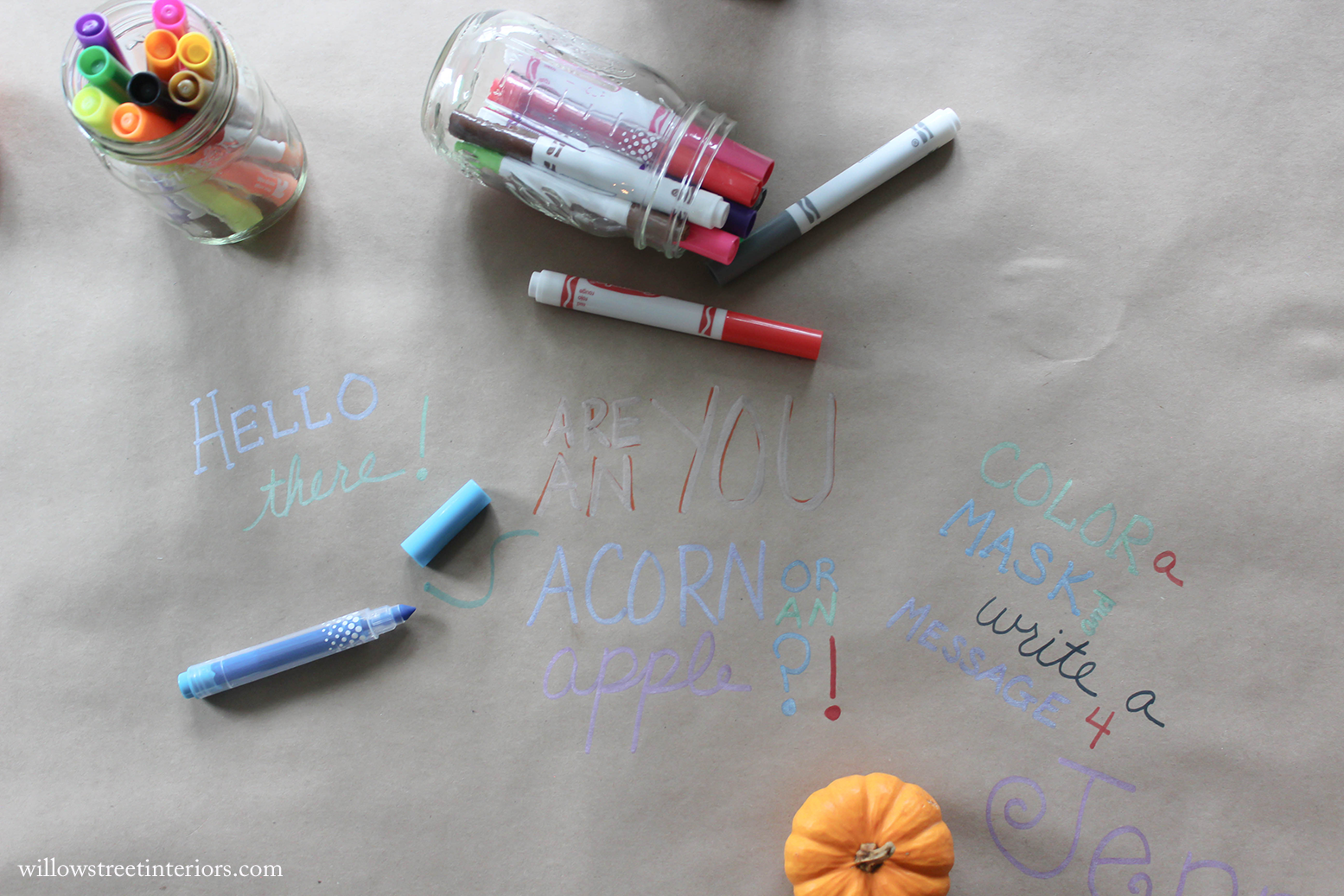 I also had some apple and acorn masks that I picked up at Target for them to decorate.
I made her tablescape as fall-ish as I could by bringing in some of the mums and pumpkins that I had out on my porch, inside.  I also used a couple of woodland critters from World Market, along with some wooden bark chargers and wooden mushrooms that I picked up there, to give the table a playful, outdoor inspired vibe.  See those little acorns?  The girls have been collecting them for weeks! I'm thinking of spray painting some of them gold for our Thanksgiving table.  More on that in another post though!
The cake was a recipe that I test ran the weekend before.  If you missed that post, you can find the recipe here!  It's so yummy, and I have to say, even more delicious with frosting.  I used Ina Garten's maple frosting recipe, and then just drizzled the cake with caramel that I picked up at Trader Joe's!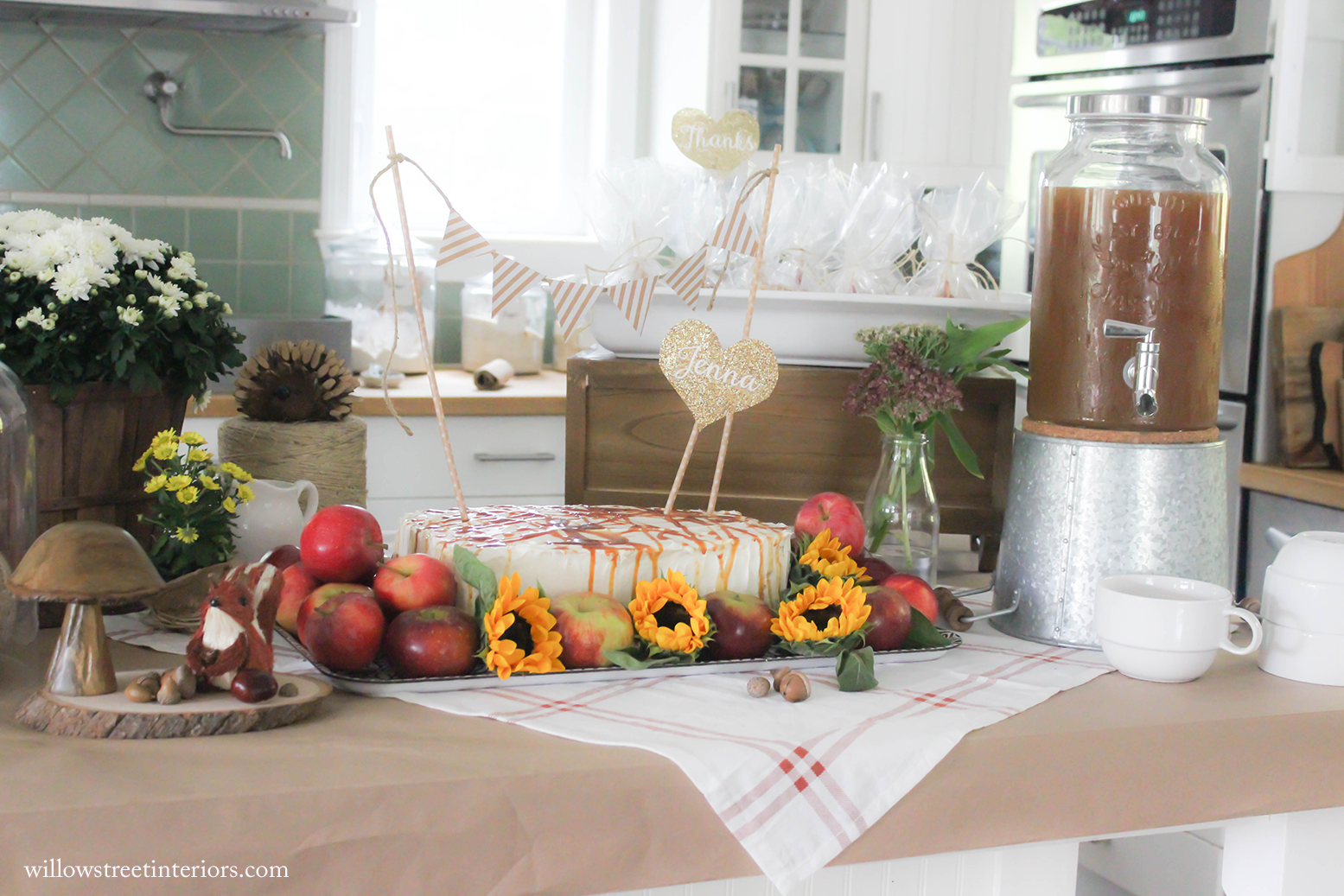 Aren't those glittery hearts adorable?! I thought they gave the table the perfect amount of playfulness and little girl glam.  They were super simple to make too! I printed off an image of a glittery heart that I found online, used Photoshop to write Jenna's name in script over it, smeared the whole thing (aside from her name) with clear gluestick glue, and then lightly dusted it with gold glitter.  If photoshop isn't your thing, you should be able to use the same method and then write a name or message with white puff paint over the glitter.  That would also be adorable!
The party was late afternoon, and since we were just having some family over and the party wasn't out of control huge, I made dinner as well.  I didn't get a chance to photograph any of it because things were so hectic! But our fall inspired menu consisted of mashed potatoes with sautéed kale folded in (my girls LOVE this), grilled bratwurst, caramelized onions (served over the sausages), and homemade apple sauce.  I did caramel apples for favors, and that's about it I think.  Jenna had so much fun, and got loads of dolls and horses, and stables and fencing, which is her favorite thing in the world right now.  An overall sunny birthday party, despite the rain 🙂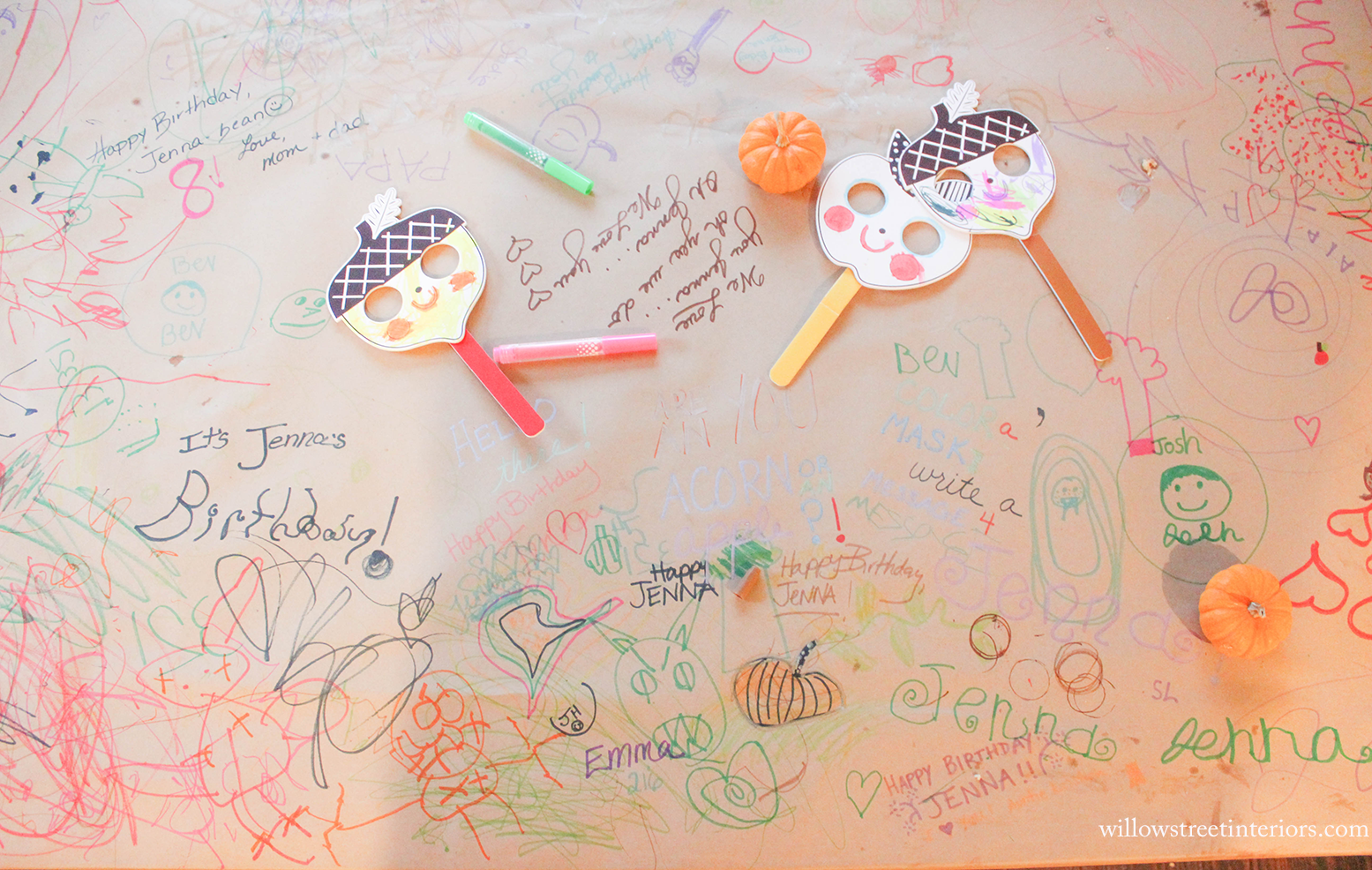 Happy Weekend, Everyone!