Hi Friends!  If you stopped by couple of days ago, then you already saw the casual fall tablescape that I set last weekend.  Well, as promised, I'm popping in today to share this yummy fall soup recipe with all of you!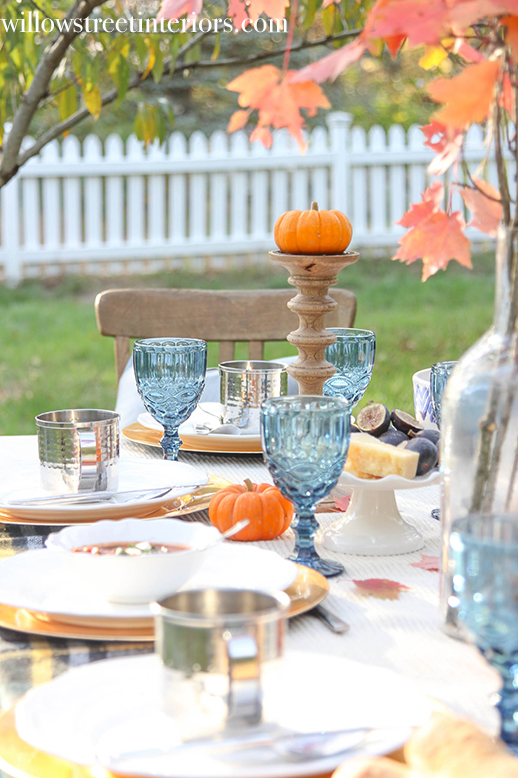 I feel kind of lucky because my girls absolutely adore soups, and so do I.  And dinner recipes that actually make the entire family happy isn't always a given over here!  Soup is one of my favorite dinners to make as soon as the weather turns cool, because it's like a totally balanced, one pot dinner that you can prep ahead and eat whenever.  My kind of meal!
I fell in love with cooking when I was 19.  My husband, (who was my then boyfriend) and I broke up, which broke my heart, but made me a much stronger person in the end… Which perhaps isn't a story for a soup recipe post.  Ha!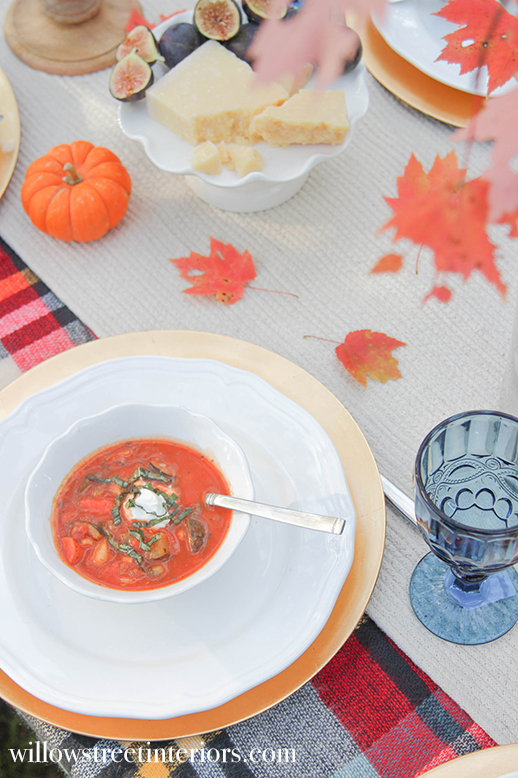 …But an unexpected perk to that heartbreak was the fact that working out and cooking became two of the ways that I coped with the loss and uncertainty of it all.  The fact that I fell in love with both simultaneously was probably a fortunate thing for my waistline back then as well… The latter of which is a passion I'll have to rekindle as soon as this baby girl makes her debut in 9 weeks or so 😉  Wish me luck on that one!
I created this soup recipe ten years or so ago now, in the middle of summer, when all we had in the fridge was a bunch of veggies and some chicken sausage, and a few herbs in our little herb garden.  Back before the girls were born, I'd come home from work, turn on some music, and cooking was like this joyful therapy for me.  Oh boy, how that's changed!  Now dinner time looks something more like this…
Frantically throw some ingredients on the counter, remind Ayla not to climb up and crawl her way through them, ask Jenna if her homework is done, run outside and help Aubrey out of some sort of precarious situation she's managed to climb her way into, and then run back in and hope nothing's burning.
Yeah, I'm sure loads of you can relate to that!  Well, I made this recipe a few weeks ago when we were staying up in Kennebunkport with family. I've been making different variations of it for years, tweaking it a little each time I made it depending on which veggies were in season, but I think this one is my favorite.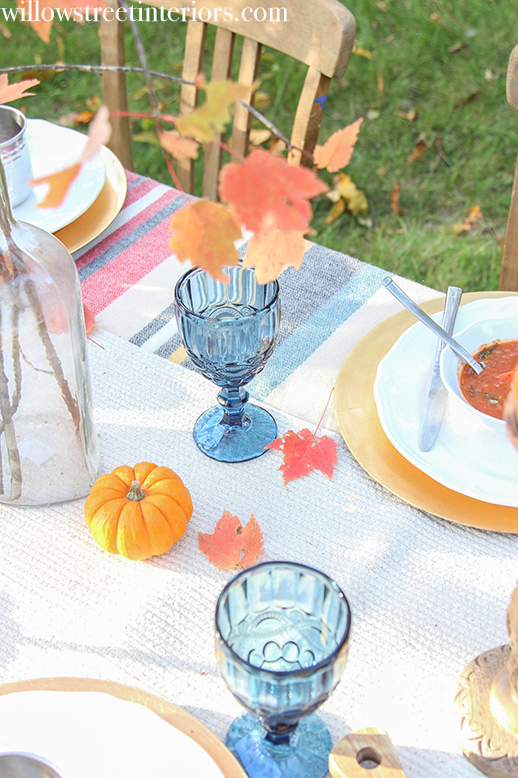 My sisters both asked for the recipe while we were up there, and I told them that I still hadn't taken the time to measure everything out, but that I'd keep track of it next time I made it.  Well, a couple weeks passed, and Erin, my youngest sister, called to see if  I'd written it down yet because she looked online and couldn't find one that was comparable and she really liked it!  So I got to work on it, and I'm happy that I can finally share the measurements and not just list off the ingredients, like I normally have to.
I hope you all like it if you try it!  There's quite a bit of prep work involved for sure, so I always make a lot and freeze half in a couple of gallon size freezer bags.  I LOVE being able to serve up a homemade soup during the week when things are busy, and this one almost tastes even better reheated.  Plus, it's a really great excuse to eat some deliciously crusty bread.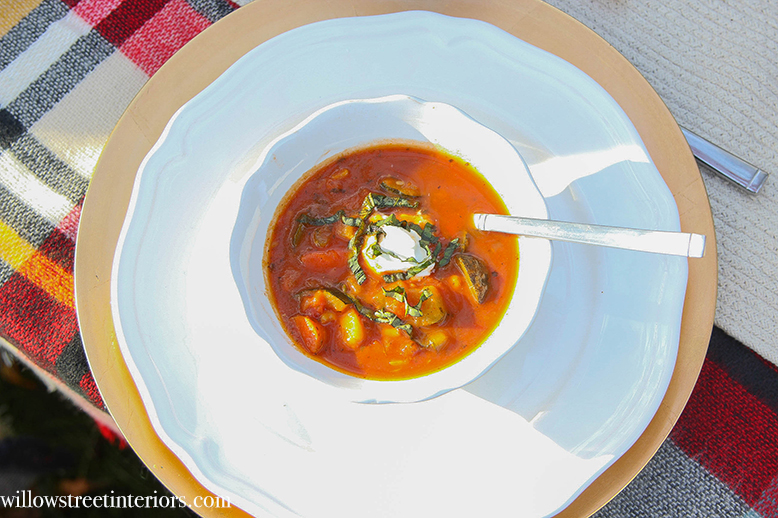 Let me know what you think if you try it guys!  Have a lovely rest of the week.
Laura ♥
Harvest Vegetable Soup with Smoked Chicken Sausage and Basil
makes about 16 servings
Ingredients:
olive oil
8 Italian smoked chicken sausages, sliced into chunks (I like Aidells brand)
2 medium yellow onions, diced
4 cloves minced garlic
5 stalks celery, diced
1 red bell pepper, diced
3/4 teaspoon kosher salt (not table salt)
freshly ground pepper (6 cracks)
3 medium russet potatoes, peeled and cubed into bite size pieces
3 carrots, cubed into bite size pieces
3 medium zucchini, cubed
1 tablespoon tomato paste
1 tablespoon garlic powder
1 tablespoon dried basil
1 tablespoon dried oregano
1 teaspoon red pepper flakes
1/2 cup chopped parsley (about 1 small bunch)
1 cup chopped basil, divided (about 2 boxes)
1/2 tablespoon kosher salt (not table salt)
fresh ground pepper (6 cracks)
1  1/2 cups water
1.5 tablespoons organic better than bouillon (not the cubes)
2 quarts good vegetable broth
1  28 oz can good crushed tomatoes
4 tablespoons sugar
3 teaspoons red wine vinegar
2 teaspoons siracha
1  1/2 cups grated Parmigiano-Reggiano (not parmesan***), divided
1  16 oz bag frozen corn
sour cream, to pass at table
crusty bread, to pass at table
Directions:
Add enough olive oil to coat a large dutch oven or stock pot.  Brown the sausage over medium high heat.  Remove and set aside.  Reduce heat to medium low, and add one tablespoon olive oil.  Sweat onion, celery, and peppers together with 3/4 teaspoons of kosher salt and 6 cracks of pepper for 10 minutes*.  Add garlic and sweat 5 minutes more.
Increase heat to medium. Add another tablespoon of oil, and then add potatoes through parsley to the pot, and stir.  Add in 1/2 cup fresh chopped basil, reserving the other half for passing at the table.
Add the sausages back to the pot.
Stir and cook together for another 5 to 10 minutes until vegetables are al dente (zucchini will be softer, which is fine).
Add water through siracha to the pot and give it a good stir.  Be sure that all of the bouillon is dissolved.  Add in 1 cup of grated parmigiano-reggiano (not parmesan), and stir.  Reserve the remaining 1/2 cup of cheese to pass at table.  Bring soup to a boil, then lower heat and return to simmer for 45 minutes minutes with the lid off.  Add in frozen corn.  Simmer 15 minutes more, check for seasoning, and serve! Garnish with sour cream, parmigiano-reggiano and fresh basil, along with a nice loaf of crusty bread.
A couple of notes:
*Sweating your base veggies is the most important step to making really good soup.  This just means you want to cook them over really low heat for a decent amount of time until there is absolutely no 'crunch' left in them.  If you don't sweat them long enough, you'll never have a good depth of flavor no matter what else you add to the soup!  If the bottom of the pot begins to look too dry as you're sweating the onions, celery and peppers, add 1 more tablespoon of olive oil.
**I use Parmigiano-Reggiano for this recipe because it dissolves rather than melts, which lends a really great depth of flavor too.  Regular parmesan will melt and will leave the soup stringy, which isn't what you want!
***Check for seasoning again when the soup is finished and add a little more salt or pepper, if needed.