Hey Guys! Merry Christmas! I'm so excited to be joining Krista from The Happy Housie and 34 other incredibly talented bloggers for this year's Seasonal Simplicity Christmas Tour.

If you're coming over from Simply Marie Designs, welcome! Amanda and Josh's home is so beautiful and I always adore taking their tour every year.
I can't believe that Christmas is only 3 weeks away! I swear time goes by more and more quickly every single year.
I finally finished up my Christmas decorating this week. It was the project that just never seemed to end. Not because of laziness or distraction – it was just a reeeeally busy month.
If you're following along on Facebook or Instagram, you may remember me saying that I took quite the fall down our icy, front steps last month. It was crazy, you guys. I've never fallen so quickly, or landed so hard, in my life. One second, I was walking out my front door, and the next, I was airborne above our front steps. I completely knocked the wind out of myself when I landed and thought, for a second, that there was no way I was getting back up after that. But, somehow, I managed to get off relatively unscathed – for a couple of weeks.
And then, two weeks later, the soreness turned into a dislocated joint in my hip, that left me unable to walk for days! And just when the pain from that started to ease up, I got sick.
Ugh.
I'm choosing to put it all behind me though, because, well…
CHRISTMAS IS COMING!
If you're picturing me saying that with ridiculously enthusiastic, Will Ferrell-esque excitement – that's accurate.
Christmas is the best.
Twinkle lights, too much hot cocoa, SNOW!
Look at this photo I took after a storm we just had here.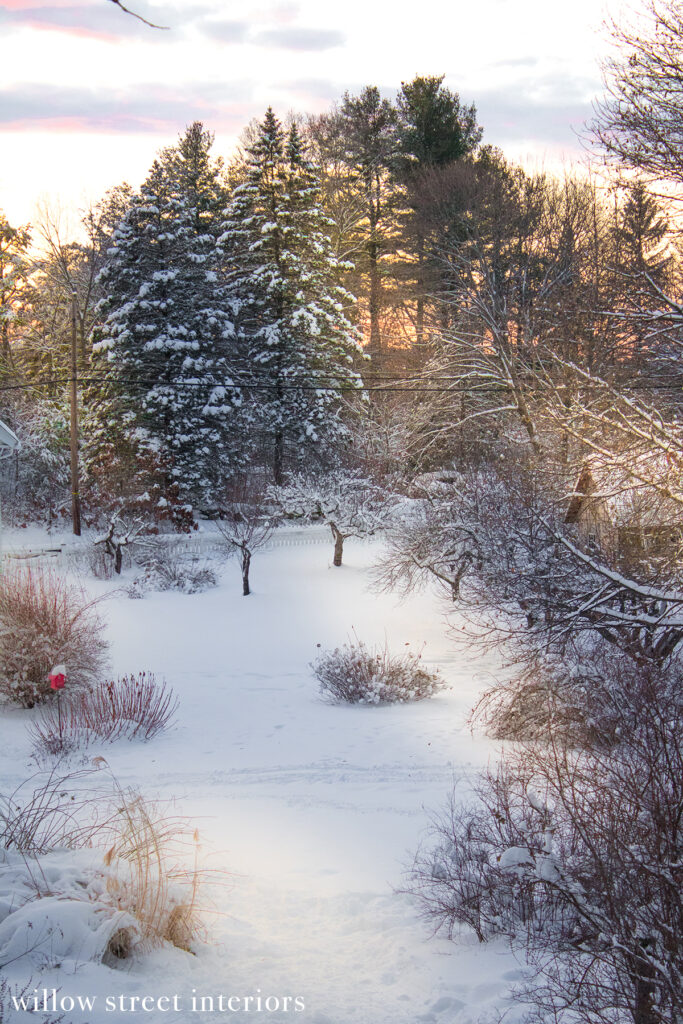 Christmas, winter, all of it – it's magical.
We didn't have a lot of 'things' growing up. We didn't typically get the latest, trendy toys for Christmas because my parents couldn't afford them, but you know what? Even if we had, I doubt I'd remember them now, anyway. The things that I remember most about Christmas as a child, the things that meant the most to me, and that I still carry with me today, are memories.
Being in the Christmas pageant at church. The way the house smelled when my mom simmered her homemade apple cinnamon 'potpourri' on the stovetop. Visiting my grandma, and singing Christmas carols with our entire extended family crammed into her living room, on Christmas Eve. The 12 Days of Christmas was always wildly entertaining.
Back then, I didn't know that we were making memories, or starting traditions. I was just a kid, enjoying Christmas.
I'm always trying to recapture those feelings, that sense of togetherness, and magic, hope, joy, love – in the experiences we give our kiddos at this time of year, and in the way that I decorate. I want the house feel like a warm hug every morning that the girls come down the stairs for the next few weeks.
Will that hug involve cheerios stuck to their feet sometimes? Most likely.
But that's ok. Because we live here, and it's not always picture perfect. But I hope that, more so than opening presents on Christmas morning, it's the memories that we make within these walls that are the ones that stick with our girls when they're grown.
So now, how do you make your house feel like a warm hug?
Twinkle lights. Mostly twinkle lights. But I also chose a soft palette of blues, greens, whites, and blush – stuff that I already had out anyway. And then I just sprinkled in a few Christmas/wintery touches.
…And lots of twinkle lights.
Oh, and because I ended up getting our decorations up so late this year, we were able to do something we'd wanted to do for awhile now, but couldn't. I usually put our tree up two weeks earlier than I did this year because that's just what home decor bloggers do to fit it all in. But that's also always meant that a real tree would be long gone by Christmas.
This year, because of all of the mayhem these last few weeks, I was late decorating, and we could finally do a real tree.
So, we actually cut down one of our own trees from our back field! It's totally imperfect, and a little crazy looking, but it was so much fun getting to see the girls haul that thing back to the house with my hubby last week.
What do you think? It's imperfect in an endearing kind of way, isn't it?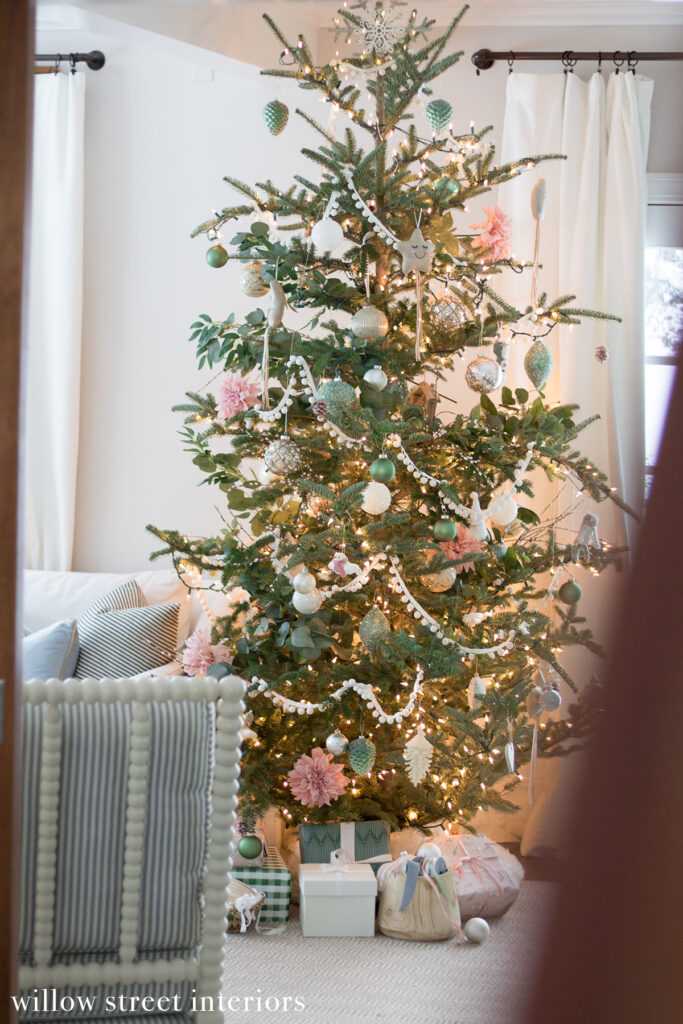 Ok, guys, enough typing! Grab your coffee and a cozy throw, and let's really get into this little Christmas tour!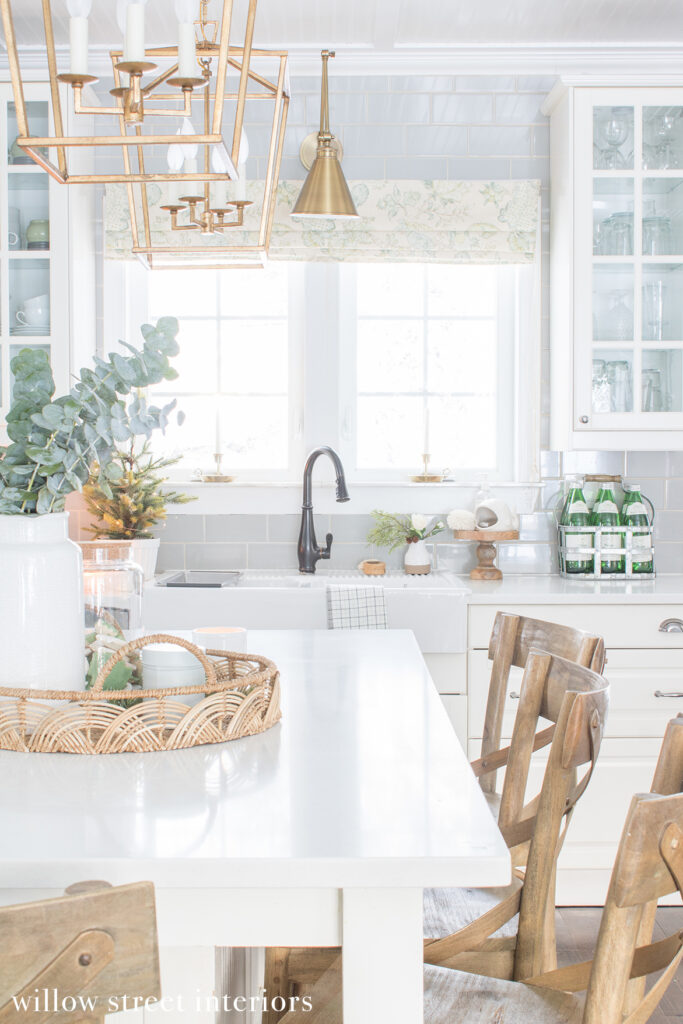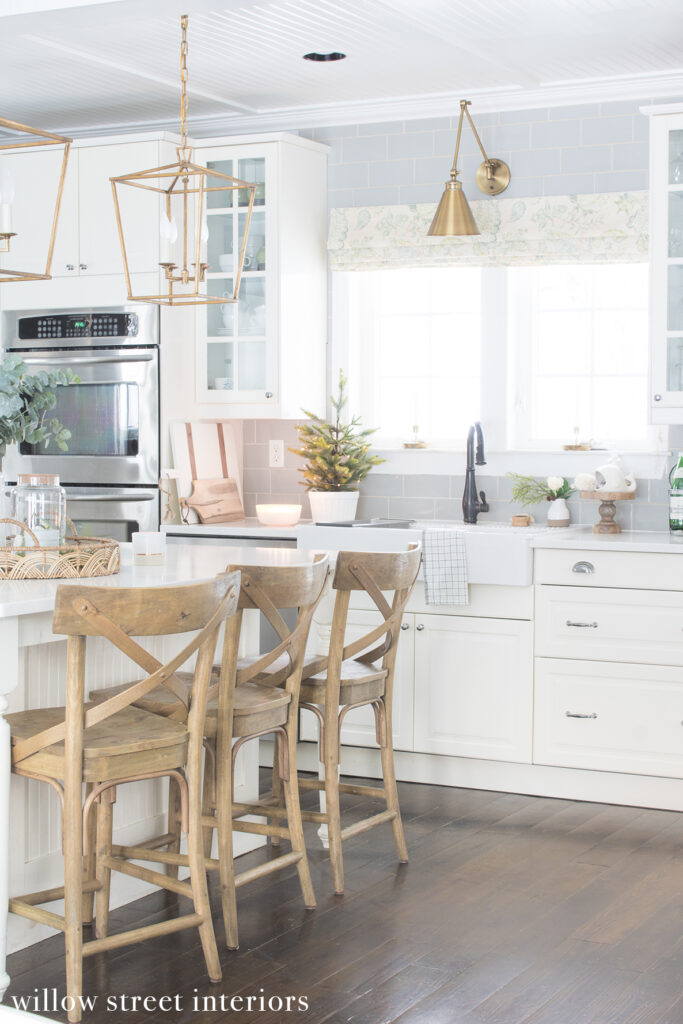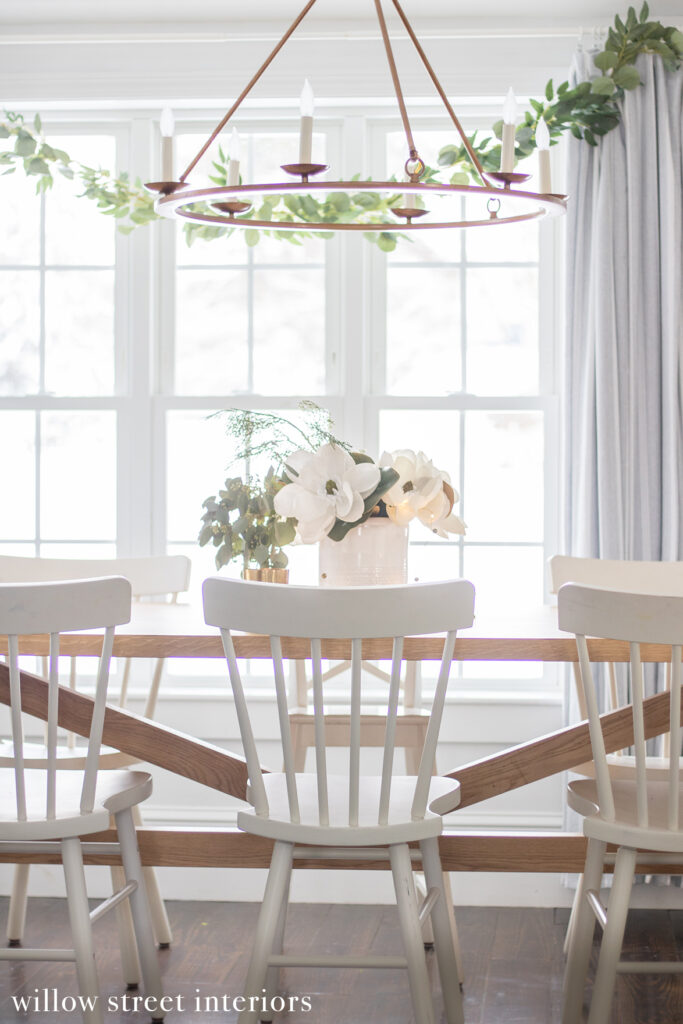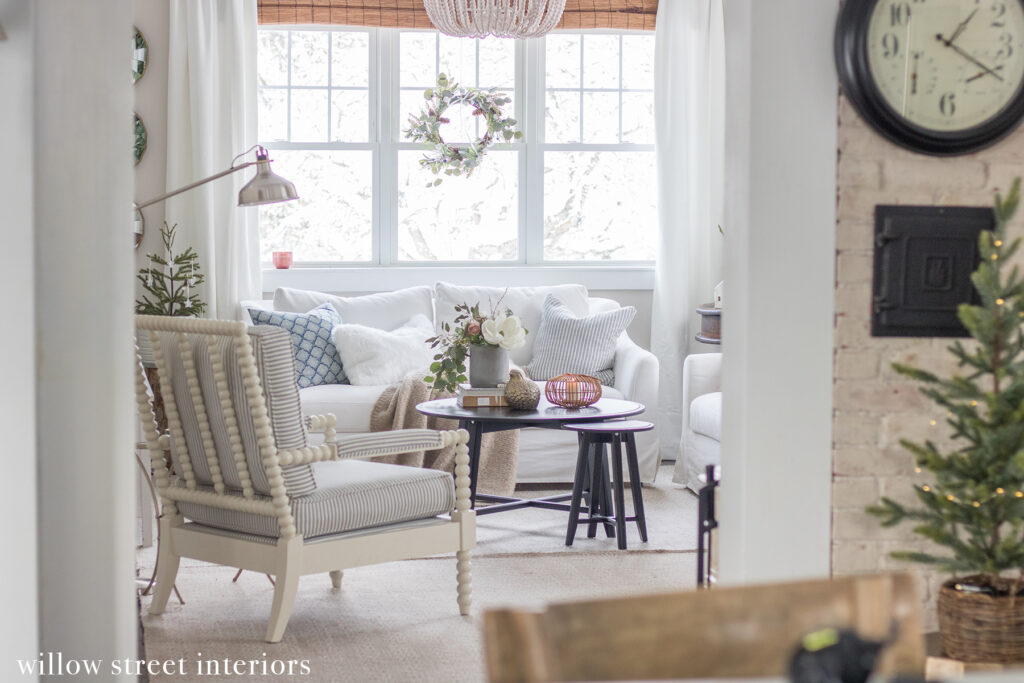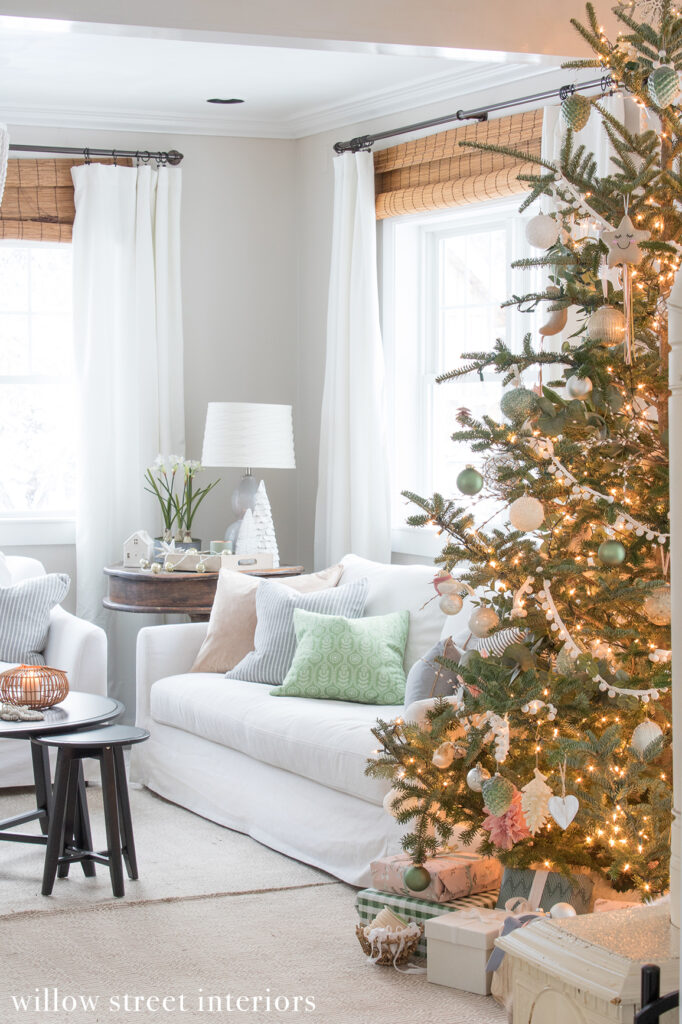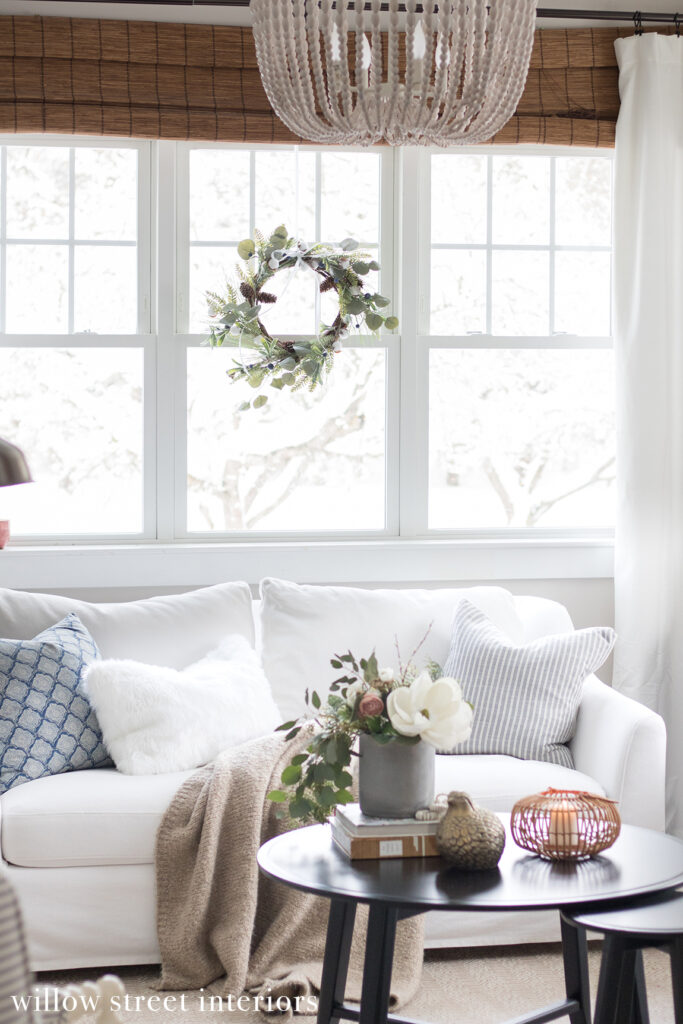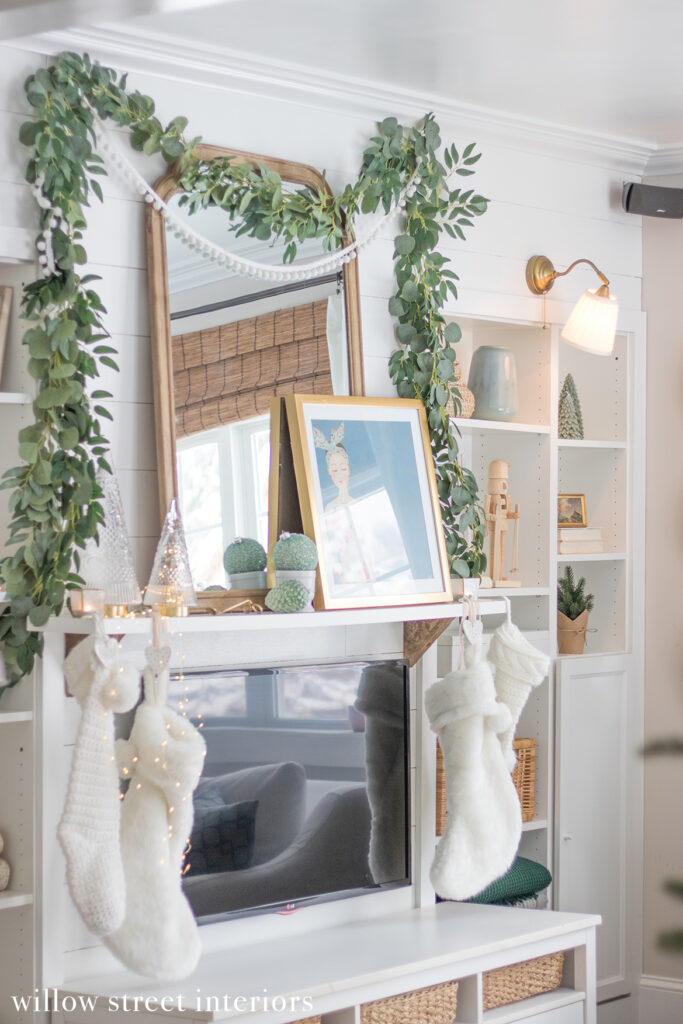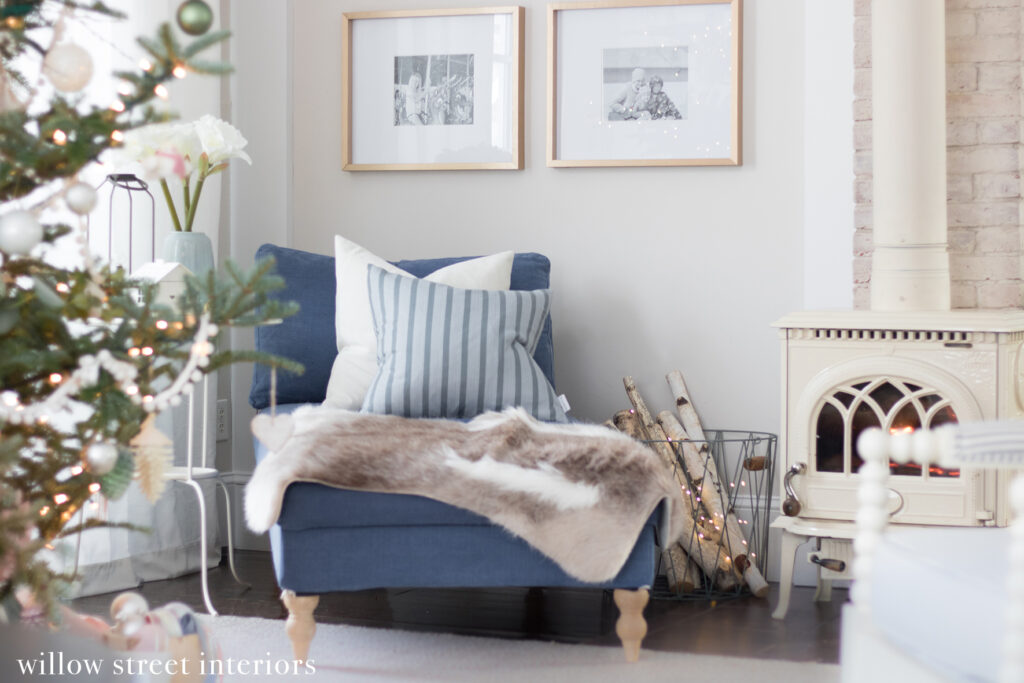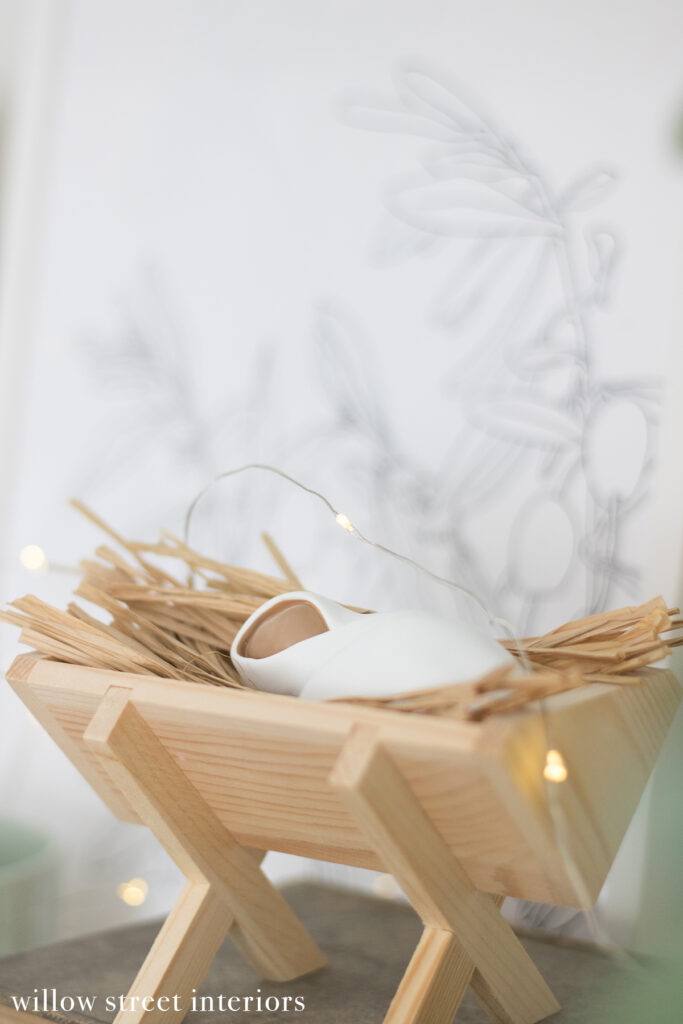 "And His name will be called
Wonderful, Counselor, Mighty God,
Everlasting Father, Prince of Peace."
Isaiah 9:6
Merry Christmas, you guys! I hope you found some inspiration to take back with you and use in your own home this year. Don't forget to check out Jen's from Tatertots and Jello's Christmas tour tomorrow morning, and there's lots more inspiration being shared down below as well. Don't miss it!
XO, Laura
Sharing today with me are….
Thursday
Grace In My Space ** Rooms For Rent ** Modern Glam
Happy Happy Nester ** Town and Country Living
Two Twenty One** Place of My Taste ** Life is a Party
Sincerely, Marie Designs ** Willow Street Interiors
And sharing the rest of this week…
Monday
The Happy Housie ** Shabbyfufu ** Jenna Kate at Home
Inspiration for Moms ** We're the Joneses
Rambling Renovators ** Home Made Lovely ** My 100 Year Old Home
Maison de Cinq ** Nick + Alicia
Tuesday
House by Hoff ** The Tattered Pew ** Clean & Scentsible
The Turquoise Home ** Rain on a Tin Roof
Stacy Risenmay ** This is Our Bliss ** Southern State of Mind
Styled with Lace ** Life is Better At Home
Wednesday
Taryn Whiteaker Designs ** Just a Girl and Her Blog ** Cherished Bliss
So Much Better With Age ** Cassie Bustamante
Lemon Thistle ** The DIY Mommy ** Love Create Celebrate
The Handmade Home ** Craftberry Bush
Friday
Tatertots and Jello ** A Pretty Life in the Suburbs ** Maison de Pax
She Gave it a Go ** Summer Adams
Amber Tysl ** All Things With Purpose ** Cuter Tudor
Chrissy Marie Blog ** The Happy Housie