---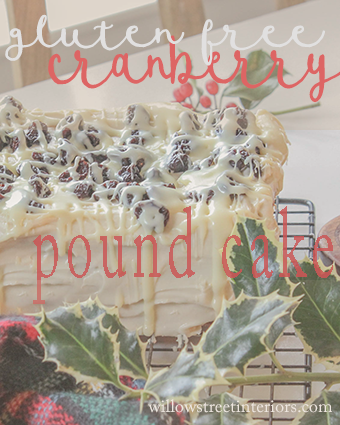 Hi Guys! I hope you're having a great week! I found the most amazing recipe for cranberry pound cake, and I'm really excited to share it with you today!  Last weekend, my husband and I went through the drive-thru at Starbucks with the cuties, and they saw that delicious looking picture of the cranberry bliss bars that Starbucks rolls out at Christmastime each year.
I'm not sure whether or not I've mentioned that we're a gluten free family on the blog before, but we are!  I won't get into the details, but the girls and I are all super sensitive to gluten and we have a much happier and healthier life now that we've kicked it to the curb 🙂
So anyway, Jenna saw the cranberry bliss bars, and commented on how yummy they looked, and that she wished she could try one…  She was a bit sad, and I wasn't going to have that – especially at this time of year!
I remembered a recipe for cranberry pound cake that I pinned on Pinterest a couple of weeks ago, and promised to try and rework it to be gluten free this week.  I crossed my fingers and hoped for the best today, because I have most definitely been fooled by amazing looking Pinterest recipes with gorgeous photos that don't quite pan out.  Well, this cake is not one of those recipes.  Is it a cranberry bliss bar?  No.  But it is topped with white chocolate drizzle and a smattering of dried cranberries like the bliss bars are, and trust me, no one was complaining when they ate it today.   [Read more…]